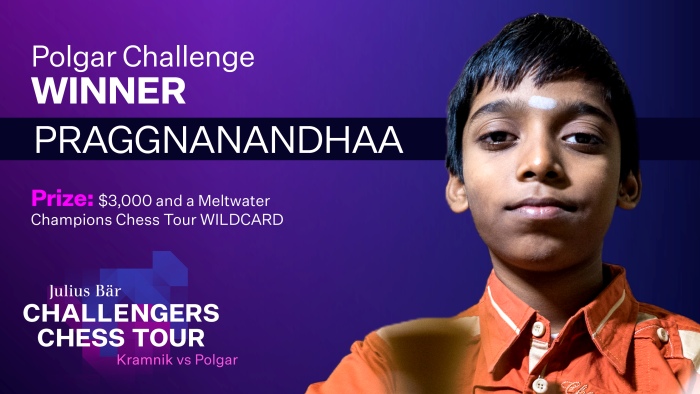 Indian prodigy Rameshbabu Praggnanandhaa booked himself a chance to take on the very best in chess with a stunning victory in the Polgar Challenge.
The 15-year-old from Chennai secured the first online title in the Julius Baer Challengers Chess Tour and a $3,000 top prize with a round to spare on Sunday.
Pragg wins not just the cash purse but a golden ticket to the next event in the elite Meltwater Champions Chess Tour on April 24 where he can test himself against the best.
With just four games finishing off the tournament today, a hotly-anticipated final round decider against top seed Nodirbek Abdusattorov was on the cards. But that clash of the top two title-chasers overnight became irrelevant as Pragg simply won his first three games and therefore couldn't be stopped.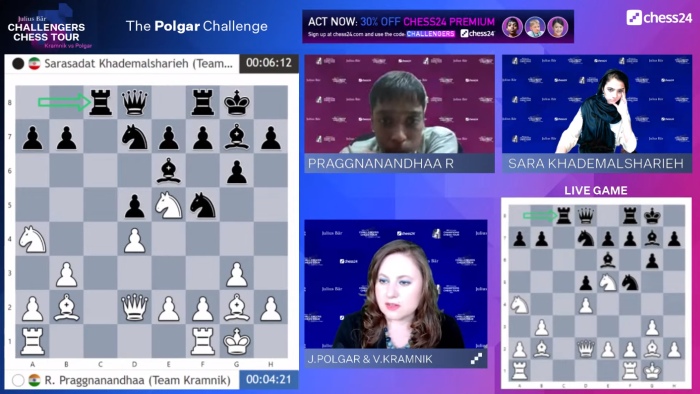 Chess legend Judit Polgar, a former top 10 player and the strongest female player in the game's history, said the youngster's win was "fully deserved and extremely convincing".
Pragg's coach for the tour, former World Champion Vladimir Kramnik, said it's not unrealistic to predict he will play a match for the World Championship someday: "His talent is on the scale of the guys who we all know!"
Kramnik added: "He reminds me so much of a young Vishy (Anand), in every way."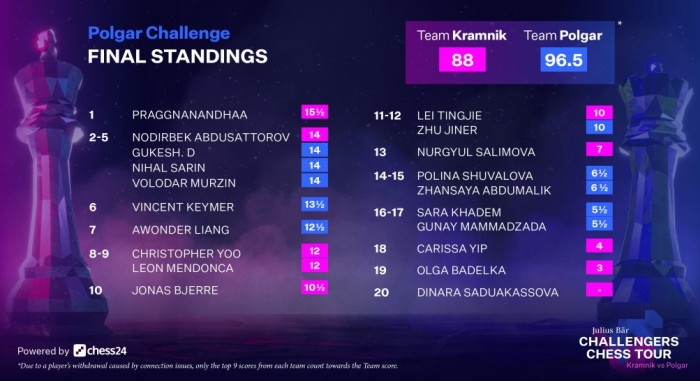 The Julius Baer Challengers Chess Tour returns on June 10 for the Gelfand Challenge when the two teams of players will be competing for a $15,000 prize pot and another wildcard entry into the Meltwater Champions Chess Tour.
You can see the full results in detail and the games on chess24's website here.
For further information, please contact:
Leon Watson, PR for Champions Chess Tour
leon@chessable.com
+44 7786 078 770
About the Tour:
Fronted by the strongest female player of all time, Judit Polgar, and former World Champion Vladimir Kramnik, the Julius Baer Challengers Chess Tour will run alongside the hugely popular Meltwater Champions Chess Tour.
The Tour is organised by the Play Magnus Group and is designed to tackle head-on the lack of female role models competing in top events and promote emerging talent. More information here.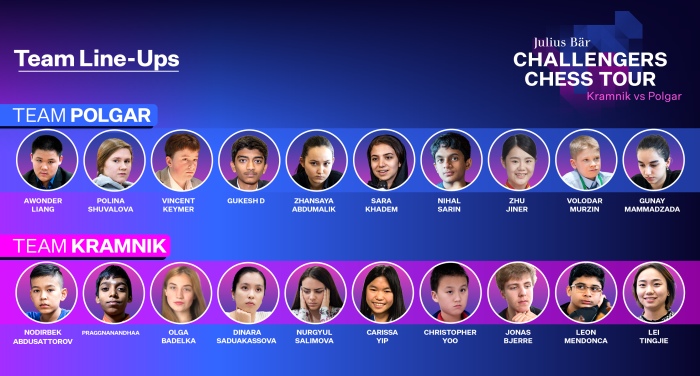 Team Kramnik:
Nodirbek Abdusattorov (aged, 16, Uzbekistan); Rameshbabu Praggnanandhaa (15, India); Dinara Saduakassova (24, Kazakhstan); Jonas Bjerre (16, Denmark); Leon Mendonca (15, India); Lei Tingjie (24, China); Christopher Yoo (14, United States); Olga Badelka (18, Belarus); Carissa Yip (17, United States); Nurgyul Salimova (17, Bulgaria)
Team Polgar:
Nihal Sarin (aged 16, India); Awonder Liang (17, United States); Vincent Keymer (16, Germany); Gukesh D (14, India); Sarasadat Khademalsharieh (24, Iran); Volodar Murzin (14, Russia); Polina Shuvalova (20, Russia); Zhansaya Abdumalik (21, Kazakhstan); Jiner Zhu (18, China); Gunay Mammadzada (20, Azerbaijan)