The final lists of the FIDE World Cup and the FIDE Women's World Cup's participants have been published. The knock-out events will be held from July 10TH to August 8th 2021 in the Gazprom Mountain Resort in Sochi.
These top-rated events are part of the World Chess Championship cycles. The two finalists of the open event will qualify for the 2022 FIDE Candidates Tournament, whilst the three best players of the women's competition will get spots in the FIDE Women's Candidates Tournament.
Two hundred and six (206) players will compete in the FIDE World Cup (eight rounds of KO play), and there will be one hundred and three (103) participants in the FIDE Women's World Cup (seven rounds).
The rating favourites of the open event are the current World Champion Magnus Carlsen (representing Norway, rated 2847 in the June 1st list), Fabiano Caruana (USA, 2820), Levon Aronian (Armenia, 2781), Anish Giri (Netherlands, 2780), Alexander Grischuk (Russia, 2776), Shakhriyar Mamedyarov (Azerbaijan, 2770), Maxime Vachier-Lagrave (France, 2760), Alireza Firouzja (FIDE, 2759), Leinier Dominguez (USA, 2758), Sergey Karjakin (Russia, 2757), alongside many other well-known chess players from all over the world.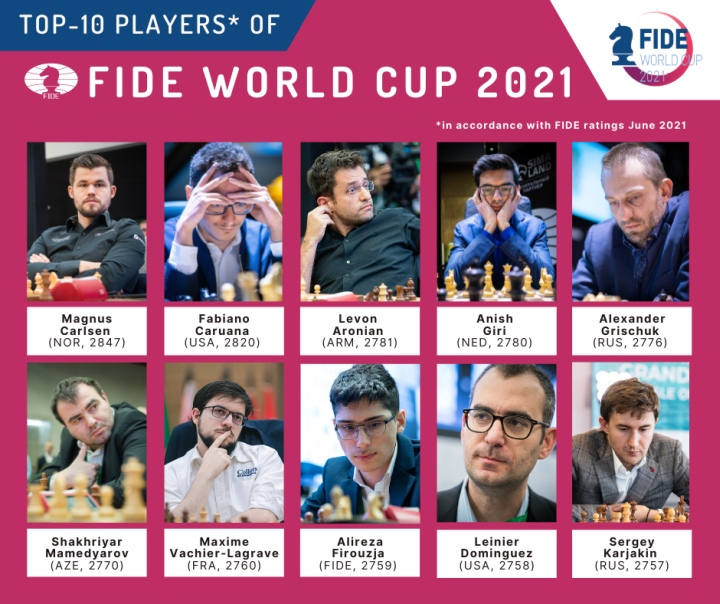 The organisers have nominated the Russian players Rudik Makarian and Kirill Shubin. In addition, top youngsters Gukesh D (India), Jergus Pechac (Slovakia), Nijat Abasov (Azerbaijan) and Vladislav Kovalev (Belarus) have received direct "wild cards" from FIDE President Arkady Dvorkovich.
The FIDE Women's World Cup will feature the Russians Aleksandra Goryachkina (2596) and Kateryna Lagno (2558), the Ukrainians Mariya and Anna Muzychuk (2544 and 2535, respectively), Nana Dzagnidze (Georgia, 2524), Harika Dronavalli (India, 2515), Tan Zhongyi (China, 2511), and many other chess stars.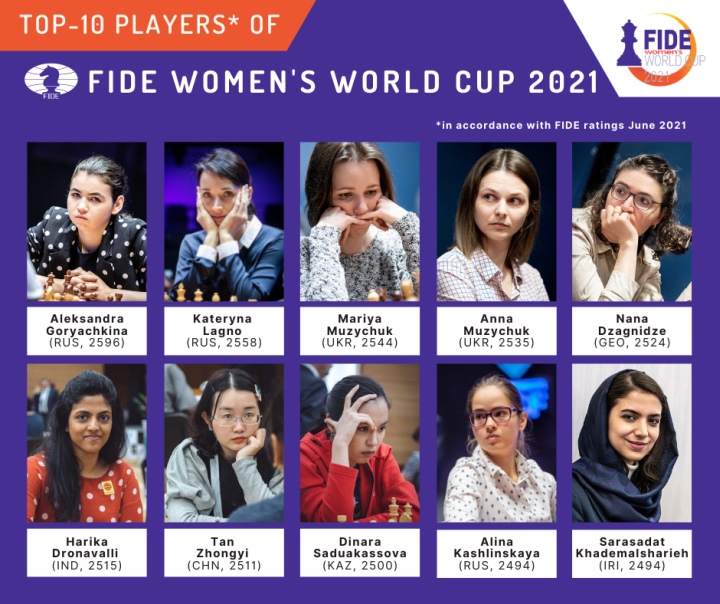 The organiser's nominee for the Women's event is Anna Afonasieva (Russia), while Amina Mezioud (Algeria) has been given the right to play by FIDE President.
The first round of the FIDE World Cup and the FIDE Women's World Cup will start off with one hundred and fifty-six (156) and seventy-eight (78) players, respectively. The winners of the opening matches will advance and be joined by fifty (50) high-ranked players in the open event and twenty-five (25) in the women's competition, who are seeded straight into the second round. All matches consist of two classic games and a third-day tie-break, if necessary.
Full pairings can be found on the official website of the FIDE World Cup 2021. Great matches are to be expected already in the first round!
The prize fund of the FIDE World Cup is 1,892,500 USD and 676,250 USD in the FIDE Women's World Cup.
The tournament venue is the Galaxy entertaining center located in the Gazprom Mountain Resort, Krasnaya Polyana, Sochi.
Participants:
Media accreditation: press@fide.com
Official website: worldcup.fide.com