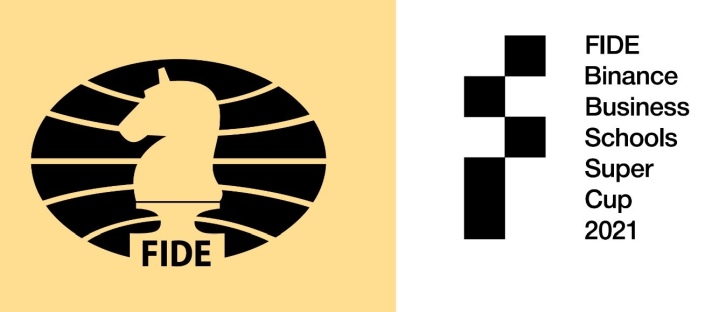 The International Chess Federation and Binance, TigerTrade and CryptoUniverse are excited to hold the first FIDE Binance Business Schools Super Cup, an online team competition that will take place from July 9-11, 2021.
The Cup is an excellent chance for participating teams to get new business opportunities through chess and network with the world's top business schools.
With 64 teams and over 250 participants expected, the tournament will be a truly global team event uniting students and employees from business schools from all parts of the world.
"More importantly, through the practice of chess, your alumnus and students will also be training useful skills like decision making, creative thinking, problem-solving approach, and the ability to calculate a few moves ahead. All this in a competitive but fun environment. We believe this is also a chance for the participating business schools to detect talent, reach new clients and business opportunities, and develop contacts with leaders and representatives of national and multinational businesses," said FIDE President Arkady Dvorkovich.
The FIDE Binance Business Schools Super Cup 2021 will consist of two stages: a division and playoff stages. During the first two days, the teams divided by geographic principle will play round-robin tournaments, while on July 11 knock-out event will be held. The time control for all matches is 10 minutes for the game and two seconds increment per move, starting from move one.
Each team will consist of four players, including at least one male player and at least one female player, and may have two reserves. They also have a right to include one invited player – a person not from business school – to be part of the team.
The event will be played online, on the Lichess platform, and broadcasted live on FIDE Youtube and Twitch channels.
The winning team will be declared Business Schools Super Cup Champion 2021 and will get the Winner's Cup. Besides, the best four finishing teams in the final standings will secure seats in an online simul against one of the top grandmasters.
FIDE Binance Business Schools Super Cup regulations (pdf)
Applications for participation are accepted until July 07, 2021: https://www.binance.com/en/event/binancechesscup
General inquires: businessschools@fide.com
Media Contact: press@fide.com

About the sponsors:

Binance is the world's leading blockchain ecosystem and cryptocurrency infrastructure provider with a financial product suite that includes the largest digital asset exchange by volume. Trusted by millions worldwide, the Binance platform is dedicated to increasing the freedom of money for users, and features an unmatched portfolio of crypto products and offerings, including: trading and finance, education, data and research, social good, investment and incubation, decentralization and infrastructure solutions, and more.

TigerTrade is an innovative software package for securities and cryptocurrency traders.
TigerTrade company has over five years of software development experience in the trading field, and in this short time, TigerTrade has managed to earn the full trust of its loyal customer. More than 15,000 active users worldwide with a daily volume of 100 mil USD have already chosen TigerTrade for analysis and trading.
TigerTrade provides intuitive interactive visualization of market data, 30+ components for cluster analysis, flexible, customizable workspace with the support of a few monitors, and other tools and features.

CryptoUniverse.io is one of the largest mining platforms in the world, offering power and equipment for cryptocurrency mining since 2017. Registered in Estonia under EU law, it owns one of the biggest data centers in CIS, located in the Republic of Karelia. Its overall capacity is 120 MW, with electricity coming from a private hydroelectric power plant, leaving no carbon footprint. The company is glad to participate in the Cup because chess and IT management have much in common in terms of considering various moves and outcomes.

About the organizers:

Moscow School of Management SKOLKOVO is one of the leading business schools in Russia and the post-Soviet states established in 2006 by the business community.
In 2020 it became No.1 in Eastern Europe in terms of quality of corporate programmes according to the Financial Times ranking. The School was awarded the EQUIS EFMD accreditation – one of the most prestigious international accreditations granted to 1% of the leading international business schools.
The idea of the Cup belongs to its alumni: Oxana Kosteniuk, the president of the SKOLKOVO Chess Club, and its members: Sergey Raytsev, Tigran Mamikonian, Alexey Maiorov and Yuriy Mordvin.

Lichess is a completely free, open-source chess platform — exclusively powered by volunteers and donations. Today, Lichess users play more than 3 million games every day. Lichess is one of the most popular chess websites in the world while remaining 100% free. Despite starting out as just a chessboard, Lichess now has a wide variety of features to meet the needs of the internet chess community: play, learn, events, community.

Championat.com is the leading sports digital media in Russia and CIS. We are in the TOP-7 of Similar Web in category "sports media in the world". More than 36 million unique visitors enjoyed Championat.com in May 2021.