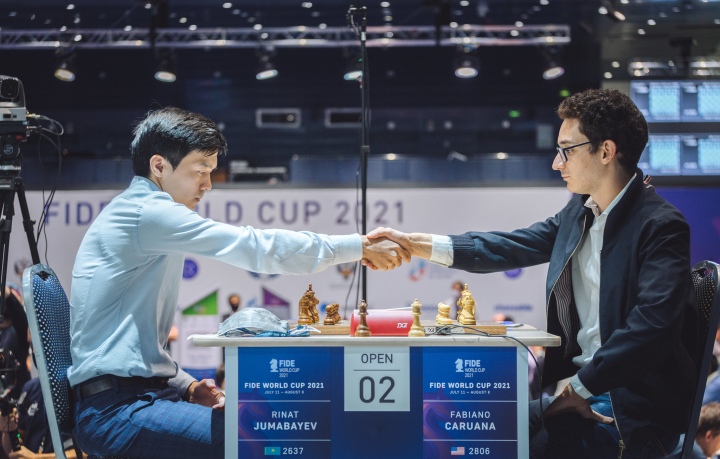 17 third-round matches go to tie-beaks tomorrow
Monday, July 19th, 2021 – Rinat Jumabayev, Kazakhstan's top player, rated 2637, advanced to the fourth round of the World Cup this afternoon by eliminating World's number 2 player Fabiano Caruana. The first game of the two ended yesterday in a solid draw and it seemed logical that Caruana would be pressing today with the white pieces.
In a complex variation of the Carlsbad Queen's Gambit, Caruana played for a kingside attack with the thematic, albeit risky, 17.g4 push. He then sacrificed an exchange for some piece play compensation, although the computer is not impressed at all.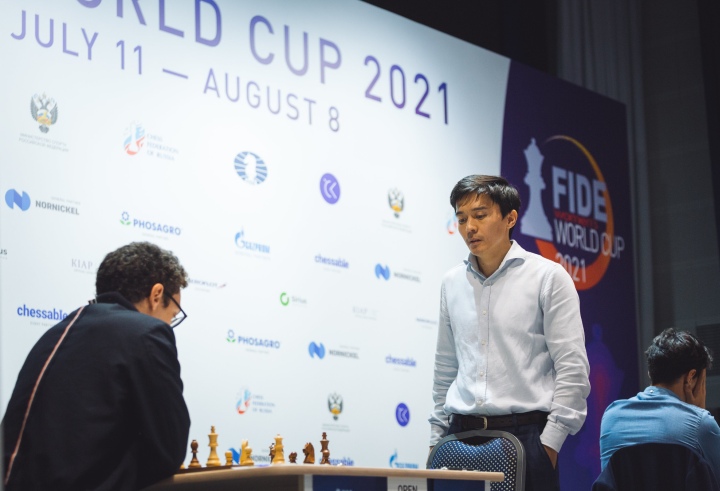 But over the board Jumabaev wasn't able to defend with precision, and soon he had to improvise with a queen sacrifice to keep the balance. The game was probably equal but very tricky and just one mistake (41.Qc4?) was enough for Black to win a piece tactically and seal the deal.
Jumabaev kindly returned to the venue after his mandatory testing to tell us about the game and how he was feeling after defeating such a brilliant player. Check out an interview with the winner here.
All this emotion occurred at the end of the round, but before that many other things had happened in the Galaxy Centre. The first qualifier of the afternoon was Daniil Dubov, who advanced to Round 4 after defeating Vladimir Malakhov by a clear 1.5-0.5 score.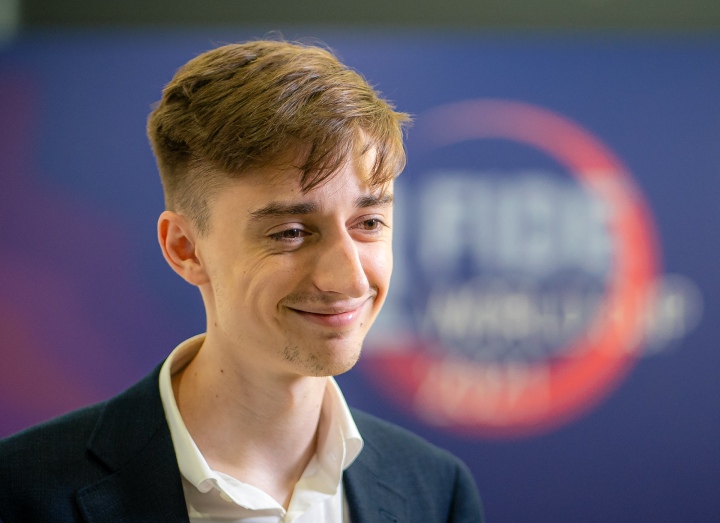 Although today's game was quite solid, the key game was yesterday (Game 1) when Dubov played a very enterprising e5-e6 pawn thrust, taking the game into dark territory, from which he emerged victorious. His opponent in the 1/16 finals will be Andrey Esipenko in an all-Russian bout.
In his post-game interview, Dubov took us through both games and told us what he was planning to do his two free days.
Also qualifying at a speedy pace this afternoon was 2015 World Cup winner, Sergey Karjakin (Russia). His opponent Grigoriy Oparin had to win today on-demand with Black after losing an equal ending in the first game. However, defeating the former world champion contender with Black is not an easy task, and Oparin had to concede the draw after 38 moves.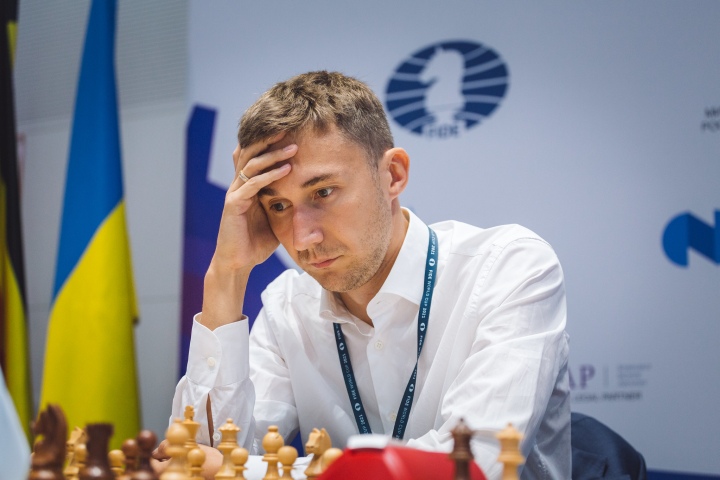 Karjakin will face the winner of tomorrow's tiebreak between Boris Gelfand Vladislav Artemiev. He gave us his thoughts on the game in a short interview.
Meanwhile, World Champion Magnus Carlsen was grinding out his second win against his team-mate Aryan Tari in an opposite-color bishop ending with a rook each. Maybe Tari had some better defensive chances at some point but Magnus' technique proved to be too much for him and he had to resign on move 67.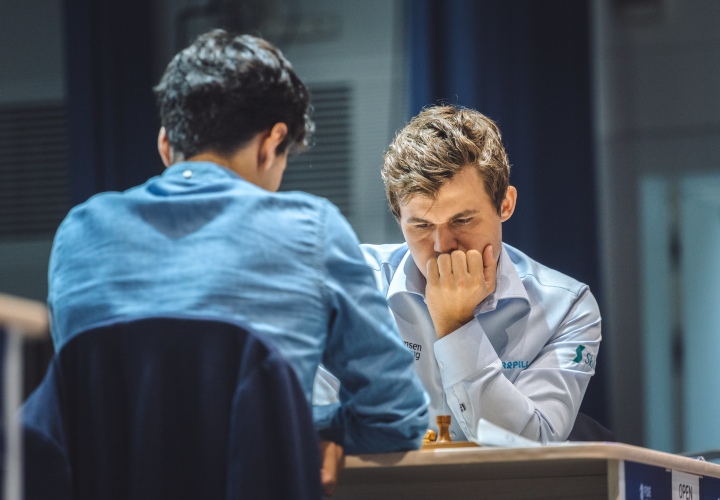 In his post-game interview, Magnus explained his thoughts on the two games of this round and how important it is for him to play classical games to get training for the World Championship.
The following matches ended in a 1-1 tie and will be decided tomorrow, in what will be an absolutely tremendously exciting tie-break session in the Galaxy Centre:
Matlakov - Wojtaszek
Bacrot - Amin
Tomashevsky - Idani
Vidit - Adhiban
Grandelius - Xiong
Abdusattorov - Giri
Martirosyan - Mamedyarov
Paravyan - Vachier-Lagrave
Praggnanandhaa - Krasenkow
Artemiev - Gelfand
Cheparinov - Svidler
Shankland - Areshchenko
Ponkratov - Vakhidov
In the ever-exciting women's group, things are getting very interesting by the day. Top seeds Aleksandra Goryachkina, Kateryna Lagno (check out an interview with her) and Anna Muzychuk all drew their second game today and advance with ease to the next round while former World Champion Zhongyi Tan eliminated her opponent Marie Sebag (France) by a clear 2-0, the same result as Nino Batsiashvili who also advanced to the next round with a conclusive 2-0 score.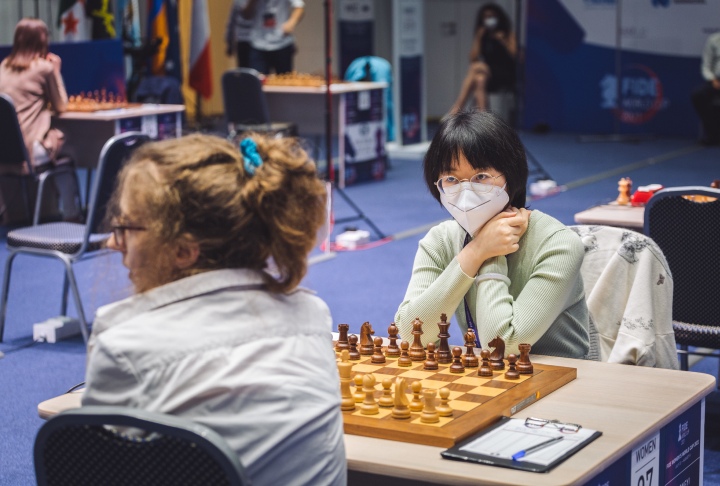 Several other qualifiers had to win today on-demand to avoid going through tomorrow's tiebreaks and therefore enjoy an extra rest day before the fourth round. These players include Antoaneta Stefanova, Elizabeth Paehtz, Sarasadat Khademalsharieh and Dinara Saduakassova
Dinara joined us at the press center to talk us through her games and her plans for the next two rest days.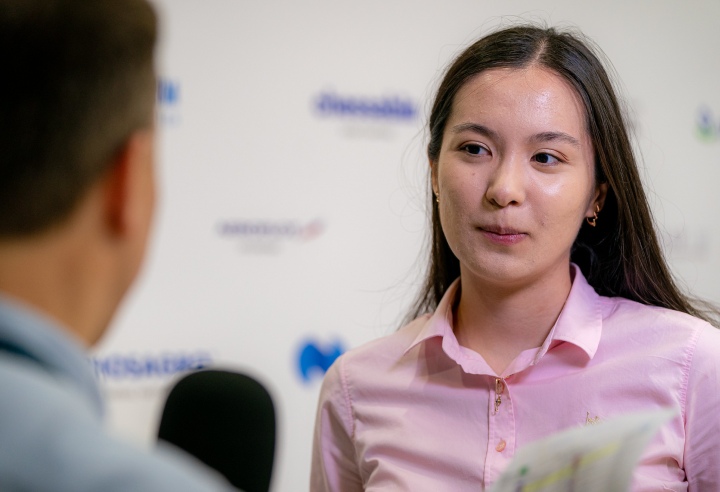 Four matches were unable to provide a winner so they will be fought out tomorrow, in what will be an absolutely tremendously exciting tie-break session in the Galaxy Centre.
Yip - Dzagnidze
Shuvalova - Garifullina
Ushenina - Muzychuk, M
Khotenashvili - Assaubayeva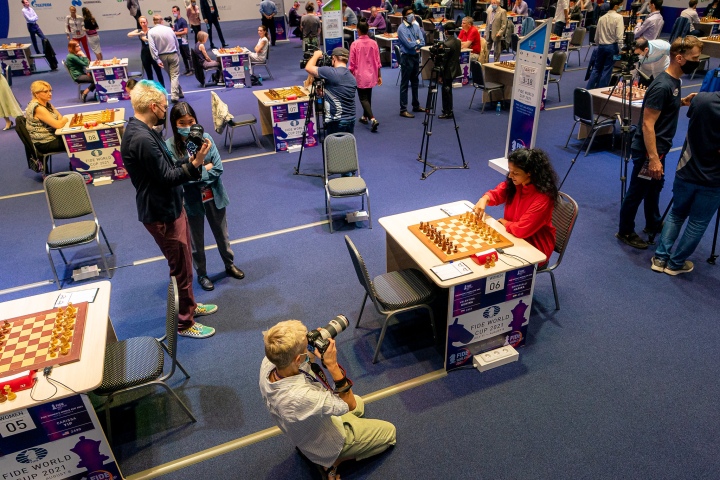 Pairings of the tiebreaks of the third round, live games and PGN files can be found on the World Cup website alongside a great amount of other interesting information such as daily videos, a complete photo collection and other useful data.
Text: Michael Rahal, FIDE Press Officer press@fide.com
Photo: Eric Rosen and Anastasiia Korolkova
About the tournament:
Scheduled to take place from July 12th (Round 1) to August 6th (finals), the 2021 FIDE World Cup will gather together in Sochi (Russia) 309 of the world's best chess players, with 206 of them playing in the Open World Cup (and 103 participants in the first-ever Women's World Cup.
The top two finishers in the tournament, aside from World Champion Magnus Carlsen who is also participating, will qualify for the 2022 Candidates Tournament, in addition to winning the 110.000 USD first prize (80.000 USD for the runner-up).
Organisers: International Chess Federation (FIDE), Chess Federation of Russia, Russian Ministry of Sports, and Government of Krasnodar Krai.
Partners:
Gazprom – general partner
Nornickel – general partner
PhosAgro – general partner
Chessable – event's partner
Aeroflot – CFR's partner