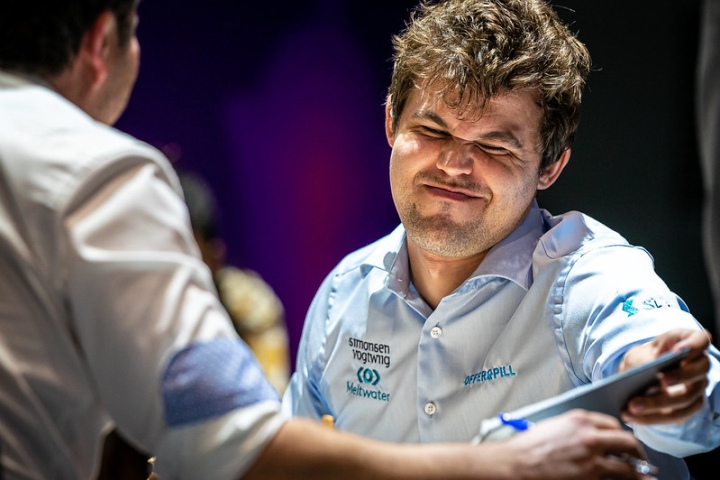 Shankland grinds down Karjakin in a technical ending
Wednesday, July 28th, 2021 – Eight players returned to the Galaxy Centre this afternoon for Game 1 (of 2) of the sixth round of the World Cup: the quarter-finals. The stakes are really high: there is a lot in play.
Not only the World Cup title and the fantastic 110.000 USD first prize: there are two spots for the 2022 Candidates tournament up for grabs, in addition to the direct qualification for the 2022 FIDE Grand Prix series.
GM Emil Sutovsky (FIDE Director General) pinpointed an interesting fact on Twitter (edited): "Nobody would have guessed these eight (players). Notably, none of the five players that took part in the Candidates 20/21 tournament (Nepo and Ding didn't play, Wang Hao quit afterwards). Well, that is a KO. And no, don't call it a lottery!".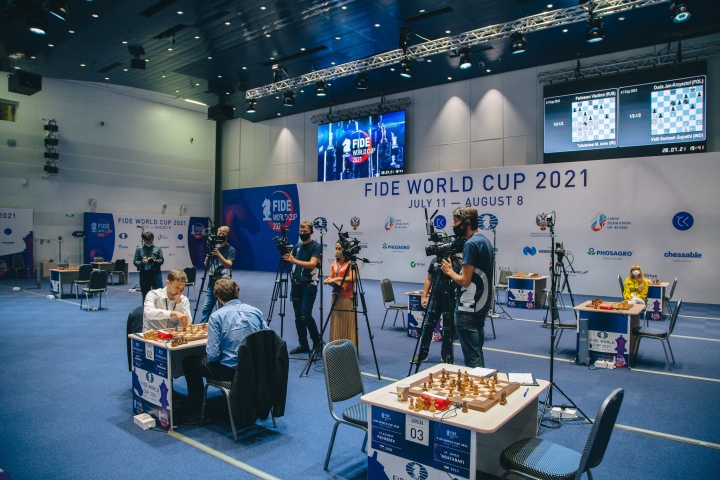 The women's section enjoyed a well-deserved rest day today - it will be the open group's turn on the 31st. Therefore, only four games were played, all of them very evenly matched.
Board one - on the main stage - featured the match between GM Etienne Bacrot (2678) representing France, against World Champion GM Magnus Carlsen (2847) from Norway. Excluding blitz and rapid games (in which Bacrot has defeated Carlsen twice), the World Champion had a 6-3 track record in his favour, with no wins for Bacrot, and this statistic didn't improve today.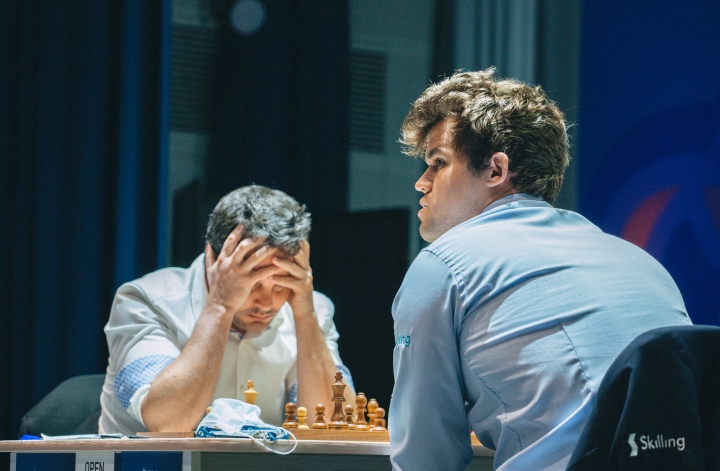 Carlsen played a very good game with Black, sacrificing a pawn for two bishops and the initiative in an anti-Marshall Ruy Lopez opening. Bacrot started to go astray with 24.f4?!, weakening his kingside, and a few moves later he blundered with 26.Qh3? (the move 26.f5 was better and the game goes on).
Carlsen followed up by sacrificing his queen for a rook and a bishop in addition to a very strong passed pawn, and soon notched up the win and made his claim to advance to semi-finals. After the game, he analysed the different variations with GM Almira Skripchenko in the official commentator's booth.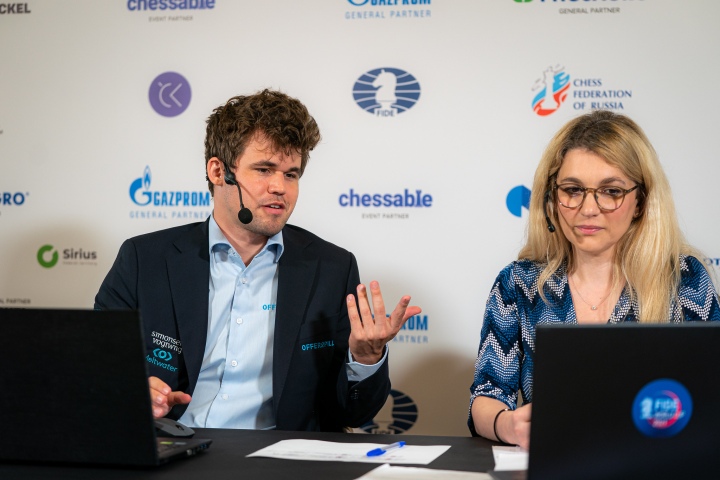 On board two, USA top player GM Sam Shankland (2709) took on former 2015 World Cup winner GM Sergey Karjakin (2757), in the first official game between the two.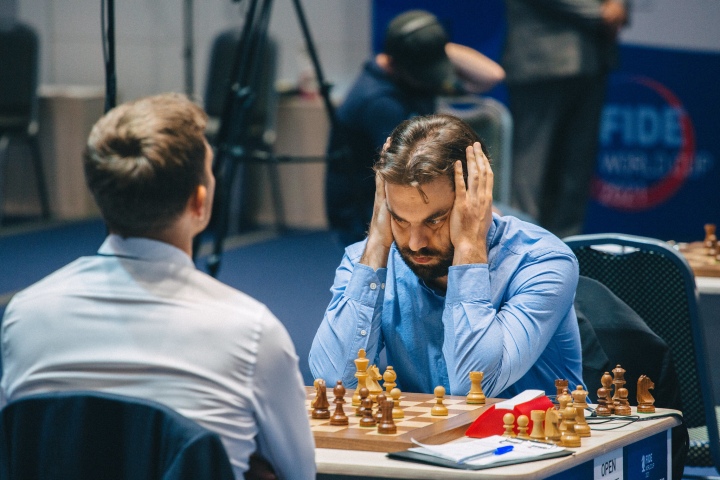 After an earlier exchange of the queens, the game seemed to be heading for a draw, but Shankland did have some light-square pressure and chances to pressure a double pawn.
Sam Shankland - Sergey Karjakin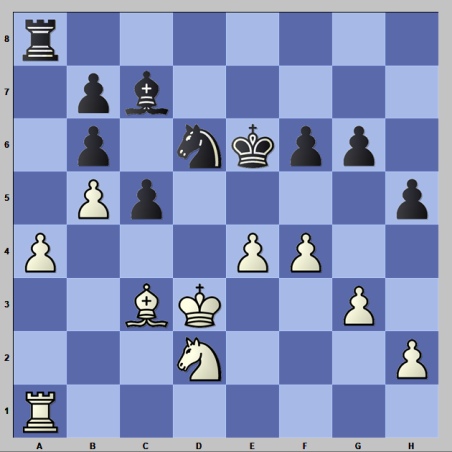 However, he needed a mistake and it finally came. Karjakin's 38…f5?, allowing 39.e5, creating a strong supported passed pawn, was a game-deciding move. With excellent endgame technique and top-notch pawn-ending theoretical knowledge, Shankland was able to grind his opponent down. Sam was kind enough to share this thoughts of the game in a short interview.
The former 2015 World Cup winner will now have to win tomorrow on-demand to force the tiebreak.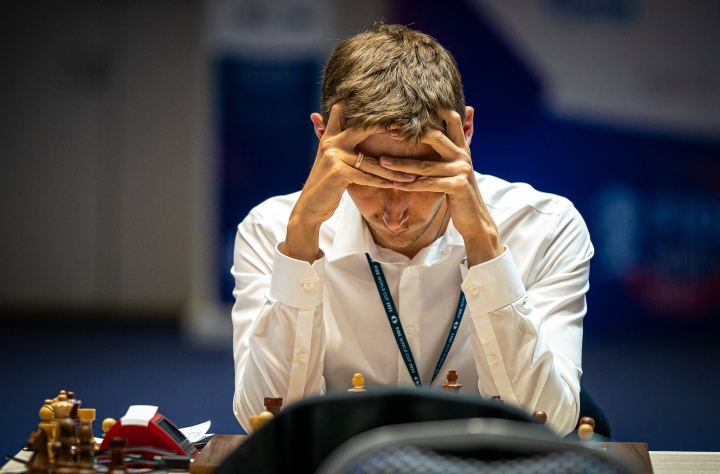 GM Vladimir Fedoseev (2696), playing for Russia, was relatively happy with a draw with Black on board three. Both players castled queenside in a Queen's Gambit - exchange variation -, but his opponent, GM M. Amin Tabatabaei (2613) from Iran, played for the attack on the queenside. Fedoseev sacrificed a pawn for some compensation, but Tabatabaei declined the offer and the Russian escaped unscathed.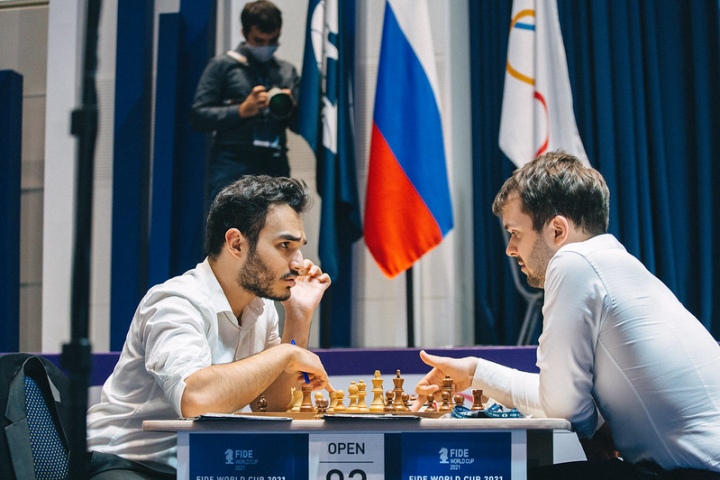 He gave us his thoughts in a brief post-game interview.
Last but not least, the match between GM Vidit, Santosh Gujrathi (2726) from India and GM Jan-Krzysztof Duda (2738) representing Poland, will have to be decided tomorrow. Vidit went for a solid Catalan opening which gave him a very slight edge, two bishops and some squares for the knights, but Duda defended perfectly and the game ended peacefully on move 28.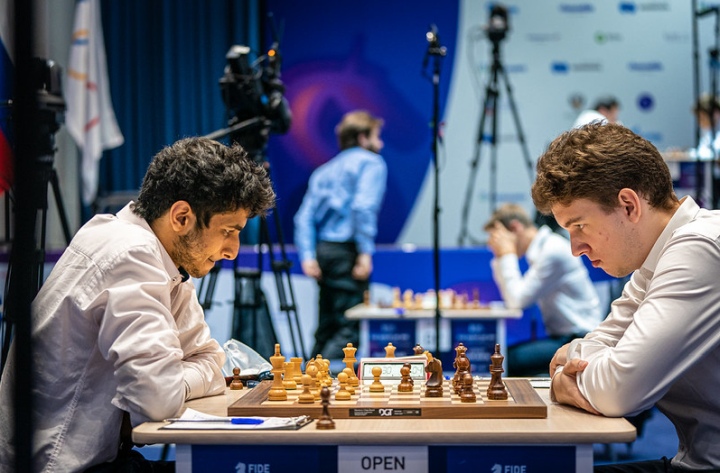 In the post-game interview, we questioned Vidit on his opening decision.
More information on the World Cup website:
Pairings of the rounds, live games and PGN files can be found on the World Cup website alongside a great amount of other interesting information such as daily videos, a complete photo collection and other useful data.
Text: Michael Rahal, FIDE Press Officer press@fide.com
Photo: Eric Rosen and Anastasiia Korolkova
About the tournament:
Scheduled to take place from July 12th (Round 1) to August 6th (finals), the 2021 FIDE World Cup will gather together in Sochi (Russia) 309 of the world's best chess players, with 206 of them playing in the Open World Cup (and 103 participants in the first-ever Women's World Cup.
The top two finishers in the tournament, aside from World Champion Magnus Carlsen who is also participating, will qualify for the 2022 Candidates Tournament, in addition to winning the 110.000 USD first prize (80.000 USD for the runner-up).
Organisers: International Chess Federation (FIDE), Chess Federation of Russia, Russian Ministry of Sports, and Government of Krasnodar Krai.
Partners:
Gazprom – general partner
Nornickel – general partner
PhosAgro – general partner
Chessable – event's partner
Aeroflot – CFR's partner