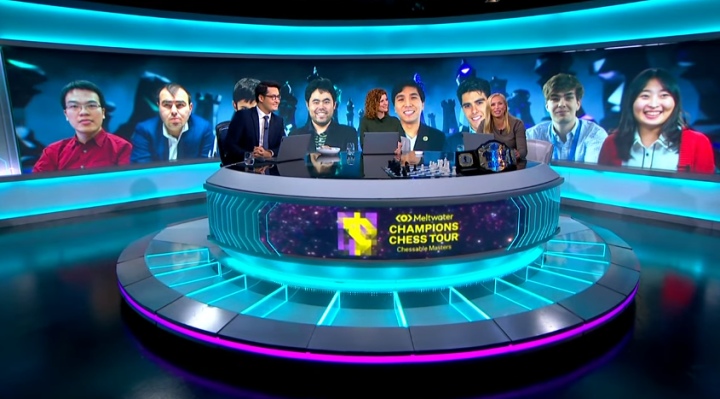 US star Wesley So is a half-point clear of the pack after the $100,000 Chessable Masters got off to a thrilling start today.
The Fischer-Random World Champion, who is chasing the overall lead in the $1.6 million Meltwater Champions Chess Tour, scored three fine wins to finish on 4/5.
Hot on his heels are fellow American Hikaru Nakamura, talented teen Alireza Firouzja and the Russian hotshot Vladislav Artemiev who all scored 3.5/5.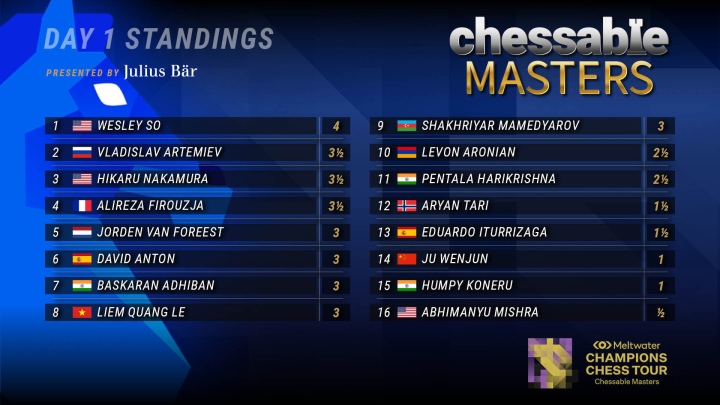 The event's 15-round prelim stage started with a huge interest in 12-year-old American prodigy Abhimanyu Mishra. Mishra is the world's youngest Grandmaster having broken Sergey Karjakin's long-standing age record last month.

Mishra was making a big step up in class and was not expected to challenge, and it was predictably tough for the youngster. He suffered four successive defeats before picking up a draw in the final round against India's Humpy Koneru.
But Mishra, from Englishtown, New Jersey, wasn't downbeat afterwards.
"It's an honour to play in this tournament, it is a very good learning opportunity for me," he said.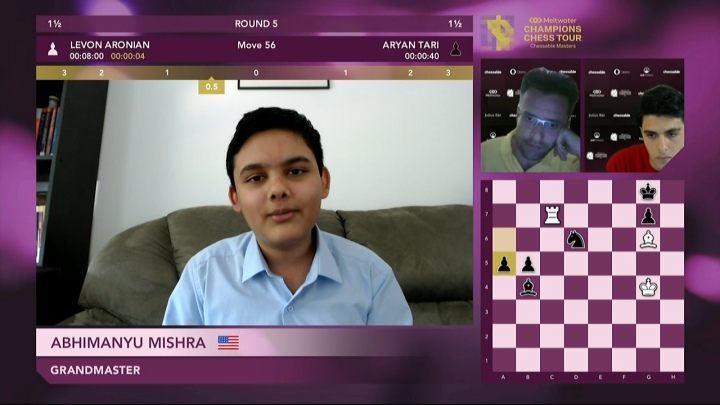 What wasn't expected was that top seed Levon Aronian, the winner of the last Tour event, would have a catastrophic start.
Aronian blundered away a winning position against the Dutchman Jorden Van Foreest and found himself on only half a point after three rounds. Two successive wins against Mishra and the Norwegian Aryan Tari got him back on track but the experienced Armenian still has a lot to do.
The three-day prelim stage will resume tomorrow with rounds 6 to 10 before the cut is made on the final day and eight players are eliminated.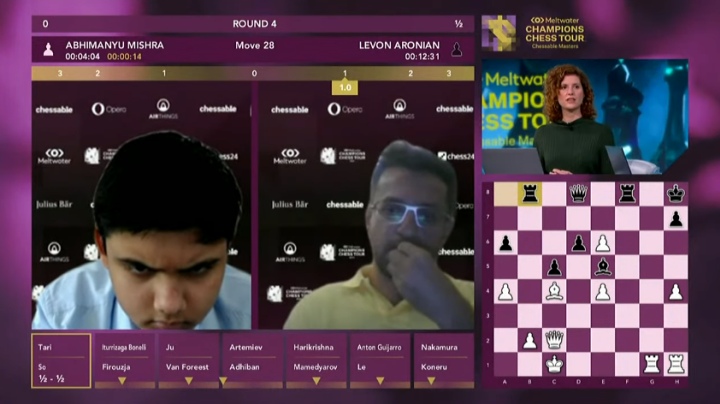 All matches in the Chessable Masters are hosted in chess24.com's playzone and available to watch on the platform's Twitch and YouTube channels for free.
The Chessable Masters is the penultimate leg of the Meltwater Champions Chess Tour before the Finals event in San Francisco, where the ultimate winner will be crowned the world's best online chess player.
For further information, please contact:

Leon Watson, PR for Play Magnus Group
leon@chessable.com
+44 7786 078 770