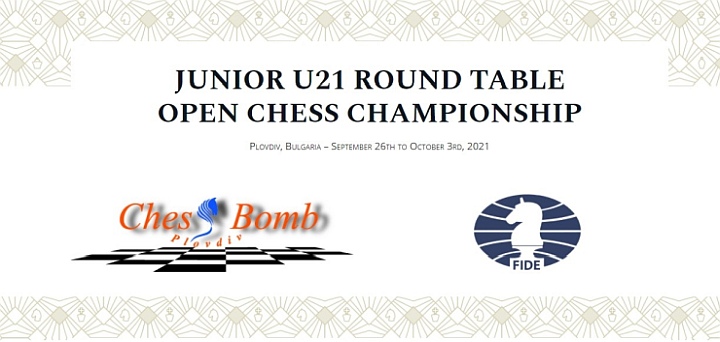 The Junior U21 Chess Championship will be held from September 26 to October 03, 2021 in Plovdiv, Bulgaria.
The 9-round over-the-board event is organized by Chess club ChessBomb – Plovdiv under the auspices of FIDE and in cooperation with Bulgarian Chess Federation 1928, Plovdiv Municipality, and with the sponsorship of Club Round Table 3 Plovdiv and KIM 2003 Ltd.
Schedule:
September 26th, 2021 – Opening Ceremony, Round 1
September 27th, 2021 – Round 2
September 28th, 2021 – Rounds 3 and 4
September 29th, 2021 – Round 5
September 30th, 2021 – Round 6
October 1st, 2021 – Round 7
October 2nd, 2021 – Round 8
October 3rd, 2021 – Round 9, Closing Ceremony
Time control: 90 minutes per player for 40 moves plus 15 minutes until the end of the game, with an increment of 30 seconds for each move played, starting from the first.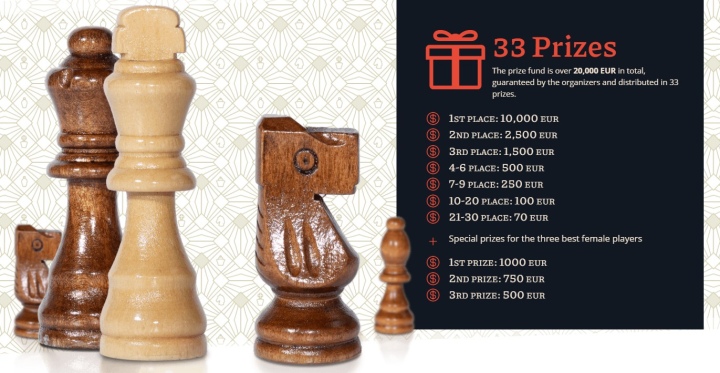 All participants of the event must be born after 31/12/1999.
The registration is free for players with GM, IM, WGM, WIM titles and players with a rating above 2400. For other participants, the fee is 70 EUR.
The tournament prize fund of over 20,000 EUR will be distributed among top-30 players and top-3 female players, with 10,000 EUR going to the winner of the event.
Registration and payment must be submitted by September 10, 2021.
Registration for the Junior U21 Round Table Chess Championship:
https://chessbomb.bg/registration-u21/
For more information visit the tournament's page: https://chessbomb.bg/wjrtocc-event/
Organizer's contacts:

Tournament Director
Kaloyan Mateev
info@chessbomb.bg
+359 877 657 701