Almost 500 players from over 30 countries participated in the Festival and were fighting for €28,000 prize fund in the beautiful capital of Latvia, Riga.
A little bit over ten years ago, FM Egons Lavendelis, decided to organise a tournament. "It started with an informal conversation with the vice-rector of Riga Technical University. At that point, our team, the team of Riga Technical University, had just won our first Latvian Team Championship title and we got rights to participate in the European Club Cup. And we were discussing - can we do that? We decided it's quite an expensive thing, and let's better use the money for Latvian chess in a more useful way...let's organise a tournament. That's how it started," he shared in an interview.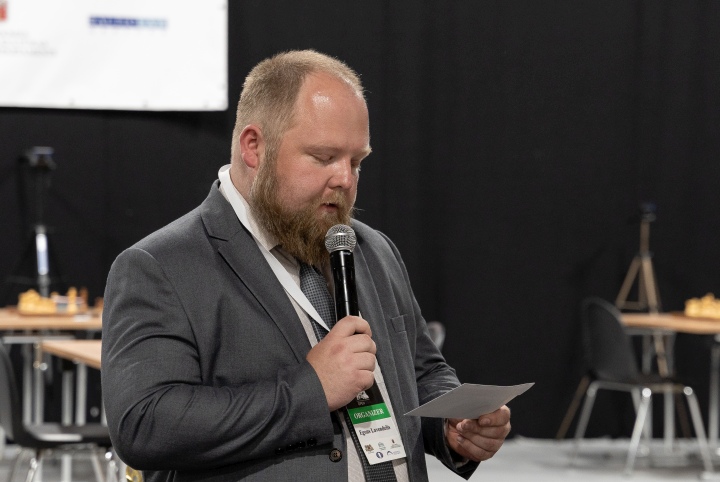 And here we are, a decade later, the Riga Technical University Open has attracted thousands of players from over 50 countries over the years, becoming one of the biggest chess festivals in northern Europe and probably in the whole continent as well!
There were nine different tournaments organised this year - six with classical control, two blitz events, and one rapid tournament. Each tournament attracted tens of chess-lovers from many countries, but the main focus was, as usual, the Open A.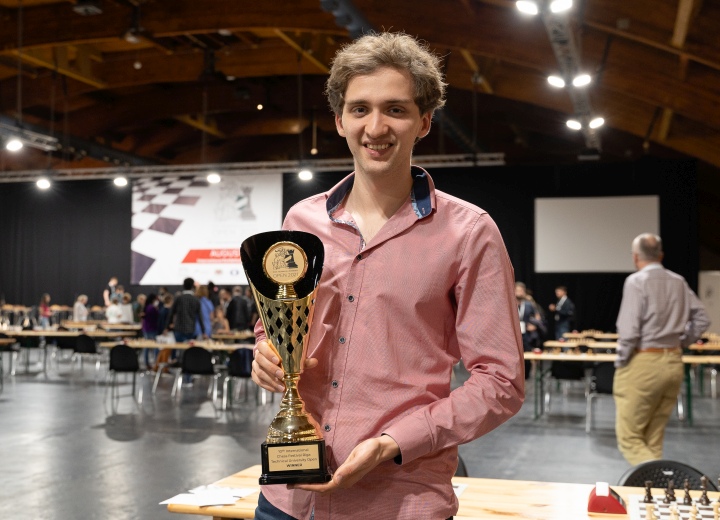 The winner of tournament A was Alexander Donchenko from Germany, who was the top seed and he actually signed up for it only two days before the event! Donchenko had quite a shaky start, scoring only 1.5/3 points, but as we know, it is all about the good finish in chess and he has done something amazing in the remaining rounds winning 6 out of 6 games!
Narayanan S. L from India played excellent chess and deservedly finished second not losing a single game. The third prize goes to Lithuanian Tomas Laurusas, who had a great summer, won a tournament in Warsaw and got his last GM norm in July, becoming number 1 in Lithuania.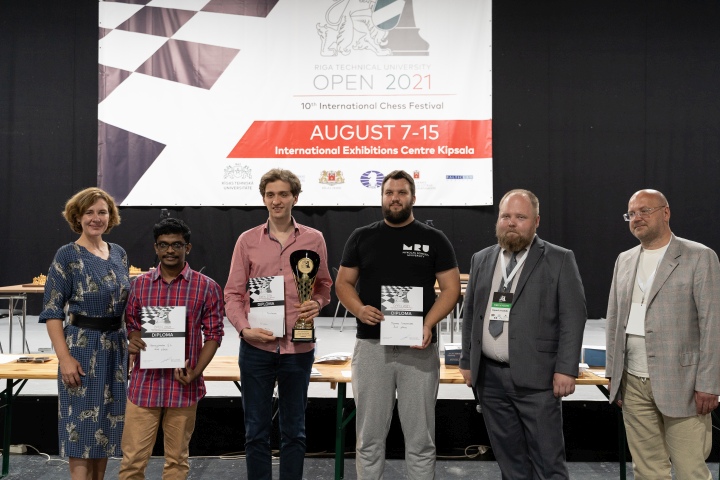 Final standings:
| | | | | | |
| --- | --- | --- | --- | --- | --- |
| 1 | GM | Donchenko, Alexander | GER | 2657 | 7,5 |
| 2 | GM | Narayanan.S.L | IND | 2624 | 7,0 |
| 3 | IM | Laurusas, Tomas | LTU | 2549 | 7,0 |
| 4 | GM | Kantor, Gergely | HUN | 2533 | 7,0 |
| 5 | GM | Karthikeyan, Murali | IND | 2606 | 7,0 |
| 6 | GM | Kovalenko, Igor | LAT | 2644 | 6,5 |
| 7 | GM | Hakobyan, Aram | ARM | 2612 | 6,5 |
| 8 | IM | Arjun, Kalyan | IND | 2503 | 6,5 |
| 9 | GM | Ivic, Velimir | SRB | 2571 | 6,5 |
| 10 | GM | Smirin, Ilia | ISR | 2610 | 6,5 |

Thanks to FIDE's aid package, which was significant support, the prizes for ladies and seniors were bigger this year and the top 3 places in those categories were:
Among women: 1st - Margareth Olde from Estonia (pictured below), 2nd - Aashna Makhija from India and 3rd - Uliana Yeshchenko from Ukraine
Among seniors: 1st - Igor Krivonosov from Latvia, 2nd - Ralf Akesson from Sweden and 3rd - Pierre Theon from France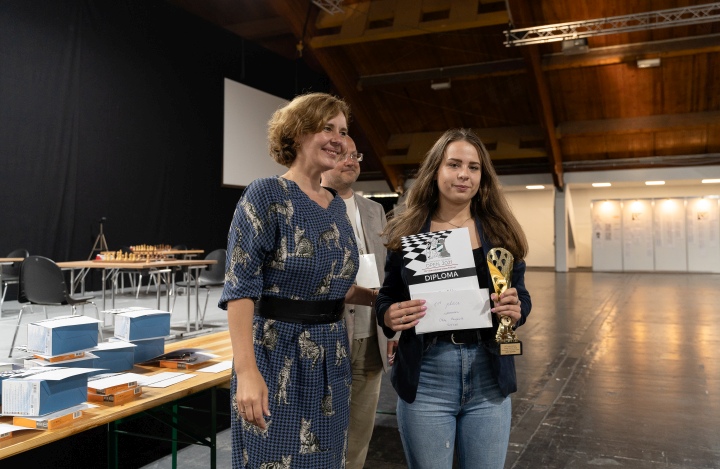 The tournaments B and Y (youth) were merged and took a whole week, just like the Open A. Latvians felt comfortable in this one as did the winner Renars Osis from Latvia. The best lady was Linda Krumina from Latvia and the best senior was Nikolaj Katishonok, also from Latvia! Vilius Rudziks (pictured below) from Lithuania became the best junior player. Interestingly - all of them finished in the top 5 in the final standings! (full results)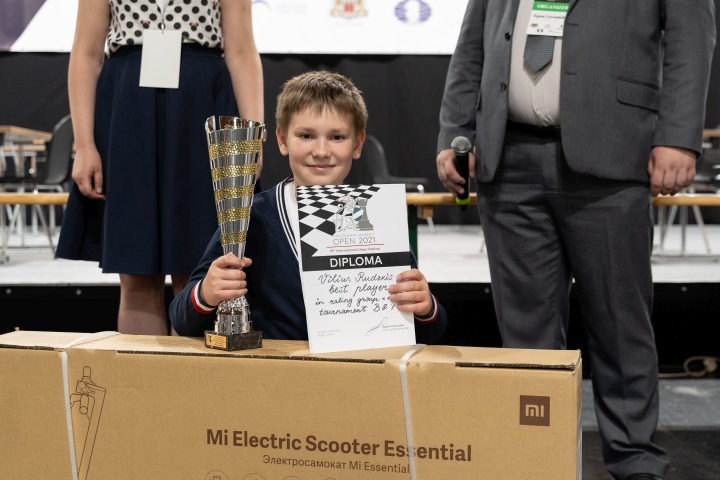 The C and D tournaments were also played together this year. Designed especially for those who can not commit to a full 7-day schedule of play, those were 4-day events and the time control was a bit shorter - 60min+30sec.
The first two places were taken by Spaniards - Alberto Eyo Castro-Rial came out on top and Dan Cruz Alvarez de Ron was second. The two top seeds of the tournament, they only switched places in the final standings.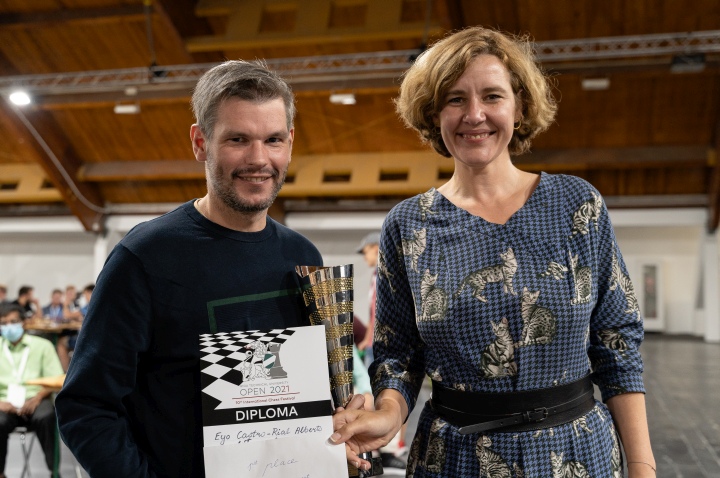 The best women player was Eibhia Ni Mhuireagain from Ireland, the best senior was Uldis Melderis from Latvia and the junior's category was won by Aleksejs Adamovics from Latvia (full results).
The shortest classical tournament in RTU Festival, Open E, only took three days and had a 30min+30sec time control. Agnis Mednis from Latvia came as the winner. The second place and also the best lady in the Open E was Anastasija Parhomenko from Latvia. The best junior player was also a lady - Melanija Luize Jansone, who is only 14 years old and finished 4th in the whole event! Stanislavs Saruns from Latvia was the best senior player in this group (full results).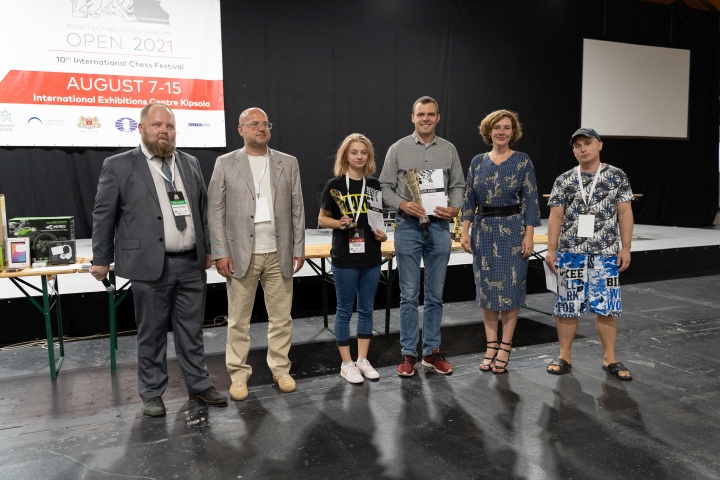 In addition to the classical tournaments, also the blitz and rapid events were organised. Igor Kovalenko, the best Latvian player, won the opening blitz and the opening rapid was won by Abhimanyu Puranik from India. The traditional closing blitz held right after the closing ceremony, was won by a young Indian star - R Praggnanandhaa.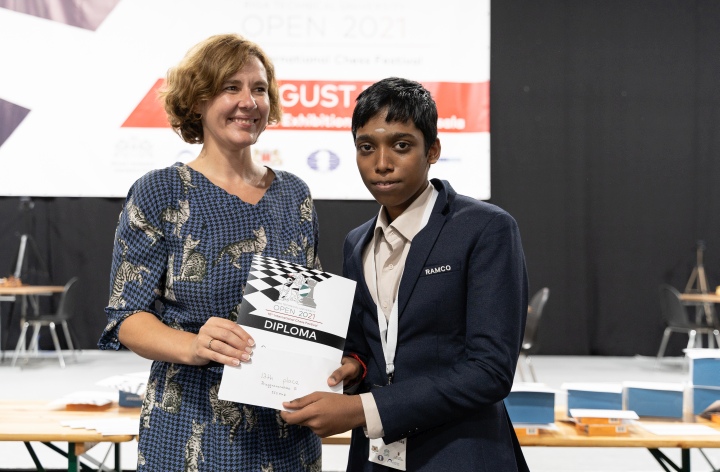 During the whole Festival, there was a live broadcast lead by GM Arturs Neiksans and WIM Anna Kantane. They were analysing the games, which were really exciting - a lot of aggressive play, risks and even queen sacrifices were almost an everyday occurrence!
A very interesting part of the broadcast was interviews with the players and special guests. Some of the personalities who joined the studio were: FM Egons Lavendelis - the tournament Director; WGM Dana Reizniece-Ozola - FIDE Managing Director; GM Ilja Smirin - one of the best grandmasters in Europe for 2 decades now; GM Ramesh R B - one of the best coaches in the world; GM Kaido Kulaots - winner of the 2019 Aeroflot tournament and of course GM Alexander Donchenko - winner of the event.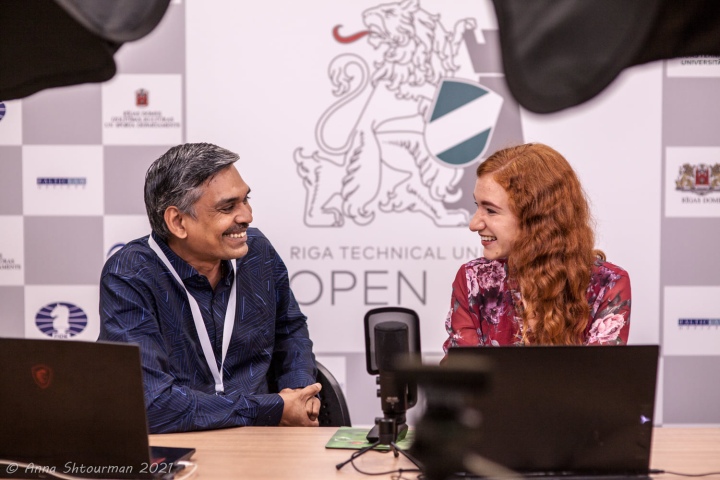 The commentary by the Latvian-Polish duo reached over 124,000 unique viewers and was watched over 1 million minutes!
The entire Festival was a true celebration of the game we all love and what it truly means - sportsmanship, unity, respect and fun! And as Egons Lavendelis mentioned during an interview, the next editions are also planned, so chess will be back in Riga next summer for the 11th Riga Technical University Open.
"Our goal is clear - we want it to be a Festival for everyone" - added Egons.
You can find out more about the Festival on the website - www.rtuopen.lv and all the news are on the official facebook page - www.facebook.com/rtuopen
Photo: Anna Shtourman