What started off as a slow day with three draws quickly turned dramatic as Maxime Vachier-Lagrave bounced back in today's round to defeat Darius Swiercz, while Jeffery Xiong took advantage of a time-trouble blunder by Fabiano Caruana to upset the World No. 2 in stunning fashion. With the win, Vachier-Lagrave propelled himself back into a tie for first place with 3.5/5, where he shares the lead with both Wesley So and Leinier Dominguez heading into the rest day tomorrow.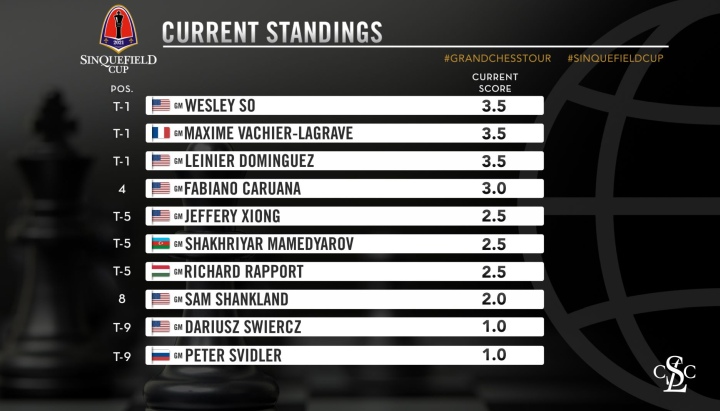 So - Rapport | ½-½, 17 moves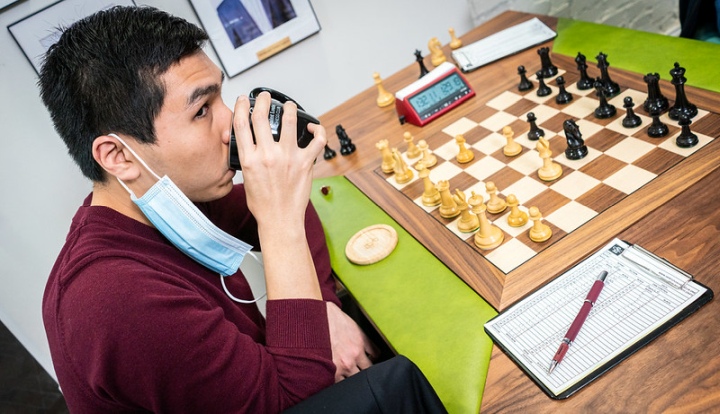 A surprise quick draw in the Berlin ended this game in less than 40 minutes into the round. In the post-game interview afterwards, So admitted he was not feeling well due to "a lack of sleep" from drinking too much coffee in the days prior. The draw also gets Wesley one step closer to clinching first place in the overall GCT standings.
Svidler - Shankland | ½-½, 24 moves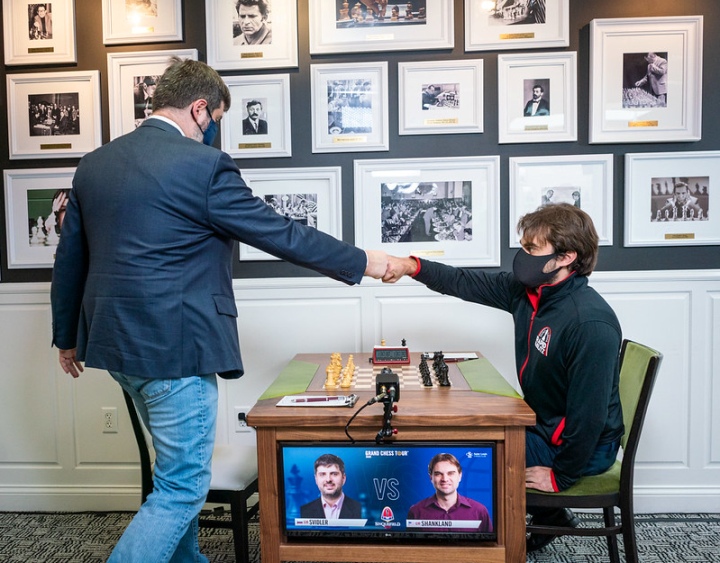 Peter Svidler opted for the rare 6.Bd3 against the Najdorf as the players quickly left charted waters and were on their own in a thematic Sicilian structure. The game stayed even the whole time, with both sides having weaknesses that balanced each other out. After an exchange of knights, the players soon repeated moves in an otherwise equal position.
Mamedyarov - Dominguez | ½-½, 38 moves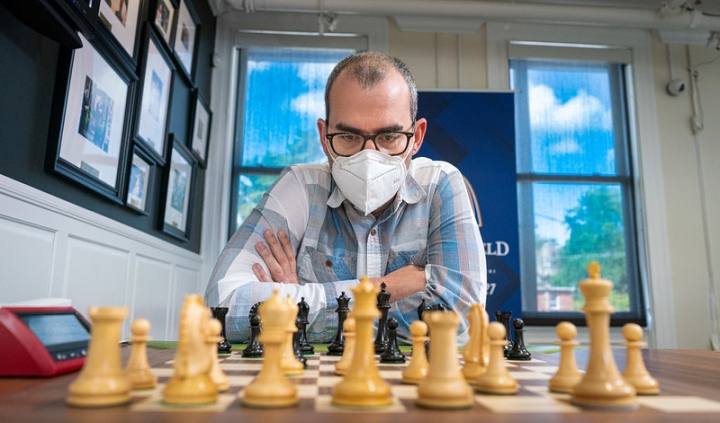 Using the rare move 7.Re1 in the Classical Queen's Gambit Accepted, Mamedyarov prepared a sharp pawn sacrifice that gave him long-term compensation in the form of piece activity. However, Dominguez defended well, and after a series of exchanges, the players found themselves in a dead-equal rook endgame, where they immediately repeated moves.
Vachier-Lagrave - Swiercz | 1-0, 47 moves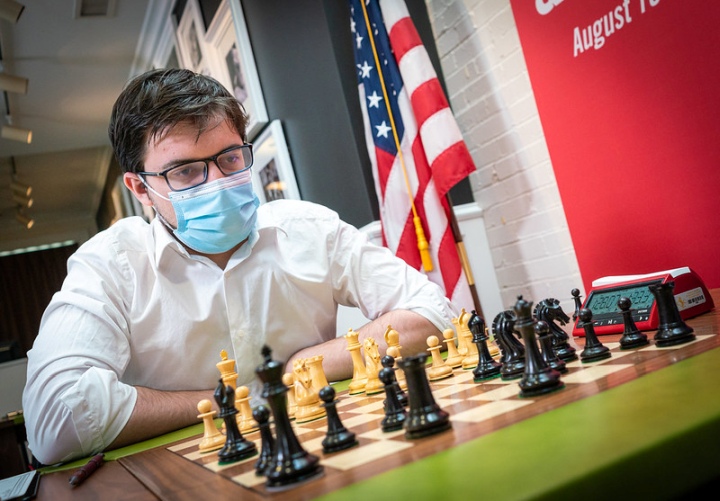 Although Swiercz was able to get in some nice preparation in a topical line of the Italian Game, Vachier-Lagrave reacted well and still found a way to pose problems for his opponent. One wrong decision by Black gave MVL the opportunity to seize the initiative, as he found a dynamic way to activate his pieces and secure a significant advantage. Further precise technique by the Frenchman allowed him to reach a rook endgame with two pawns up, which he converted smoothly.
Xiong - Caruana | 1-0, 36 moves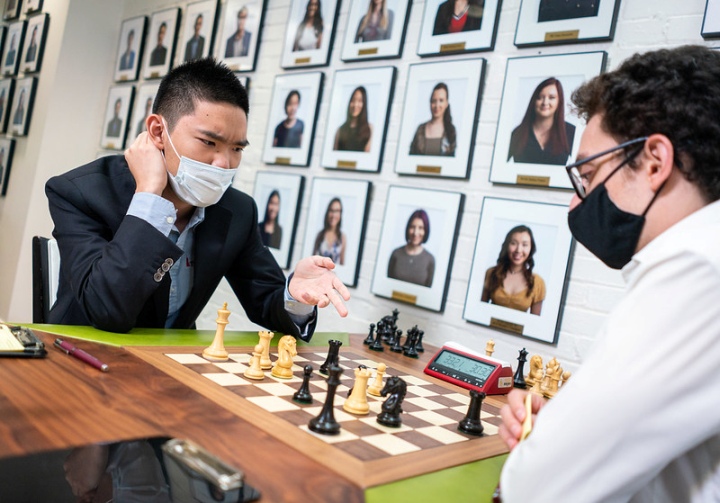 Things looked a bit dangerous for Xiong as he quickly fell worse as White in a Reti Opening, due to Black's space advantage in the center. However, one wrong move by Caruana turned the tables, as Xiong was able to activate his entire position thanks to a strong knight maneuver. In mutual time-trouble, it seemed like Caruana had managed to escape into an equal endgame, but a further blunder by Fabiano gave Xiong the opportunity to win a full minor piece, which he immediately spotted. Not seeing a way out, Caruana then flagged in a lost position, earning the 20-year-old Xiong one of the biggest scalps of his career.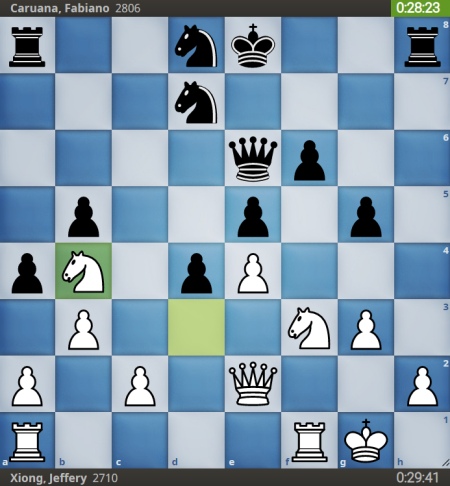 After Black's last move 23...Nc6-d8, Xiong found the strong reply 24.Nb4!, looking to plant the knight on the excellent d5-square.
Round 6 of the 2021 Sinquefield Cup takes place on Monday, August 23, starting at 2:50 PM CDT, with all the action covered live by commentators GM Yasser Seirawan, GM Alejandro Ramirez, and GM Maurice Ashley. Watch live on grandchesstour.org as well as twitch.tv/kasparovchess.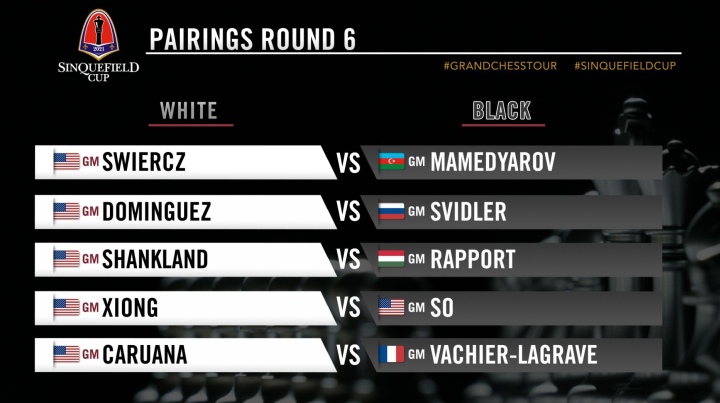 Text: IM Kostya Kavutskiy
Photo: Lennart Ootes and Austin Fuller
Further Information:
Web: GrandChessTour.org | Twitter: @GrandChessTour
Instagram: @GrandChessTour | Facebook: @GrandChessTour
#GrandChessTour
#STLRapidBlitz

Venue:
Saint Louis Chess Club, USA
August 10- August 16, 2021

Press Contact:
press@grandchesstour.org
Photos: Courtesy of Grand Chess Tour and Spectrum Studios Credits available on Flickr.
Livestream:
Grandchesstour.org
Kasparovchess.com