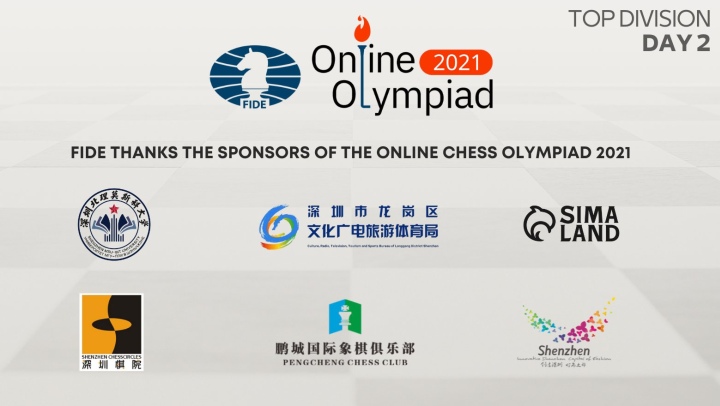 Thursday, September 9th, 2021 – Day 2 of the Top Division was played today with no major incidents to speak of. Teams are split into four pools which play a Round Robin all-play-all format for three days and the two top teams advance to the quarterfinals.
Top Division - Pool A
With a 3½-2½ win over China in the first round of the day, Kazakhstan took the lead in group A. The team won all six matches and with 12/12 stands an excellent chance of qualifying for the quarterfinals.
The key game of the match was GM Zhansaya Abdumalik (Kazakhstan) vs GM Hou Yifan (China) on board three. In the diagram, it's clear that White is already doing very well and the win is near.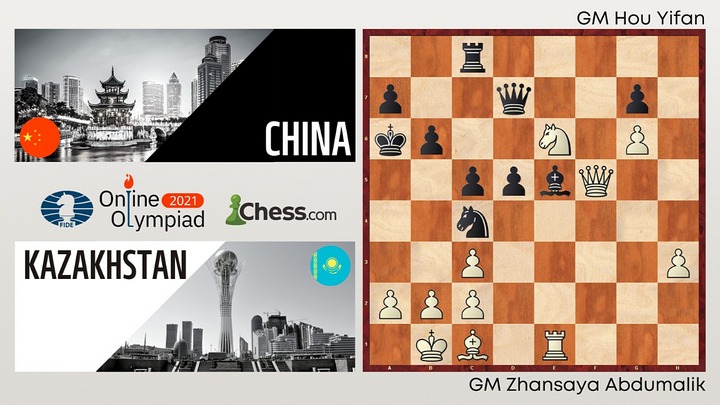 Abdumalik missed a chance to win on the spot by 32.Nxc5+ but the sequence she opted for 32.Rxe5 Nxe5 33.Qxe5 gave her two pieces for a rook and a comfortable victory.
China is now in second place with 10/12, just one point ahead of Iran (9/12). However, China did defeat Iran 3½-2½ in the last round of the day. In this situation, with all other things being equal, tomorrow's Round 8 match between Kazakhstan and Iran will probably decide which of these three teams advances to the next stage.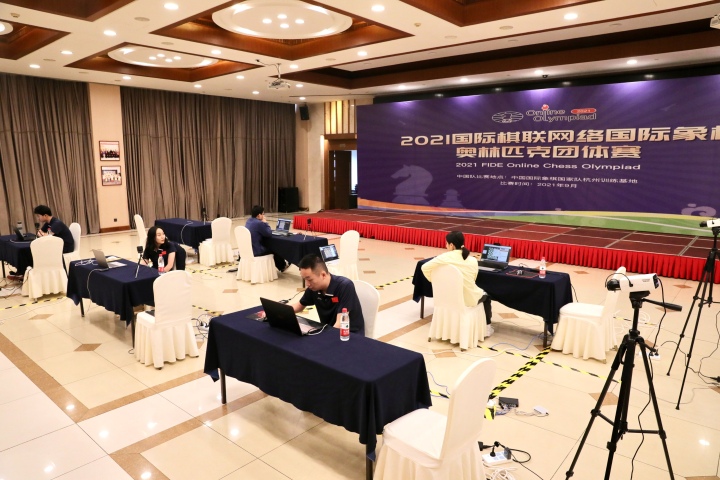 The Chinese team in action – Photo: Liang Ziming
The rest of the teams are already too far behind to be in contention, but they could eventually participate indirectly: Armenia (in fourth place) still has to play with China.
The top scorers in this group are IM Bibisara Assaubayeva (Kazakhstan) with an impressive 6/6 on board six and GM Ju Wenjun (China) with an equally remarkable 5½/6 on board four.
Also performing very well are the players from Iran: GM M.Amin Tabatabaei is on 5½/6 on board five, while his teammates GM Poya Idani and IM Sarasadat Khademalsharieh are both on 5/6.
Top Division - Pool B
Day 2 ended in a two-way tie between India and Hungary at the top of the leader board with 11/12. Today it was Hungary's turn to drop a match point against ninth-placed Belarus, which allowed India to overtake them on tiebreaks.
They will face each other tomorrow in the first round of the afternoon. Whoever wins will most definitely be the winner of the group while the loser will still have to finish strong, as France (8/12) is just behind them, waiting for an opportunity to push through.
Another key match for tomorrow might be the ninth-round clash between France and Azerbaijan, who currently stand fourth with 7/12. It would definitely be a long shot, but they could still have an outside chance to qualify with the right results.
The top scorer for the Indian Team is board six WGM Vaishali R. She is the only player of the team who has been selected to play on five occasions and she has scored an undefeated 4/5.
Former World Champion GM Vishy Anand holds the team's first board with a solid undefeated 3/4.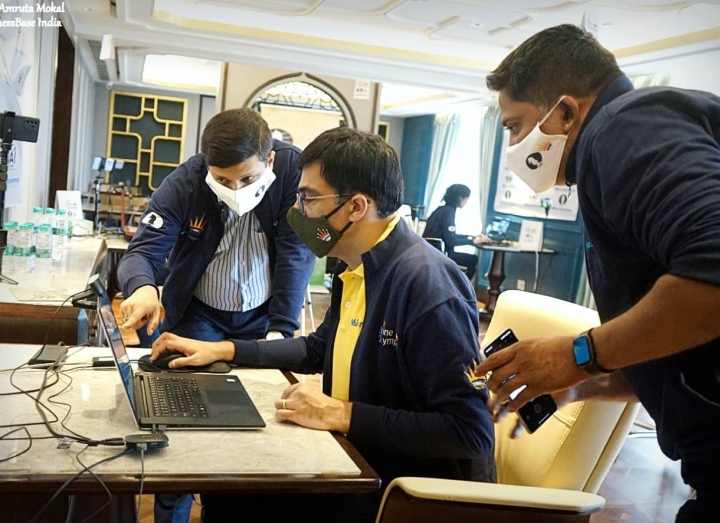 Vishy Anand gets some technical advice before the game – Photo: Amruta Mokal
However, the best score of the group for the moment is shared between GM Marie Sebag from France and GM Zhao Xue from Shenzhen China. Both are playing on board three and have performed at a very high level with 5½/6.
In the next diagram, the position is more or less equal, although many players would prefer Black because of the attacking potential. A move like 30.a4 would have been fine, and the game continues.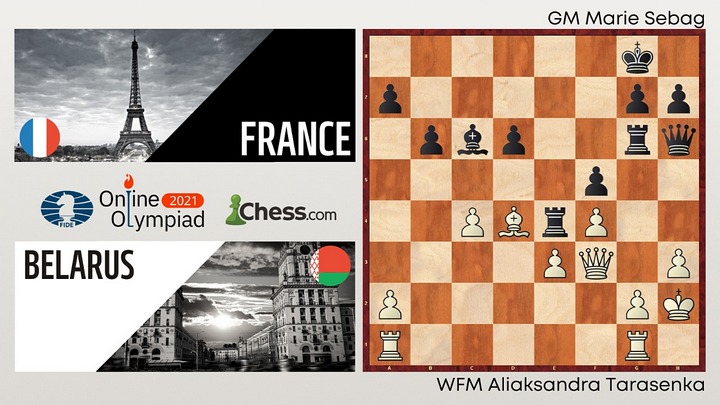 However, White lashed out with the very risky 30.g4? and was duly punished after 30…fxg4 31.Rxg4 Rxd4! (maybe White missed this idea) 32.Qxc6 Rd2+ 33.Kg3 Rxg4+ 34.Kxg4 Qg6+ 35.Kh4 h6! 36.Rf1 Rg2 mating.
Top Division - Pool C
In group C, Russia continued its streak of crushing victories and with 12/12 they are just a step away from claiming first place and mathematical qualification to the quarterfinals. Today they took down Paraguay (4½-1½), Israel (5-1) and Argentina (6-0). The depth of the team is unbelievable: no less than six of the twelve players are on 100% scores with 3/3.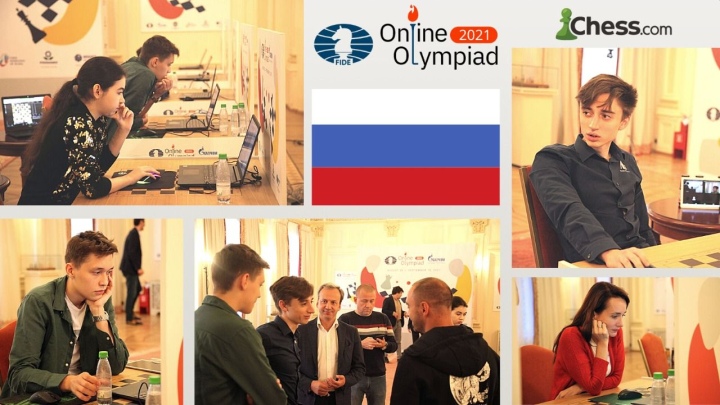 The Russian Team at the Moscow Central Chess Club – Photos: V.Barsky
Precisely Argentina had one of those days which you want to forget as soon as possible. After finishing day one in second place, three straight defeats have relegated them to seventh place in the standings, with no chance to make a comeback.
Ukraine, now on 10/12, won their three matches and have climbed to second place, while Germany (8/10) have also made a comeback and have edged out Spain from third to fourth.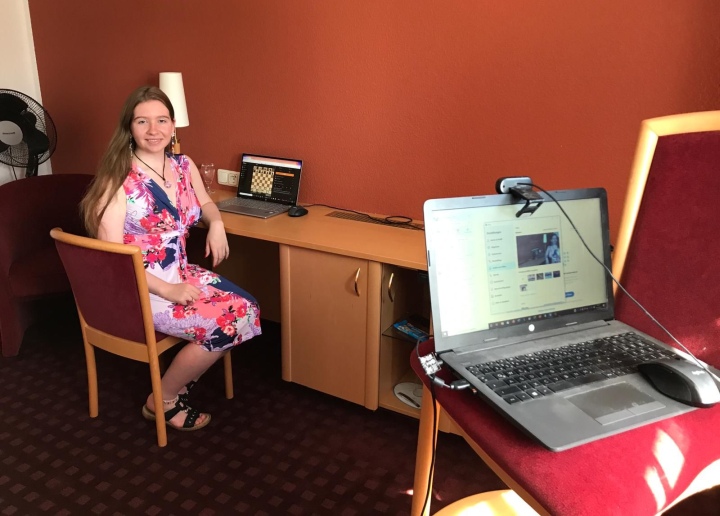 German FM Lara Schulze has a great online gaming setup
There are still direct encounters between these team's tomorrow, the most important clearly is Ukraine-Spain. One of these three will accompany Russia to the next stage and tomorrow it will be a moment of truth.
GM Andrey Esipenko's 4½/5 on board five is the best score for the Russian team at the moment. Also performing very well is IM Ana Matnadze, who always shines at team events. She is on 4½/5 defending Spain's board four.
Top Division - Pool D
Qualifying in Group D is definitely going to be a huge challenge. After six rounds, USA is in the lead with a clean score of 12/12, followed by Poland (11/12) and Canada (10/12). One of these three teams will NOT make it through to the quarterfinals.
The most solid of the three is USA. They are scoring at least four points in each and every match and the eight players in the team have all played between four and six games. However, they still have to face Poland tomorrow (and Cuba), so the first place is not a lock.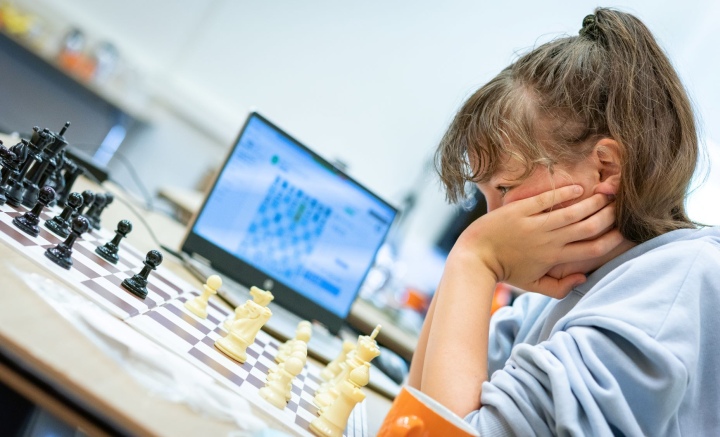 Netherlands board 12 Machteld Van Foreest fully concentrated
Poland is also performing very well. They convincingly won their three matches this afternoon, especially the 5½-1½ against Peru (a tough day in the office for them, with 0/6). Recent World Cup winner Duda is on a roll with 5½/6 on the very tough first board.
Canada is the third team in contention, hanging in there with three rounds to go. They have direct clashes with Poland Cuba and Peru, so it's all in their hands to grab one of the two qualifying spots. The last round bout with Poland might decide who qualifies.
The top scorers in this group are GM Awonder Liang (USA) with 5½/6 on board five, tied with GM Jan-Krzysztof Duda (Poland) on board one. But Poland's IM Karina Cyfka on board four has won all her games (6/6!) and is in the lead.
Pairings of the rounds, live games, PGN files and other useful information can be found on the FIDE Online Olympiad website. Please note that all results and standings remain provisional until the fair play panel submit its daily report.
The games can be followed online on www.chess.com (Events) and also on FIDE's own Youtube channel. Commentators for this stage are GM Daniel Naroditsky, WGM Jen Shahade, WGM Dina Belenkaya, WGM Keti Tsatsalashvili, IM David Pruess and James Canty III.
Text: IM Michael Rahal, FIDE Press Officer
Email: press@fide.com
---
About the tournament:
Scheduled to take place from August 20th to September 15th, the 2021 FIDE Online Olympiad is a national teams event in which all federations affiliated to FIDE have the right to participate. Team's consist of six players with a minimum of three female players and two junior players.
Played online on Chess.com, the event features two main stages: the "Divisions stage", and the Play-offs stage. All games are played with a 15 minutes + 5 seconds increment per move time control. The full schedule can be consulted here.
Organisers:
International Chess Federation (FIDE)
Chess.com as the hosting platform
Partners supporting the 2021 FIDE Online Olympiad:
Shenzhen Longgang District Culture, Radio, Television, Tourism and Sports Bureau
Shenzhen Chess Academy
Shenzhen Pengcheng Chess Club
Shenzhen Longgang District People's Government
Shenzhen Municipal Bureau of Culture, Radio, Television, Tourism and Sports