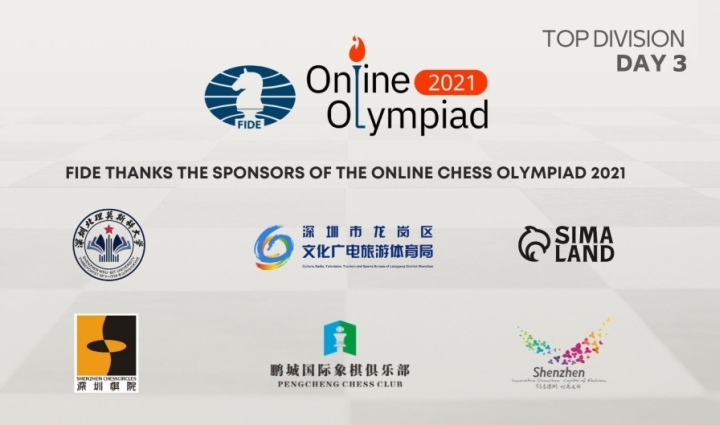 Thursday, September 9th, 2021 – The Top Division of the Online Olympiad finished today after three days of intense top-level chess. A total of 1717 players, playing from 150 countries all over the world, with 888 titled players, including 209 Grand Masters and 244 International Masters.
Three weeks after the tournament began, we are closing in on the event's final stage: the Play-Off by Knock-Out. No more groups, no more comebacks: if you lose, you're out!
This stage will run from Monday, September 13th (Quarter-finals) to Wednesday, September 15th (Final). Each duel will consist of two matches, and in the event of a tie (each team wins one of the two matches, or both matches are drawn) it shall be broken with one 3/2 blitz match, followed by Armageddon if needed.
After today's results, the pairings are:
Duel 1: Kazakhstan vs USA
Duel 2: Ukraine vs India
Duel 3: Russia vs Hungary
Duel 4: China vs Poland
*Fair-play panel confirmation is pending
Top Division - Pool A
An unfortunate last round loss against Armenia by 2-4 relegated China (14/18) to second place in group A and allowed Kazakhstan to win the group outright with 16/18 points.
A round earlier, Iran, who had lost most of its chances to qualify by tying with Greece, had defeated Kazakhstan, and it looked as if China would prevail; they were leading on tiebreak by quite a substantial margin.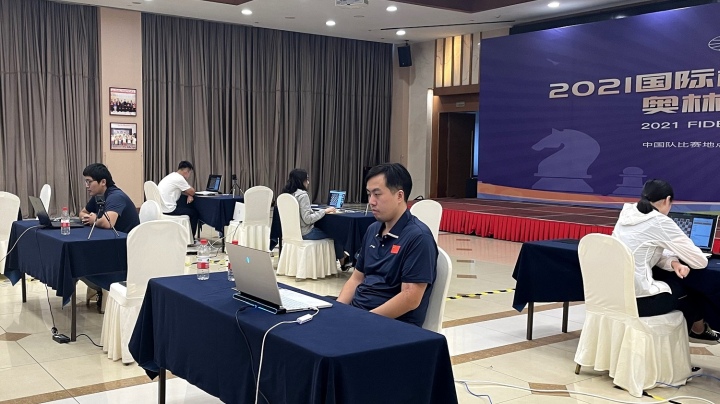 China getting ready to face Romania. Photo: Liang Ziming
But you can never count out a country with such a chess tradition as Armenia. Although out-rated on all boards by a considerable margin, they overcame the ELO difference with strong play. The two main surprise results were WIM Siranush Ghukasyan defeating WGM Qian Huangon on board four while WFM Mariam Mkrtchyan defeated WGM Jiner Zhu on board six.
With these results, A1 winner Kazakhstan will face D2 runner-up United States of America and A2 runner-up China will play against D1 winner Poland in the quarterfinals.
IM Bibisara Assaubayeva (Kazakhstan) finished the event with an impressive 7/7 on board six. However, GM Ju Wenjun (China) scored 7½ /8 on board four for a superior final result.
Iran's GM M.Amin Tabatabaei finished the tournament with an undefeated score of 7½ /9 on board five while his teammate IM Sarasadat Khademalsharieh lost one of her last day for 7/9.
Top Division - Pool B
Logic prevailed this afternoon in group B. India defeated Hungary by 4-2 in the first round of the day and consolidated their lead. A 5-1 win over Moldova, followed by an exciting last-round draw against Slovenia (already as group winners), gave the Indian team a 16/18 score and first place.
Hungary will join them in second place with 15/18, three points ahead of Azerbaijan. Although they conceded the top position to India in the first round of the day, they continued to play strong and defeated Sweden and Moldova.
Shenzhen China also did very well and with wins over Egypt, France and Sweden edged out these teams (Slovenia for Sweden) on tiebreak for fourth place.
The quarterfinal pairings will be B1 winner India against C2 runner-up Ukraine and B2 runner-up Hungary against C1 winner Russia.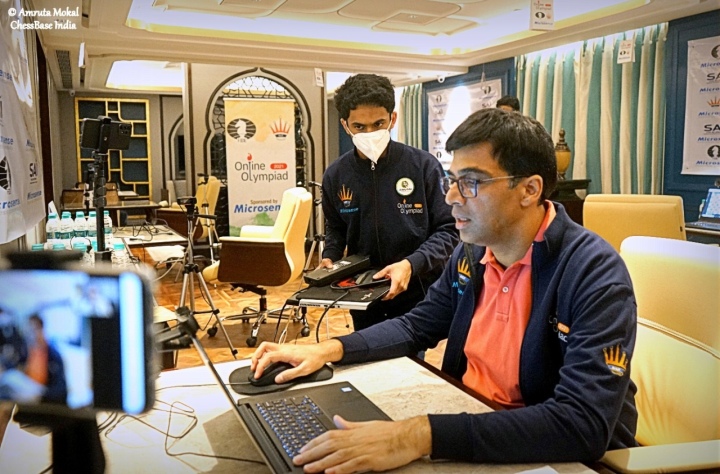 India's U-18 GM Nihal Sarin and legend GM Vishy Anand. Photo: Amruta Mokal
One of India's secrets has been sharing the burden of the effort through all the players. Each of them has participated at least three times – most of them have played five – and only board six WGM Vaishali R. has played her sixth game, scoring an undefeated 4½ /6.
Hungary has also used all their players, ranging from two games to six, with strong performances by WIM Bianka Havanecz (reserve second female) with 5/6 and main junior board GM Adam Kozak with 5½ /6.
However, the best score of the group has been GM Zhao Xue from Shenzhen China on board three, with an outstanding undefeated 8/9 score. She pulled away from Marie Sebag (France) by winning their head-to-head encounter.
In the diagram, the position is quite complex. Black has just played 30…Ng5 attacking the rook on e6. Of course, 31.Bxg5 seems fine, but Zhao Xue chose another option.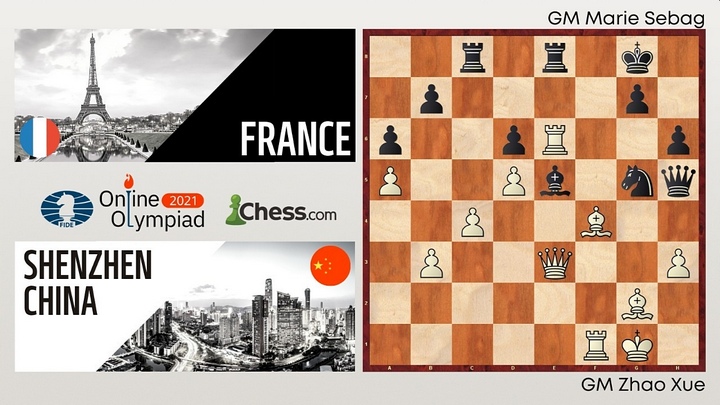 31.Bxe5!? Nxe6 and now the computer suggests 32. Bxd6! Ng5 and 33.Be7! with the idea d6-d7, although it's still very complicated. Zhao chose 32.dxe6 and after 32…dxe5 33.Bxb7 got enough compensation for the exchange and went on to win.
Top Division - Pool C
The undisputed winner of group C is the team from Russia. Their final score, 18/18, has left no doubt about the strength of the squad: the icing on the cake was a 6-0 last round win against Latvia, having already secured first place.
They have spread the task fairly between most of the team members and have only lost 4 in 54 games (2 of them by GM Alexander Grischuk). An incredible feat!
Even more outstanding is that their six female players have not lost even a single game of the 27 they have played!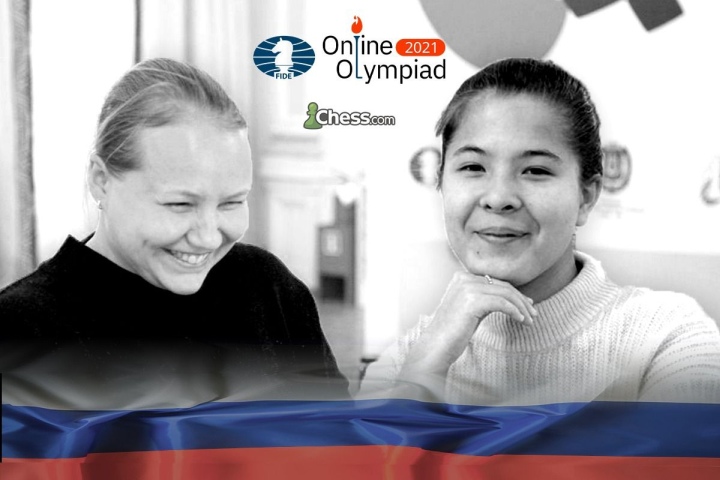 The G-factor: WGM Keya Garifullina and GM Valentina Gunina scored 5/5 each!
Ukraine took the second qualifying spot with 15/18, in good measure due to a very close 3½ -2½ win against Spain in the last round. The Spaniards had just lost all their chances to qualify by losing to Russia by a tight 4-2 (the "best" result by any of Russia's opponents) but even so they put up a show until the end.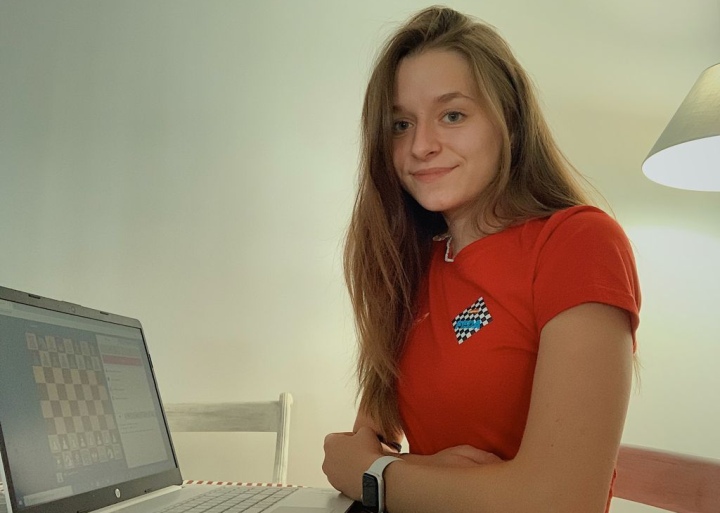 Spains's U-18 Maria Eizaguerri won the 2021 Spanish mixed U-18 Championship
Germany came very close to qualification (14/18), winning their last three matches, but did not manage to come back from Day One's bad performance.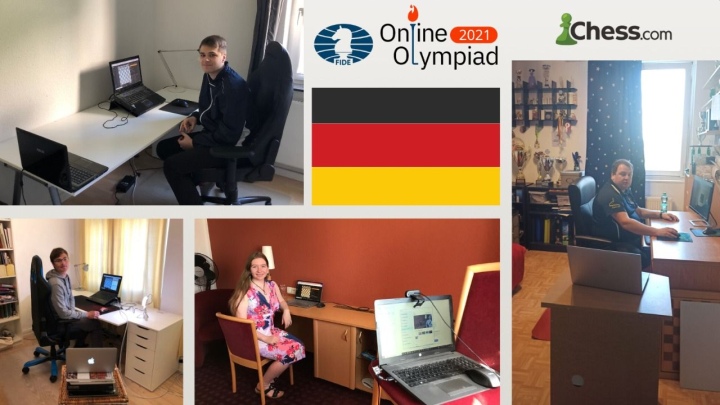 The German team came very close to qualification
The final standings of the group offer the following quarterfinal pairings: C1 winner Russia against B2 runner-up Hungary and C2 runner-up Ukraine against B1 winner India.
GM Andrey Esipenko's 6½ /7 result on the U-20 board five was Russia's top score, but also very impressive were reserve female players GM Valentina Gunina and WGM Leya Garifullina scoring 5/5 100% results apiece.
Italy's Luca Moroni Jr. also turned in an excellent performance with an undefeated 6/7 score on board two.
Top Division - Pool D
Poland and USA converted their rating advantage into qualification, dominating this group from start to finish. Both teams finished with 16/18 in first and second place, with Poland taking first place on tiebreak. A fair result as they also won their match by a clear 4½ -1½.
Canada, in third place, fought until the end, but couldn't recover from a seventh-round defeat against Peru. More was expected of the Netherlands, with quite a good team (2434 medium rating), but their performance this year was below par.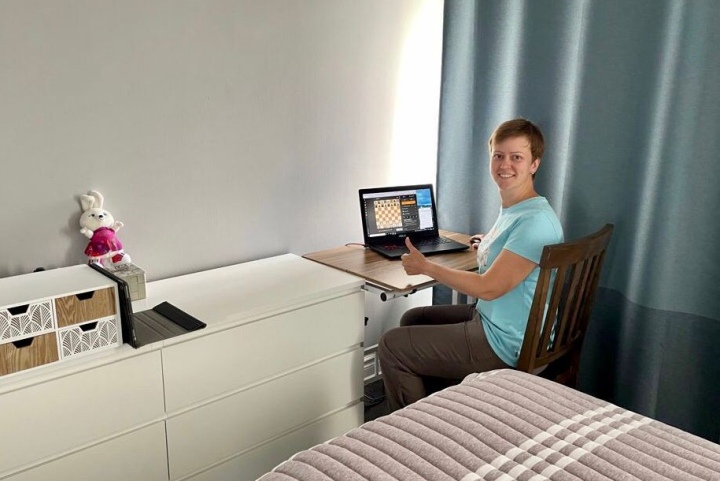 WGM Anna Burtasova (Canada) uses her tablet for a mandatory second camera
Poland will play in the quarterfinals against China while USA will take on Kazakhstan in what promises to be two very exciting play-offs.
GM Jan-Krzysztof Duda's recent victory in the World Cup has given him a tremendous amount of confidence. His outstanding result in this event – 8½ out of 9 – is a homage to his talent and, as they say, "Fortune favours the brave".
In the diagram, Duda is in big trouble, an exchange down and in danger of being mated. However, nothing is finished until you resign, especially in online rapid chess. For example, 51…Rf8 with the idea … Rf7 is +4 and should be a simple win.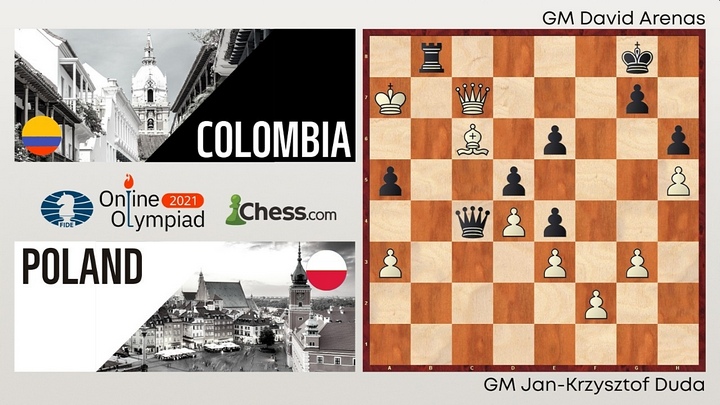 But Colombian GM David Arenas, a very good rapid player, blundered with 51…Rb2?? and had to resign after 52.Qd8+ Kh7 53.Be8! and Black is mated in a few moves. A spectacular turnaround.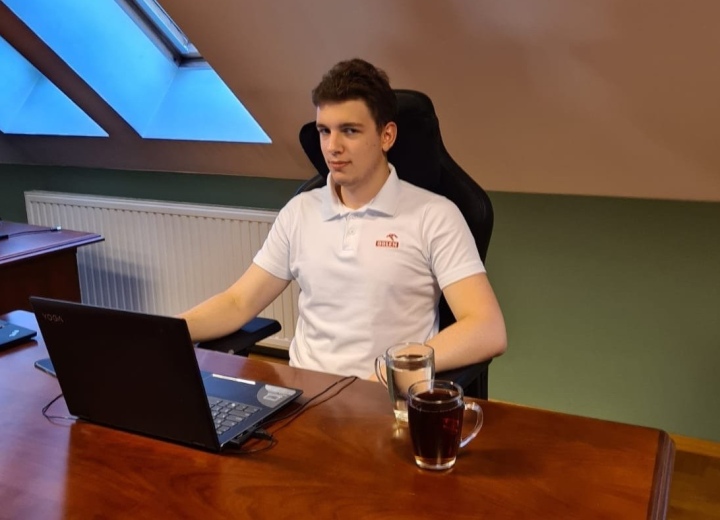 GM Jan-Krzysztof Duda – laptop, confidence and cola for the game
Also scoring very well for Poland was board four IM Karina Cyfka with 8/9. Finally, GM Awonder Liang finished with 7½ /9 as USA's top result on board five.
Pairings of the rounds, live games, PGN files and other useful information can be found on the FIDE Online Olympiad website. Please note that all results and standings remain provisional until the fair play panel submit its daily report.
The games can be followed online on www.chess.com (Events) and also on FIDE's own Youtube channel. Commentators for this stage are GM Daniel Naroditsky, WGM Jen Shahade, WGM Dina Belenkaya, WGM Keti Tsatsalashvili, IM David Pruess and James Canty III.
Text: IM Michael Rahal, FIDE Press Officer
Email: press@fide.com
---
About the tournament:
Scheduled to take place from August 20th to September 15th, the 2021 FIDE Online Olympiad is a national teams event in which all federations affiliated to FIDE have the right to participate. Team's consist of six players with a minimum of three female players and two junior players.
Played online on Chess.com, the event features two main stages: the "Divisions stage", and the Play-offs stage. All games are played with a 15 minutes + 5 seconds increment per move time control. The full schedule can be consulted here.
Organisers:
International Chess Federation (FIDE)
Chess.com as the hosting platform
Partners supporting the 2021 FIDE Online Olympiad:
Shenzhen Longgang District Culture, Radio, Television, Tourism and Sports Bureau
Shenzhen Chess Academy
Shenzhen Pengcheng Chess Club
Shenzhen Longgang District People's Government
Shenzhen Municipal Bureau of Culture, Radio, Television, Tourism and Sports