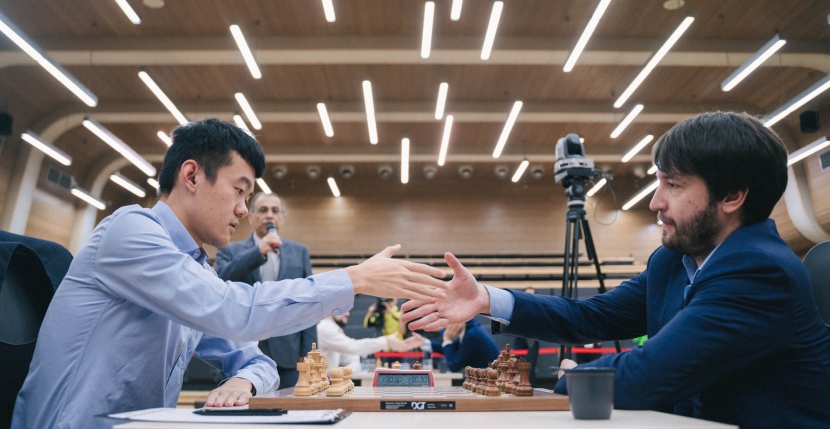 The fourth games of the Final and the 3rd place match of the FIDE World Cup were played on October 3 in Khanty-Mansiysk. The playing venue was visited by Yury Yuzhakov and Alexander Tirtoka, Deputy Governors of Ugra, and FIDE Vice-President Mahir Mammedov.
Ding Liren and Teimour Radjabov played a variation of the English Opening, in which Black sacrifices a pawn, but obtains certain compensation in the form of insecure position of the white king. The game quickly transposed to an endgame, where White's ruined pawn structure left him little chance of converting his extra material. According to Ding Liren, he was not prepared for 11... Bg2. Black regained a pawn in a rook ending and fully equalized the position. A draw was agreed on the 31st move.
"Although he was slightly worse, I think we played a correct game, and none of us made mistakes so a draw is a very normal result," commented Ding Liren after the game.
"I really don't know what games are suitable for us. Maybe we will play one hundred bullets or Fischer Random – ten games would be fine and fun as well. Generally, we will try to rest and play the match tomorrow," Teimour quipped when asked about his expectations of the tiebreak.
Maxime Vachier-Lagrave and Yu Yangyi once again played the Petrov's Defense. According to the Frenchman, his position was better, however, he was unable to increase this advantage, and after multiple exchanges, the position equalized. The opponents agreed to a draw in a queen ending.
Since the classical parts of both matches ended in a 2-2 tie, the winners will be determined on tiebreaks on Friday, October 4.
In the first rapid game, Teimour Radjabov and Maxime Vachier-Lagrave will have White against Ding Liren and Yu Yangyi respectively.
The competition is organized by the Government of Khanty-Mansiysk Autonomous Okrug – Ugra, International Chess Federation (FIDE), Ugra Chess Federation, and Ministry of Sports of the Russian Federation.
Official website: https://khantymansiysk2019.fide.com/en/

General partner – Gazpromneft-Khantos LCC.
Official airline – Utair.
Official partners of the competition: OJSC Rostelecom, Ugra Chess Academy, Russian Chess Federation, AB InBev Efes, and PJSC Rosneft.
FIDE official partner – JSCo "RZD".
General media partner – News Agency TASS.
Media partners – Match TV, World of Chess social network, OTRC "Ugra", Ugra-news.ru News of Ugra regional newspaper, AIF-Ugra newspaper.