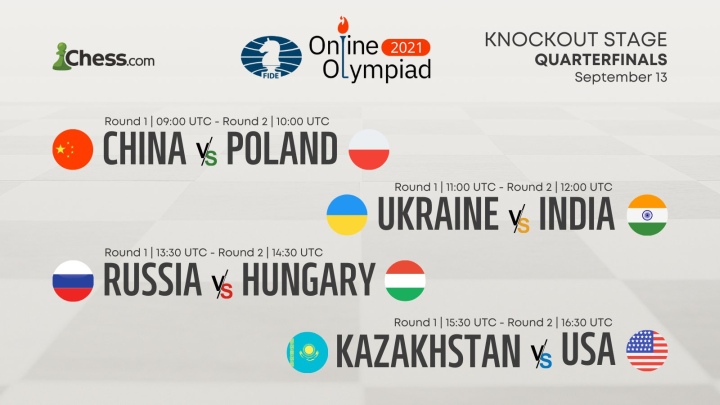 Monday, September 13th, 2021 – The Online Olympiad play-off quarter-finals were held today online on the Chess.com servers. Four fascinating matches, two of which had to be decided by the blitz tiebreaks.
Based on today's results and the knockout stage brackets, the semi-finals – scheduled for tomorrow Tuesday, September 14th – are India vs United States and China vs Russia. It is very hard to predict the outcome of these duels: all four have extremely strong teams.
Quarter Final Duel I
The most exciting quarter-final match was Kazakstan against the United States of America. The Americans were somewhat stronger on paper on boards one and two, but the reverse could be said of boards three and four. The exception was on board six, where Bibisara Assaubayeva (9/10!) clearly outrated her opponent Thalia Cervantes.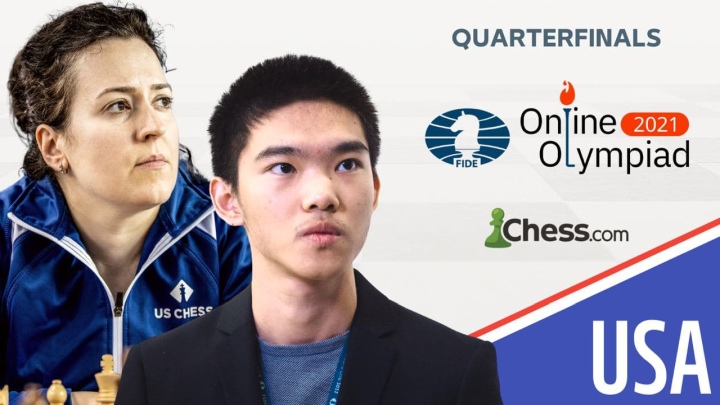 Kazakstan took down the first match by 4-2 with important wins by junior Ramazan Zhalmakhanov on board five against Awonder Liang and by the board one Rinat Jumabayev against Jeffery Xiong.
Although he is 200 rating points behind, Jumabaev recently eliminated world number 2 Fabiano Caruana from the World Cup: he is a very strong player.
One of their two losses in this match came on board two.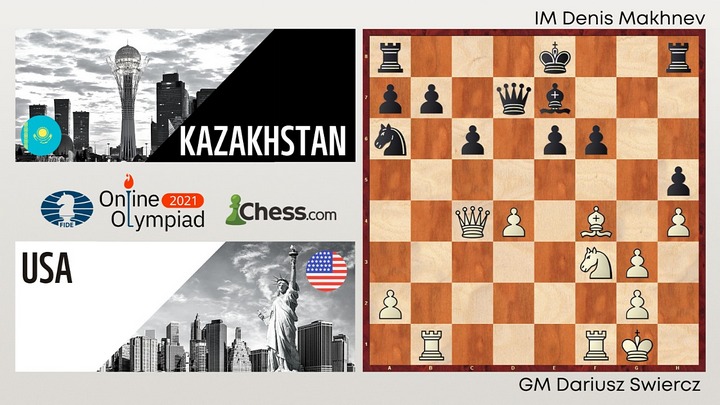 Denis Makhnev playing for Kazakhstan blundered with 19…0-0-0? and Dariusz Swiercz rapidly jumped on the opportunity with 20.Qxa6! forcing resignation. Indeed, 20…bxa6 21.Rb8 is mate!
USA came back in match two with a very close 3½ -2½ win. Xiong got his revenge on board one and although Liang and Cervantes both lost again on boards five and six, Irina krush and Nazi Paikidze saved the day with wins on the female boards.
Both teams repeated their line-ups for the exciting tiebreak and USA prevailed by the narrowest of margins: the final score of 4-2. A heartbreaking loss for Kazakstan, who have played fantastically throughout the tournament.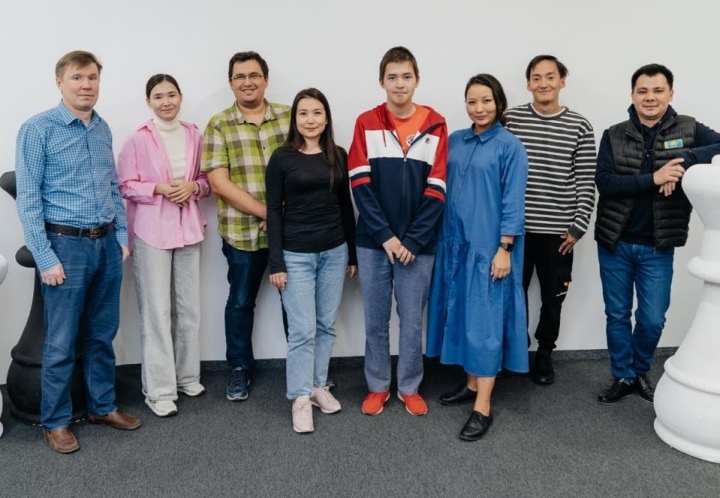 Quarter Final Duel II
The second match between India and Ukraine was a hard-fought battle in which India eventually prevailed in the blitz tiebreaks. The first match fell 4-2 to the side of the Indian squad thanks to wins on boards five and six.
Their main scorer was Nihal Sarin, who has netted six out of six in the competition, including two decisive games today.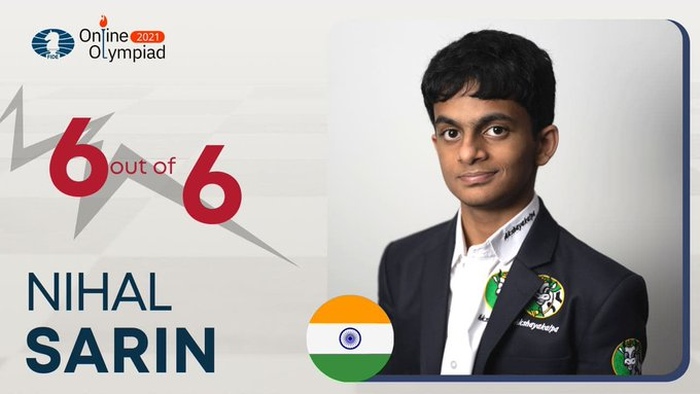 However, Ukraine bounced back in the second match, winning by a slim margin (3½ -2½ ) and forcing the tiebreaks. The most dramatic game was the 114-move victory by Iulija Osmak against Humpy Koneru in a queen and pawn against queen endgame.
Finally, India advanced to the semi-finals with a convincing 5-1 score in the tiebreaker. They played much better in all the games, but luck was also on their side: Platon Galperin on board five lost connection against Nihal Sarin on the move ten and was unable to resume the game.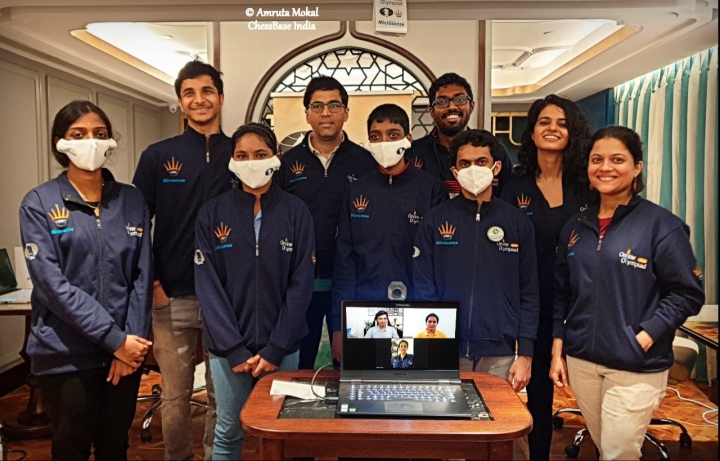 The Indian team after their nerve-wracking match against Ukraine. Photo: A. Mokal
Quarter Final Duel III
Despite losing both of their matches by a very close 3½ -2½ score and thus being eliminated from the tournament, everyone would agree that Hungary put Russia to the test this afternoon in Duel III.
American GM Daniel Naroditsky, an official commentator for the event, summed it up very nicely: "Hungary is going to keep their heads up high. They were significantly outrated, yet they had a lot of bright spots, for example, Erdos beating Dubov and Gledura beating Artemiev, both with the black pieces. A very good effort by Hungary, but at the end, Russia is Russia."
Online chess has its own dynamics, and one of the worse things that can happen to you is a "mouse slip". Even world-class players suffer this fate every now and again: in the diagram, board one Daniil Dubov played 32.Rd6? and immediately resigned after his opponent replied with 32…Bxd6.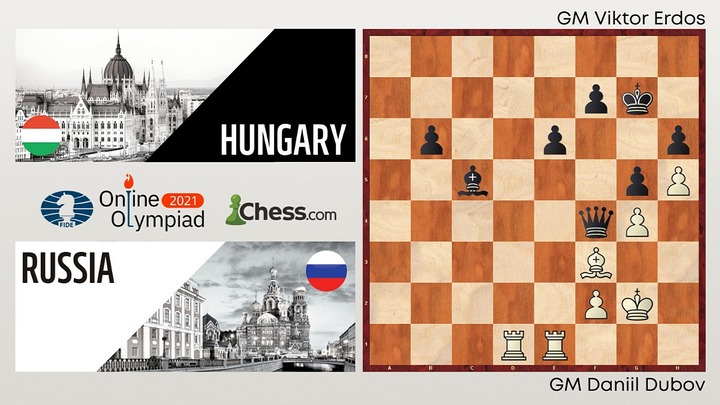 The brilliant young Russian was clearly intending 32.Rd7. He might have lost this endgame anyway, but in any case, there's still a lot of work to do.
Russian's female players are definitely in top form and are one of the reasons that the team is where it is. In the first match, Valentina Gunina won again and increased her performance to 6/6, while Alexandra Kosteniuk and Kateryna Lagno's 2/2 in the second match allowed their team to advance to the semi-finals.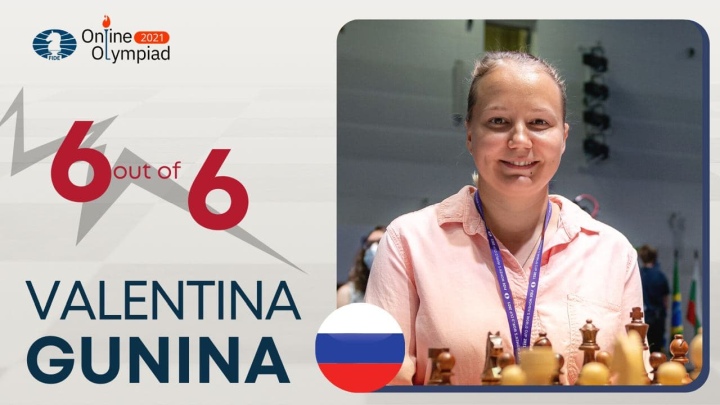 Quarter Final Duel IV
Due to different time zones, the first duel of the day to be played was Duel IV, between China and Poland. On paper, a very favourable match-up for the Chinese squad, outrating the Polish team heavily by rating on most of the boards, especially on boards three and four with two best female players against less experienced opponents.
The first of the two matches was won clearly by China by a 4½ -1½ score. Board one Ding Liren defeated Jan-Krzysztof Duda in a brilliant attacking game.
Black was already in big trouble after 17…Bxc3? instead of 17…hxg5 and after 21.Ng5! it was clear that Ding was going for Duda's neck. In the following diagram, Black's king is stranded in the centre and White is going for mate.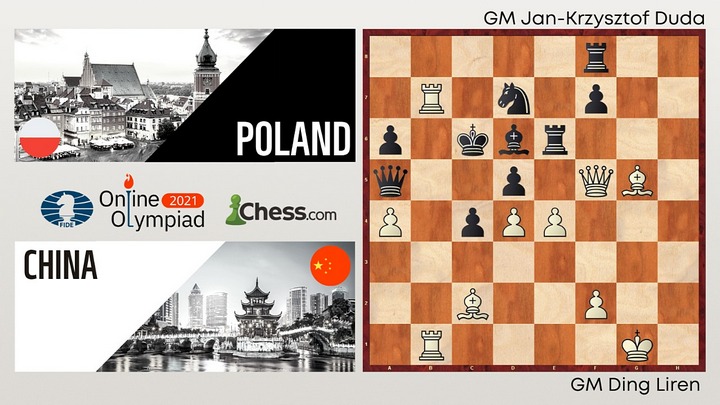 Ding Liren played the interference tactic 30.R1-b5!! winning on the spot as 30…axb5 31.Qxd5 is mate.
Poland's luck didn't change much when Monica Socko's mouse slip gave Ju Wenjun an easy win on board four.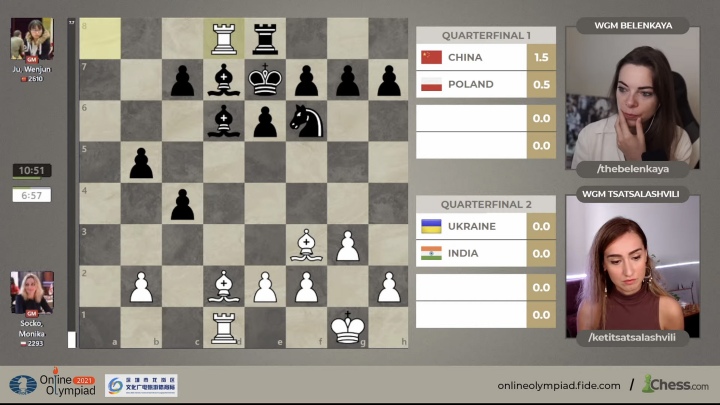 Socko obviously intended the exchange of rooks by 17.Rxe8, but unfortunately released her rook on d8 and the game was over.
In the second match, Duda got his revenge on board one taking down Ding Liren in a long ending, but the middle section was all China. Yu Yangyi played a wonderful attacking game to defeat Radoslaw Wojtaszek on board two, while Hou Yifan (the top-rated female player in the world) notched up her second straight win against Karina Cyfka.
On board four Poland changed players (enter Klaudia Kulon) but Ju Wenjun (9½ out of 10 total score!) struck again for a final 4-2 for China, who advanced to semi-finals.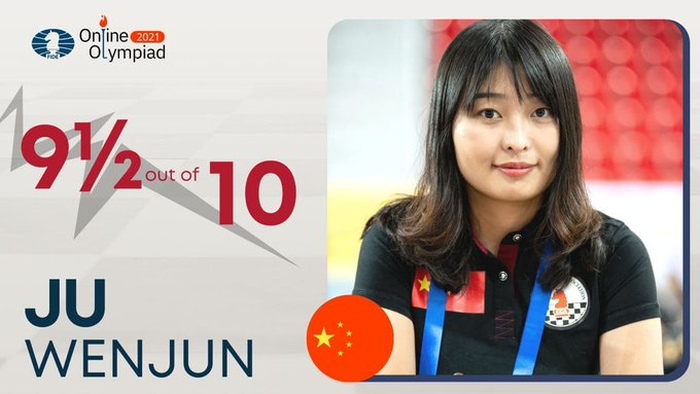 Pairings of the rounds, live games, PGN files and other useful information can be found on the FIDE Online Olympiad website. Please note that all results and standings remain provisional until the fair play panel submit its daily report.
This stage of the event will run from Monday, September 13th (Quarter-finals) to Wednesday, September 15th (Final). Each duel will consist of two matches, and in the event of a tie (each team wins one of the two matches, or both matches are drawn) the tie shall be broken with one 3/2 blitz match, followed by Armageddon if need be.
The games can be followed online on www.chess.com (Events) and also on FIDE's own Youtube channel. Commentators for this stage are GM Daniel Naroditsky, WGM Jen Shahade, WGM Dina Belenkaya, WGM Keti Tsatsalashvili, IM David Pruess and James Canty III.
Text: IM Michael Rahal, FIDE Press Officer
Email: press@fide.com
---
About the tournament:
Scheduled to take place from August 20th to September 15th, the 2021 FIDE Online Olympiad is a national teams event in which all federations affiliated to FIDE have the right to participate. Team's consist of six players with a minimum of three female players and two junior players.
Played online on Chess.com, the event features two main stages: the "Divisions stage", and the Play-offs stage. All games are played with a 15 minutes + 5 seconds increment per move time control. The full schedule can be consulted here.
Organisers:
International Chess Federation (FIDE)
Chess.com as the hosting platform
Partners supporting the 2021 FIDE Online Olympiad:
Shenzhen Longgang District Culture, Radio, Television, Tourism and Sports Bureau
Shenzhen Chess Academy
Shenzhen Pengcheng Chess Club
Shenzhen Longgang District People's Government
Shenzhen Municipal Bureau of Culture, Radio, Television, Tourism and Sports