The International Chess Federation has signed the memorandum of understanding with the International School Sport Federation (ISF), the governing body for school sport, which comprises children between the ages of 13 to 18, on ensuring the development and promotion of chess through school sport. The document was signed by FIDE President Arkady Dvorkovich and ISF President Laurent Petrynka within the framework of the School Sport Forum held in Belgrade, Serbia.
Specifically, the partnership will encourage and support youth education through chess sport and culture, contribute to the social and intellectual development of youngsters, and promote chess sport and chess in education on a local and international level.
Arkady Dvorkovich said that joint efforts of both federations in organizing school chess events and promoting chess among youngsters across the world is a win-win opportunity for FIDE and ISF.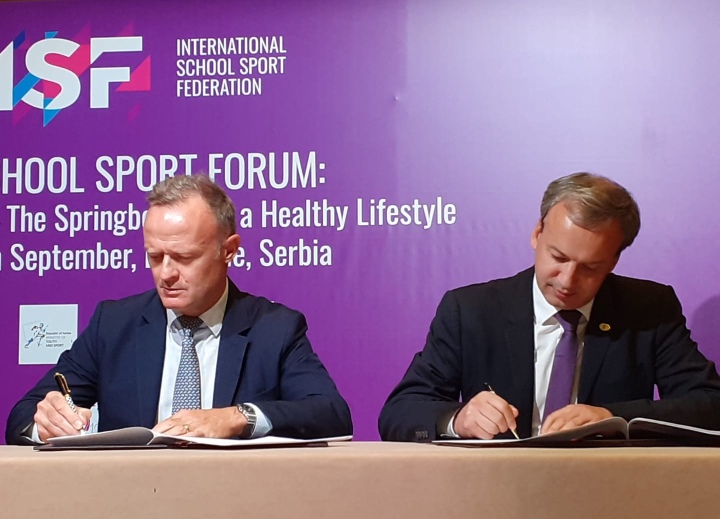 "This memorandum will give a pass to our expanded collaboration in the developing of school sports and chess in particular. We support integrating chess in multi-sport events. We do it all the time, but being at the school level is a special thing for us. It's our great pleasure to work with your team to bring chess and other sports to countries and regions that are in high demand for educational and sports activities in schools and also creating good examples of sportsmanship and fair play. Looking forward to new ideas and projects! FIDE will be an active part of your school movement. Thanks a lot for your trust, and we will respond the same way!" he stated.
"Chess is inside ISF, as the smartness, the intelligence of chess, the fact that chess is the link between people – all these values are the values of school sports as well" – added ISF President Laurent Petrynka.
Based in Belgium, the ISF has been organizing international competitions to encourage education through sport and student-athletes since its foundation in 1972. ISF was recognized by the IOC in 1995, and it currently has 113 members competing in 45 different sports disciplines. Many of these sports have their own World Schools Championships every two years, while others are part of the bi-annual Gymnasiade.