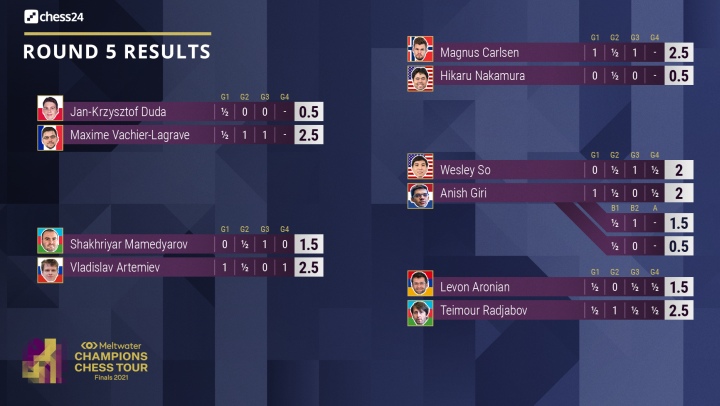 Magnus Carlsen brutally smacked down one of his biggest rivals today to extend his lead in the Meltwater Champions Chess Tour Finals. The World Champion, who suffered a serious hiccup yesterday, got back on track with a dominating performance against the American streamer Hikaru Nakamura.
Nakamura has vied with the Norwegian for many years, both on and off the board. He memorably pushed Carlsen right to the limit in last year's epic Magnus Carlsen Chess Tour final. But in Round 5, he was totally outclassed as Carlsen ambushed him with two masterful wins to end the match with a game spare.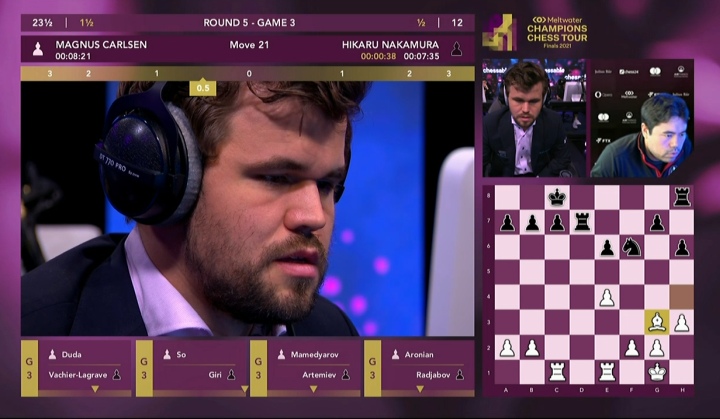 In doing so, the champ picked up the maximum three tournament points. Meanwhile, Carlsen's nearest rival Wesley So could only earn two as his match went to tiebreaks.
It means So, who failed to take advantage of Carlsen's loss yesterday, now has only four rounds left to close the gap.
Carlsen controlled all three games and only let Nakamura off the hook briefly in game 2.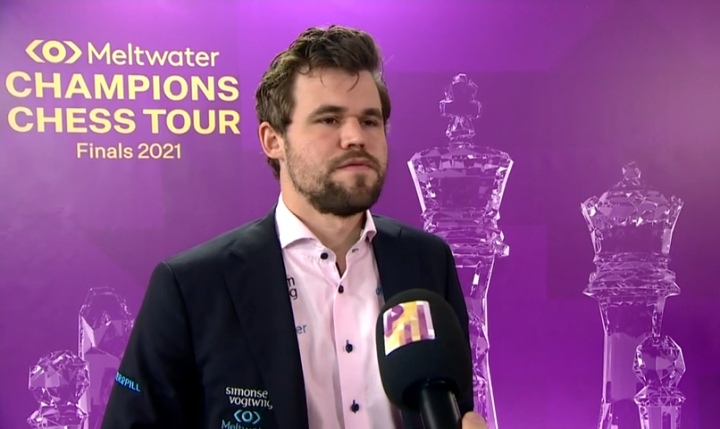 Magnus, being typically understated, said afterwards: "I thought I played relatively well."
Then in an interview with Norwegian channel TV 2, Carlsen went further, saying Nakamura offered "very, very little resistance".
He added: "With this kind of resistance I got today, it's not difficult to play well."
In comparison, So had suffered a horrible start as the ever-dangerous Dutchman Anish Giri played a near-perfect game to beat him with the black pieces.
After a draw in the second, So managed to hit back and with another draw, the match ended 2-2 and went into overtime.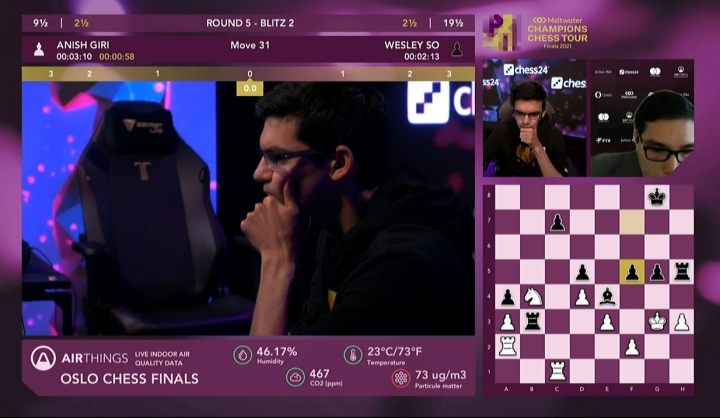 With his tournament hanging by a thread, So finally found a way to beat Giri in a nervy second blitz play-off. It meant a relieved So picked up two points to stay in touching distance of the top.
After his shock win against Carlsen yesterday, the Russian Vladislav Artemiev followed it up with a brilliant victory over Azerbaijan's Shakrhiyar Mamedyarov.
Artemiev, the breakout star of the Tour who reached two event finals in just three appearances, struggled at the start of the tournament but is on fire now.
France's number 1 Maxime Vachier-Lagrave was also in fine form as he battered the Polish World Cup winner Jan-Krzysztof Duda 2.5-0.5.
In the last match, a refreshed Teimour Radjabov won the re-run of the Airthings Masters final as he dispatched Levon Aronian 3-1 to make it two match wins in a row.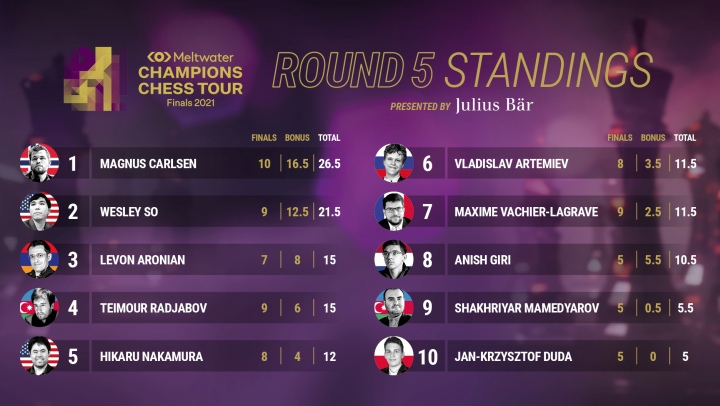 Radjabov is out of the running for the Tour Finals title, but the Azeri number 2 still has Carlsen to play and could be a potential banana skin for the champ as he chases the title.
The Finals of the 2021 Meltwater Champions Chess Tour sees the world's best chess players face off across nine rounds of rapid chess from September 25 to October 4.
Tune in on www.chess24.com, YouTube or Twitch starting at 17:00 CET each day.
For further information, please contact:
Leon Watson, PR for Play Magnus Group
leon@chessable.com
+44 7786 078 770