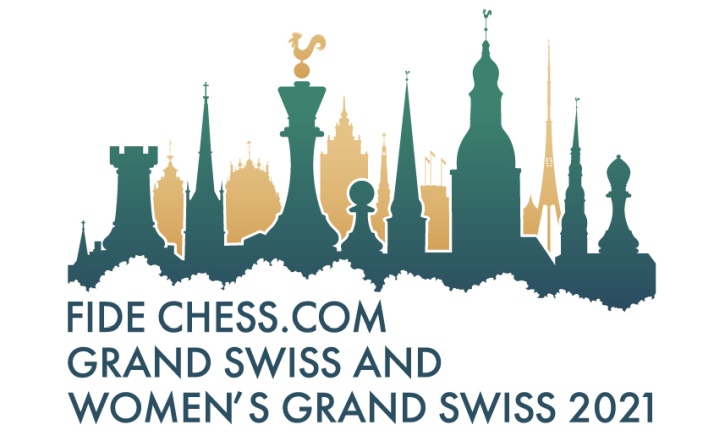 The 2021 FIDE Chess.com Grand Swiss and Women's Grand Swiss to take place with stricter health safety measures, following the introduction of a four-week lockdown in light of the worsening situation surrounding the COVID-19 pandemic in Latvia
The Latvian government has confirmed that international top-level sports events are allowed to be held during the monthlong lockdown. The list of authorized activities includes a total of 30 events, including the Basket Champions League, FIBA Euroleague Women, as well as the FIDE Chess.com Grand Swiss and the Tal Memorial.
The 2021 FIDE Chess.com Grand Swiss and Women's Grand Swiss have been allowed to take place after the organizers have provided guarantees of strict healthcare measures at the event, ensuring the tournament will be a safe, closed environment. In light of the new restrictions, the event will be closed to the public, and only players and accredited staff, as well as a limited number of accredited journalists, will be allowed to attend.
Measures at the event will include accredited access only, on-site testing, access to sanitisers and masks, and social distancing. Further stricter measures may be introduced depending on the situation. All of the players and those who will have accreditations to attend must follow the health and safety protocols or will face immediate removal from the tournament.
FIDE and the organizers would like to assure players and participants that we are doing our best to host the event in Riga in a secure and still comfortable way.
FIDE President Arkady Dvorkovich: "We are very grateful for the fact that the tournament has been allowed to take place. FIDE and its organizing partners will always prioritize the health and safety of players, participants and the staff involved in its events. We hope that the situation in Latvia will improve swiftly, and we call on everyone – including the players and staff at the Grand Swiss – to strictly follow the rules and to do their best to contribute to preventing and containing the spread of the virus".
Due to a sharp rise in the numbers of COVID-19 cases, the Latvian authorities have introduced a strict four-week lockdown from Thursday 21st October until 15th November. Nearly all stores, entertainment venues and schools will be shut and services suspended. A stay at home order will be in effect from 8 PM until 5 AM.
More information about Covid-19 in Latvia can be found here: https://covid19.gov.lv/en.
Official website: grandswiss.fide.com