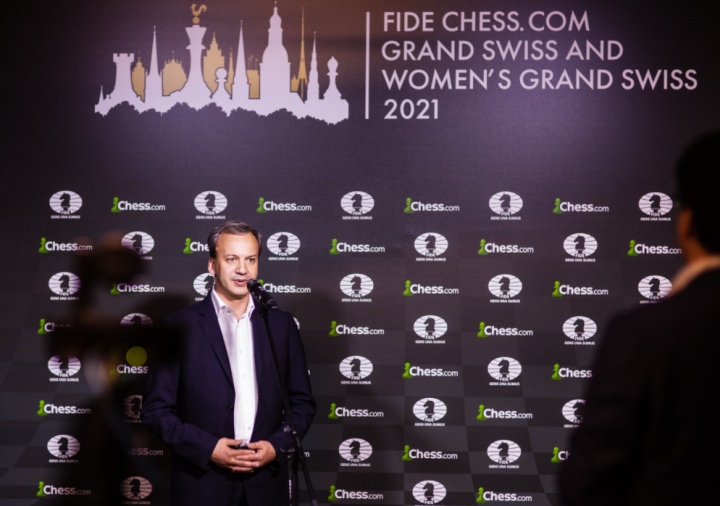 The First Round of the 2021 FIDE Chess.com Grand Swiss started yesterday with FIDE President Arkady Dvorkovich making the first move on Board one, in the game between top-seed Fabiano Caruana and Maksim Chigaev of Russia. Later on, Mr Dvorkovich spoke about the event and the issues surrounding it – from the health and safety of players to the plans and ambitions of FIDE in the coming period, both in the Baltics and globally.
- How difficult was it to organize this event in light of the current circumstances in Latvia?
- Any event that we have been organizing in the course of the pandemic is a tough one at this one is not an exemption. I really appreciate the efforts of everyone in our team and our partners that help us to keep our calendar and our chess life intact and organize the Grand Swiss tournaments, the part of the World Championship cycle here in Riga. It is a very important event in the annual chess calendar as it determines participants of the Candidates Tournaments - two in the open cycle and one in the women's cycle. For many players, it's the only chance to get qualified; that's why it was critically important to have it.
We are thankful to the Latvian Government, Latvian Chess Federation, all our partners here in Latvia and our financial partners - the Sheinberg Family, Chess.com and other providers like Coca-Cola for the opportunity to have this event during the difficult pandemic period. We have a very good composition of players. While some players were unable to come, most of them kept their schedules and came to Riga and it's going to be a fantastic tournament, a very strong one with great players participating and fighting for a chance to compete for the world championship crown.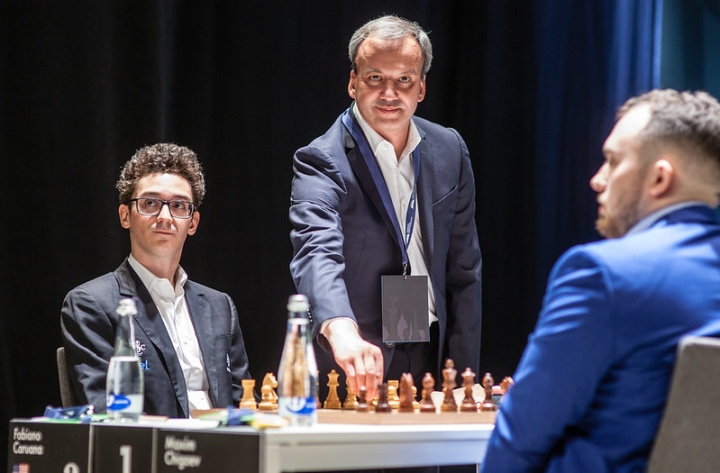 I think we took all the necessary steps and measures to control the health situation and to provide safety of players and all the people involved. I think this is also a sign of respect to the people of Latvia, who are now keeping themselves safe during the lockdown. Nevertheless, I think the situation here at the tournament is more secure than even in some countries where there are no quarantines or lockdowns. We took all the measures to ensure the strongest possible safety.
- Let' just take a step back. How did it come that this event was transferred from the Isle of Man to Riga?
- Originally, this tournament had to take place at the Isle of Man; it was a tradition to hold these tournaments in partnership with the Scheinberg Family. We had this tournament two years ago, just an open one, as a part of our world championship cycle, and we were planning to repeat it this year, now with also women's Grand Swiss tournament, but the restrictions that the Isle of Man still has would not allow the players to come without lengthy quarantines and many obstacles prohibitive for holding such events. So we were thinking about plan B, and in consultations with our partners – the Scheinberg Family and Chess.com - we came to the conclusion that Latvia could be the right place. The decision was based on many reasons like chess traditions in Latvia, a very good team of organizers, including Dana Reizniece-Ozola, FIDE Managing Director, and also the desire of our partners to do this in the beautiful European country.
At that point, Latvia was one of the safe places in terms of the pandemic. It is not now, but I think that the conditions here that we established, based on the medical protocol and all safety requirements, are even more secure for players and everyone involved than in many countries where formal rates of the pandemic are lower. I truly believe we made the right decision. If Riga was not the only best choice, then it was one of the best choices we could have for this tournament. Even with all the difficulties we have right now because of the covid, I think the whole team is very much capable of organizing this. I know that all players enjoy the hospitality and beauty of Riga and Latvia right now.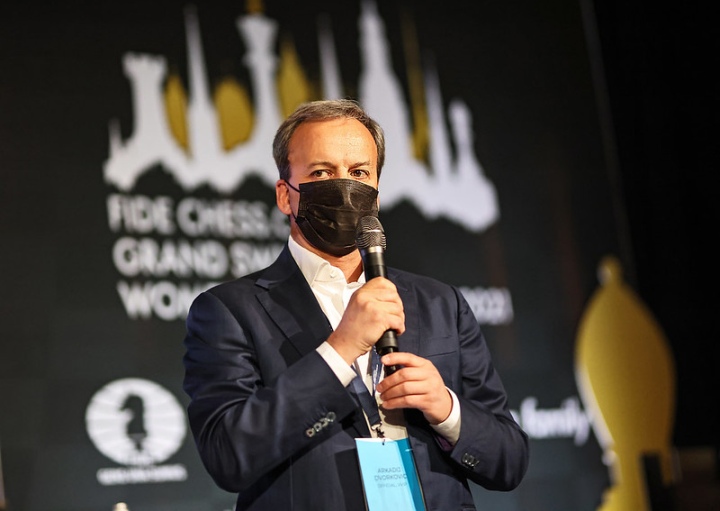 - There are many people asking why this event haven't been postponed or moved online. What is the position of FIDE?
- We do believe that while the pandemic is still not over, chess life shall continue. It's about profession; chess players want to compete and do their best to get the titles and continue their careers. Online is not a perfect substitute. It's a good compliment to over-the-board chess but not a perfect substitute. We are talking about the world championship cycle, the classic one, where players qualify for major events like Candidates Tournaments through other major over-the-board events, and we decided to keep it, based on the evaluation of risks and our trust in the safety measures we take. Otherwise, the whole calendar would be destroyed, and we would end up with the world championship cycle postponed altogether. That would not make anyone better. It's a balance of risks and benefits that we are looking at. It is an excellent opportunity to show that chess life can continue even at a difficult time.
- FIDE has established a very strict health and safety protocol. How hard will that be to implement?
- Every time there is a rule and common sense as well. Logic and common sense should also work. We insist that every player follows the rules. If anyone violates rules in a way that will create risks for other players and people around, for a person herself or himself, we will not tolerate it.
- During the World Cup in Sochi, one of the players tested positive for Covid-19. What are you going to do in case it happens here in Riga?
- We have a certain procedure that we will follow. Any unlikely case like that - I would put it this way as everyone was tested and all tests are negative, unlike in Sochi, where we had some positive cases right from the beginning - so in this unlikely situation, we will follow the protocol and will consult with the official tournament's doctor and take a decision, depending on the specific situation. There's no unified rule for everyone, and the decision will be taken by the tournaments' doctor, not FIDE officials, depending on certain conditions, contacts, etc.
- Will there be any doping tests for players?
- We are a signatory to the World Anti-Doping Agency (WADA) conventions, recognized by the Olympic movement, and follow all its rules, including taking tests during all our major official tournaments. Grand Swiss tournaments are not the exception. We will have ten tests during these tournaments done on an arbitrary basis. It is the same every year and in every competition, including the World Championship Match between Magnus Carlsen and Ian Nepomniachtchi in Dubai this year.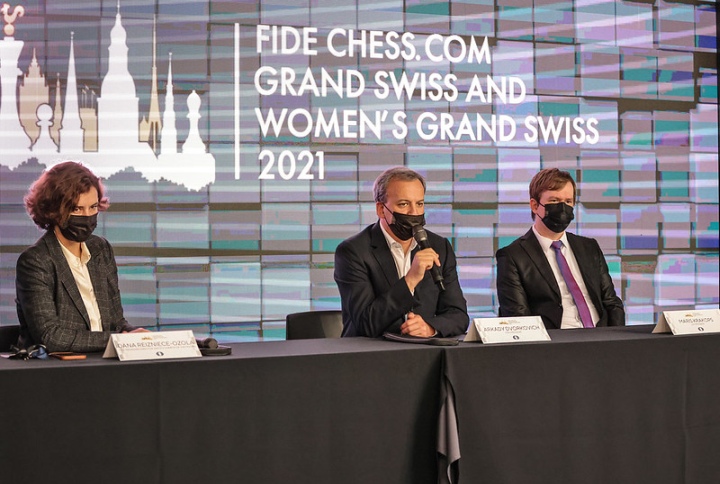 Everyone knows that in chess cheating is a much bigger issue than doping. I don't remember any doping cases in chess, but I know cheating cases. That's why we take very serious anti-cheating and fair-play measures, including scanning players and using all tools that we have. So we are quite confident that this tournament will be completely doping-free, and fair-play will prevail.
- You said, Riga was your plan B. Is it on FIDE's agenda to make it plan A? What is your strategy regarding the Baltic region?
- Based on the chess tradition in the Baltic region, we believe that it should be a frequent location for major chess tournaments. Of course, we have almost two hundred member federations, so there are many locations that can compete for hosting those events, but I think that we will have events both in Latvia and more broadly in the Baltic region in the nearest future. We already had a Grand Prix tournament in Riga a couple of years ago; now it's Grand Swiss. We will discuss with Latvian and other Baltic states federations and partners what we can do here. I think Grand Prix is always possible; that's one of the things that can become a tradition here. We have Tal memorials in Russia, but why not have them here? That's one of the options we can explore. This is just one of the examples; we can think about the others as well.
- FIDE has fostered a partnership with the Scheinberg Family for this event. You are trying to establish partnerships with other companies and organizations across the world. Does FIDE have any new big partnership in the making?
- For us, there are two tracks: one is continuing working and expanding collaborations with traditional partners, and the Scheinberg Family and Chess.com are among these traditional partners. Other chess platforms as well. We collaborate with Chessable on educational programs and the World Championship Match. Our traditional Russian partners like Gazprom, Norilsk Nickel and Russian Railroads will continue supporting chess. But the second track is bringing new partners on board. We are happy that Coca-Cola is here, providing us with all kinds of soft drinks for players and everyone involved. It has been our partner for a few months already for some smaller events, and we hope that this will continue.
Our priority right now is to bring global partners from all around the world on board, to support both our official events but also social activities that we have started quite recently, including chess for disabled, chess for prisoners, chess for refugees, chess for kids with autistic spectrum disorder and some others. And here we are talking about companies with global reputation as we want to diversify our portfolio of partners, and we do believe that chess is a really attractive asset that can bring partners on board.