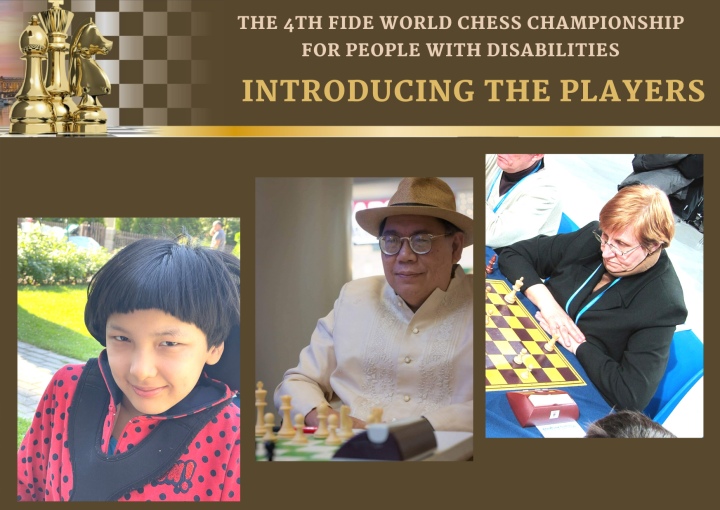 The 4th FIDE World Chess Championship for People with Disabilities will take place online from November 4-14, 2021. Organized by Dresdner Schachfestival E.V. under the auspices of FIDE, it is an individual 9-round Swiss tournament with an additional team ranking.
Registration for participation is open here until November 1, 2021. So far, 162 participants from 37 countries have ready registered for the competition. Players with disabilities from Argentina, Armenia, Azerbaijan, Australia, Bangladesh, Brazil, Canada, Chile, China, Colombia, Ecuador, England, Spain, France, Georgia, Germany, Guyana, India, Israel, Italy, Kenia, Kyrgyzstan, Saudi Arabia, Latvia, Mongolia, Nigeria, Panama, Philippines, Poland, South Africa, Russia, Turkey, Ukraine, USA, Uzbekistan, Venezuela and Vietnam are getting ready for the November event. For many of them, chess is not just a hobby; it is a source of inspiration, their lifework, and a way to find new friends.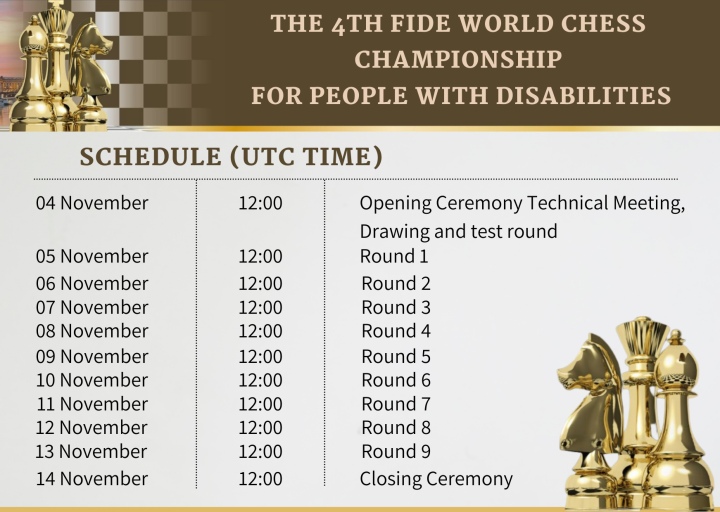 "I can't do any other sports except chess because my hands and legs don't work. And chess is the only sport which is suitable for me," says 14 y.o. Dariia Kudainazarova from Kyrgyzstan. "I personally don't like the online format of the event, but because of the pandemic, we need to stay at home, and this is not comfortable and sometimes boring. Of course, the offline format is better, but we can't stop tournaments, so we play online."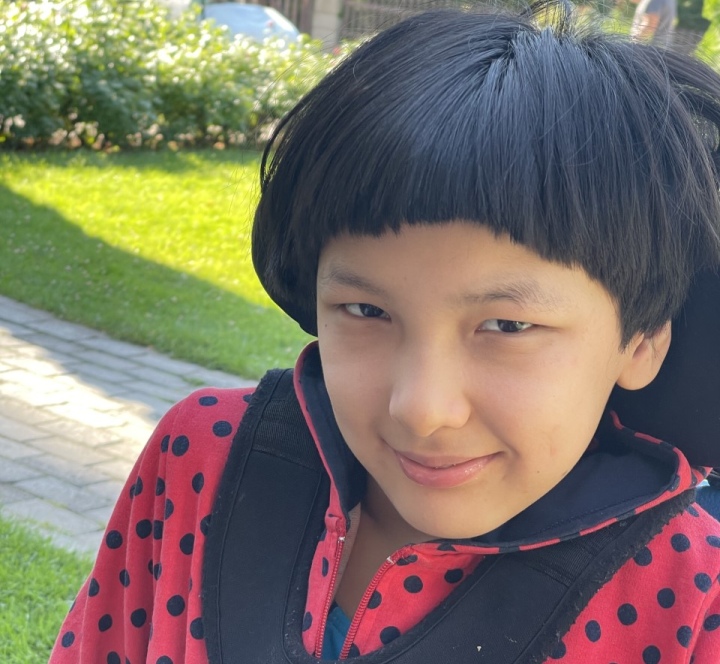 Some of the participants are not only playing themselves; they are sharing their love for chess with others.
"I started playing chess when I was 10. My uncle was the one who inspired and taught me how to play. I was a high school chess player, but I stopped playing chess for 25 years because of my study and my family. I came back to chess in 2005, not only as a player but also as an organizer. In the Philippines, I have been organizing monthly tournaments for 12 years." says 62 y.o. Gilbert Perez, one of the oldest players of the championship.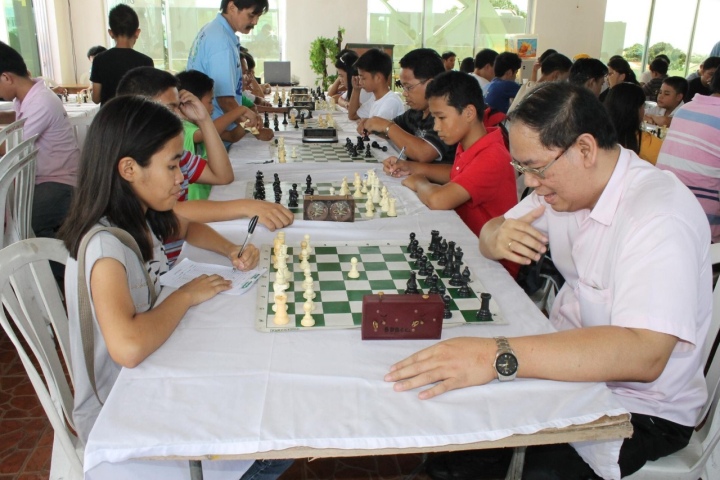 In 2017 Perez moved to Canada. He played in Manitoba chess tournaments, became a champion and finished second several times. "Last year, they recommended me to play for Canada. So I changed federation from the Philippines to Canada. I played board 2 for Canada last November at the first FIDE Chess Olympiad for People with Disabilities. My dream is to develop youth and people with disabilities to play chess because I believe that only in chess we can beat a person without a disability. Before this pandemic, I was a volunteer coach in 2 schools in Manitoba and was teaching kids in our chess club," he says.
Galina Sudmale, 69, from Latvia, is one of those for whom the online format of the event was the decisive criterion for participation. "I decided to enter the tournament mainly because I didn't need to go anywhere," she says. "My dad taught me how to play chess a long time ago. Now, when I was left without work, I began to teach children myself. I try to organize and participate in competitions regularly. Now, due to the pandemic, I had to take a break, so I spend more time playing online."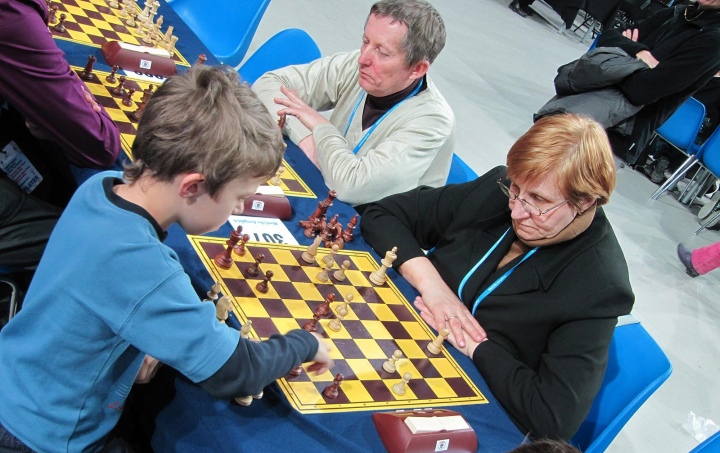 The full list of registered players can be found here.
The opening ceremony, technical meeting, drawing of lots and test round will be held on November 04; Round 1 of the 4th FIDE World Chess Championship for People with Disabilities is scheduled for November 05.
Further Information:
Website: www.schachfestival.de