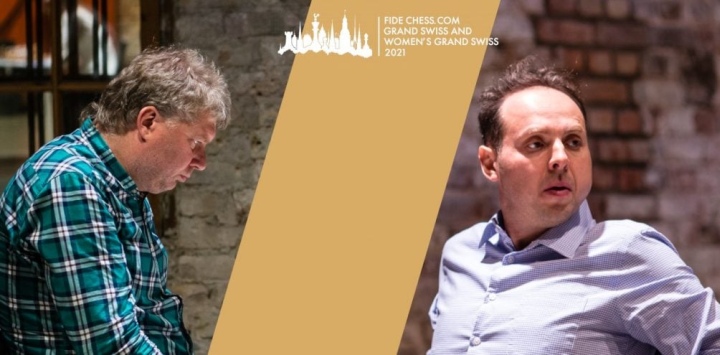 Alexei Shirov and Evgeniy Najer have joined Alireza Firouzja as the leaders of the Open Event. In the Women's section, six players are tied for the top after five rounds of play
Despite an extra hour of sleep (due to clocks changing the night before), Sunday was a tough day at the 2021 FIDE Chess.com Grand Swiss. Not only were players facing very difficult opponents but many of them were randomly selected for the anti-doping control following the games, which is usually seen by the players as one of the biggest inconveniences.
Open Event
Tournament leader Alireza Firouzja was on board one playing as white against Maxime Vachier-Lagrave. In the Najdorf Variation of the Sicilian Defence, MVL timely got rid of his backward d6-pawn by playing 23...d6-d5 and equalized completely. Eight moves down the road the game ended with a draw. Firouzja is still in the lead but is joined by two more players.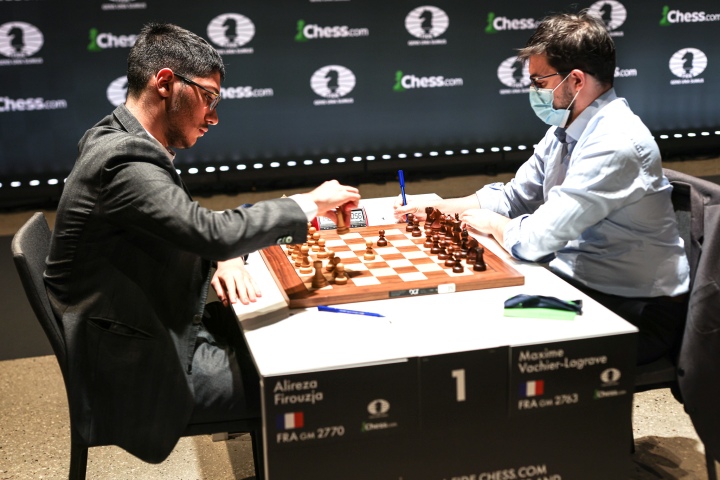 On the second board, Yu Yanhgyi of China opted for Petrov's Defence as Black against Norwegian Aryan Tari. White managed to get to a slightly more comfortable position but predictably couldn't create much from that. Yangyi, however, tried to force his way in the endgame. Aryan was playing precisely and managed to hold with relative ease. After nearly six hours, the game ended in a draw.
The duel between Pavel Ponkratov and Samuel Sevian on board three was the first one to finish. In the Catalan, White went for a line which led to the repetition on move 23. Ponkratov played so quickly that he finished the game with more time than he started with (due to time increment in each move).
Croatian Ivan Saric's run has come to a halt after he was defeated by Alexei Shirov, a native of Riga, Latvia. Shirov, who was black, played the Morphy Defence in the Ruy Lopez. White's problems in a complicated position started after his queen's foray to g4, but the real mistake (21.dxc5?) came four moves later. Being in his element, Alexei quickly coordinated his pieces and forced the Croatian's capitulation. With four out of five, Shirov has now tied for the top place in the tournament.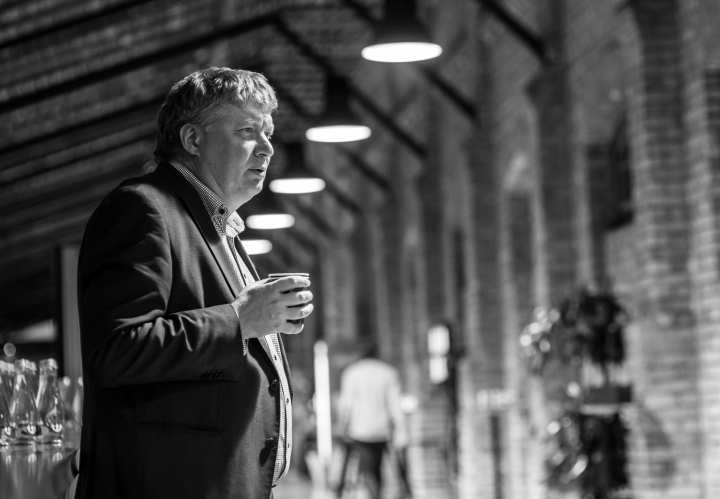 Top seed Fabiano Caruana won as White against David Howell of England, getting back among the leaders of the tournament. In the Ruy Lopez, world number two played very fast while Howell was more than an hour and 10 minutes behind as early as move 18, suggesting that he was caught out by Caruana's preparation. By move 23, Howell had 11 minutes on his clock, meaning he had 17 moves to make before the first time control. Nevertheless, he did not manage to solve all his opening problems and lost a pawn after missing some tactics (23.Rxc6!). Fabiano seamlessly converted his advantage to score a clean victory.
World number four, Levon Aronian, was Black against Grigoriy Oparin. On 1.e4 Aronian responded with Petrov's defence. Oparin took much longer to make his moves, suggesting that the Russian walked into Aronian's preparation. By move 20, the position transpired into a drawn bishop ending, and the two agreed to split a point.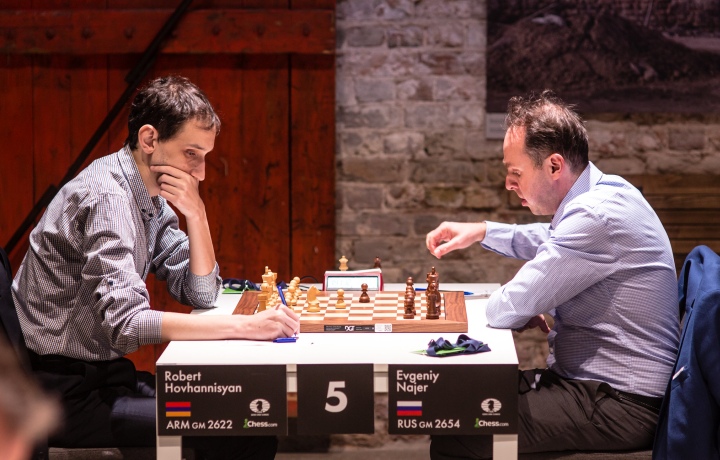 On board five, Evgeniy Najer, who missed a win against Ivan Saric in Round Four, recorded a victory as Black against Armenian Robert Hovhannisyan. The Najdorf Variation of the Sicilian was played, and the position was mostly equal, but Hovhannisyan was slightly weaker on time. The Russian sacrificed his weak d6-pawn but got excellent compensation in the form of two bishops and more active pieces. White should have proceeded with extreme caution, but on move 27 Hovhannisyan made a decisive mistake that cost him a pawn and eventually the game. Najer played with confidence and made sure victory didn't slip like it did yesterday.
Speaking after the game, Najer said that it was difficult for him to go over his slip in Round 4 but that each game is a new challenge. Asked about how much luck plays a role in chess, the Russian GM said that "it's not more than 5% given how logical chess is compared to other sports". With this victory, Najer is one of the three leaders of the tournament.
One of the more interesting games of the day was played on board 37 between Rinat Jumabayev and Volodymyr Onyshchuk. In the Pirc Defence each side was pushing a pawn down the opposite flanks. After wild complications, the final position saw four queens on the board! As it was Black's turn, White's king quickly perished.
After five rounds, there are three leaders in the Open event, with 4/5. They are followed by a score of GMs on 3½ points.
Women's Event
In the women's section, there were six decisive games on the top-10 boards. Six players are tied for the top place: Lei Tingjie, Nino Batsiashvili, Harika Dronavalli, Elisabeth Paehtz, Zhu Jiner and Jolanta Zawadzka.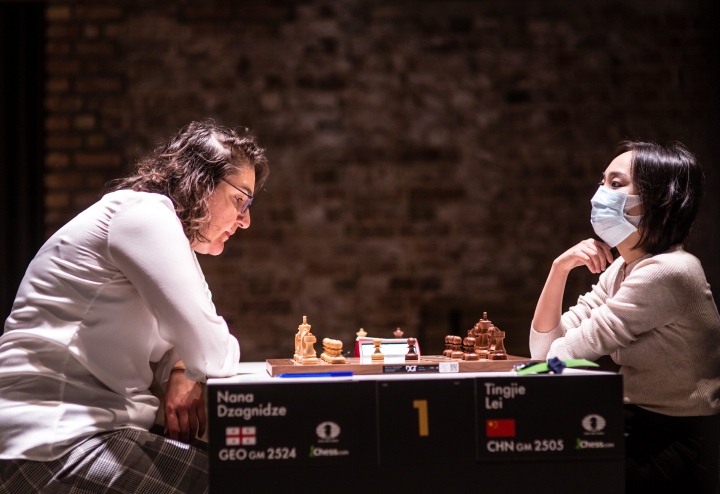 The duel between the tournament leader Lei Tingjie and top seed Nana Dzagnidze started with the English Opening. A strategical battle in the centre took place but the game was very level. On move 30, the two agreed to a draw. With 3½/5 top-seed Dzagnidze is no longer in the lead, trailing the top-6 by half a point.
On board two, Nino Batsiashvili scored a spectacular victory against former women's World Champion, Alexandra Kosteniuk. The Ragozin line in the Declined Queen's Gambit was played leading to a strategical battle in which White built a strong pawn formation in the centre. Bacashvili set it in motion and then delivered a crushing blow:
Nino Batsiashvili - Alexandra Kosteniuk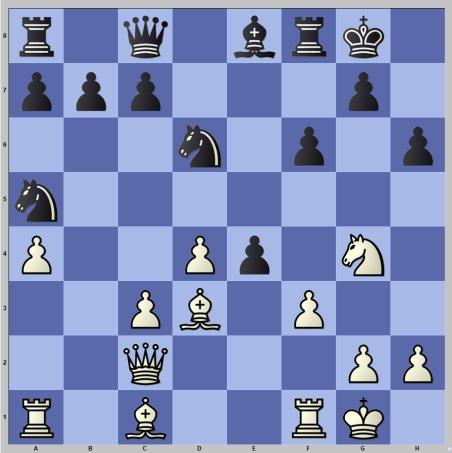 With 17.Nxh6+! Nino destroyed Black king's fortress. After 17…Kxh7 18.fxe4 Kg7 19.e5! Black has no defence against numerous threats. | 1-0, 33 moves
Batsiashvili is now on 4/5.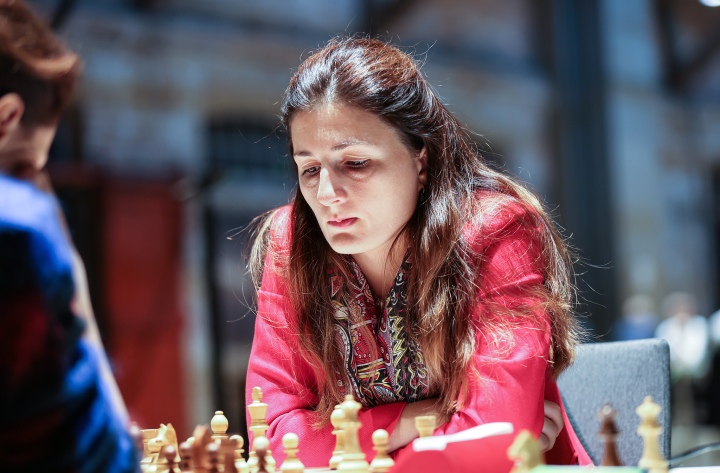 Harika Dronavalli was on third board, up against the two-times Russian Champion Natalija Pogonina. Dronavalli exerted heavy pressure in the Italian Game and got a decisive advantage, but a couple of suboptimal moves from her part were enough to let the victory slip away. The opponents split a point in a dead equal position.
Alina Kashlinskaya, the 2019 European Women's Individual Chess Champion, was playing on the fourth board against Zhu Jiner of China. In the Nimzo-Indian Defence Kashlinskaya overlooked the idea of Black's sacrificing the a5-knight as her position quickly turned from slightly better into a hopeless one. The Russian tried to find her way out, but it wasn't meant to be. With 4/5 Zhu has now joined the leading group of players in this tournament.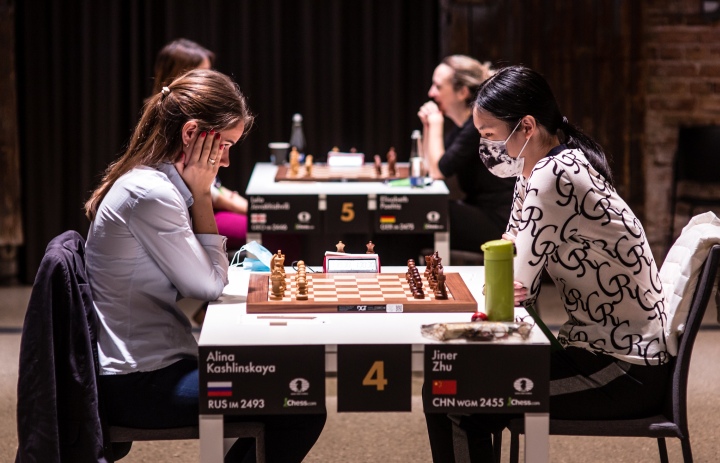 Lela Javakhishvili was facing Elisabeth Paehtz of Germany. In the Gligoric System of the King's Indian, the German reached a favourable endgame, but her path to victory wasn't so simple as White was trying to create a fortress with a pawn and rook against the queen. Unluckily for Lela, Black had a pawn on the queenside - the decisive factor that tipped the balance in Elisabeth's favour. After some careful play, the German secured a victory and joined the rank of players with four points out of five games.
Dinara Saduakassova, who turned 25 today, did not celebrate her birthday in the best fashion. She lost as black to Poland's Jolanta Zawadzka, who now has 4/5 and is among the leaders of this event.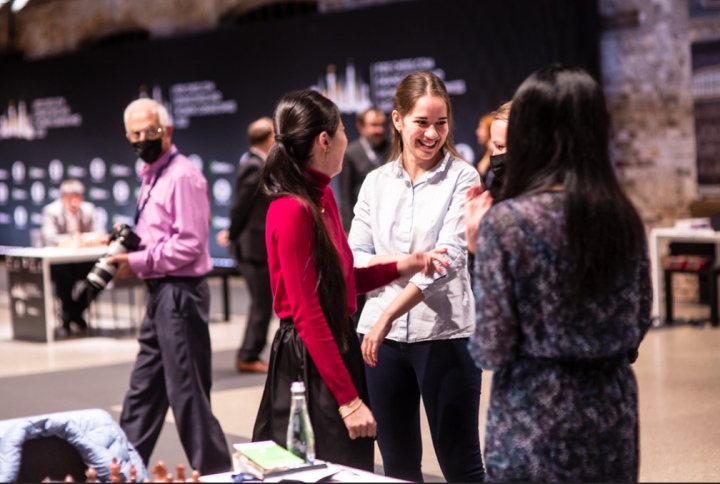 Round 6
Round Six starts at 2 PM on the 1st of November.
The pairings for the sixth round for the Open event can be found here:
grandswiss.fide.com/open/
The pairings for the sixth round of the Women's event can be found here:
grandswiss.fide.com/grand-swiss-women/
For more information about the tournament, please visit: https://grandswiss.fide.com/
Press enquiries: press@fide.com
Article: Milan Dinic
Photo: Mark Livshitz and Anna Shtourman