The 1st round of the 4th FIDE World Chess Championship for People with Disabilities started on November 05. This year the championship, organized by Dresdner Schachfestival e.V. under the auspices of FIDE, is held online due to continuous Covid-19 restrictions across the world.
Despite the change of the format, 255 players from 46 countries decided to participate in the 9-round Swiss tournament with 45 minutes + 30 seconds increment per move, starting from move 1, and contest for the titles of "World Chess Champion among Disabled 2021" in the individual ranking and "World Chess Team Champion among Disabled 2021" in the team competition.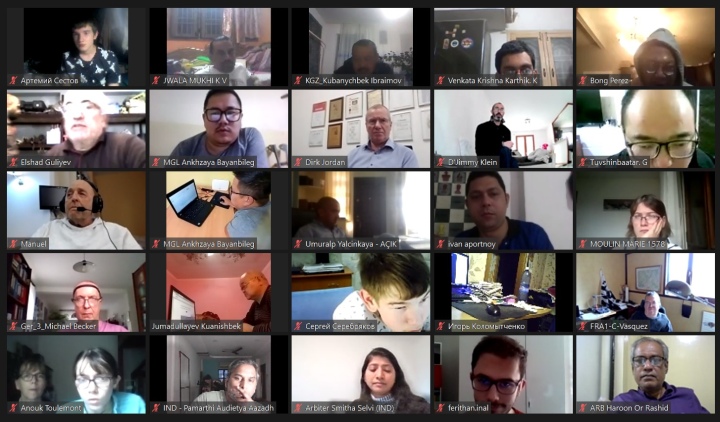 Participants from Angola, Argentina, Armenia, Australia, Azerbaijan, Bangladesh, Brazil, Canada, Chile, China, Colombia, Costa Rica, Cuba, Ecuador, England, Spain, France, Georgia, Germany, Guyana, India, Iran, Israel, Italy, Kazakhstan, Kenya, Kyrgyzstan, Saudi Arabia, Latvia, Morocco, Malaysia, Mongolia, Macedonia, Panama, Philippines, Poland, Romania, South Africa, Russia, Turkey, Ukraine, the USA, Uzbekistan, Venezuela, Vietnam and Zimbabwe, who belong to any of the three disability categories (visually impaired, hearing impaired and physically disabled) will play on the Tornelo platform from 5-13 November.
There were 123 games played today in Round 1. The majority of the encounters ended in a victory by one of the opponents, and only eight were drawn. The first day did not bring many surprises; the top-seeded players such as GM Marcin Tazbir (2508, Poland), IM Igor Yarmonov (2394, Ukraine), FM Marcin Molenda (2365, Poland), FM Sander Severino (2364, Czech Republic) and FM Stanislav Babarykin (2364, Russia) celebrated victories today. They are joined by other 110 players who also won their games.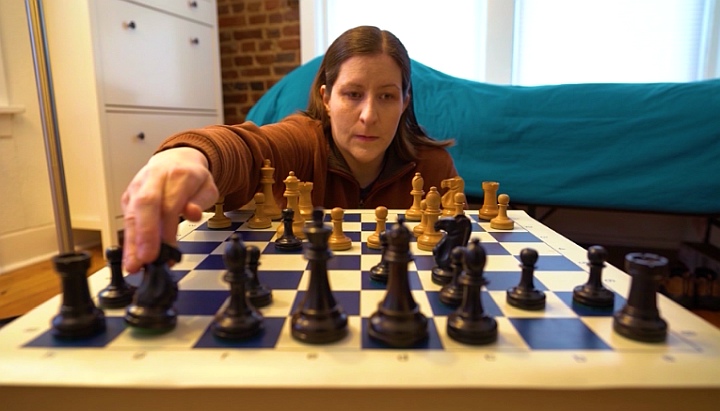 During the pandemic, chess has been a consistent escape for many participants of the tournament. Among them is Jessica Lauser of USA, who defeated Russian player Vladimir Pronin today. Lauser has been blind for almost her entire life. "When I play chess, it's as close as I've ever come to a sense of equality," she said in her recent interview. "When you start the game, no matter who you are, no matter what your physical condition is or where you come from or whether you have money, both sides start with the same thing."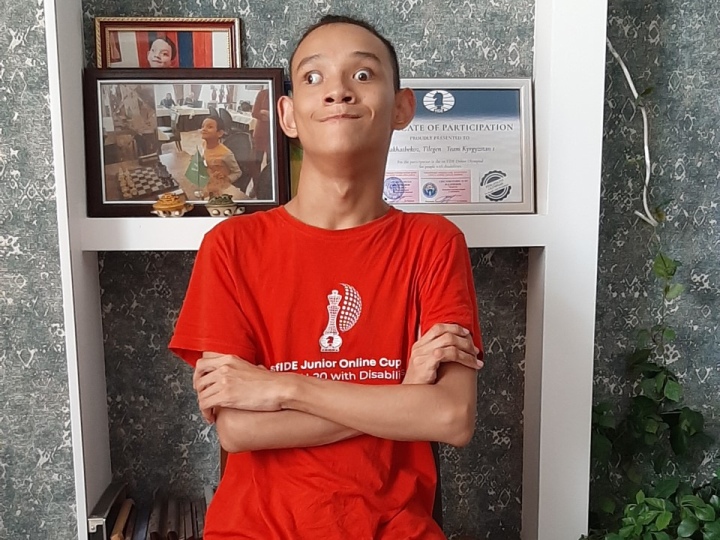 Tilegen Rakhatbekov from Kyrgyzstan also scored a full point today in a game against Martin Willms of Germany. Tilegen is only 16, but despite his young age, he has been playing chess for 7 years. "I like chess; I don't need to talk and move; I just think. Online chess is good; you can play with the whole world from home. During the last two years that I've played online, I participated in many tournaments, even the Online Chess Olympiad for people with disabilities. But still, I prefer offline. I like to travel, visit new cities, and get new friends!" he said.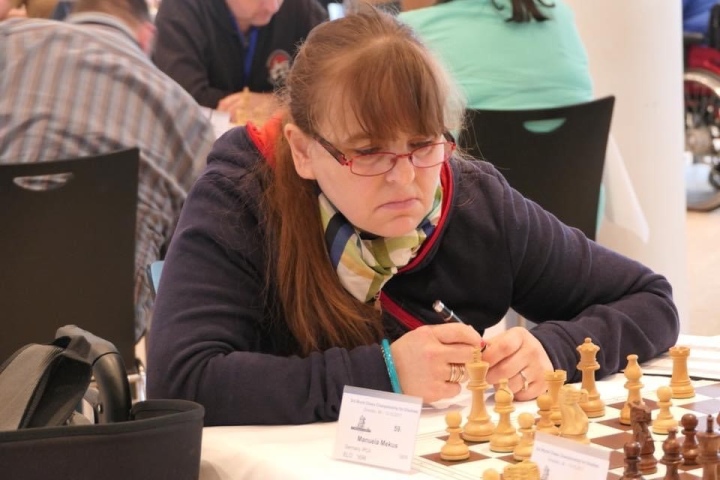 Manuela Mekus from Germany defeated Mongolian player Mandakhbayar Byambasuren and also scored a full point today. "When I was a kid, I played a lot of tournaments. At the age of about 25, I played in the 2nd women's chess Bundesliga. But due to the pain caused by my illness, I withdrew more and more from chess. But in November 2020, I played in the online Chess Olympiad for Germany. Since this online tournament, I have been training regularly with GM Sasa Martinovic from Croatia. 1-2 times a week. And I practice on Lichess and Chess.com. I just want to know whether I can still do it, whether I can still significantly improve my performance in chess, despite the very severe pain that I have every day without interruption," she said.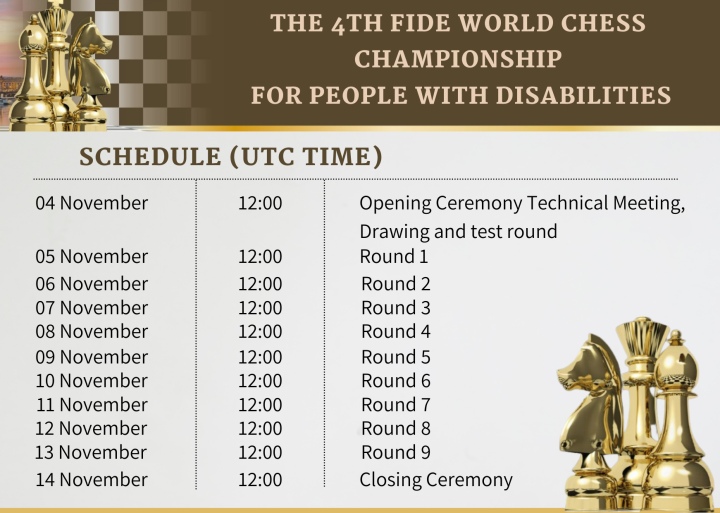 Round 2 of the 4th FIDE World Chess Championship for People with Disabilities starts at 12:00 UTC on November 06.
For more information about pairings and standings, please visit the page of the event on Tornelo:
https://tornelo.com/chess/orgs/fide/events/4th-world-championship-for-people-with-disabilities