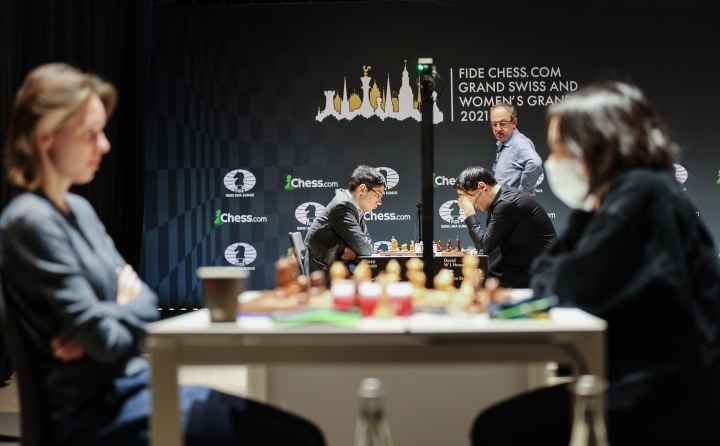 Alireza Firouzja is back as the sole leader in the Open Event, as Lei Tingjie wins the inaugural Women's Grand Swiss with a round to spare
Open Event
Alireza Firouzja has recovered from his loss to Fabiano Caruana on Friday by defeating David Howell in the crucial game of the tenth round of the Grand Swiss. With this victory, Firouzja has 7.5/10 and is entering the final round with a half-point advantage over everyone else. He is followed by Fabiano Caruana and Grigoriy Oparin, who are on 7/10.
In the Italian Game, Firouzja spent significantly more time on the opening, presumably having been caught out by Howell's preparation. It was surprising as Howell is known for getting into time trouble early. However, by move 19, both had similar time on their clocks, and with all the pieces on the board, the pressure on both was mounting. The tension was released in the centre in White's favour as Firouzja aligned his pieces for an attack on the black king's fortress. Howell, shorter on time, played 27...Be5 allowing White to sacrifice a knight on h6 (most likely 28.Rxe5 was even better), ending with an extra pawn and breaking through Black's defences.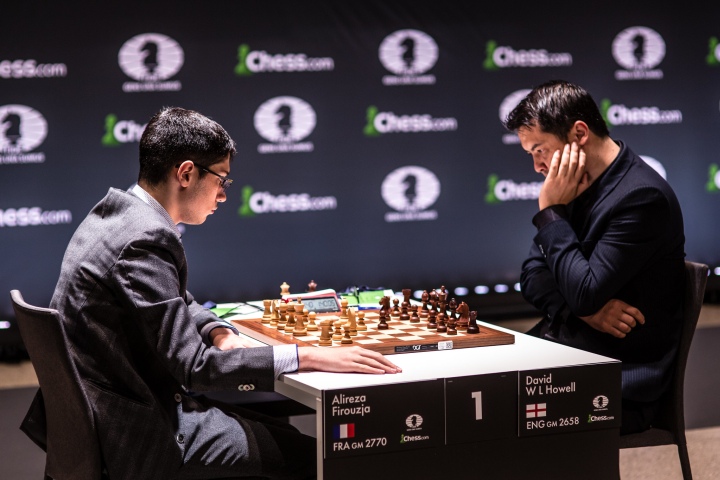 However, in a better position, Firouzja hastily played 31.Qf3, to which Black responded with 23…Qc6 and the game was wide open again, although White still had an edge. Firouzja was visibly unhappy with the oversight. After reassessing the situation, Alireza went for an exchange of queens simplifying the position and moving towards a four-bishop ending with an extra pawn. Howell had to be precise to keep his hopes alive but was under serious time pressure for the first time control. He slipped on move 35 by playing a tempting but erroneous 35...d4. When the time control was reached, White had a decisive advantage and steered the game to a clean victory.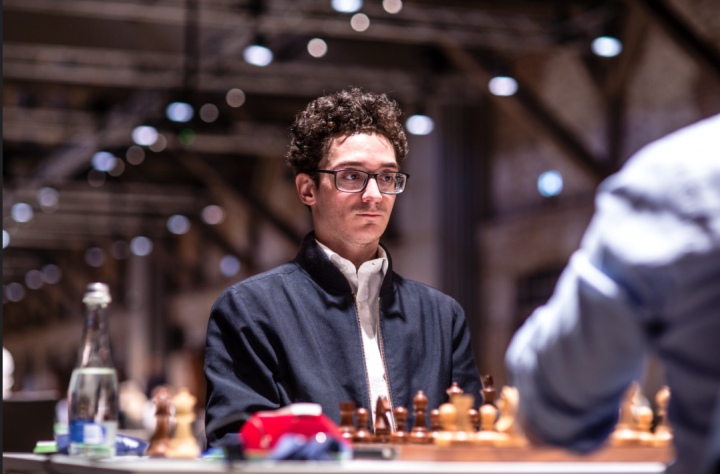 Maxime Vachier-Lagrave and Fabiano Caruana drew their game on board two. In the Morphy Defence of the Ruy Lopez, both sides played quickly in the opening. The Frenchman ended with isolated pawns on d3 and d5, but was holding the a-file with the queen and rook and had a more active knight. After exchanges in the centre, the players moved to a rook endgame where Caruana was a pawn down, but a draw was the most likely outcome. The Frenchman decided to play on and test Black. The American had to proceed carefully but was essentially safe, and the two called it a draw. This outcome puts pressure on Maxime Vachier-Lagrave to win in the final round of the Grand Swiss if he wishes to have chances to get his pass for the 2022 Candidates tournament.
In the Russian duel on board three, Nikita Vitiugov and Grigoriy Oparin tested each other in the Sämisch Variation of the Nimzo-Indian. Oparin called it a 'wild game'. In a blocked position that appeared early in the centre, Black surprised his opponent and the audience with an odd-looking but logical novelty:
Nikita Vitiugov – Grigoriy Oparin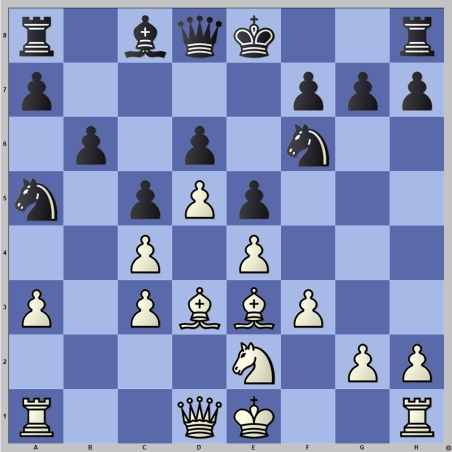 11...Kd7!?
"Overall, it's a typical idea to bring the king to c7, and 11...Kd7 is a very nice move. For me, it was the most logical move, because the point is that we don't really want to move our queen on d8 or bishop on c8 yet," said Grigory after the game.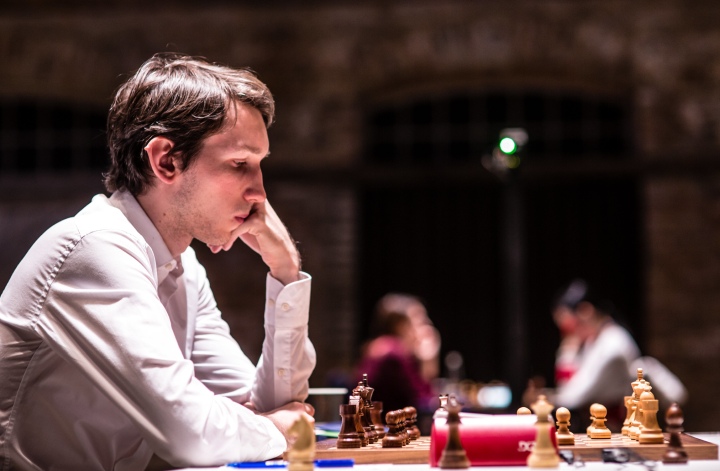 Having two bishops, White naturally tried to open the position, but Black created a stronghold on e5 and managed to keep it closed. Vitiugov opted for a push on the d-file, but this approach backfired just a few moves later as following the mistake on move 27, he ended down a pawn down and with the key pieces hanging. Black won an exchange only to return it later, releasing a free runner on the c-file and securing victory. Oparin is now on 7/10 and in the race for the top two spots leading to the Candidates.
Alexei Shirov's good run in the Grand Swiss has continued as he managed to save a lost position from Yu Yangyi. In a rare variation in the Sicilian with d4 and a double fianchetto for White, Black launched a push on the b-file and Shirov carefully flanked it. After 14.a4 White seemed to have halted Black's attack on the queenside, enabling him to safely castle to the left wing. Black, however, managed to deflect White's attempts on the kingside, realign his pieces and activate the bishops. After several piece exchanges in the centre, Black got rid of his backward d-pawn and created an advanced pawn on the e-file. Later on, Yu made the most of White's mistakes to advance it to e2 and play for a win. Shirov put up stubborn resistance at the last line of defence, but it wouldn't have been enough hadn't Yangyi failed to find the best continuations and allowed Shirov to reactivate. The game ended in a draw after six hours of play and 64 moves. Both are now on 6.5/10.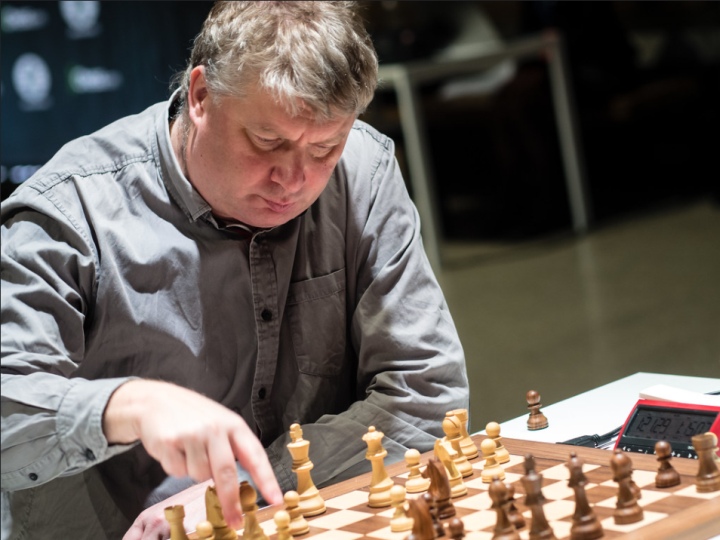 Krishnan Sasikiran, the last of the players with 6/9, lost as Black to Andrey Esipenko. In the Canal Attack of the Sicilian, Black was standing slightly better coming into the middlegame. However, Sasikiran made a mistake when transitioning to a four-rook endgame as his position immediately turned from slightly better to inferior. Being in his element, Esipenko instructively activated his king and created a passer on the a-file supported by his rooks. Several moves down the and he collected a few more of Black's pawns and advanced his own dangerously close to the last rank. In the face of further material losses, Sasikiran threw in the towel. With this victory, Esipenko is on 6.5 points.
Samuel Sevian, Gabriel Sargissian, Alexandr Predke and David Anton - who were also among players with 6/9 - all finished their games in draws and are now further behind in their chances of reaching the top spots.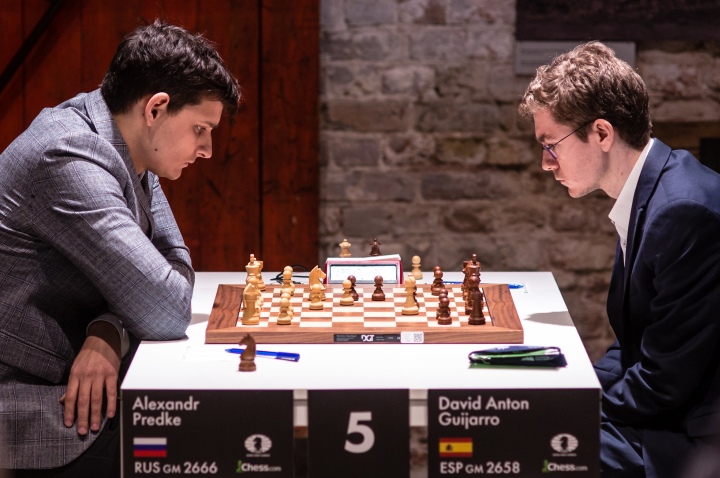 One of the most interesting games of the round was played on one of the lower boards. In a clash of generations, chess veteran Kiril Georgiev (55) lost to 15-year-old Indian star D Gukesh. In the Ragozin Variation of the Nimzo Indian, Gukesh managed to create a so-called Octopus - a strongly positioned knight - who, following the shape of the letter 'W', made his easy waltz from b3 via c5-d3-e5 to f3, where he landed a devastating blow to White's defences.
Women's Event
Lei Tingjie confirmed her first place in the inaugural Women's Grand Swiss following a draw with the top-seeded Mariya Muzychuk. She is followed by compatriot Zhu Jiner in second place with seven points and five players with 6.5/10 are tied for third place: Elisabeth Paehtz, Mariya Muzychuk, Harika Dronavalli, Bibisara Assaubayeva, and Deysi T. Cori.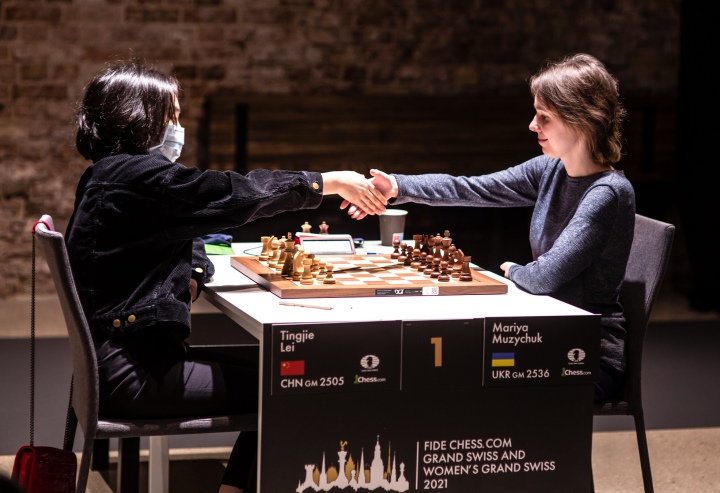 Having the advantage of White pieces, Lei needed just a draw to confirm first place and her ticket to the Candidates. Muzychuk, on the other hand, needed a win if she was to have a chance to equalise for first place. In the Slav Defence, Lei managed to get a big lead on the clock and a slightly better position with opposite-coloured bishops in which Black had no counterplay. Following 42 moves on the board, the two agreed to a draw. With a performance of over 2800 in this tournament, Lei Tingjie is deservedly the winner of the inaugural Women's Grand Swiss.
On board two, Harika Dronavalli was up against Elisabeth Paehtz, who needed a draw to complete her final norm for the GM title. In the Alapin Variation of the Sicilian, Harika got a promising endgame but missed her chance to put Elisabeth to a severe test with 23.Rb1. After the Indian opted for the natural exchange of the bishops, the game quickly transitioned to a drawn rook ending. The two agreed to split a point on the move 31, and both are now on 6.5 points.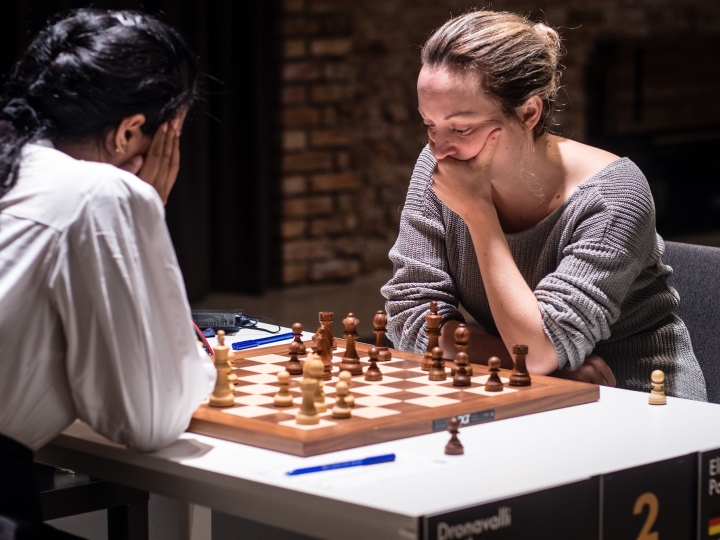 Another Chinese player, Zhu Jiner, scored an important victory as Black against Lela Javakhishvili of Georgia. Following the King's Indian Defence, a very sharp position developed on the board. After wild complications in which both opponents made mutual inaccuracies, the game transpired into a two bishops vs a rook and two extra pawns endgame. Zhu was in time trouble but managed to advance her pawns on the queenside to exchange one of them for Lela's pawn on the kingside. The position was still even according to the computer, but it was clear White had to be more careful as only Black could push for a win. White's position was going south and making things worse on the move 52 Javakhishvili blundered a bishop and resigned immediately. With 7/10, Zhu is now in second place behind compatriot and tournament winner Lei Tingjie.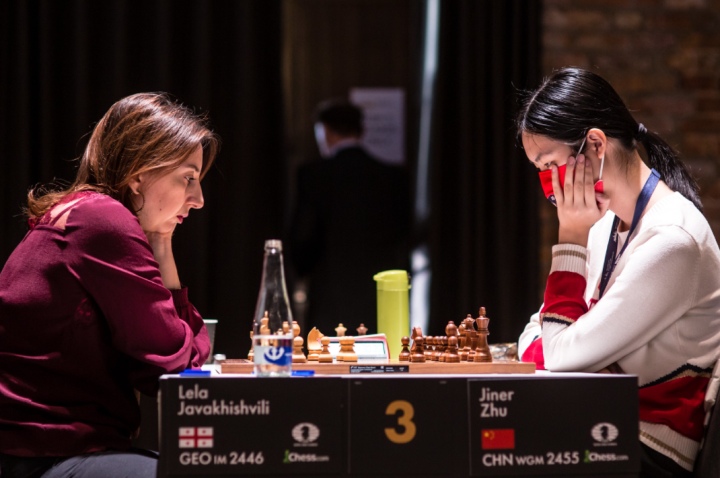 Deysi T. Cori continued her good run in the Grand Swiss, scoring a victory over second-seeded Nana Dzagnidze. In a standard position of the Nimzo-Indian Defence, Dzagnidze decided to play 17...g5, weakening her castle and light squares. Cori jumped at the opportunity and implemented a typical plan that was even more dangerous for Black in this position. After the Peruvian smoothly advanced her pawns and arranged her pieces for an attack, Black's pawns on the kingside all fell, and Dzagnidze had no other option but to resign. Deysi T. Cori now has 6.5/10.
Bibisara Assaubayeva - who has had a good tournament and picked up a lot of rating points - continued along the same path in Round 10. She won as White against Polina Shuvalova. In the Three Knights Variation of the Queen's Gambit Declined, Black tried to put forward an interesting plan of breaking in the centre. White timely traded the queens and dark-squared bishops transitioning to an endgame with a free-pawn on the a-file. One mistake on the move 30 from Polina was enough to turn an inferior position to the lost one as Bibisara won both Black's central pawns and kept her a-pawn safe. Facing the inevitable defeat, Shuvalova capitulated. After the game, it turned out that Assaubayeva was not aware that a victory in this round meant she got her first GM norm.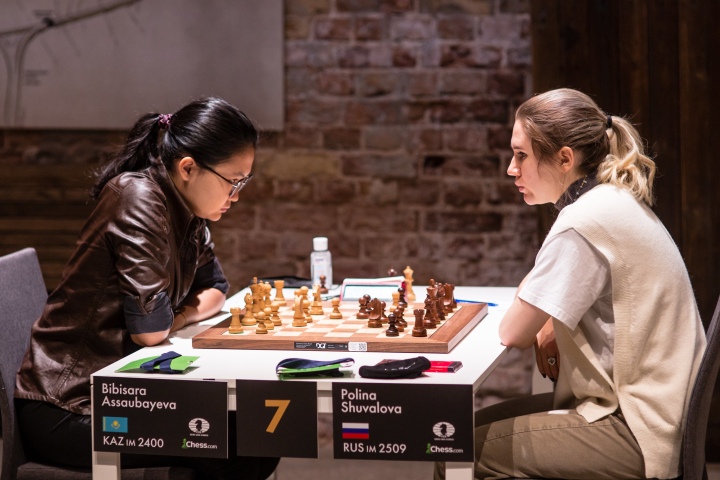 Among other top players who were on 5.5/9, Batkhuyag Munguntuul and Nino Batsiashvili drew their game, as did Natalija Pogonina and Alexandra Kosteniuk.
Round 11
Round 11 – the final round of the Grand Swiss – starts at 2 PM on the 7th of November. The final round will be followed by a closing ceremony which will be streamed live on FIDE's YouTube channel.
The pairings for the final round for the Open event can be found here:
https://grandswiss.fide.com/open/
The pairings for the final round of the Women's event can be found here:
https://grandswiss.fide.com/grand-swiss-women/
For more information about the tournament, please visit: https://grandswiss.fide.com/
Press enquiries: press@fide.com
Text: Milan Dinic
Photo: Mark Livshitz and Anna Shtourman