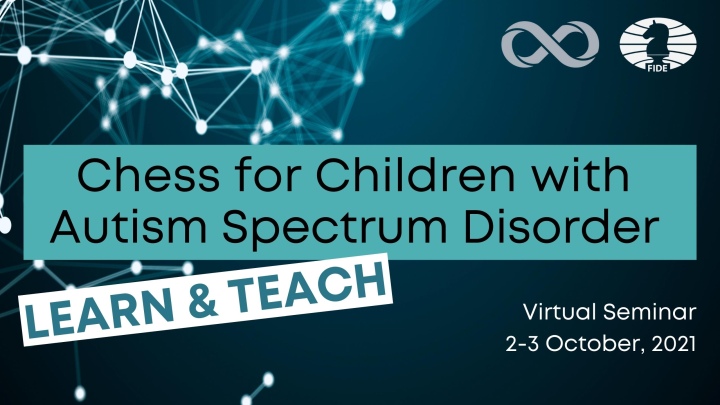 On October 2-3, 2021, FIDE has organized the 2nd FIDE Educational Seminar of Infinite Chess Project, "Chess for children with an autism spectrum disorder. Learn and teach". It was an inter-commission effort, put in by the FIDE Chess in Education Commission, Commission for the Disabled and FIDE Social Commission.
The main goal of this two-day seminar was to provide core knowledge and practical advice for teachers, trainers, and parents who wish to teach chess to kids with Autistic Spectrum Disorder. Guided by the project leader FIDE Vice-President Anastasia Sorokina, the seminar brought together teachers and researchers with practical knowledge in the field. Luis Blasco de la Cruz, CEO of Madrid Chess Academy (Spain), emphasized the difference between ADHD and ASD and shared his experience working with kids with special needs. Dr Anna Charchyan and Dr Lilit Karapetyan of the Chess Research Institute in Armenia provided some practical exercises in the form of dynamic chess games. Member of the International Commission of the French Chess Federation Franck Droin talked about the French initiative to support and promote the FIDE program. Researcher with more than 15 years of experience from Brazil, Dr Sandra Maria Guisso spoke about the role of psychologists and the importance of psychological therapy for children with ASD.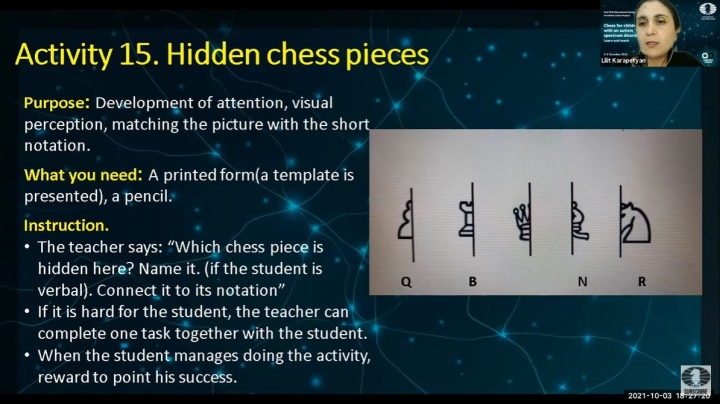 A considerable part of the seminar's time on both days was dedicated to the special education program stemming from more than two years of Belarus experience. In 2019, a club for children with ASD opened at the FIDE Chess Academy in Minsk, the country's capital. This ongoing project helped WIM and FIDE Trainer Natalia Popova gain invaluable experience and knowledge to create a unique methodological program. During the seminar, Natalia Popova presented it together with another specialist in the field—Ala Mishchanka, who has more than 15 years of experience working as a special needs educational assistant in Canada.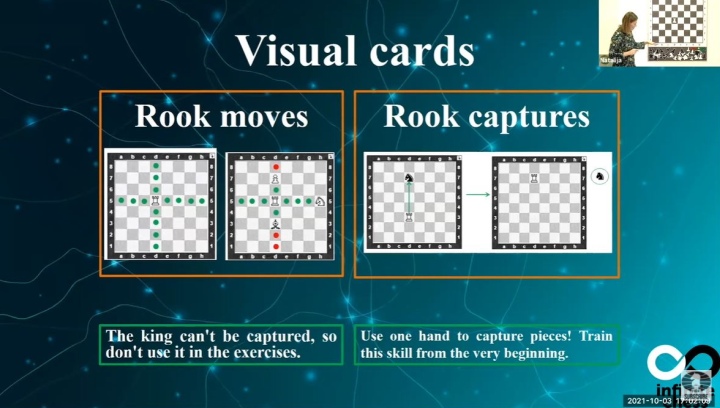 This program is suitable for groups of students with ASD, as well as mixed groups, inclusive education, individual lessons, or at-home schooling. We're proud to share it as a pdf file as well as presentations by all the speakers. You can find them here. These materials can serve as an excellent practical guide for trainers and parents alike.
In addition to that, you can find the video recordings of the seminars, edited for clarity, on our YouTube channel:
PART 1 (October 2): https://www.youtube.com/watch?v=BECA0PsfxSg
PART 2 (October 3): https://www.youtube.com/watch?v=OIrCLtQ5f3c
The discussion was skillfully moderated by Judit Sztaray, Developmental Instructor, General Manager of Events and Youth Outreach at Mechanics' Institute, who also chose several topical questions from the audience that the speakers answered during the Q&A at the end of each session.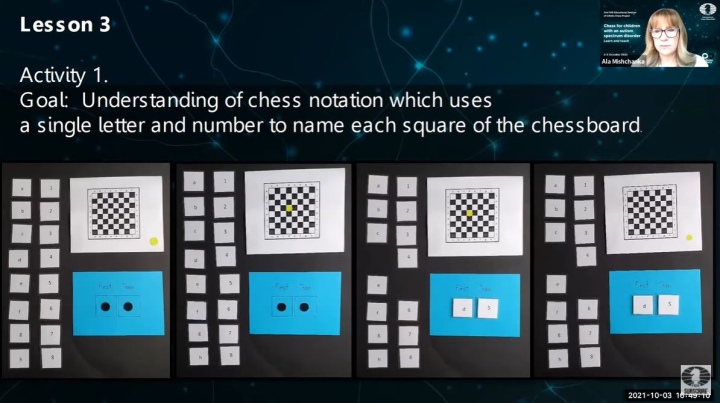 "Think of chess as a discipline that might not only give satisfaction and pleasure to these special kids but also improve their physical and mental health," said Dana Reizniece-Ozola, Infinite Chess Project supervisor and FIDE Managing Director, at the first Introductory Seminar on how chess can help children with ASD in March 2021. Since then, the initiative has moved on and grown into a full-fledged project, and at FIDE, we are committed to continuing research and development in this vital area of knowledge.