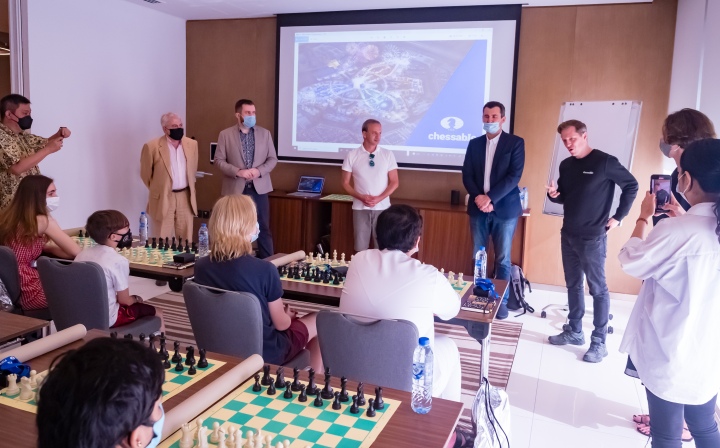 The FIDE Chessable camp is held between November 28 and December 4 as a part of the FIDE Chessable Academy program.
In July 2021, Chessable, the world's leading chess E-learning platform, in partnership with FIDE, launched the FIDE Chessable Academy, aiming to support young talents worldwide and encourage them to succeed in chess. 250 most talented and promising young players aged from 8 to 16, representing 100 national federations, are attending the program. Among the FIDE Chessable Academy students, there are top-five rated young talents in their age groups and the winners at the World Youth and Cadets Championships. Children divided into ten groups have two hours of training every weekend in English, Spanish, and Russian.
Twelve of them were selected to come to Dubai and have a unique opportunity to be trained by ex-World Champions and chess legends Viswanathan Anand and 2021 FIDE World Cup winner Jan-Krzysztof Duda. The students will also enjoy a behind-the-scenes visit to the FIDE World Championship Match between World Champion Magnus Carlsen play Challenger Ian Nepomniachtchi.
On the first day of studies, the camp participants were greeted by the FIDE officials and those organizing the camp.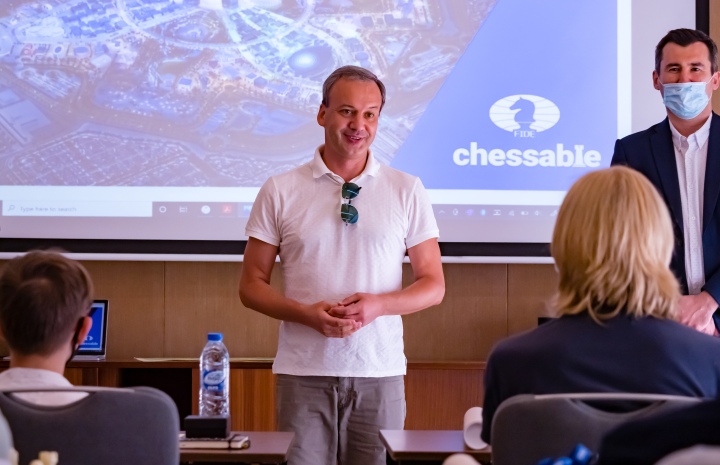 "You have been selected from hundreds of kids, that means that you're among the best. I wish you to work hard, but most importantly, to enjoy what you're doing. I remember when I was a kid myself going to a chess school, I was having fun. Maybe it's not good advice but anyway, here you're both to work and to have fun. It's a huge opportunity for you, and I'd like to thank all the coaches who are going to work with you. Do your best, show the best possible results, and love chess!" said FIDE President Arkady Dvorkovich.
The Chief Executive Officer of Chessable Geert van der Velde stressed that the camp is not only about getting better at chess but exploring other things as well: "You are here because you have passion for chess, passion for learning. There's a lot of things that you can take away from chess and from participating in chess events. Having a place where you come to learn about chess from some of the best in the world like Viswanathan Anand and Jan-Krzysztof Duda is absolutely amazing. But what I would like to hope you'd walk away with from participating in a camp like this is not just becoming really good at chess but also becoming really good human beings, taking away friendships, coming away with unique experiences. Chess is a beautiful vehicle for you to explore the world and I'd like to say to you: Keep driving that vehicle, explore and learn!"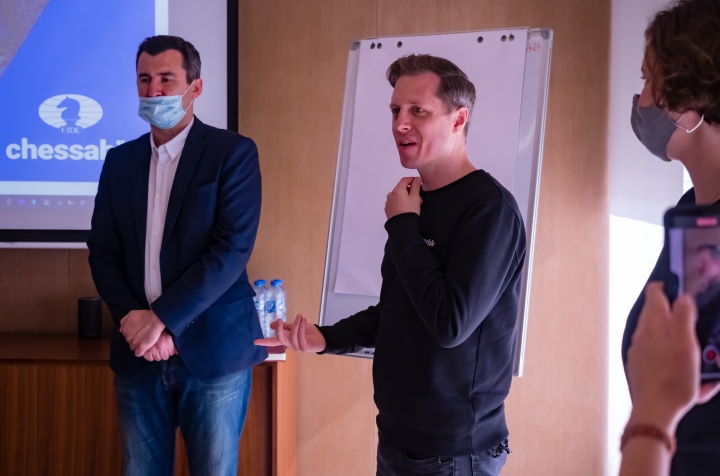 Fourteen-year-old Sahithi Varshini from India is among the participants of the Dubai camp. A WFM with one WIM norm, she is the winner of the Asian U-10 & U-12 girls championships and U-10 girls commonwealth championship. "My sincere thanks to the All India Chess Federation for nominating me for the FIDE Chessable Academy and to FIDE for selecting me for this wonderful training camp by the legendary world champions Viswanathan Anand. It's really a great opportunity for me to hone my knowledge and skills on a wonderful platform and attend the sessions, which are helpful to me to move forward. My sincere thanks for the wonderful opportunity to be in the training camp," she said.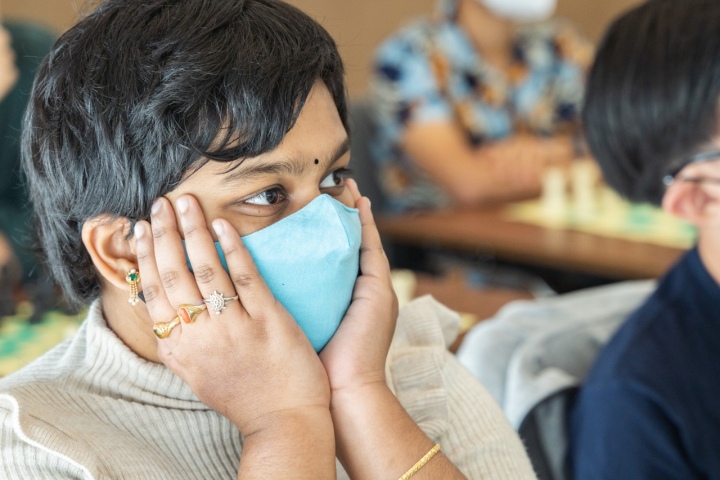 Fifteen-year-old Enrico Follesa of Belgium confesses that participating in a camp is a unique opportunity for him: "I will do my best to learn from Viswanathan Anand and Jan-Krzysztof Duda as much as possible. I am also excited to attend two world championship games between Magnus Carlsen and Ian Nepomniachtchi, whom I hope to be able to meet in person. Last but not least, it will be great to meet and exchange experiences with some of the strongest chess players in the world of my age. I want to thank everyone who made this possible: the Belgian chess association KBSB, the FIDE Chessable Academy team and its great trainers. For me, this camp is a wonderful result and a new starting point".
Today participants of the camp are attending lectures by the five-time world champion GM Viswanathan Anand and the Chairman of the FIDE Trainers' Commission GM Mikhail Kobalia. And tomorrow, they will go to Expo 2020 Dubai to see the fourth game of the FIDE World Championship Match between Magnus Carlsen and Ian Nepomniachtchi.