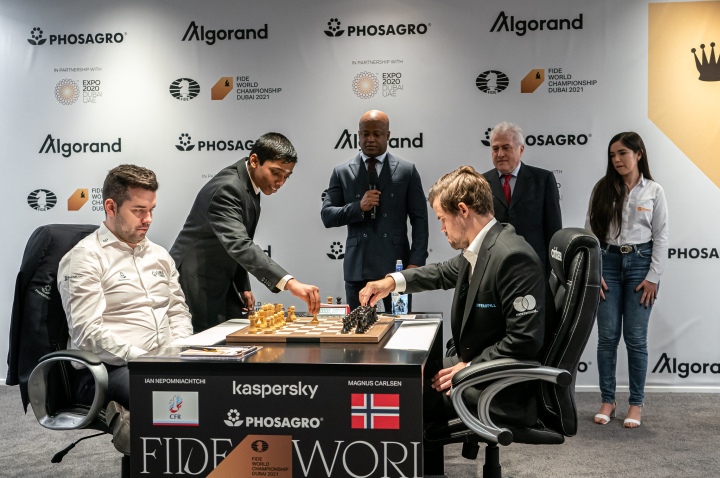 Damage improvisation
This year's FIDE World Championship has entered the crisis stage. After eight games the often invincible champion, Magnus Carlsen, has taken a 5-3 lead in his 14-game title defence against challenger Ian Nepomniachtchi. Besides holding the elite record for longest undefeated streak – 125 games – Carlsen has only lost a total of two games in world title matches since his successful challenge versus holder Vishwanathan Anand in 2013. Dubai is the Norwegian's fifth title match.
Now there are two games in town for fans and pundits - the first: trying to anticipate how Nepomniachtchi will ramp up the complexity and risk levels to create the kind of chaos that is seen as his forte, but which has been viewed as too dangerous while the match was in equilibrium.
Aficionados are voicing their hopes, wishing for wild, romantic, sacrificial openings of bygone times to try and unsettle the champion. Pragmatic pundits dismiss this type of overblown reaction as suicidal, and a match-shortener – but they do agree that the time has come to cast aside his so-far preferred quiet opening weaponry and take up something harder to neutralise.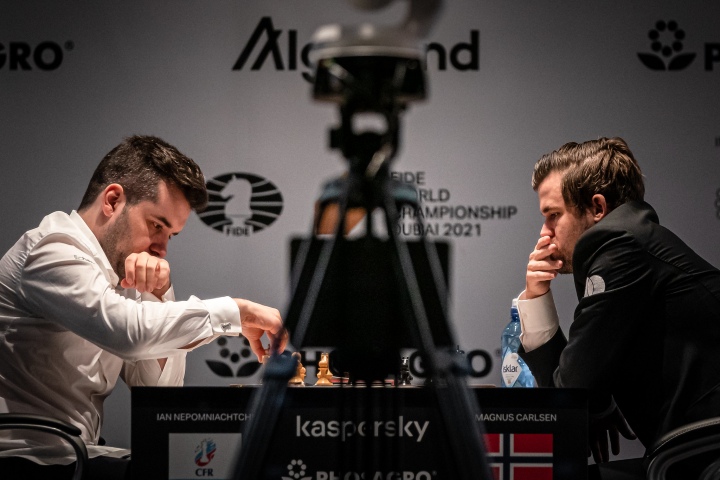 True confessions
During the rest day Carlsen spoke to another Magnus, Barstad – a friend and podcast partner who the champion dubbed 'part music expert, part fashion expert, hype man' - and revealed some of his feelings about the match before game nine.
"I have to expect that the match will enter a phase that will be a bit different. A desperate opponent is a very dangerous opponent. I expect that he has regrouped on the rest day and will bounce back strongly now."
Carlsen also confessed that he had found the last set of three games gruelling: "It's been a recurring theme the last few days that I've felt tired, and it's been exhausting. But I've been repeating to myself: 'It's worse for him! It's worse for him!'"
Time is running out for the challenger, who does indeed need to recharge and find himself; both his best form and the creativity that has made him a fearsome opponent.
The real match strategy?
The second game that match-watchers play is reading and assessing the overall match strategy. This becomes particularly tempting when the favourite seizes a sizeable lead, and the challenger is counted out with nearly half the match left to play.
Hindsight is an essential ingredient of this kind of match interpretation, though it is worth emphasising even then, there will be eternally mysterious aspects, never fully understood without input from the players themselves. When the Dubai battle stood deadlocked after five draws, there were some very easy 'conclusions' to reach from reading between the lines of the games.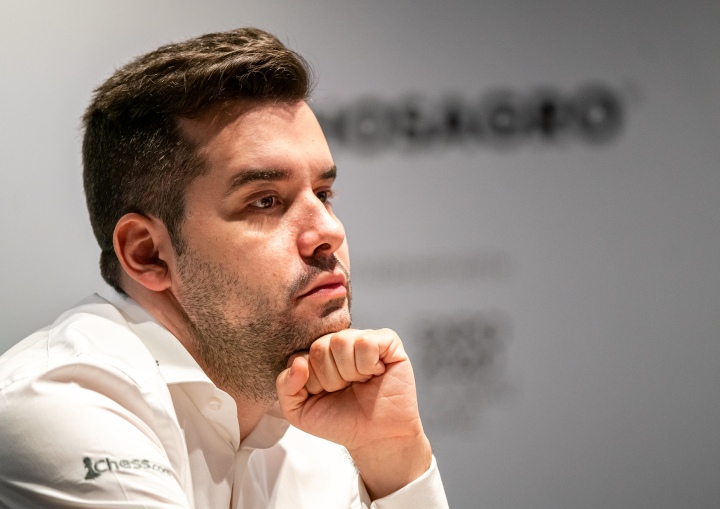 Since none of the games ended decisively, and Carlsen was taking far more risks in the opening, a simple read was that Nepomniachtchi, aided by former challenger Sergey Karjakin, was adopting his compatriot's strategy, which nearly toppled Carlsen in New York 2016, namely: frustrate the relentless champ with a series of draws, and hit him when his ambition led him to overreach.
A close examination of game six – a game packed with enough moves for three full fights – implies a very different picture.
Bravery and fate
While much of that record-long marathon showed the trademark grim determination of the champion to battle until the board is bare of ideas, it was anything but a remorseless, relentless win. It was a see-saw brawl at the beginning, with both players searching for ways to inject fuel and keep the struggle lit, despite plenty of potential for the game to fizzle out.
The nerve-jangling mutual race to reach move 40 without exceeding the time limit, and instantly forfeiting the game, contained a number of subtle swings in fortune, and later a few hasty decisions from Ian would turn the contest in Carlsen's favour.
There is a strong argument that this pivotal battle, so exhausting that it would be felt for days, was not decided by the usual chess factors, but by nerve and concentration. And it wouldn't have happened without ambition from the challenger as well.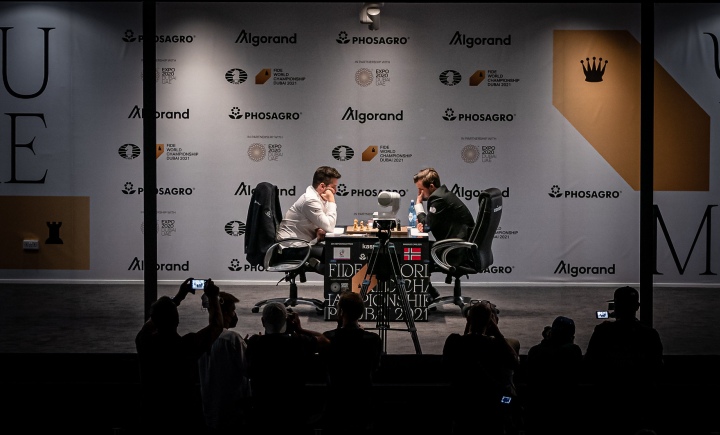 Only they know for sure
The ease with which hindsight not only informs, but also judges, should be regularly tested. Another glib assessment is that Nepo's moments of indecision in some of the early games could be due to having a conservative match strategy from 2016 tugged onto him like an ill-fitting suit. The 'Karjakin strategy' has had years to settle as something approaching fact; but how much sense does it really make?
It seems far more likely that the Sergey' Minister of Defence' Karjakin persona was forged there simply as a result of survival, and that the long series of often uphill draws in 2016 was due to Carlsen consistently creating pressure yet not quite converting. Karjakin showed no hesitation in pushing when he got something to work with. Did he really turn up planning to take days of endless punishment from the world's foremost punisher?
In any event, game six here is at least grounds for the serious argument that, even if a 'Plan Karjakin' existed, version 2.0 wasn't firmly in force in Dubai. If it had been, game six would likely have taken a very different course.
Schrödinger's weapon
Match strategies are complex and private, and presumably adjustable according to circumstance. Fateful decisions simply have to be made and lived with.
Preparations and contingency plans are a bit like Schrödinger's cat, both good and bad, defined by what emerges at the end. The loser of a match finds out they packed a faulty potato gun, even though both teams will absolutely swear they put Schrödinger's laser cannon in that box when they set off.
The ritual start
The ceremonial start of game nine had the strongest chess representation of the event, with Indian prodigy GM Rameshbabu Praggnanandhaa, one of the top-ranked youngsters in the world, making the first move. He was joined by Deputy FIDE President Bachar Kouatly, and Ayelen Martinez, organiser of the World School Chess Tournament. Praggnanandhaa was a member of the winning team at the WSCT event, organised by the chess-themed Spanish Pavilion at Expo 2020.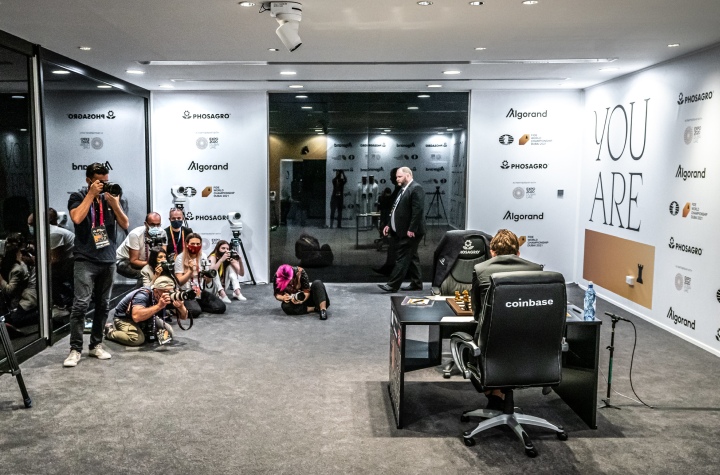 Surprises galore
Today's second surprise was the switch to 1.c4 as an opening move, which some experts expected could become a second battlefield if the expansion were needed. Praggnanandhaa played it, and Ian confirmed it, and soon the game was in new and very murky territory.
The first surprise was a visibly overhauled challenger. Nepomniachtchi appeared onstage a bit before the start of play, visibly different, having shed his signature topknot for a new haircut. The third: former title challenger and Nepo assistant Sergey Karjakin reappeared at the Dubai Exhibition Centre, saying he had been summoned back, and then gave Norwegian state broadcaster NRK viewers a scare: "Today we will win! We know Magnus is strong, but I believe Ian is motivated and he is in good shape today."
Top commentators, as well as a few of the powerful computer programs, endorsed the quality of the challenger's preparation today, as he seemed well armed for the champion's slightly unusual choice of 5th move in an already relatively unexplored position.
Body language watch
There was yet another eyebrow-raising moment for spectators early in the game. While thinking about his 9th move, the champion's head suddenly sank to the table, onto his folded arms, before he suddenly sat up again after a momentary shake and shudder. It was a highly unusual bit of body language and appeared to hint at something more profound than just an agitated memory search.
A bit later in the session came a new body language mystery, as Carlsen momentarily gripped his knight before moving a pawn for his 18th move. According to the rules, a touched piece must be moved, but one can adjust the pieces on the board by announcing this. Since the knight had no good moves, the consensus was that Magnus was not considering moving the piece, but the adjustment was so awkward that spectators began to wonder what had happened.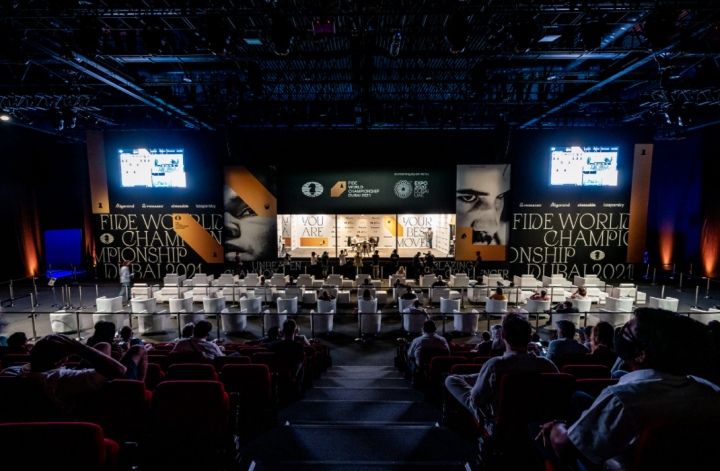 His old self
Experts felt that Nepomniachtchi had lost his opening advantage with his 15th move, but the challenger had clearly dropped one aspect of caution, and was playing at high speed. Elite GM commentator Anish Giri felt that this was a conscious return to weaponising his ability to play very intuitively, and that Nepo would pressure Magnus at least on the clock, if less so on the board.
The champion indeed soon found himself facing serious time trouble, having just over a minute per move for the 17 moves needed to reach move 40 and gain a supplemental hour. Carlsen reverted to a common stratagem in this match, giving up a pawn to gain active play, but Nepomniachtchi could be encouraged by his time advantage, coupled with an imbalanced position.
By the sword
Then this off the board pressure to create on the board chances approach backfired again for the challenger. After a few minutes of thought, an incredibly sloppy move blundered material, and Carlsen was visibly shocked and puzzled when he saw this gifted opportunity in front of him. After about three minutes of intense concentration, the Norwegian trapped his opponent's vulnerable bishop. His opponent, who went to his rest area offstage after each move, remained out of sight, watching and considering the disaster on his backstage monitor.
Despite his large and almost certainly increasing lead, Carlsen remained at the board, still calculating future play, while his opponent stayed hidden. Nearly 19 minutes later, Nepomniachtchi reappeared on stage, took his seat with a sad smile, and then struggled with a lost position and vanishing title hopes. After 39 moves, Ian threw in the towel and discussed a few critical moments from earlier in the game with Magnus.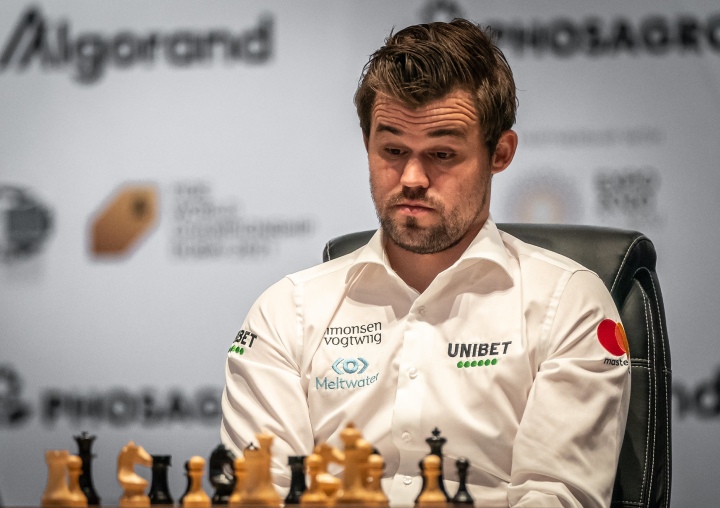 On his way to the press conference, Carlsen was asked by reporters if pundits were right to call the match over: "That's not 100% accurate, but obviously, it's looking great now."
Carlsen said the second decisive blunder in a row from the challenger was due to the tension of a title match. "The pressure gets to everybody."
Post-game
In the press conference, Carlsen batted away the question of the touched piece, saying this came up every world championship match: "Clearly some pieces are adjusted and, you know, with no intent to move. Do better!"
The topic of the last two games ending due to crass blunders by the challenger came up in various versions. Nepomniachtchi said he needed to do a lot of work to try and understand it, offering that it could be due to 'a lack of concentration, with not the best luck.'
Carlsen said that he definitely feels a lot more satisfied when he wins a good game: 'No style points awarded, but I'll take it."
The score in the match is now 6-3 in favour of Magnus Carlsen, who needs to reach 7½/14, or score 1½ out of the remaining five games, to clinch the retention of his title. The match continues tomorrow, December 8, with Magnus Carlsen having the advantage of the first move in game 10.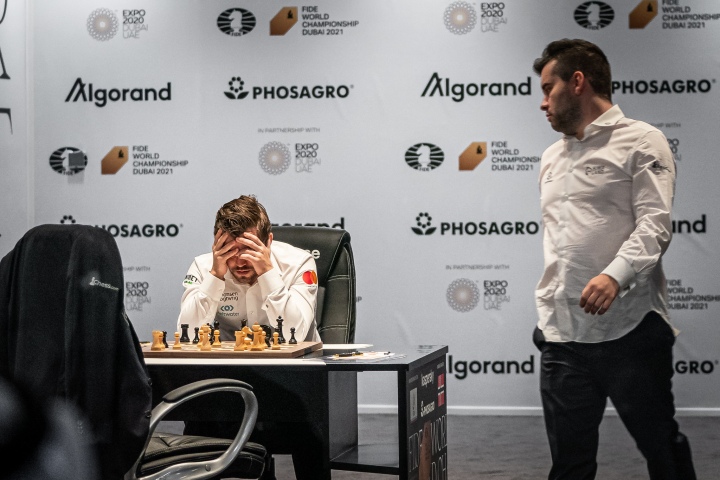 FACT SHEET, Game 9, FIDE World Championship:
White: Ian Nepomniachtchi
Black: Magnus Carlsen
Result: 0-1
Match score: 3-6, Carlsen leads; The title is decided when a player scores 7½ points out of 14.
Game length: 39 moves
Opening: English Opening
Variation: Reversed Schmid Benoni
Trivia: Today is Poland Day at Expo 2020 Dubai and Grandmaster (GM) Jan-Krzysztof Duda is one of the guests. Winner of the FIDE World Cup 2021, he will take part in the Candidates Tournament 2022 that determines the next world championship challenger.
Text: Jonathan Tisdall, Press Officer press@fide.com
Photo: Eric Rosen
Official website of FIDE World Championship Dubai 2021