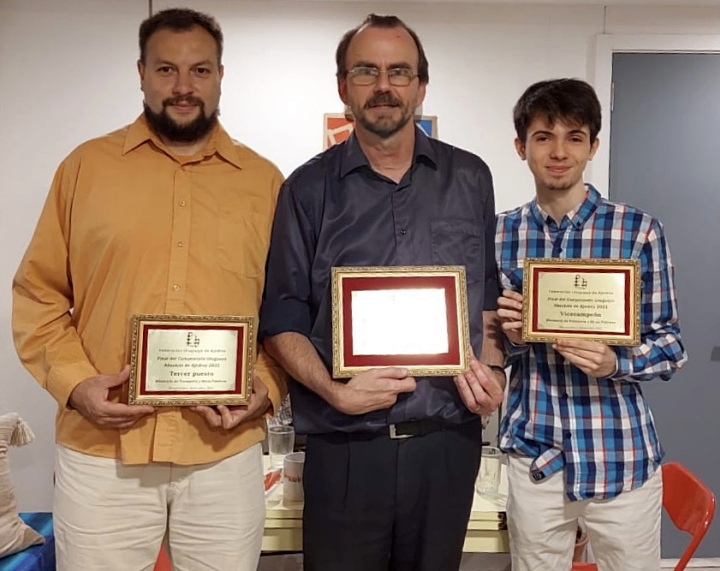 IM Bernardo Roselli won the XCII Final of the Uruguayan Chess Championship. The 11-player round robin (initially, there were twelve participants, but FM Nicolás López Azamubja withdrew right before the start) took place at the Ministry for Transport in the city of Montevideo in November-December of 2021.
Playing for Club Banco República, the champion netted 7½ points out of 10 and scored his third consecutive victory in the event, reaching the record-breaking 20-national-titles mark. With this achievement, Roselli qualified for the Uruguayan national team to represent the country next July at the World Chess Olympiad in Russia.
Young 17-year-old CM Facundo Vázquez Furtado, also representing Club Banco República, tied for the second place with MI Nahuel Diaz Hollemaert (both on 7/9) and earned silver thanks to the victory their direct encounter. Facundo fell just a half a point short of completing the IM norm, although, with this spectacular performance, he picked up the necessary rating points to obtain the FIDE Master title. Undoubtedly, he infused a fresh spirit into Uruguayan chess and sent a great message to other young players - dedication, determination and commitment work miracles.
The bronze winner, IM Nahuel Diaz Hollemaert, had a bumpy start but scored a magnificent 6½/7 at the finish.
The event, officiated by IA Dr. Jorge Bermúdez and Deputy Arbiter IA Guillermo Carvalho, was broadcast on chessbomb.com, chess.com, live.followchess.com and playchess.com. CM Dr. Jorge Arias Bouzada served as a tournament director.
Final standings:
| | | | | |
| --- | --- | --- | --- | --- |
| 1 | IM | Roselli, Mailhe Bernardo | 2428 | 7½ |
| 2 | CM | Vazquez, Facundo | 2163 | 7 |
| 3 | IM | Diaz, Hollemaert Nahuel | 2441 | 7 |
| 4 | IM | Coppola, Claudio | 2248 | 5½ |
| 5 | IM | Rhodes, Luis Ernesto | 2358 | 5 |
| 6 | FM | Larrea, Manuel | 2222 | 4½ |
| 7 | NM | Ulaneo, Nicolas | 2164 | 4½ |
| 8 | FM | Carbone, Diego | 2236 | 4 |
| 9 | GM | Hoffman, Alexander | 2440 | 3½ |
| 10 | NM | Michailov, Matias | 2262 | 3½ |
| 11 | FM | Granara, Barretto Sebastian | 2156 | 2 |

Text and photo: Matías Michailov