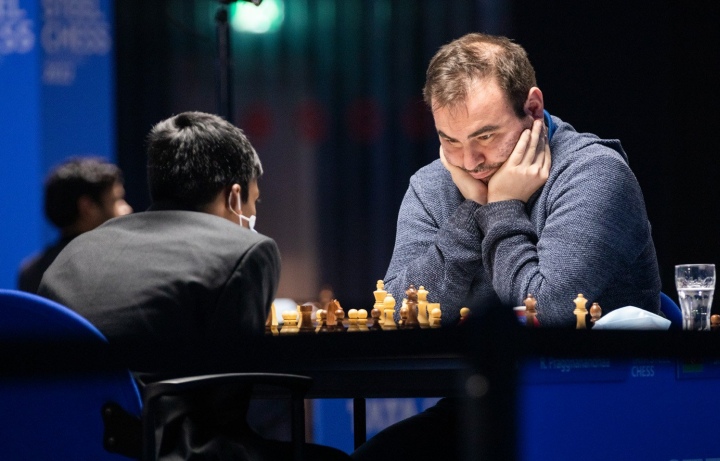 There is the duality of power on the top after Round 08 in Tata Steel Masters as Shakhriyar Mamedyarov defeated Rameshbabu Praggnanandhaa to tie for the first place with Magnus Carlsen, who made a draw with Sam Shankland. The leaders will clash in Round 9 after the rest day on Monday. Vidit Gujrathi and Anish Giri are trailing the leader by a half-point after scoring victories over Andrey Esipenko and Nils Grandelius, respectively.
Shakhriyar Mamedyarov essayed an early queen sortie 4.Qa4 in the English Opening, which his opponent Rameshbabu Praggnanandhaa correctly met with a pawn sacrifice. However, on the move ten, the Indian youngster was too cooperative, exchanging the light-squared bishops. Three moves down the road, he erroneously protected his c6-pawn as Shakhriyar chipped away at the centre with 14.f3 and got a huge advantage. Mamedyarov's conversion was not ideal, but eventually, the Azerbaijani GM put his opponent away in a knight endgame.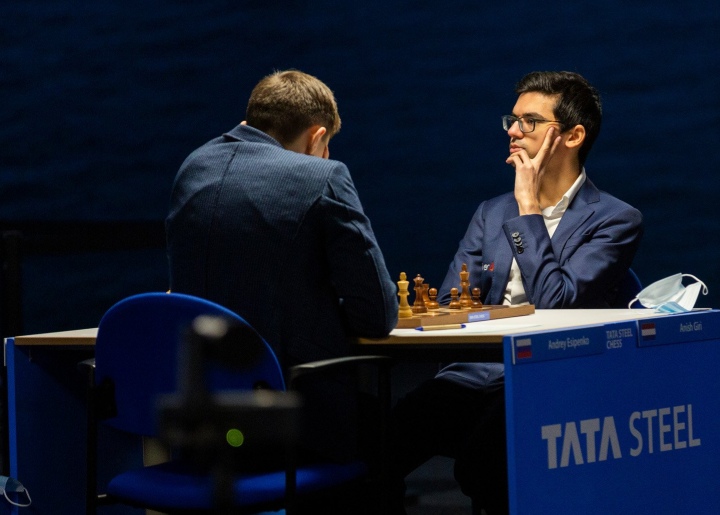 Andrey Esipenko had a theoretical discussion in a long theoretical line of the Italian Opening, in which the Dutch GM sacrificed a knight but got three pawns in return. The opponents steered into a complicated endgame in which exchanges favoured black. That is exactly what happened, and Anish started gradually pressing for a win by advancing his kingside pawns. Esipenko had some defensive resources, but after a terrible mistake, 45.Nd2? Giri weaved the mating net around White's king. Anish scored his third full point to tie for third position, just a half-point behind the leaders.
Nils Grandelius opted for a sharp provocative line against Vidit Gujrathi, luring his opponent into chasing Black's knight with e4-e5 and g2-g4. The Indian GM went for it and found an excellent follow-up 9.Nf5! sacrificing the knight. Nils turned it down, but Vidit traded his knight for the dark-squared bishop and grabbed the initiative. On move 18, Black had an interesting defensive option 18…Bf5, but this move slipped under the radar of the Swedish GM. White took total control over proceedings, and his victory became just a matter of time. Nils's blunder on the move 34 put an end to his resistance.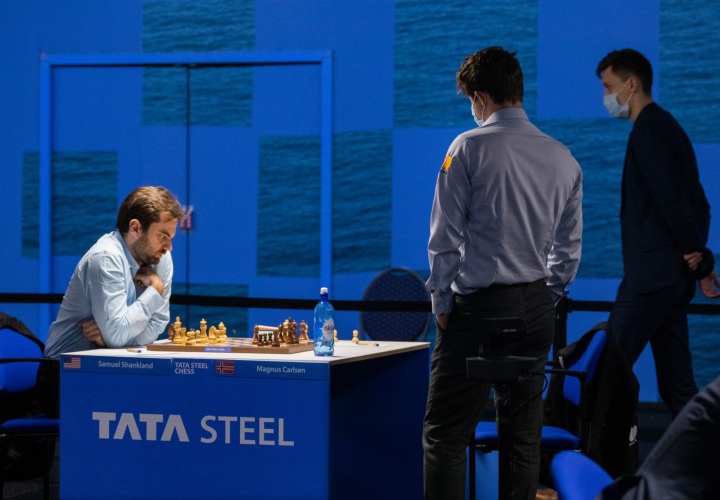 Magnus Carlsen sprang an opening surprise by playing Hennig-Schara Gambit as Black against Sam Shankland, but his opponent did not cling to extra material, completed development and after breaking in the centre transposed in an opposite-coloured bishops drawish endgame. The grandmasters split a point on the move 35.
Richard Rapport comfortably equalized with Black in the Advance Variation of French Defense against Sergey Karjakin. Realizing that White's position does not promise much, the Russian GM forced a draw by repetition.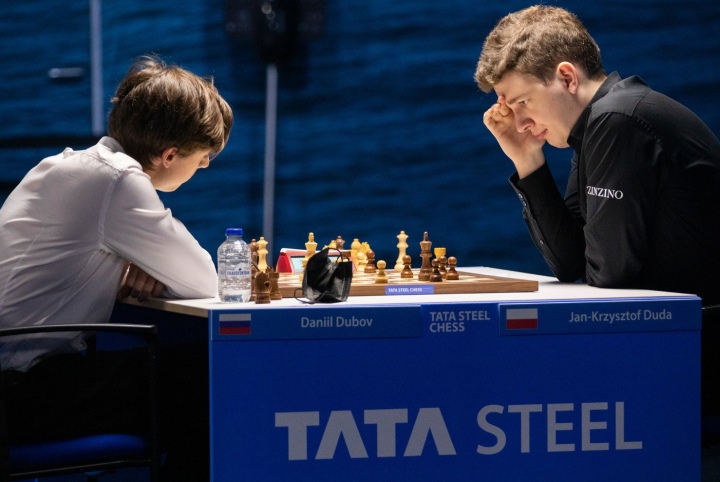 Jan-Krzysztof Duda spent a lot of time in the opening, but passed the test as Black in Daniil Dubov's pet Catalan and reached an equal position. The Russian GM slacked off a bit in a drawish rook ending and lost a pawn, but quickly restored his focus, found the right setup and instructively reached a draw.
The game Caruana – Van Foreest saw the line in the Open Ruy Lopez with 11…Nxf2 sacrifice, extensively analysed and tested back in 1940s. Black trades two minor pieces for a rook and a pawn but gets compensation in the form of a powerful center. According to modern chess engines, Black's position is playable, and this encounter was further proof – Fabiano started repeating moves and got no objection from his opponent.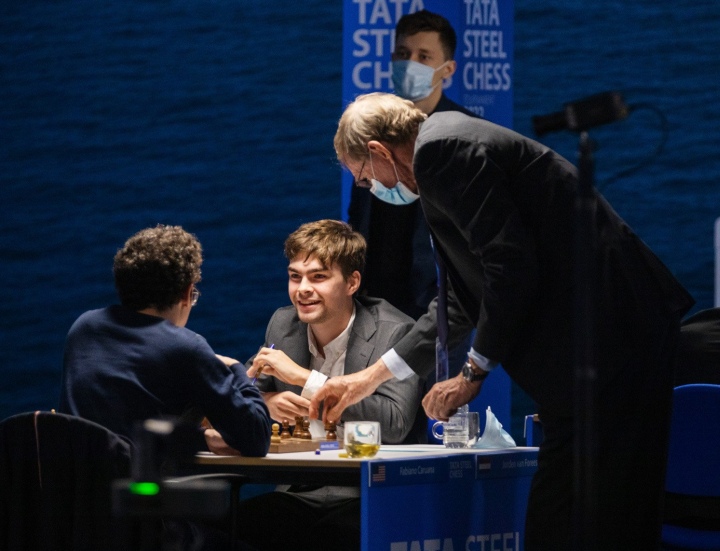 Standings after Round 7: 1-2. Маgnus Carlsen and Shakhriyar Mamedyarov – 5½; 3-4. Vidit Gujrathi and Anish Giri – 5; 5. Richard Rapport – 4½; 6-9. Sergey Karjakin, Fabiano Caruana, Jorden Van Foreest and Andrey Esipenko – 4; 10-11. Sam Shankland and Jan-Krzysztof Duda – 3½; 12. Daniil Dubov – 3; 13. Praggnanandhaa R. – 2½; 14.Nils Grandelius – 2.
Official website: tatasteelchess.com/
Photo: Jurriaan Hoefsmit and Lennart Ootes – Tata Steel Chess Tournament 2022