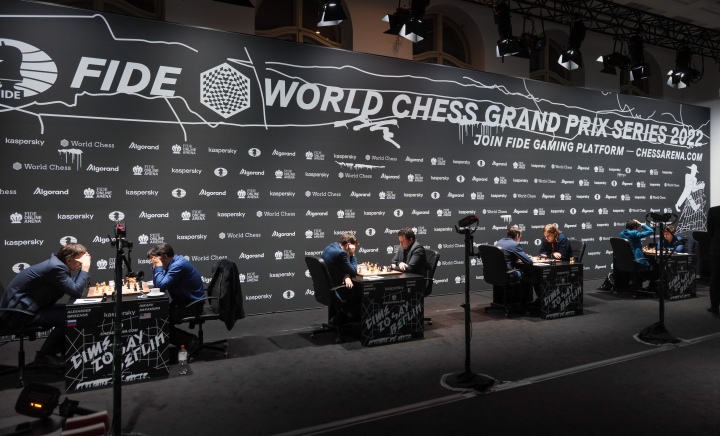 "With three PCR tests left, anything can happen yet" says Grischuk
IM Michael Rahal - Berlin, February 6th 2022 – The day began with some online drama concerning the correct spelling of one of the players' names. Luckily enough, one of his countrymen saved the day: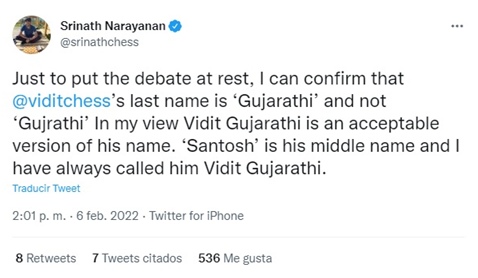 Once the round began, online commentator Jesse February quickly noticed some interesting facts. "We almost had the Grand Prix Attack played in the FIDE Grand Prix: we had the Berlin Defense played in Berlin, and today we have the French Defense being played by the French player!" Most of the games started with 1.e4 (5 out of 8): two Sicilians, two Caro-Kan's and one French.
As in previous rounds, fighting chess is the norm. Four of the games ended with a win, and three more of them could easily have gone to one of the two players. Only Dominguez-Harikrishna was peaceful to the end, and even that game concealed some interesting nuances.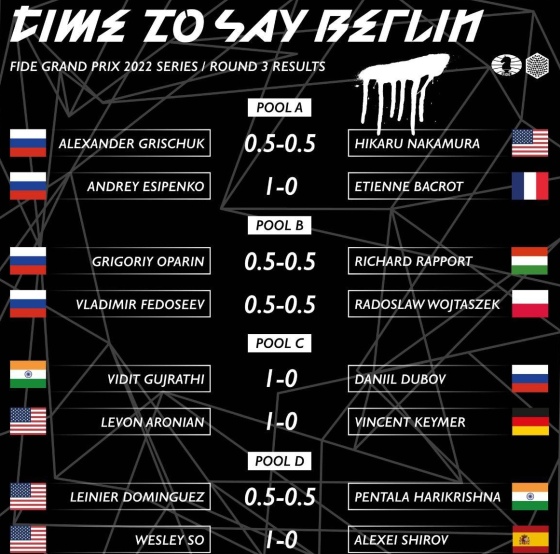 Pool A
With Hikaru Nakamura leading the group on 1½/2, everyone expected that Alexander Grischuk would go all-out to win this crucial game with White. However, his choice of line against the American's Queen's Gambit Accepted was to go for a rather dull queenless middlegame, more to the liking of Kramnik than a great option in a must-win situation. "I'm not sure how serious Grischuk is for playing this for the win, to be honest", was online commentator Evgeni Miroshnichenko's take on the Russian's approach to the game.
However, things spiced up when Grischuk went for 18.Nxb7. "I felt something was wrong, but I couldn't see anything concrete. I calculated some lines deeply but I missed the …a5 idea, and I was actually quite lucky to have Rc1 in that position," was Grischuk's relieved answer to Press Officer IM Michael Rahal after the game. After some well-calculated tactics, the game ended in a peaceful outcome, leaving Nakamura ahead in the group.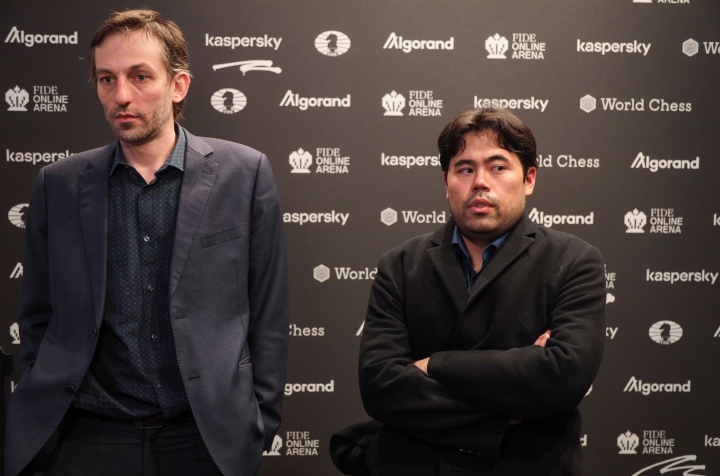 Asked about his chances to represent his country in the upcoming Moscow Olympiad, Nakamura gave a surprising answer: "A lot depends on what happens with the ratings in the next months. If I am not in the top four, there is a 0% chance of me playing. So, I would say right now, the odds of me playing are probably like 5%. I am not going to play as a reserve."
Meanwhile, Andrei Esipenko defeated Etienne Bacrot for the first time in a classical game: their only previous encounter in the Grand Suisse 2019 ended in a draw. Bacrot went for the French Defence (!), deviating from his usual opening preferences.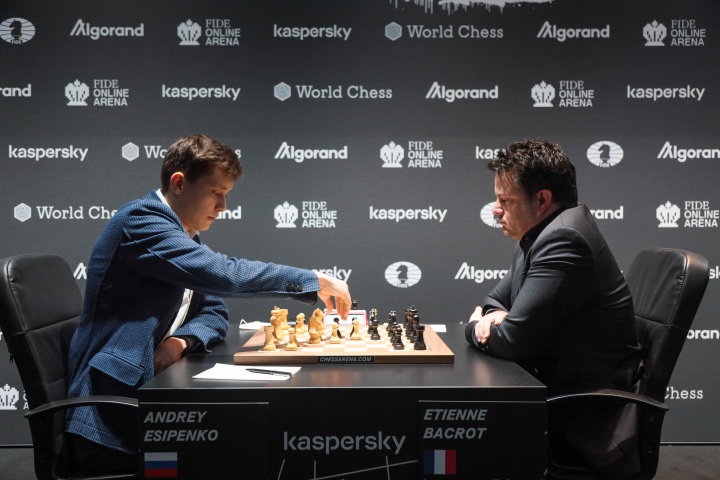 The game was quite double-edged for the most part, although objectively balanced according to the computer, but Esipenko managed to outsmart his opponent towards the end. A much-needed win for the young Russian prodigy after yesterday's heartbreaking defeat, leaving this group wide open.
Pool B
Radoslaw Wojtaszek missed a clear chance to increase his advantage over the rest of the field today. If he had played 21…e4! instead of 21…exf4, his opponent would have been in big trouble. As Vladimir Fedoseev pointed out after the game, "I would have been close to losing if Radek had played this move" and recited all the pertinent calculations in the pressroom.
Meanwhile, the longest game of the round was played on the other board of the group. Having won an exchange after a dubious opening by his opponent Grigoriy Oparin, Richard Rapport was on the verge of notching up his second win in a row. However, even he didn't clearly understand after the game where he had gone wrong.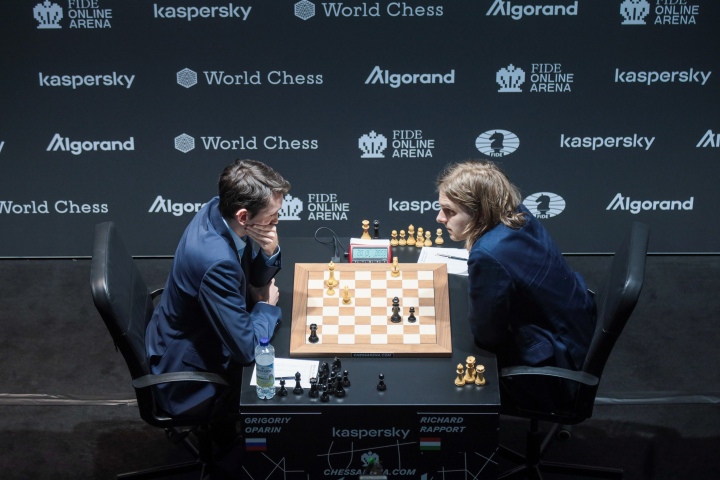 "I think it should be winning for Black of course, but there is a race where I am trying to promote four pawns, and he is trying to promote two, and in the end, I couldn't promote a single one of them, which is very hard to accomplish" explained Rapport after the game.
Both players thought that the interesting ending with rook and two pawns against two knights and one pawn should end, as it did, in a draw. With these results, this group is totally open, and anyone of the four can end up on the top.
Pool C
The first game to finish was Levon Aronian's fine win over Vincent Keymer. Aronian had actually analyzed the Caro-Kan positions after the interesting but not so obvious opening idea 12…cxd3, isolating a doubled pawn. Online commentator Miroshnichenko praised Levon's play in the tournament: "He outsmarted Vidit in a seemingly equal position, then he had no trouble making a draw with Dubov, and now once again he is much better."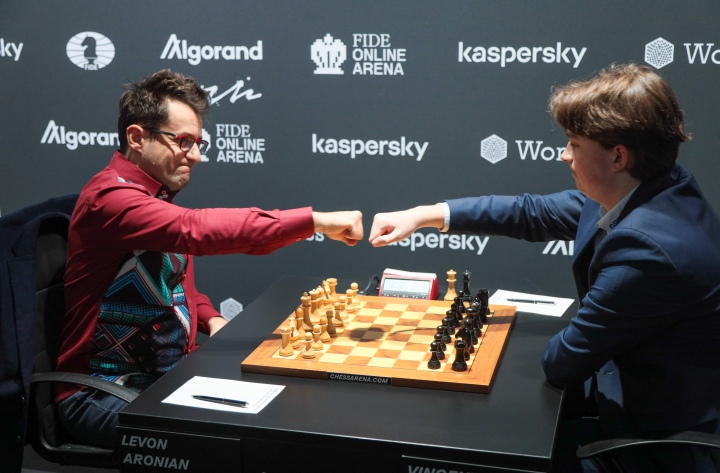 Keymer wasn't able to find the precise way to get his pieces into play, and Aronian gradually ground him down and finished him off with textbook endgame play. Leading his group clearly with 2½/3, he was quick to downplay his expectations: "I take it day per day, you know, there are three rounds to go, we will see how tomorrow will go. But so far, I think my play is fine."
In the other game of the group, Vidit scored an important victory over Daniil Dubov: "This was a much-needed win because in the last six games I scored something like 1.5 points" was his first reaction in the postgame interview. "The key moment was when I played 23.Nb4, and he went for something active that didn't turn out well for him due to lack of piece coordination".
"In general, I overestimated this 23…Na5 idea and then a couple of moves later I didn't really see what to play" was Dubov's postgame explanation on the rapid collapse of his position. "People now use the word blunder in a wrong way. When you play bad moves, they are just bad moves."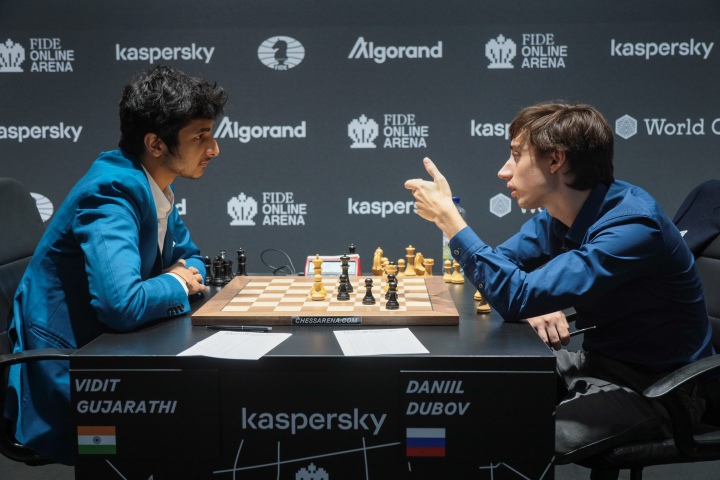 With these results, Aronian maintains a comfortable one-point lead over Vidit, who gets back to 50%, and now Dubov and Keymer share the last place.
Pool D
The main result in this group was Wesley So's first win in the tournament over Alexei Shirov. Although funnily enough, these two players had only disputed four classical games before, it was clear from the beginning that they were going for a fight. The Spaniard introduced a new idea in the Slav Defense with 9...b5! and soon he was playing an active position a pawn down but with great compensation.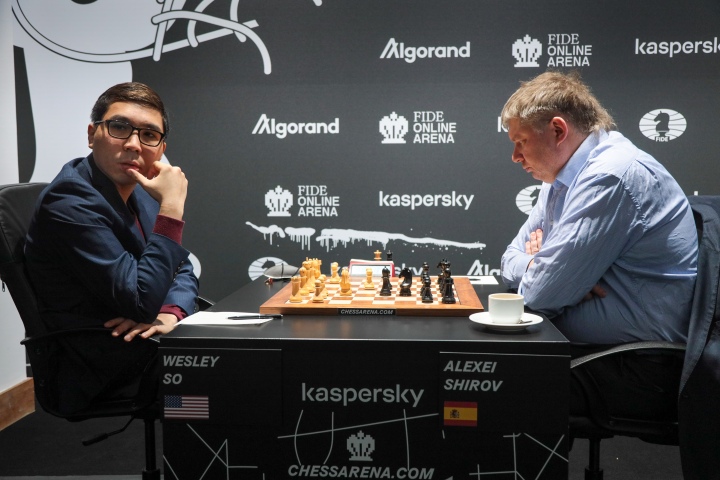 Wesley recognized after the game that his play hadn't been fine at all. "I totally underestimated the idea behind …Bd3, after which my knight on h4 is misplaced, and my pawn structure is weak. Black has no problems". However, Wesley gradually coordinated his forces, and at some point, Shirov's play lacked the necessary precision.
Online commentator Miroshnichenko summed it up correctly: "That's exactly what you call 'got outplayed' - every single So's move was a little bit more precise than Shirov's." In the end, Shirov had to resign and So is now co-leader of the group tied with Dominguez.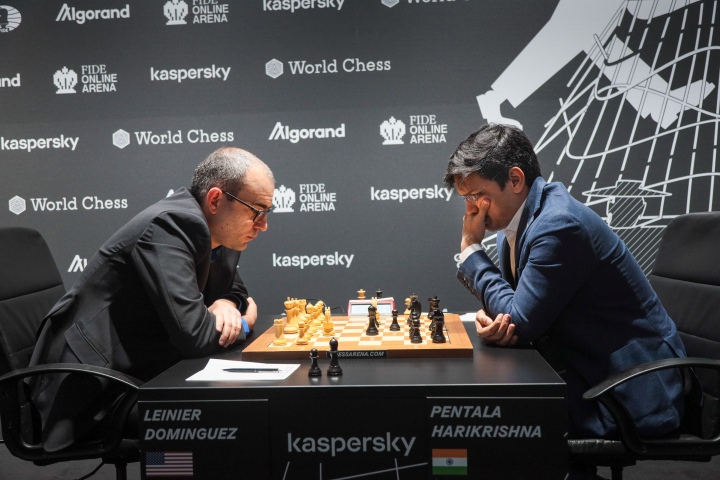 American Leinier Dominguez will keep his lead in the group after signing a draw in just 30 moves against Pentala Harikrishna. Well-known for his deep opening preparation with Black, India's number three player, who replaced Wei Yi for the series, came to the game with a clear idea in mind: to hold a solid position against his opponent.
"It was a very solid game, a typical position for this opening, slightly better for White but very even, and I think we both played well. At some point, I hoped that I could play for more, maybe dominate the d-file, but my opponent played very well," said Dominguez in the postgame interview.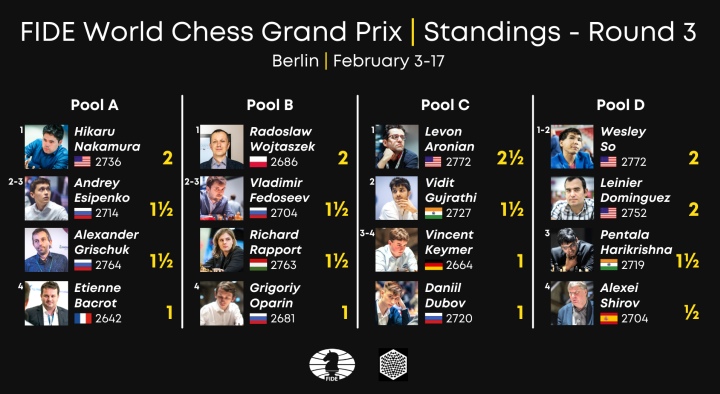 About the Tournament
The three-tournament Grand Prix series, which will unfold from February to April, features twenty-four of the world's best Grandmasters, who will compete in two of the three events. In order to make the series more exciting and reduce the percentage of draws, FIDE and World Chess have changed the format.
This innovative approach is new for the chess world but very similar to the Super League: the first stage has four pools of four players, and the winner of each pool advances to the semifinals and then to the final.
The venue of the first leg is the World Chess Club Berlin, located at the City Centre on Unter den Linden, 26-30, and the games will be played from February 4th-17th every afternoon at 3 pm. Along with the two qualification spots for the Candidates, the event has a 150.000 euros prize fund, 20.000 euros more than the 2019 series.
All the games will be broadcasted live with expert commentary in three languages at https://chessarena.com/broadcasts/13604 More information and the full schedule can also be found on the worldchess.com website. Full pairings can be found here.
Due to COVID restrictions currently in place, only a limited number of tickets are available. Please note that the 2G+ rule applies to the event, which means that visiting the venue is only possible for those who either have a complete vaccination with EU-certified vaccine or proof of recovery and can additionally present a booster dose certificate or a negative test result.
Leading companies supporting the FIDE Grand Prix Series 2022 include:
Kaspersky as the Official Cybersecurity Partner
Algorand as the Official Blockchain Partner
Prytek as the Technology Transfer Partner
FIDE Online Arena as the official Partner
For further questions, please contact: media@worldchess.com
Text: IM Michael Rahal
Photo: Official Photo FIDE Grand Prix Berlin Press Kit
---
About World Chess
World Chess is a London-based chess gaming and entertainment group and FIDE' official broadcaster and commercial partner. World Chess organized the FIDE Championship Matches in Russia, the USA, and the UK, and revolutionized the sport by signing the biggest media partnerships in history. World Chess develops Armageddon, the chess league for prime-time television. World Chess also runs FIDE Online Arena, the exclusive official chess gaming platform. More at worldchess.com.
About Kaspersky
Kaspersky is a global cybersecurity and digital privacy company founded in 1997. Kaspersky's deep threat intelligence and security expertise are constantly transforming into innovative security solutions and services to protect businesses, critical infrastructure, governments and consumers around the globe. The company's comprehensive security portfolio includes leading endpoint protection and a number of specialized security solutions and services to fight sophisticated and evolving digital threats. Over 400 million users are protected by Kaspersky technologies, and we help 240,000 corporate clients protect what matters most to them. Learn more at www.kaspersky.com.
About Algorand:
Algorand is building the technology to power the Future of Finance (FutureFi), the convergence of traditional and decentralized models into a unified system that is inclusive, frictionless, and secure. Founded by Turing Award-winning cryptographer Silvio Micali, Algorand developed a blockchain infrastructure that offers the interoperability and capacity to handle the volume of transactions needed for financial institutions and governments to smoothly transition into FutureFi. The technology of choice for more than 700 global organizations, Algorand is enabling the simple creation of next generation financial products, protocols and exchange of value. For more information, visit www.algorand.com.
About Prytek
The Prytek Group combines technology companies and services companies to create a new asset class. We build legacy service businesses and combine them with deep tech technologies to increase margins. We buy out entire operations and create efficiency and scalability through our technologies. The group is divided into a Corporate Arm - which comprises of controlled companies and an Investment Arm – which acts as a VC and PE fund of the Group. The goal of the Corporate Arm is to generate consolidated cash with a legacy vision, while the Investment Arm is to develop products for our operations and generate profit via equity value growth and exit at a high valuation.
Prytek Building Technologies, Delivering Managed Services. Prytek: www.prytek.com
About FIDE Online Arena
FIDE Online Arena is the exclusive online chess gaming platform that awards online ratings recognized by FIDE. It hosts rated tournaments and games 24 hours per day. The platform runs an advanced fairplay engine. Play official games at chessarena.com.