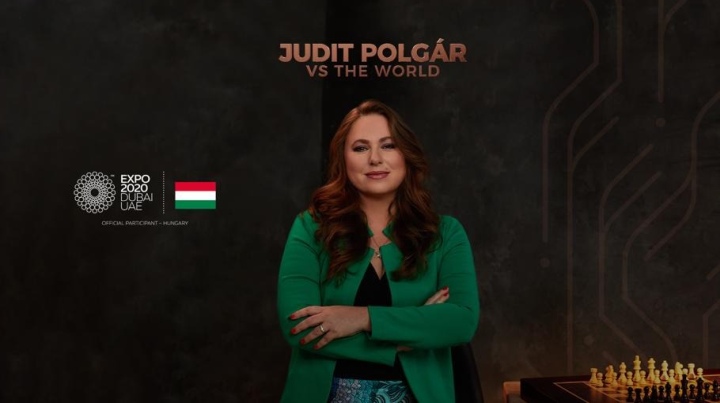 Over the past two years, the pandemic has significantly transformed the lives of individuals and communities. We have entered a new digital era, however, the online sphere has opened up new horizons, which has also affected the chess world. The number of people starting and actively playing the game, devoted fans following tournaments, broadcasts, and prominent figures in the sport has grown at an astonishing pace and scale. New communities, events, and platforms have been born in parallel.

Judit Polgár, the best female chess player of all time, and the Hungarian Pavilion of Dubai Expo 2020 joint action "Judit Polgár vs The World", the world's first interactive community chess simul, strengthen and put this togetherness into a new context.

On 20 March, Judit Polgár and the Hungarian Pavilion at Dubai Expo 2020 will host a global and integrated social event where millions of people will virtually sit down and play – live – against a single player. During the 11-board online simul, Judit Polgár faces ten influencers with a total of 6 million followers, and virtually the world on the "world board". In the influencers' section, among others, Judit will play with a children's community on one board, and in line with our "2022 - Year of Women in Chess" initiative, members of a women's community on another.
Arkady Dvorkovich, the President of FIDE acknowledges: "This event can be regarded as a milestone in the global promotion of chess, offering a unique experience to a record number of participants thanks to its innovative and brand new format. I am curious of the final result, but even more so eager to enjoy the sportive tension and excitement that will be in the air while the world will be challenging the legendary chess queen Judit."
"I am extremely excited for this challenge and inclusive social event as Chess Connects Us in the virtual universe", admits Judit.
Influencers vs Judit
The influencers will make their moves after consulting with their followers.
The participants:
● Agadmator – Antonio Radic (Croatia)
● Botez Sisters (USA–Canada)
● Samay Raina (India)
● Rey Enigma (Spain)
● Pepe Cuenca + Chess24/ES (Spain)
● Jennifer Shahade + US Chess Girls Club (USA)
● Silver Knights – children's community (USA)
● Anna Cramling (Sweden)
● Anna Rudolf (Hungary)
● BENIIPOWA (Hungary)
The World vs Judit
Can the world chess community beat Judit Polgár?
On the world board, all participants in the game can vote on the next move on a dedicated platform. The system will make the move suggested by most players.
The matches will be played in the Hungarian Pavilion's Dome in the event's built-in studio on custom digital chessboards. Judit will comment on the moves and strategies from there, involving influencers and their followers in the conversation. Professional commentators and surprise guests will support the show from the studio in Budapest. The First Global Interactive Community Chess Simul will be available live on the ChessConnectsUs Twitch Channel.