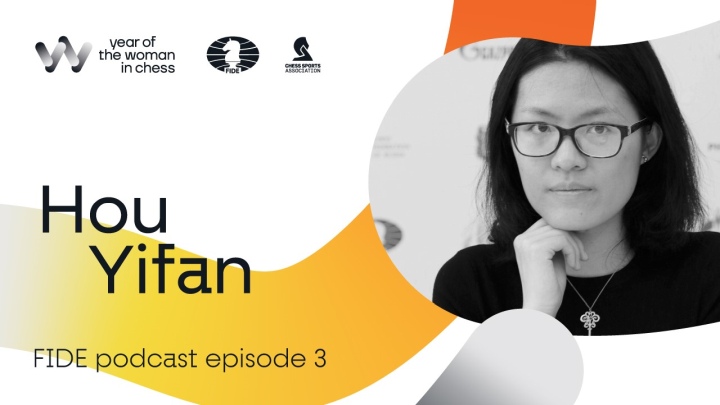 The third episode of the FIDE Podcast, the initiative born under the umbrella of the Year of the Woman in Chess, as cooperation between FIDE's Commission for Women's Chess, Michael Busse of Schachgeflüster podcast and Lilli Hahn of Chess Sports Association, has been released. The podcast's monthly episodes feature a series of interviews with remarkable women in the chess world.
The guest of Episode 3 is Hou Yifan, Chinese chess grandmaster, four-time Women's World Chess Champion and the second highest-rated female player of all time. In the interview, she talks about her major chess achievements, her current work as a professor at Shenzhen University, the changes in the women's world championship cycle, ways to improve women's chess and many other things.
Although Hou would have risen higher if she'd made chess her singular focus, she confesses that her life is not only about chess. "I agree that if I put more effort into chess, I would be stronger. Maybe one day I would break 2700, or even I could be top 50 or top even 40, 30. I don't think that's impossible, to be honest. But for me, I thought life shouldn't be like that. Otherwise, it would be like a machine. A chess machine." Hou Yifan says in her interview.
In 2010, Hou Yifan won the Women's World Championship in Hatay, Turkey, at age 16. Later she won three championships in 2011, 2013 and 2016. In 2017 she declined to defend her title.
"I think I made this decision because I felt like there should be some improvements in the women's world chess championship system. Back then, the systems of open section and women's section were completely different. That was something that could be improved. My first and straightforward concern was why we couldn't have the same system as the open section? I felt like that was more reasonable. Because once you win a match, you have the right to wait for the challenger, and the challenger should be qualified from the Candidates event," she explains. "I felt like it's probably a moment when I should do something not only for myself but also for the entire women's chess. I was thinking, if I did not stand up to say something, maybe the system would just be like that, and if I say something, it could bring more attention to improving the system. And very soon, like in two years, the system was changed. Talking about this, I would like to thank the current management board of FIDE, who took this issue as a clear priority to improve the women's system in general. I feel very happy that it could happen one day, and I actually helped this happen."
FIDE declared 2022 as the Year of the Woman in Chess. According to Hou Yifan, this is a great opportunity to improve women's chess and encourage more girls and women to start playing the game.
"I think FIDE already did a lot to improve women's chess. For example, on a professional level they changed the format of the women's world chess championship system. In the intermediate level they also try to create some projects to encourage more girls to participate in chess. And also I am very happy to see that we are going to have this Year of the Woman in Chess. It is really a great milestone in chess history for female players. I believe that this is a starting point, and there are a lot more things that we could do for women's chess in the future. We could collaborate with other institutions bringing more resources to pay attention to women's chess and to see how to launch more interesting projects, how to encourage more women to get involved into the chess world."
You can listen to the third episode of the FIDE podcast on the following platforms: