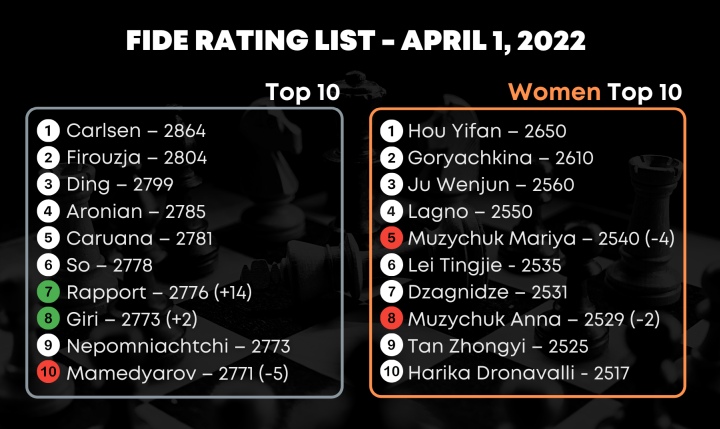 The first month of spring was marked by the second leg of the FIDE Grand Prix Series in Belgrade, a few national championships and several round-robin and Swiss tournaments in Italy, the USA, India and Serbia. Those who stood out in these events became the main beneficiaries in the April rating list.
The only noticeable change in the top-10 Open and top-10 Women is the rise of Richard Rapport, who turned in a remarkable performance in Belgrade. The Hungarian GM not only won the second leg of FIDE Grand Prix and qualified for the Candidates 2022, but also reached his peak career rating of 2762 and the highest position in the rating list ever.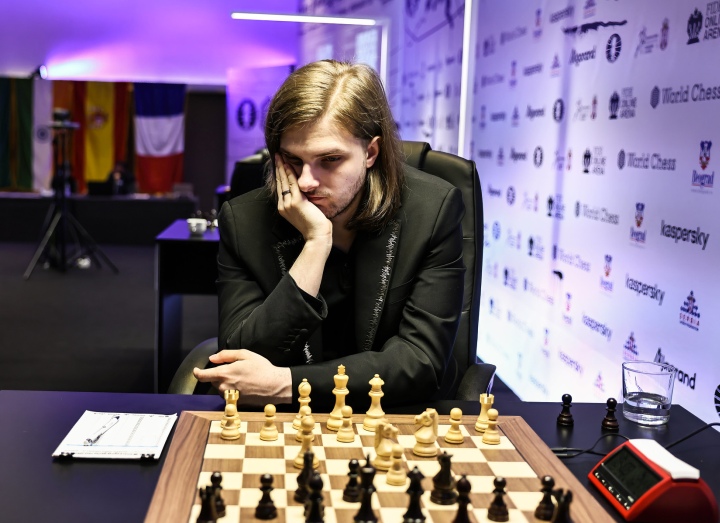 Photo: Mark Livshitz
Biggest gains in top-100 (Open and Women):
| | |
| --- | --- |
| Kamalidenova, Meruert | 2427 (+65) |
| Sjugirov, Sanan | 2696 (+16) |
| Erigaisi, Arjun | 2675 (+15) |
| Rapport, Richard | 2776 (+14) |
| Nyzhnyk, Illya | 2685 (+11) |
| Abdusattorov, Nodirbek | 2661 (+10) |
| Sevian, Samuel | 2693 (+9) |
| Saric, Ivan | 2695 (+8) |
| Swiercz, Dariusz | 2664 (+8) |
| Santos Latasa, Jaime | 2656 (+8) |
Meruert Kamalidenova (pictured below) picked up impressive 65 points and deservedly won this monthly nomination. First, the youngster from Kazakhstan earned 19 points in the FE Mix Grand Master – B (the event in Cattolica, Italy, won by Lucas Van Foreest) and then netted whopping 46 points in another Italian tournament Grandiscacchi Kursaal. These achievements helped Meruert to make a huge jump from 95th to 35th position in the top-100 Women.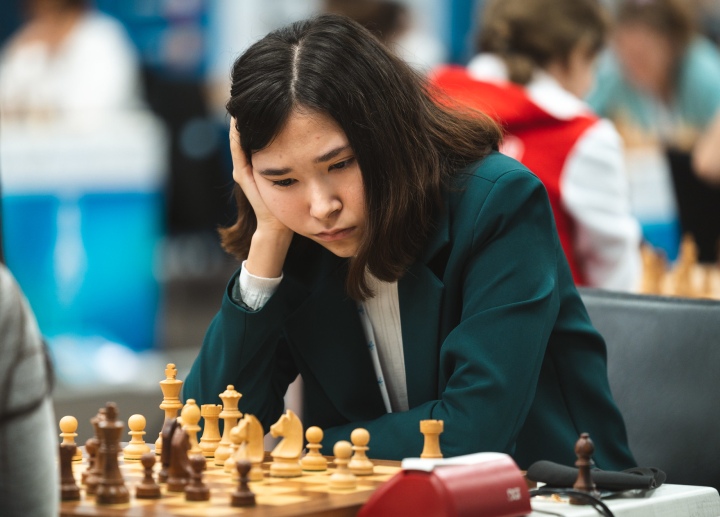 Photo: Niki Riga
Sanan Sjugirov, the winner of a GM tournament in Belgrade, earned 16 rating points, whereas Nodirbek Abdusattorov, who tied for second place in this event, improved his rating by 10 points. Coincidentally, both grandmasters ascended 18 steps in the top-100 Open.
Arjun Erigaisi of India continues his climbing in the rankings after clinching a national title in Kanpur and then winning the 19 Delhi International Open. These excellent results translate into 20 rating points, and although Arjun dropped 5 points in the Golden Jubilee of Independence League, he moved eleven positions up in the top-100 Open.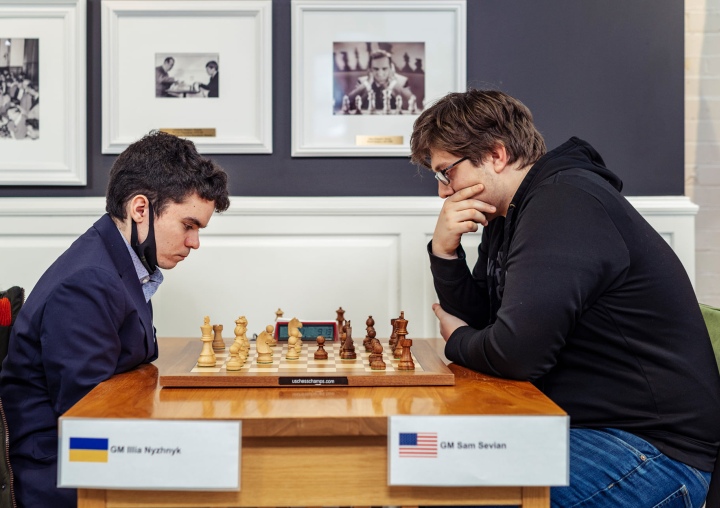 Photo: St-Louis Chess Club Facebook page
Illya Nyzhnyk and Sam Sevian (pictured above) came out on top at the 2022 Spring Chess Classics in Saint Louis and became the main rating beneficiaries of this event, picking up 11 and 10 points, respectively. Another participant of this tournament, Dariusz Swiercz, who tied for third place, also has nothing to complain about as he gained eight rating points.
Again when it comes to absolute numbers of rating gains, youngsters are beyond competition. Here are some impressive achievements by young players: Sahithi Varshini M (+124), Miruna-Daria Lehaci (+82), Katharina Ricken (+62), Candela Francisco Guecamburu (+46), the winner of Romania Women's Championship Alessia-Mihaela Ciolacu (+40), Martyna Wikar (+37), Vignir Vatnar Stefansson (+24) Gukesh D (+23).