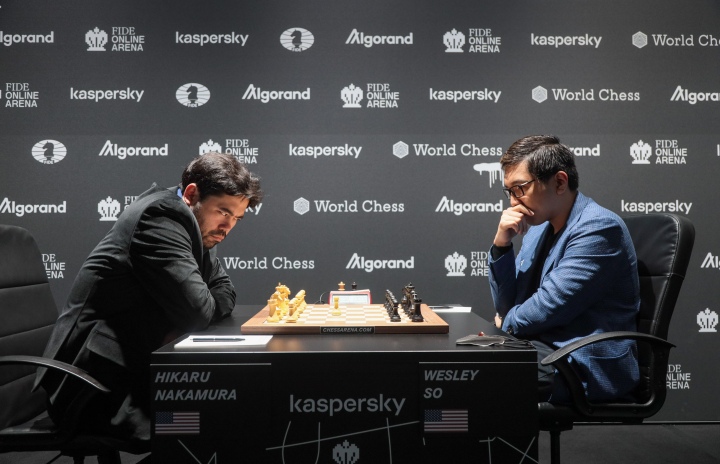 Hikaru Nakamura and Wesley So drew their second game in the final match of the third stage of the FIDE Grand Prix organised by World Chess. The winner of the event will be determined tomorrow in a tiebreaker.
Hikaru Nakamura picked White for the first rapid game against Wesley So during the drawing of lots procedure.
It was a short draw in the Berlin Variation of the Ruy Lopez today, where both players deviated from the playable lines and quickly entered a famous drawish variation. After three-fold repetition, the shortest game in the tournament ended after 14 moves.
Hikaru explained his decision in a post-game interview: "My main question was if I want to play something like Re1 and try to play some game, but the problem is that I'm also playing the online tournament at the same time today [The tournament was planned to start at 6:30 pm – Ed.]. If you go to the game trying to play something and hoping that I guess you will win the game like in 3 hours, it's not a good attitude cause later on your choices will be affected".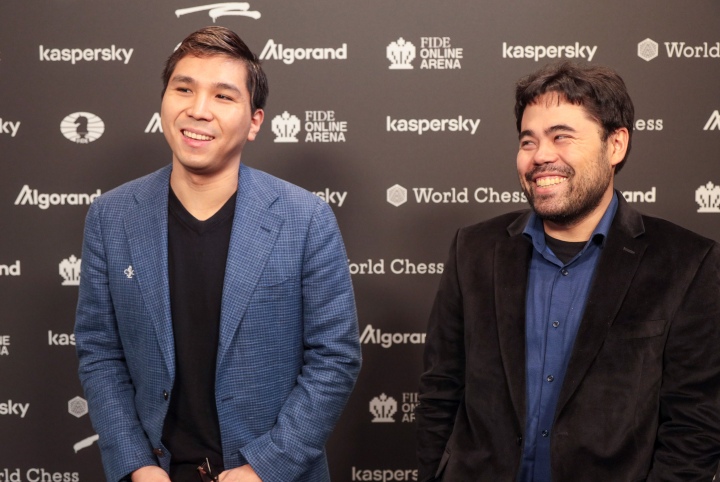 Wesley So added with a smile that he planned to use all his time on the clock if Hikaru decided to play a long game. He knew Hikaru would like to play online and could try "to torture" his opponent." I was ready to use every single second on my clock until the checkmate", said Welsey So and made Hukaru laugh during the interview.
Most likely, we are witnessing a new era of chess. It's hard to imagine just a few years ago that, one of the top grandmasters would prefer playing the online rapid event to trying to use white colour advantage in a classical game.
Both players admitted that such a quick draw could be disappointing for the spectators but expressed their hope to have an exciting tiebreak tomorrow.
The FIDE Grand Prix Series is brought to you by World Chess.
Leading partners supporting the FIDE Grand Prix Series 2022 include:
Kaspersky as the Official Cybersecurity Partner;
Algorand as the Official Blockchain Partner;
Prytek as the Technology Transfer Partner;
FIDE Online Arena as the official Partner.
Photo: Official Photo FIDE Grand Prix Berlin Press kit and Niki Riga