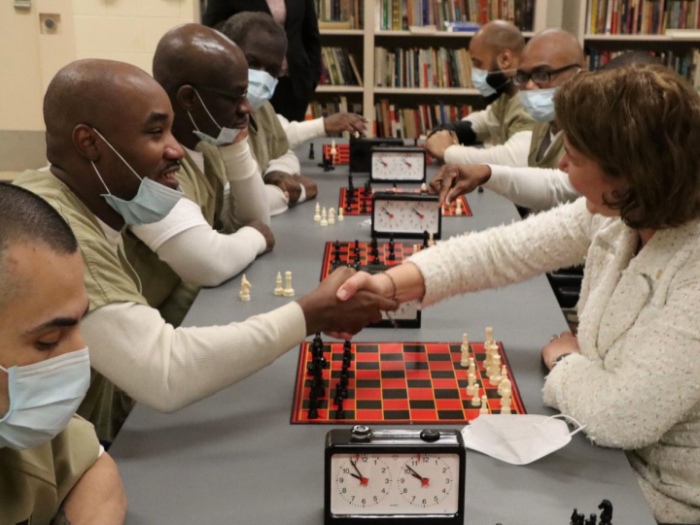 Ten years ago, a very fortunate connection happened in Chicago when Cook County Sheriff Thomas Dart approached his children's chess coach, Mikhail Korenman. Apart from being a seasoned teacher, Mikhail had already been engaged in all kinds of chess activities, from founding chess clubs and schools, to organizing events.
Sheriff Dart thought that the game could also play a very important role in jail. Dart's vision appealed to Mikhail, and the two agreed to start a 'chess in jail' program.
"Chess is more than an entertaining pastime. The game teaches its players valuable life lessons," Sheriff Dart said in a statement. "It requires critical thinking and to consider the risks and rewards of their decisions, which are valuable skills that help foster a reduction in violent behavior."
The program has grown with about 3,000 individuals in custody participating in the last 10 years.
"About 50% are completely new to chess, and they learn the game from scratch," Dr. Korenman said.
In 2020, the Sheriff's Office and FIDE agreed to host online, international chess competitions with detained individuals around the world.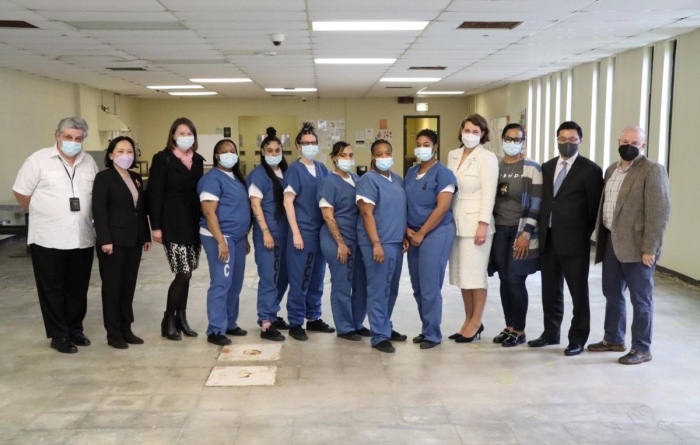 Cook County Department of Corrections, where "Chess for Freedom" meets "The Year of the Woman in Chess"
The program's tenth anniversary was celebrated on April 1st, and FIDE was represented by Dana Reizniece-Ozola, who travelled all the way to Chicago to have the opportunity to meet some of the people she had been working with, "closely but remotely", during the last year through the program "Chess for Freedom." Along with Dana, representatives of the consulates of Mongolia, Bulgaria and Australia -- countries that participated in the first Intercontinental Online Chess Championship for Prisoners -- also joined the celebration.
"The Cook County Sheriff's Office initiative has now grown into a great movement which we call "Chess for Freedom". Last year we organized the First Intercontinental Online Chess Championship for Prisoners. 40 teams from 31 countries, including 5 female teams were participating. And this year we aim to expand the event to at least 64 teams," explained Dana.
"Such flagship events give a great deal of motivation to inmates. However, the most important part is the everyday work behind them. It is about passionate people like Mikhail Korenman who work with inmates on a regular basis and become role models for them. Chess teaches patience, respect for the opponent and the relationship between the cause and the consequences. It also stresses guiding to little victories and greater success through discipline and lots of work.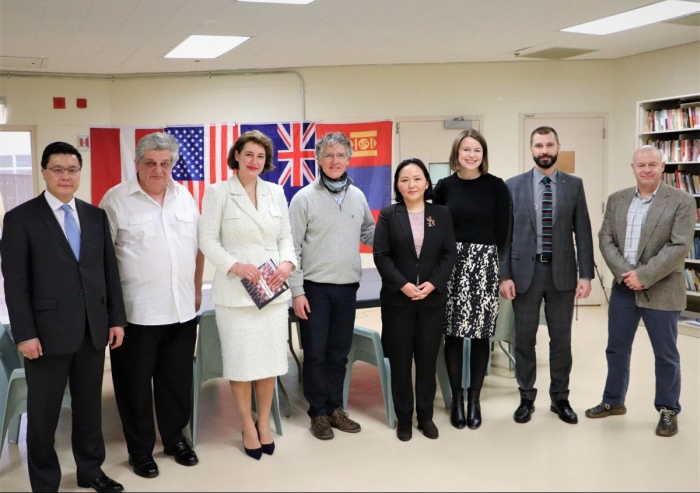 Cook County Sheriff Thomas Dart with some of the organizers and representatives of the first Intercontinental Online Chess Championship for Prisoners.
It is also about leaders like Sheriff Thomas Dart who support such programs and understand how important it is to provide skills and support to those who have made mistakes in their lives. That way there is a chance they can get back to normal lives with less inclination for repeating infringement of law."

Apart from its proven effect in reducing depression, anxiety, and stress in human groups under difficult circumstances, research in other countries also demonstrates the efficiency of chess as a tool for insertion. A study presented by GM Darcy Lima ("Chess that Liberates") analyzing the experience in Brazil shows that with inmates participating in a chess program for longer than two years, their repeated infringements rate reduces from 72% to 12%.

That is why we at FIDE are so enthusiastic about expanding the program in those countries that have not yet started their chess in prisons activities. If you need any advice or assistance with reaching out to authorities, or sharing methodologies/best practices, please contact us at socialchess@fide.com, and we will try to assist.