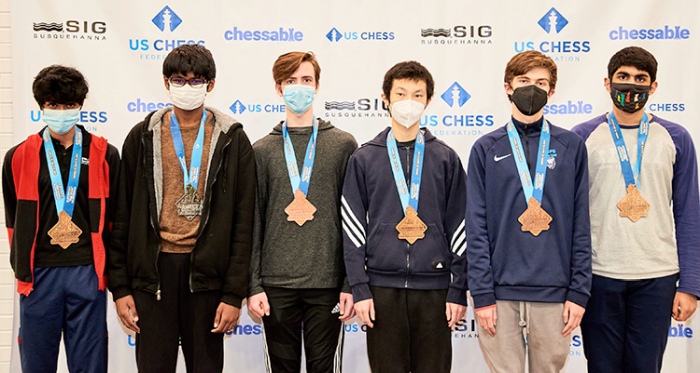 1,067 players return to over-the-board play in Memphis, Tennessee to determine the nation's top high school player; a massive seven-way tie for first place .
Memphis, Tennessee: The 501(c)3 US Chess Federation's 2022 National High School (K-12) Championship (NHS) took place from April 8-10 at the Renasant Convention Center in Memphis, Tennessee. Due to continuing concerns about the pandemic and travel difficulties related to severe weather on the east coast, attendance was lower than the typical range of 1400-1600 competitors, but still, 1,067 players from 40 states competed in this national championship event. This was the first in-person NHS since 2019. The first NHS was held in 1969.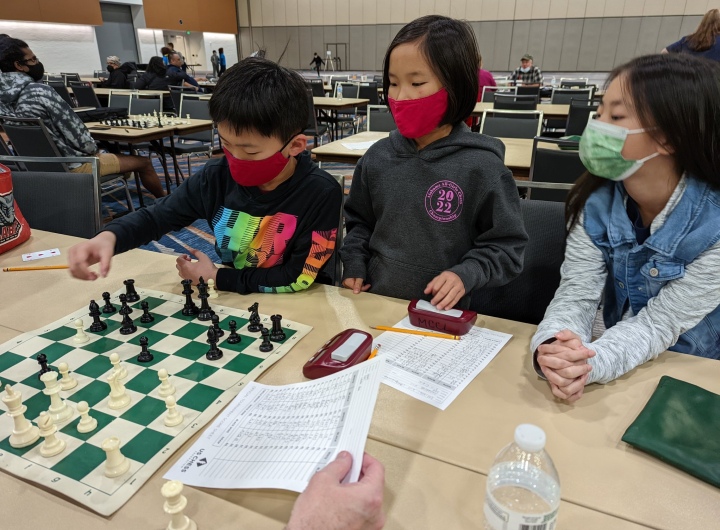 The Individual Championship ended in a seven-way tie for first. All seven are National High School Co-Champions (but listed in tiebreak order):
IM Arthur Guo, 10th Grade, The Westminster Schools, Atlanta, Georgia
Vishnu Vanapalli, 9th Grade, Ardrey Kell High School, Charlotte, North Carolina
FM Gus Huston, 10th Grade, The Dalton School, New York, New York
IM Anthony He, 11th Grade, Tesla Stem HS, Redmond, Washington
Bijan Tahmassebi, 12th Grade, Winston Churchill HS, Potomac, Maryland
FM Nico Chasin, 9th Grade, Columbia Grammar and Prep, New York, New York
Advaith Karthik, 10th Grade, Cox Mill HS, Concord, North Carolina
The Team Championship was won by The Dalton School of New York, New York. Team members are Gus Huston, Ryan Peterson, Max Mottola, and Nathaniel Shuman.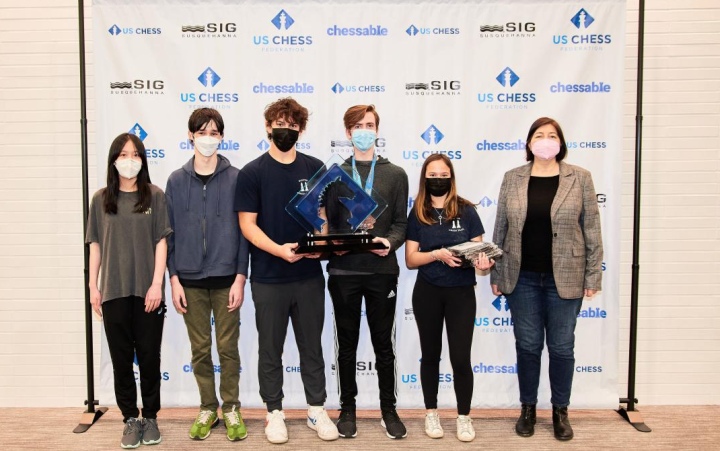 Many other winners in multiple sections below the championship section were also revealed. These winners are properly identified as "Winner of the <X> section at the National High School Championship."
For a full list of winners, please visit uschess.org/results/2022/hs/.
As US Chess fulfils its mission to "empower people, enrich lives, and enhance communities through chess," we use our scholastic nationals to fulfill our goals to expand the educational, social, recreational and rehabilitative applications of chess; increase the visibility of chess on mainstream communications channels; develop the depth and breadth of our partnerships; use chess to increase opportunities for underrepresented segments of society, and to continuously improve internal operations and member services.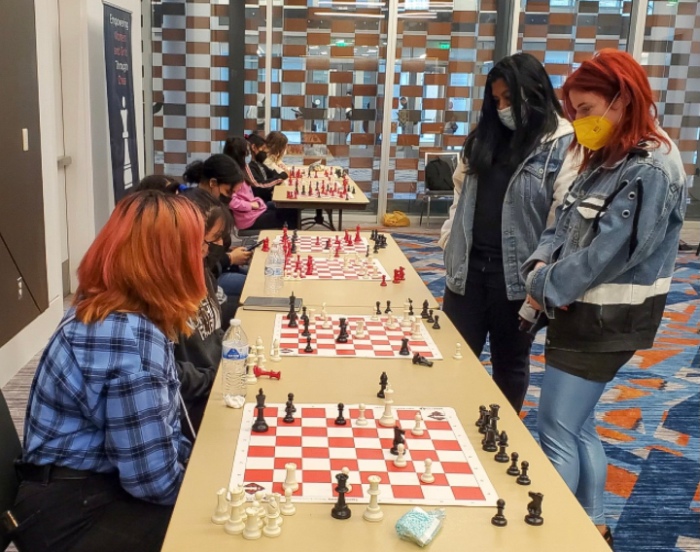 US Chess Executive Director Carol Meyer notes: "Our vision is that chess is recognized as an essential tool that promotes inclusiveness and benefits education, rehabilitation, recreation, and friendly competition. This all comes together at our national scholastic championships."
The organizers are grateful for the sponsorship provided by SIG Susquehanna.
For more information on our events, please visit www.uschess.org.
Photos: Caroline King