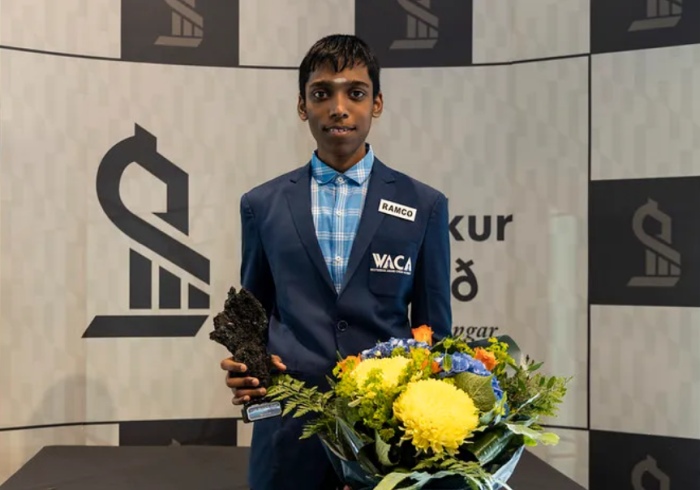 Rameshbabu Pragganandhaa emerged as the winner of 2022 Reykjavik Open after dramatic turn of events in the final round. The Indian youngster scored 7½/9 and finished a half-point ahead of Max Warmerdam, Mads Andersen, Hjorvar Steinn Gretarsson and Abhimanyu Mishra.
The 2022 Reykjavik Open, a nine-round Swiss tournament with classical time control (90 min for 40 moves followed by 30 min to the end of the game, plus a 30-second increment starting from move one), took place in Harpa Music and Conference from April 6-12 with a double-round day on April 10. The sponsors of the event with a total prize fund of €15,000 were Kvika, Reykjavik City, and FIDE, which supported the tournament via the FIDE Aid package.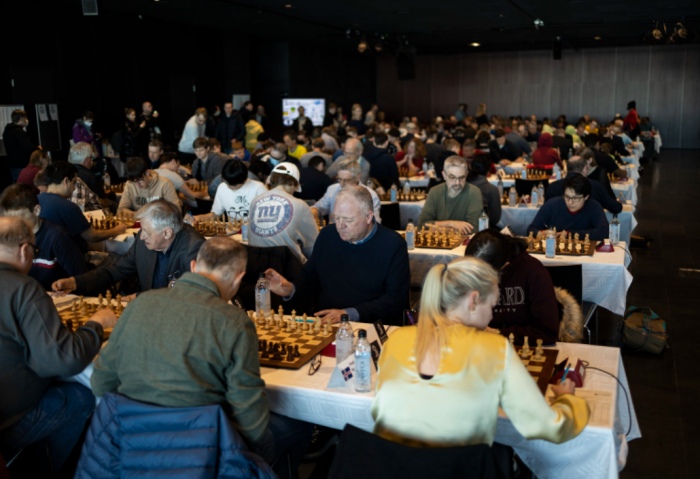 Max Warmerdam, Mads Andersen, and Rameshbabu Pragganandhaa were heading into the final, ninth round as joint leaders on 6½ each, with a large group of players trailing them by half-point. After Mads and Max (pictured below) made a quick draw, it looked like the door was wide open for several players to join them. Indeed, Gukesh had a considerable advantage in the game against his compatriot Pragganandhaa, while young Abhimanyu Mishra and local favourite GM Hjörvar Steinn Grétarsson grabbed the initiative with black pieces against Pouya Idani and Lukasz Jarmula, respectively.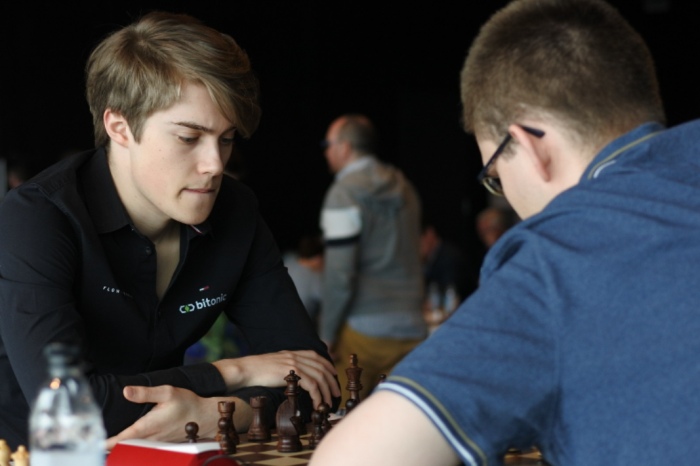 Things changed drastically in time trouble as Gukesh ruined his overwhelming position in just two moves and missed not only a win but also a draw.
Gukesh D - Pragganandhaa R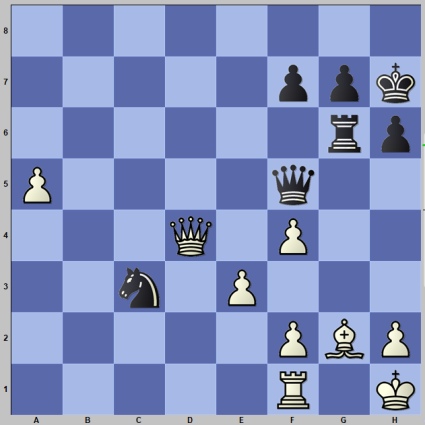 35.Qe5? (35.h3! parrying Black's main threat, 35…Qxa5 36.Qd2! Qa3 37.Qc2! and White wins) Qg4 36.Rg1?? (36.Be4=) Nd1! and Gukesh capitulated as the only way to avoid checkmate is to give up his queen 0-1
This unexpected outcome helped Pragganandhaa to take clear first and pocket the first prize of €5,000.
Max Warmerdam, Mads Andersen, Hjörvar Steinn Grétarsson, and Abhimanyu Mishra finished a half-point behind and tied for the second place.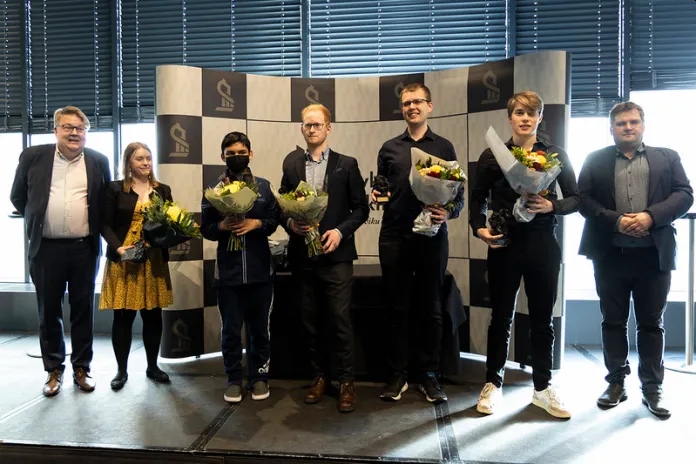 Final standings:
| | | | | |
| --- | --- | --- | --- | --- |
| 1 | Praggnanandhaa R | IND | 2624 | 7½ |
| 2 | Warmerdam, Max | NED | 2599 | 7 |
| 3 | Andersen, Mads | DEN | 2582 | 7 |
| 4 | Gretarsson, Hjorvar | ISL | 2542 | 7 |
| 5 | Mishra, Abhimanyu | USA | 2524 | 7 |
| 6 | Fier, Alexandr | BRA | 2573 | 6½ |
| 7 | Niemann, Hans Moke | USA | 2637 | 6½ |
| 8 | Gupta, Abhijeet | IND | 2616 | 6½ |
| 9 | Larkin, Vladyslav | UKR | 2424 | 6½ |
| 10 | Korley, Kassa | DEN | 2400 | 6½ |

Photo: Thorsteinn Magnusson and Hallfríður Sigurðardóttir
Official website: reykjavikopen.com/