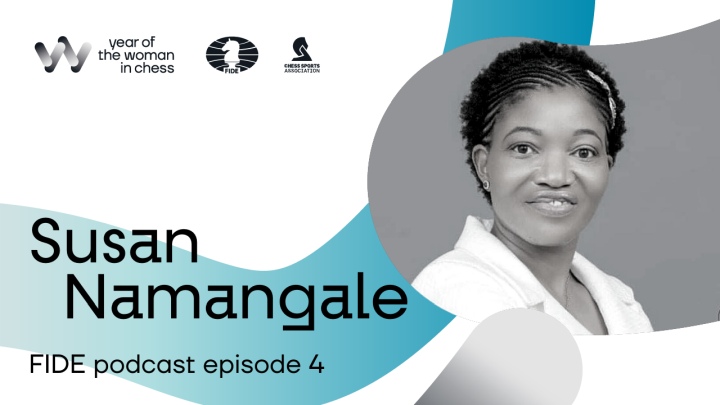 The fourth episode of the FIDE Podcast, the initiative born under the umbrella of the Year of the Woman in Chess, as cooperation between FIDE's Commission for Women's Chess, Michael Busse of Schachgeflüster podcast, and Lilli Hahn of Chess Sports Association, has been released. The monthly episodes of the podcast feature a series of interviews with remarkable women in the chess world.
The guest of the new episode is Susan Namangale, the President of the Malawi Chess Association, CHESSAM and the first female chess federation president in Africa. Among the key milestones achieved under her leadership:
Increasing the number of female chess players from less than 10% to over 30%
Launching chess in a school development program
Reaching out to rural schools and setting up chess clubs there
"Every child needs to have the privilege of learning chess at school. With the support of FIDE and other partners, we have been able to take chess to as many schools as possible, even to rural areas of the country. We are training patrons, making them able to teach the basics of chess. Most of the schools do not have the equipment, but we also try to distribute chessboards to schools. In 2018 we had less than 50 kids playing in school chess events, but now we can put together over 500 kids, and we have over 100 schools and clubs where chess is played," Susan explains.
Susan Namangale is not only a chess official, but a chess player and 2019 national women champion.
"When I became a president, I made it clear from the very beginning that my intention was to improve the way we do things, to put up systems in place, and I wanted to be a part of the change. I was not happy with the number of women and girls playing chess. For that reason, I decided that I wanted to start playing again so that girls and women would get motivated as they see me as their president also being a part of the games. And from that moment, I saw the numbers going up. This time I did not qualify for the Olympiad, but I am happy that I've got new ladies who made it to the team and will participate in the World Chess Olympiad for the first time. That's what I call growth. It means we are progressing as a federation," says Susan in her interview.
You can listen to the fourth episode of the FIDE podcast on the following platforms: