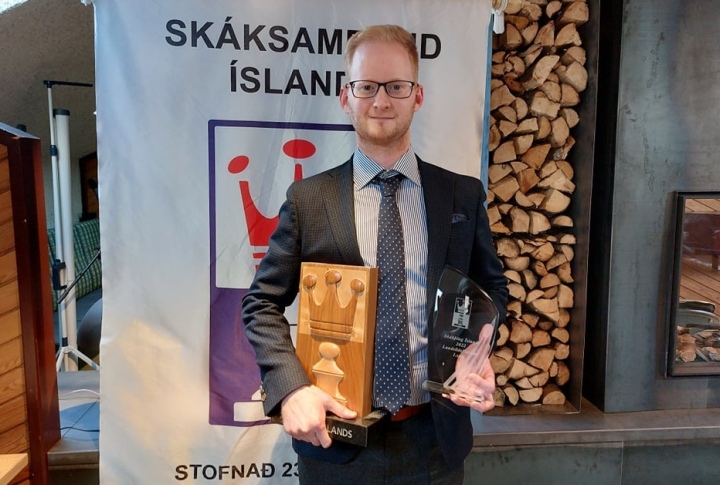 Hjörvar Steinn Grétarsson defended his title of Icelandic champion with flying colours, winning his second straight national championship with a round to spare. The rating favourite delivered a commanding performance of 7½/9, conceding his opponents just three draws.
The 2022 Icelandic Championship, a 10-player round-robin tournament (Elite), took place from April 22 to May 1 in Reykjavik.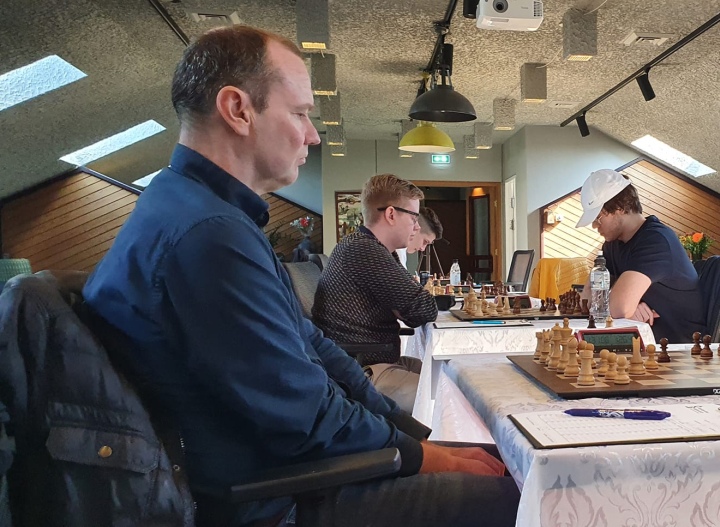 Despite suffering two defeats, the second-rated Hannes Stefansson (pictured above) scored 6/9 and claimed silver – a great improvement compared to the 2021 edition of this event.
There was a three-way tie for the third place, but bronze goes to Gudmundur Kjartansson, thanks to the best result in the direct encounters with his opponents.
Alongside the Elite round-robin, a 25-player Candidates tournament (Swiss system) was held. Aleksandr Domalchuk-Jonasson (pictured below) emerged as the winner of this side event.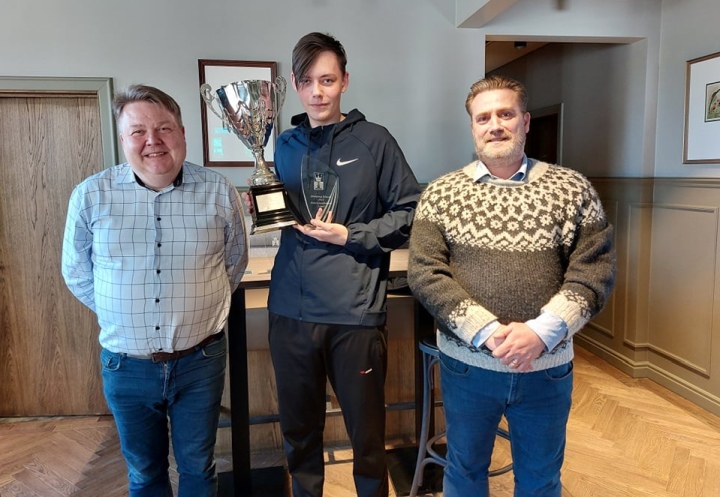 Final standings Elite:
| | | | | |
| --- | --- | --- | --- | --- |
| 1 | GM | Gretarsson, Hjorvar Steinn | 2542 | 7½ |
| 2 | GM | Stefansson, Hannes | 2525 | 6 |
| 3 | GM | Kjartansson, Gudmundur | 2430 | 5 |
| 4 | GM | Steingrimsson, Hedinn | 2538 | 5 |
| 5 | IM | Stefansson, Vignir Vatnar | 2501 | 5 |
| 6 | GM | Thorhallsson, Throstur | 2422 | 4½ |
| 7 | FM | Heimisson, Hilmir Freyr | 2321 | 4½ |
| 8 | GM | Thorfinnsson, Bragi | 2419 | 3½ |
| 9 | | Mai, Alexander Oliver | 2177 | 2½ |
| 10 | FM | Thorhallsson, Simon | 2252 | 1½ |

Final standings Candidates:
| | | | |
| --- | --- | --- | --- |
| 1 | Domalchuk-Jonasson, Aleksandr | 2169 | 7 |
| 2 | Ingvason, Johann | 2172 | 6½ |
| 3 | Briem, Benedikt | 2062 | 6½ |
| 4 | Jonsson, Gauti Pall | 2064 | 6 |
| 5 | Heidarsson, Arnar Milutin | 2019 | 6 |
| 6 | Hauksdottir, Hrund | 1746 | 5½ |
| 7 | Thorisson, Benedikt | 1778 | 5 |
| 8 | Ragnarsson, Johann | 1913 | 5 |
| 9 | Omarsson, Josef | 1352 | 5 |
| 10 | Heidarsson, Mikael Bjarki | 1574 | 5 |

Official website: skak.is/skakthing
Photo: IEB, Íslenskir skákmenn