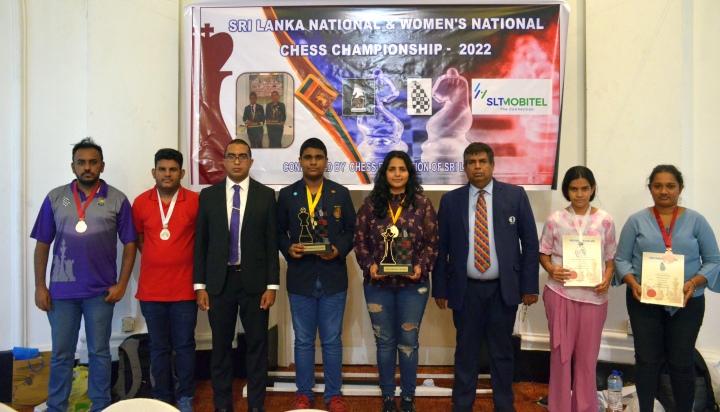 The reigning national champion, 17-year-old FM Susal de Silva of Nalanda College, won the Sri Lanka National Chess Championship 2022 for the second consecutive year scoring 10/13.
The Sri Lanka National Chess Championships 2022, with a half-million rupees prize fund, took place from April 23 to May 1 in the Kobbekaduwa Agrarian Research Institute, Wijerama Mawatha, Colombo. Both tournaments, organized by the Chess Federation of Sri Lanka, were 14-players round-robins with classical time control.
One of the most promising players in the country, Susal De Silva, grabbed the lead from the very start and beat his main rival Ranindu Liyanage in the eighth round clash, which gave him so much needed tie-breaking points to win the title, the gold medal and shared cash prize. On his way to this achievement, Susal scored eight victories and suffered just a single defeat at the hands of Achinthya Shamane Kaluarachchi.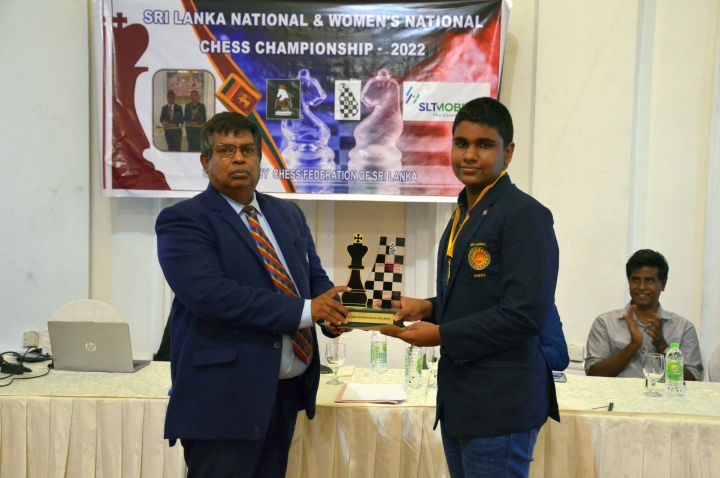 The top-seed FM, Ranindu Dilshan Liyanage of Ananda College, netted 10 points and tied for first place but settled for silver due to inferior tiebreaks. FM Isuru Alahakoon of Sri Lanka Navy claimed bronze, scoring 8½/13.
Unfortunately, the women's event did not bring together the country's best players as the reigning champion, Tharushi Niklesha and Harshana Thilakarathne (rated over 2300), withdrew due to academic reasons.
WIM Sachini Ranasinghe confidently won her fifth national title, scoring 9/13. Desandi Dihansa Gamage of Sirimavo Bandaranaike College finished just a half-point behind and earned silver. Janandani Abeysinghe of NSBM Green University came out third with 8/13.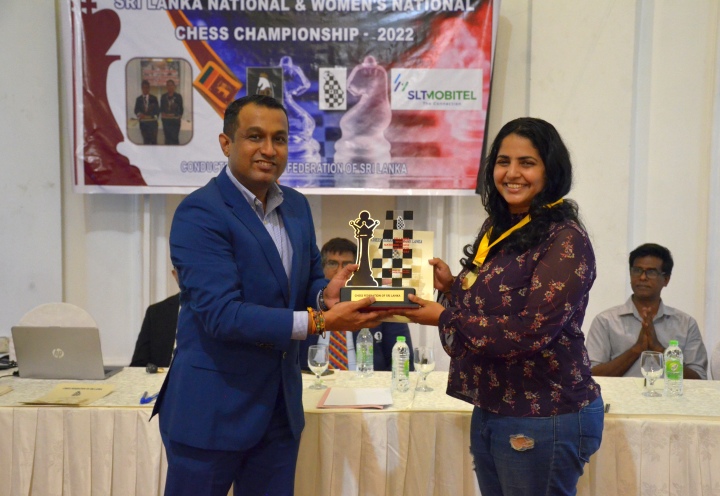 The top five players in both events qualified for the Sri Lanka national teams to participate in the 44th Chess Olympiad 2022.
The awards ceremony was held on May 1 at Hotel Taj Samudra, right after the final round. Mr Luxman Wijesuriya, President CFSL, General Secretary of the Commonwealth Chess Association and Mr Shiang Wong, Deputy General Manager – Product Marketing of SLT Mobitel (the primary sponsor of the national chess federation), presented the awards to the champions.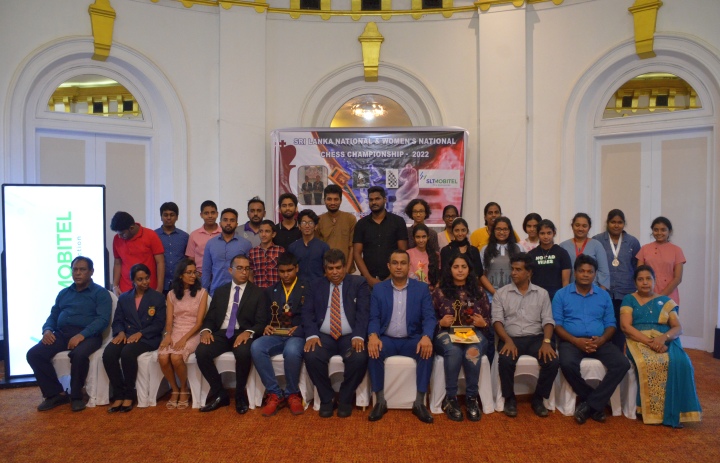 The games can be seen via the links below:
Sri Lanka National Chess Championship 2022
Sri Lanka Women's National Chess Championship 2022
Final standings Open:
| | | | |
| --- | --- | --- | --- |
| 1 | De Silva Susal | 2162 | 10 |
| 2 | Liyanage Ranindu Dilshan | 2345 | 10 |
| 3 | Alahakoon Isuru | 2014 | 8½ |
| 4 | Kiriella K G T S D | 1737 | 8 |
| 5 | Nabil Nazar Mohamed | 1680 | 7½ |
| 6 | Kaluarachchi Achinthya S | 1801 | 6½ |
| 7 | Senevirathne S D B K | 1757 | 6 |
| 8 | Bandara Dhanushka | 1882 | 6 |
| 9 | Tennakoon Lisara Samadhith | 1680 | 5½ |
| 10 | Amarasinghe A A C B | 1855 | 5½ |
| 11 | Lahiru N P G Sithija | 1783 | 5 |
| 12 | Saravanabaavan Brijeash | 1643 | 4½ |
| 13 | Wijekoon Chandana | 1823 | 4½ |
| 14 | De Silva Elath Mathanga | 1816 | 3½ |

Final standings Women:
| | | | |
| --- | --- | --- | --- |
| 1 | WIM Ranasinghe S D | 1698 | 9 |
| 2 | Gamage Desandhi Dhihansa | 1447 | 8½ |
| 3 | Abeysinghe H M H Janandani | 1465 | 8 |
| 4 | WCM Wijesuriya G P Y | 1581 | 7½ |
| 5 | WCM Wickramasinghe Minethma | 1527 | 7 |
| 6 | WCM Sanudula K M Dahamdi | 1710 | 7 |
| 7 | Mapa M M W H | 1587 | 7 |
| 8 | Pallie Ehsha Mishela | 1475 | 6½ |
| 9 | Abeysekara Yasasi Geemini | 1324 | 6 |
| 10 | Wijesinghe W M M N | 1509 | 5 |
| 11 | Ramanayake Nemindi Linaya | 1387 | 4 |
| 12 | Vithanawasam Oneli | 1449 | 2 |
| 13 | Yapa Bandara Chamodya | 1533 | 3 |
| 14 | Yashora Tiumi | 1624 | 2 |