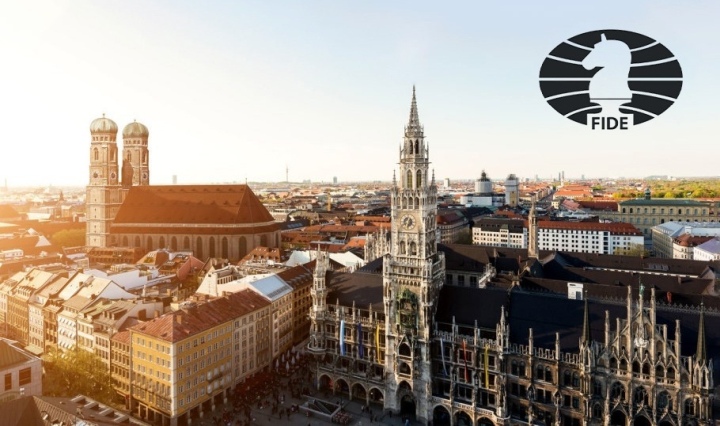 Munich will host the third leg of the FIDE Women's Grand Prix 2022-23, to be held from February 1-14, 2023. The venues, dates, and details for the other three legs in the WGP Series will be announced at the end of May.
The venue for the event will be the luxurious Kempinski Vier Jahreszeiten hotel, centrally located in the heart of Munich and just paces away from Marienplatz, the city's main square.
The main sponsor for the event will be Krulich Immobilien Group, a real estate company with headquarters in Munich and branches in Berlin, Dresden, Leipzig and Zwickau. With more than 100 employees across various locations and a portfolio that includes around 15,000 units, Krulich has been a household name in the real estate business in Germany since 1957. Krulich Immobilien Group is also a long-time supporter of chess activities in the region, having founded the Munich Chess Academy and the Munich Chess Foundation, as well as some other chess competitions sponsored by the group.
FIDE would also like to thank the German Chess Federation (Deutsche Schachbund) for their invaluable help in bringing this event to Munich.
While the exact line-up for Munich is yet to be defined, the WGP Series 2022-23 will feature a total of 16 players, and each one of them will participate in three out of four WGP tournaments.
The initial list of qualified players includes the reigning World Champion (Ju Wenjun), the four semi-finalists of the FIDE Women's World Cup 2021 (Alexandra Kosteniuk, Aleksandra Goryachkina, Tan Zhongyi and Anna Muzychuk), the four top-finishers at the FIDE Grand Swiss 2021 (Lei Tingjie, Elisabeth Paehtz, Zhu Jiner and Mariya Muzychuk).
Three more players are eligible by rating, with the March 2022 ranking list as a reference: these would be Hou Yifan, Kateryna Lagno, and Nana Dzagnidze. That would make Harika Dronavalli the first reserve player if any of the previously listed participants turned down the invitation.
Lastly, each of the four WGP tournament organizers has the right to nominate a player of their preference in consultation with the FIDE President.
The total prize fund for the event in Munich will be €80,000, with another €80,000 being distributed among the top 8 finishers in the global Women's Grand Prix Series standings, according to the cumulative points they score across the four events.
More importantly, the two top players in the WGP Series will also qualify for the FIDE Women Candidates Tournament 2023-24.