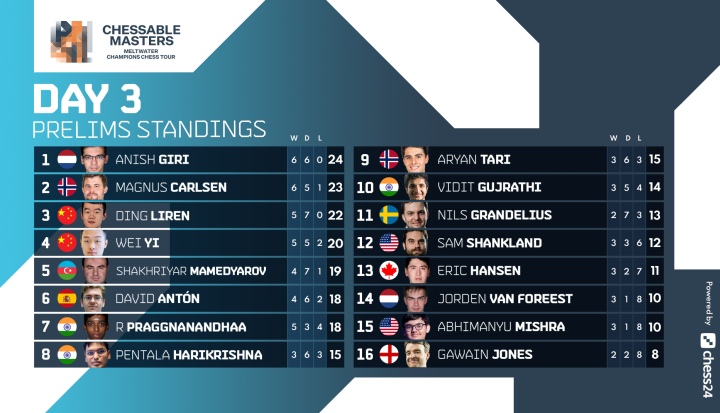 Magnus Carlsen played one of the worst possible opening moves and still secured his place in the Chessable Masters knockout on a day his Dutch rival Anish Giri powered into the lead.
Giri, a beaten finalist in the $150,000 Meltwater Champions Chess Tour event two years, emerged from rounds 9 to 12 unbeaten with three wins and a draw to clinch his place in the next stage.
Netherlands #1 Giri, playing from The Hague, said: "I came in today thinking everything was going to be great, and it turned out well so I'm lucky."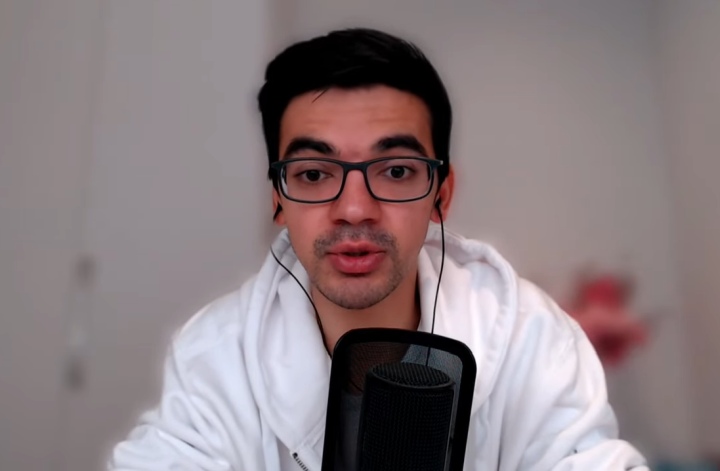 He will be joined in the last eight by Norway's World Champion who went all-out attack to guarantee his place. Carlsen also entertained with a highly unorthodox opening idea - 1.h4.
The champ started the day aiming to put his loss against Indian teen Rameshbabu Praggnanandhaa firmly behind him and was at his super-sharp best as he demolished England's Gawain Jones. Carlsen then crushed Vidit Gujrathi of India in a Round 10 game when his brave but brilliant move 25.f6! caught the eye. It also led to the champ overtaking caught Wei Yi, the leader over the first two days.
Following a draw in the 11th, Carlsen was then in showboating mood as he played the bizarre first move 1.h4 against Wei Yi in Round 12. Carlsen admitted after that his choice was "not great". In fact, it's one of the worst opening moves possible!
Wei seemed unperturbed, but didn't take advantage and Carlsen went on to push hard for a win. Right at the end, however, Wei found a way to escape with a draw and save his blushes. It was Carlsen's third bizarre opening choice on the Tour, having already played 1.f3 and 1.c3.
Carlsen said the end was a surprise and his opponent "defended really well, to a certain point".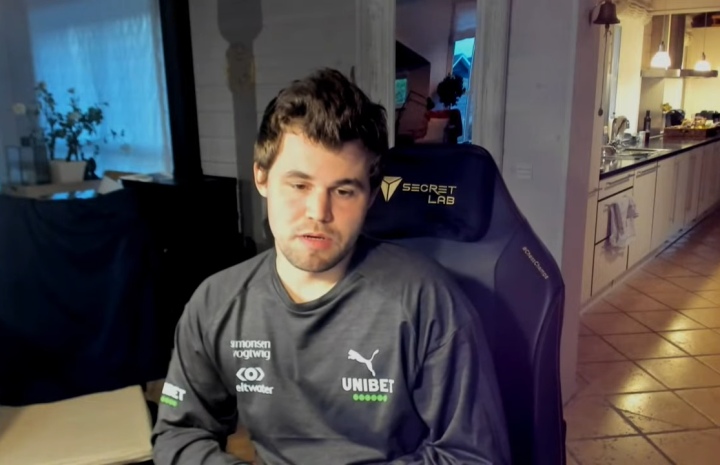 He added: "It was a bit of a disappointing way to end the day. I think if you're going to play a rare first move, it's no less important to be well prepared."
Carlsen said: "I felt like my play was a lot better today than it was yesterday and the day before. It's still looking up."
Behind Giri and Carlsen, China's new Ding Liren also virtually secured his place in the last eight with three wins and a draw. Tomorrow he faces Carlsen in a fascinating world #1 vs world #2 clash.
Norway's second strongest player Aryan Tari also had a storming day. The 22-year-old had looked dead and buried in the tournament after a disappointing first two days. Today Tari won three games in a row to haul his score up to 15 points and give himself a shot at making the Knockout.
Tari said: "Today, I couldn't be more happy with my play and everything just worked out."
Jones grabbed his first win of the event with a Round 10 win over "El Niño" David Antón, who suffered a slump after performing well on day 2.
Play resumes at 18:00 CEST tomorrow with Rounds 13-15 before the Prelims end and the competition heads into the Knockout stage.
For further comments contact:
Leon Watson
---
About the Chessable Masters
The eight-day Chessable Masters started on May 19 and coverage will focus on the study of chess openings. A prize pot of up to $150,000 is up for grabs and two qualifying spots for the next Tour Major. For the first stage of the event, all 16 players will compete in a round-robin with the top 8 progressing to a knockout. The final will be staged on May 25 and 26. The Chessable Masters is leg 4 of the Meltwater Champions Chess Tour. The overall Tour winner in November will be crowned the world's best online chess player. Action will be broadcast live with commentary from chess24's studio in Oslo via chess24.com's YouTube and Twitch channels, also available at chess24.com/tour. Play begins at 18:00 CEST / 16:00 UTC.
About the Meltwater Champions Chess Tour
The Champions Chess Tour is the leading online chess Tour worldwide determining the world's best chess player over a full competitive season of online chess. The 2022 season begins in February 2022 and features monthly tournaments culminating in a Final in November 2022. The best chess players in the world are competing in rapid chess. All games take place online on chess24.com with players competing for a total prize pool of over USD 1.5 million. For more information visit championschesstour.com.
About Play Magnus Group
Play Magnus Group is a global leader in the chess industry focused on providing premier digital experiences for millions of chess players and students. The company offers e-learning and entertainment services via its market leading brands: chess24, Chessable, iChess, New In Chess, Everyman Chess, Silver Knights, Aimchess, the Play Magnus App Suite, and the Meltwater Champions Chess Tour. The Group's mission is to grow chess to make the world a smarter place by encouraging more people to play, watch, study, and earn a living from chess. Play Magnus Group is listed on Euronext Growth Oslo under the ticker PMG. www.pmg.me