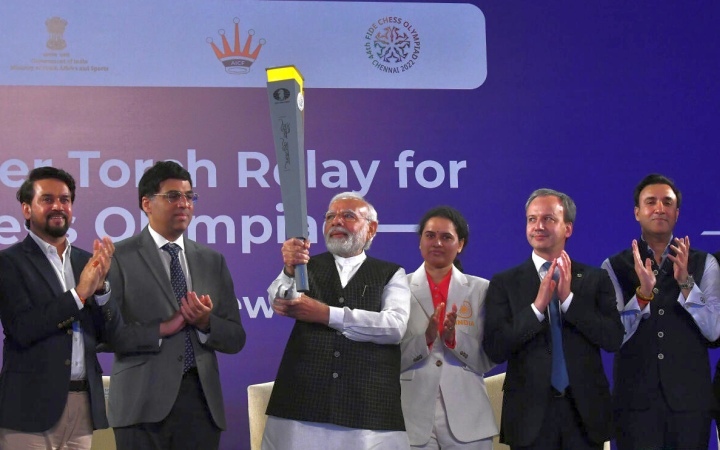 June 21, 2022 — LAUSANNE, Switzerland — The International Chess Federation (FIDE), the chess governing body, held its inaugural Torch Relay ceremony this week in India, initiated by the Indian Prime Minister Narendra Modi and FIDE President Arkady Dvorkovich. The ceremony gave the start to the 2022 Chess Olympiad as well as to the new chess tradition. Held in Chennai from July 28 to August 10, 2022, this prestigious competition, which has been organized since 1927, is being hosted in India for the first time.
FIDE President Arkady Dvorkovich, believes that chess fans, and the sports community in general, will appreciate the introduction of this new tradition: "Chess is one of the oldest sports in the world, and its traditions are centuries old. We have the privilege of adding an important tradition to the chess heritage so that more people who love chess will have a way to connect with the sport. It's also hugely important to the chess players who dedicate their lives to the sport — they are true athletes, and taking part in the Torch Relay ceremony means a lot to them," Dvorkovich said.
Prime Minister Narendra Modi said during the inaugural ceremony: "Our ancestors invented games like chaturanga or chess for analytical and problem-solving brains. Chess, via India, reached many countries of the world and became very popular. Today, chess is being used in schools as an educational tool for young people, for children."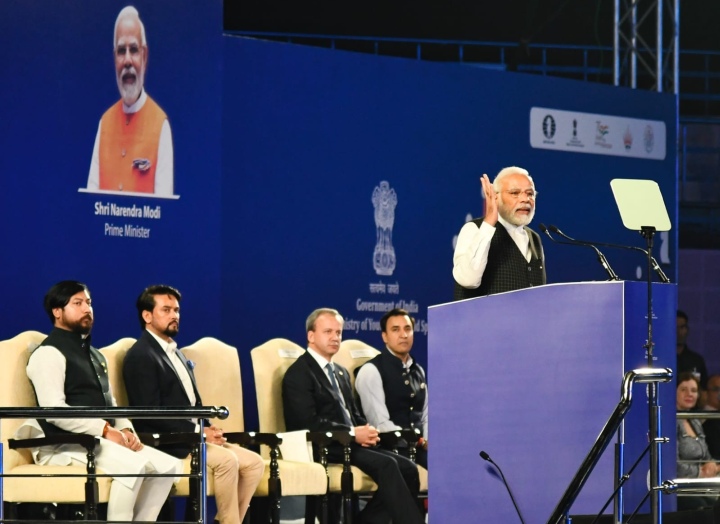 In ancient Greece, a sacred fire was kept burning throughout the celebration of the ancient Olympics on the altar of the sanctuary of Hestia. The fire had divine connotations, and it was thought to have been stolen from the gods by Prometheus. Sacred fires were present at many ancient Greek sanctuaries, including those at Olympia.
The Olympic flame as a symbol of the modern Olympic movement was introduced in the 1928 Summer Games in Amsterdam by architect Jan Wils, designer of the Olympic Stadium. It received a warm welcome, and very soon, the flame became a symbol of the Olympic message of peace, friendship, tolerance and hope.
The inaugural edition of the Chess Olympiad Torch Relay will only travel through India, but in future editions, it will be expanded to the entire world, in line with the traditions of the Olympic Games. It will travel across all continents, visiting FIDE member territories, ultimately culminating in the host country and city ahead of the opening of the Chess Olympiad.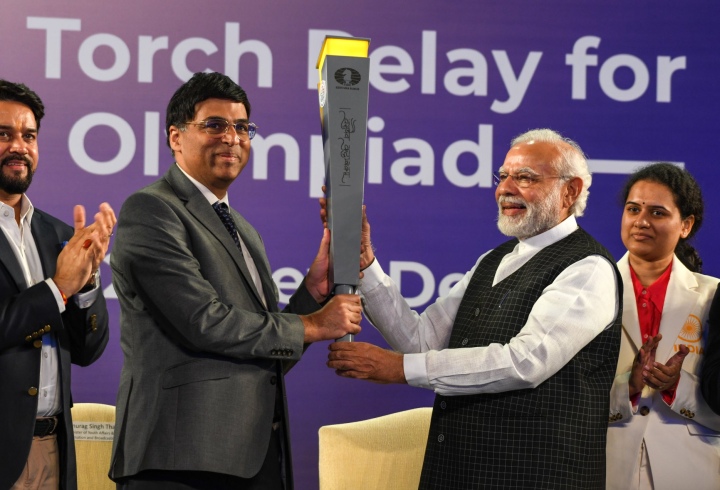 During the next weeks, the torch will travel across 75 cities and regions in India, covering a total distance of 23,000 kilometers – more than half the circumference of Earth. The flame will be carried by thousands of torch bearers, including at least 50 chess Grandmasters and chief ministers who will take part in the journey. It will send a strong message of unity and cooperation among people from all walks of life.
As of 2022, FIDE will recommend planning official Torch Relay Ceremonies for all Chess Olympiad organizers, including the 2024 Olympiad that will take place in Budapest, Hungary.

Photo: All-India Chess Federation