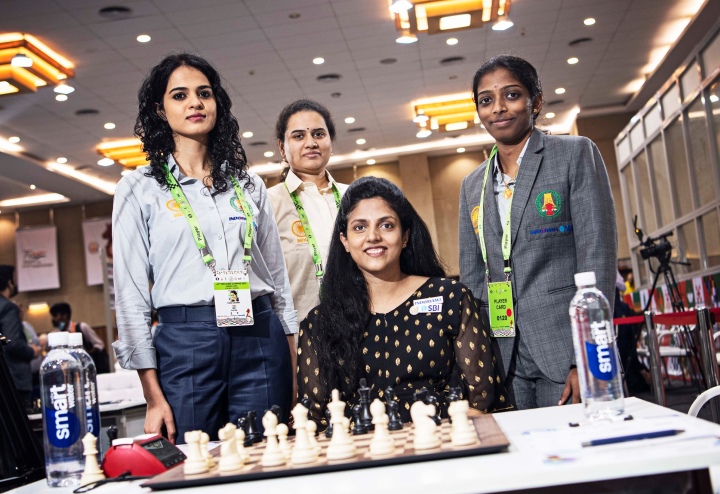 Tania Sachdev battled long and hard to rake in that precious point which allowed her team India A in the Women's section, to edge out Hungary with a 2.5-1.5 score. All the other three encounters ended in draws, and the onus was on Tania, who rose brilliantly to the occasion.
A tired but happy Tania quipped, "It was a tough position, and I was aware that our two boards had ended in a draw but was not able to really evaluate Humpy's position as my position was a tough one".
Team Coach of Women's Team A was upbeat about the Teams victory and commented: "The Teams are well balanced, and it is very important to take one round at a time. All the games today were well fought".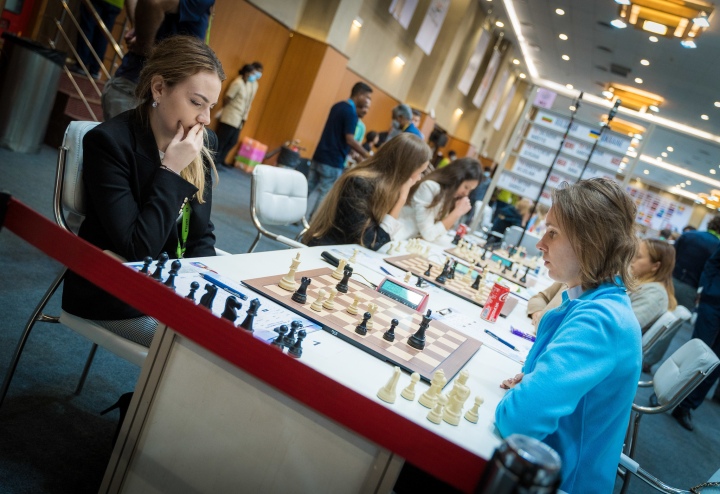 After three rounds, Bulgaria was a top scorer, having dropped only half a point in 12 games. But in Round 4, the young team led by IM Nurgyul Salimova could not stop mighty Ukraine. "Powerhouse Anna" on boards 2 and 3, Muzychuk and Ushenina, did their job winning against Peycheva and Krasteva, respectively, securing an overall victory.
The third-seeded Georgian Women's Team proved too strong for the India C Team, with P V Nandhidhaa winning her encounter against Nino Batsiashvili, rated higher than her. Eesha Karavade lost to Nana Dzagnidze, Sahithi Varshini to Lela Javakhishvili (in just 12 moves!), and Pratyusha fell to Salome Melia.
The Netherlands did not manage to pose problems for Poland, strengthened this year by IM Alina Kashlinskaya on Board 1, and the ladies under the read-and-white flag won by convincing 3½-½.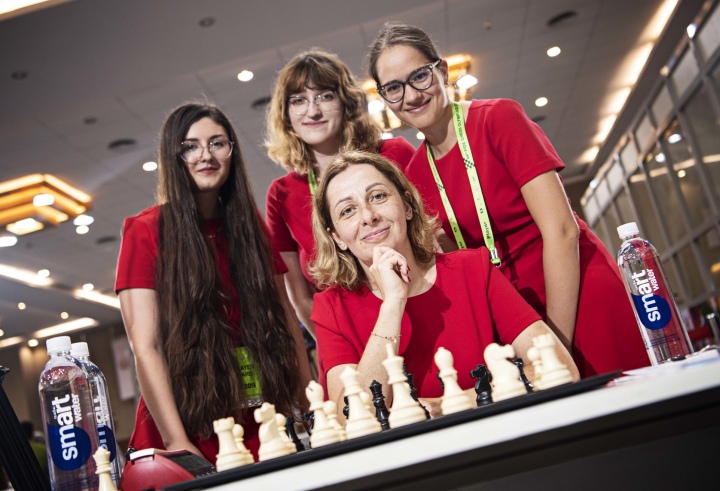 France and Romania complete the list of leaders after four rounds. Both teams won with the smallest of margins, 2.5-1.5, against Serbia and Germany. And if France was a favourite against Serbia and this result did not surprize, Romania's victory is a serious blow to Germany's hopes for medals as the team led by IM Elisabeth Paehtz was higher-rated on every board.
28th seed Mongolia kept up the good work and held 10th seed Kazakhstan to a draw in a minor flutter.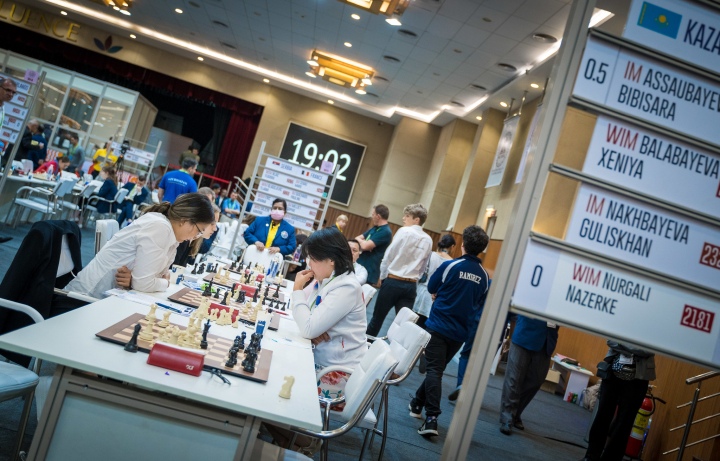 The 11th seeded Indian Women B Team edged past Estonia with a 2.5-1.5 score, with Vantika Agrawal bringing the winning point for her team while the other three games ended in draws. Vantika has been in top form so far, scoring a superb 4/4.
Top results in the women's section:
India A 2½:1½ Hungary
Bulgaria1½:2½ Ukraine
Georgia 3:1 India C
Netherlands ½:3½ Poland
France 2½:1½ Serbia
Israel 1:3 Azerbaijan
Romania 2½:1½ Germany
Mongolia 2:2 Kazakhstan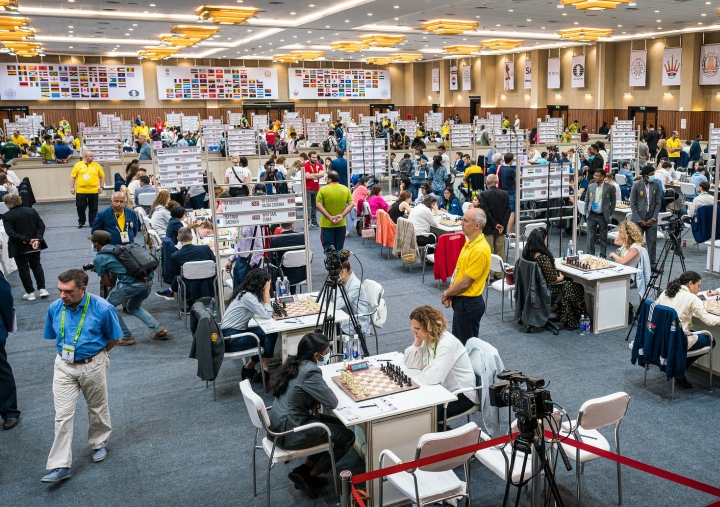 After four rounds, eight teams won all matches in the Women's section of the Chess Olympiad:
Azerbaijan
Poland
Ukraine
India A
France
India B
Georgia
Romania
Standings after Round 4 can be found at https://chessolympiad.fide.com/women-standings.
For a complete list of results, please visit the official website at https://chessolympiad.fide.com/women-results.
Photo: Photo: Lennart Ootes, Mark Livshitz and Stev Bonhage
---