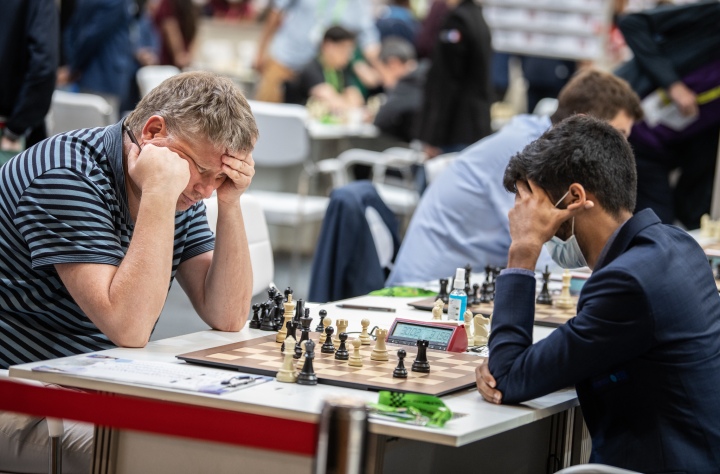 India B leads the Olympiad after five rounds tied with Armenia
Without a doubt, the star of the day was India's team B first board, 16-year-old Gukesh D. Not only did he win his fifth game in a row, defeating Spanish legend Alexei Shirov, but he also overtook Vidit on the live rating list, becoming India's number three player with the live-rating of 2714.
Gukesh was one of the torchbearers during the opening ceremony of the Olympiad, and he continues to light the way for his team, crushing the opposition on board one.
His victory, combined with Adhiban's win on board four against Iturrizaga, allowed his team to take down Spain in a mighty clash between two undefeated squads and left India B leading the event, tied at 5/5 with Armenia.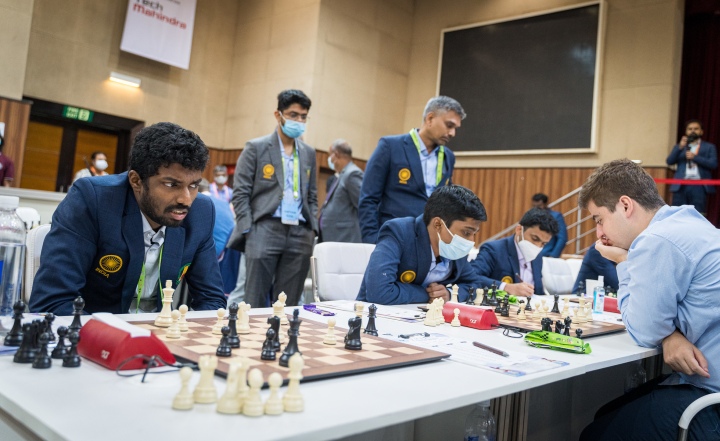 The other local team, India A, who dropped half a point yesterday against France, were able to press forward this afternoon by defeating Romania by a close 2.5-1.5 score - Erigaisi Arjun pulling off the decisive win against Mircea-Emilian Parligras, while the other three games ended in solid draws.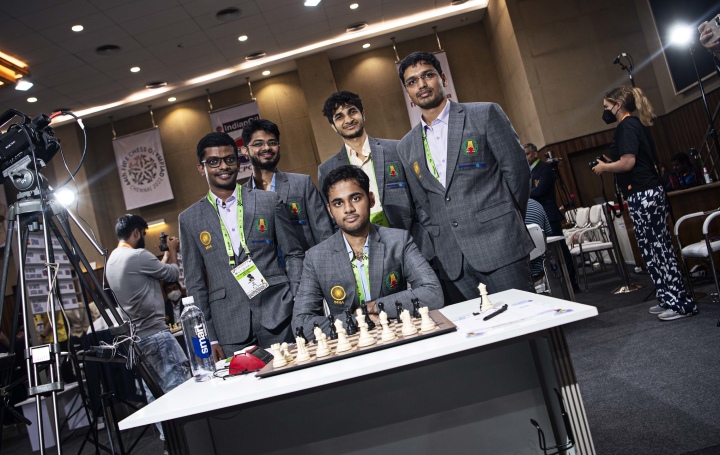 The second team in contention with 100% is Armenia. The Caucasian squad, playing in Chennai without former teammate Levon Aronian, is still a force to be considered, and today they proved their strength once again by defeating England.
All four games were equal, and three of them ended in a draw, but Hrant Melkumyan on board two managed to convert a slightly better rook ending into a full point against Luke McShane for the final 2.5-1.5 score. Armenia will play against India B in the sixth round for the lead in the event.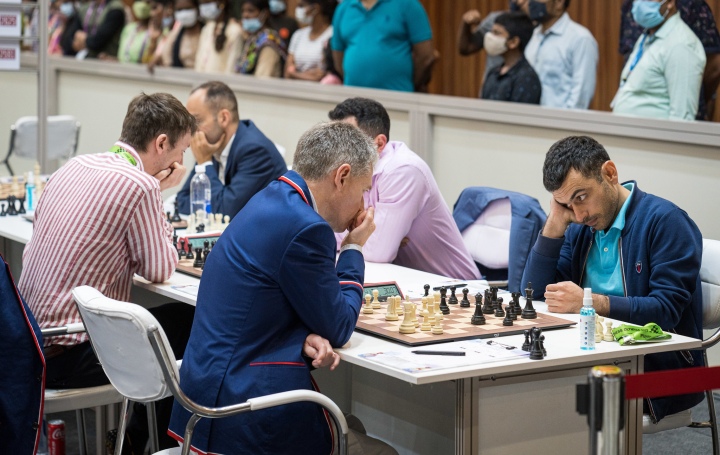 Rating favourites, team USA, faced Israel this afternoon and were looking to get back on track after conceding a draw yesterday against Uzbekistan. In the end, they notched up a narrow 2.5-1.5 victory, thanks to a determined Leinier Dominguez, who took down Maxim Rodshtein.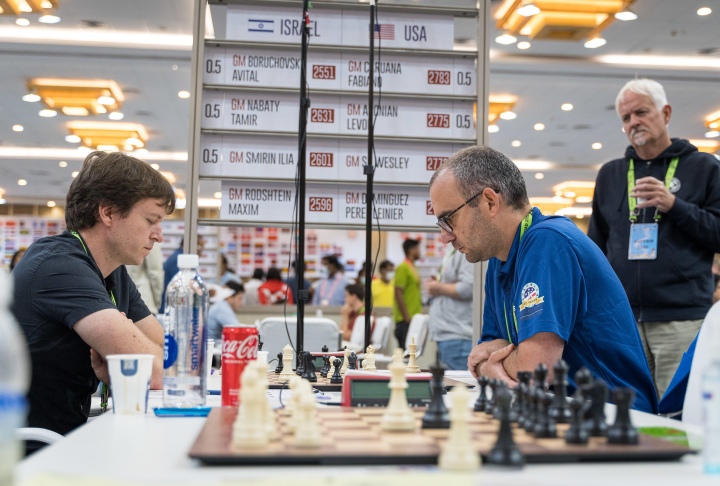 At first glance, it doesn't seem that the USA is performing at the level required to fight for the medals but there are still six rounds to go and anything can happen: with five 2700+ elite players in the team, they definitely can't be written off yet.
These results in the top matches allowed some other teams to get closer to the top of the standings. After their 2-2 tie against USA yesterday, the young Uzbekistan squad put their foot down on the gas pedal and crushed Slovakia by 4-0, an unbelievable accomplishment against four seasoned +2500 grandmasters. They are definitely on a roll and, in my humble opinion, maybe on the way to a deserved medal.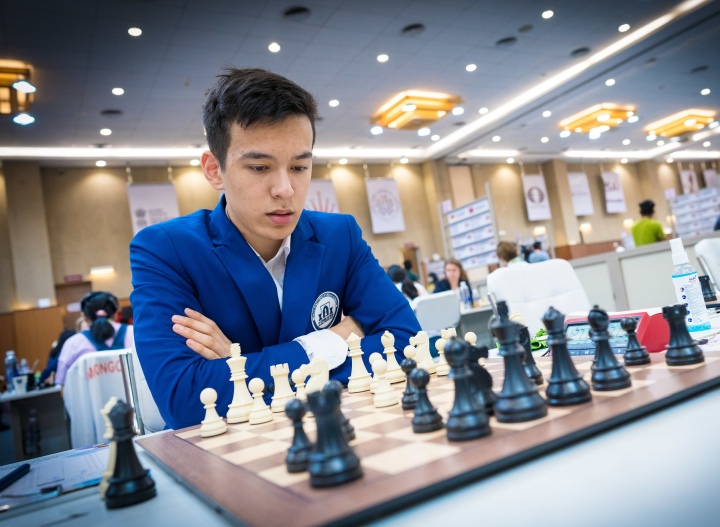 Dare I say that the most "surprising" result on the top boards was Cuba's 2.5-1.5 win over Azerbaijan, which catapulted the Caribbean's to tied third place. Seeded 32, Cuba fields four strong 2500 players, but Azerbaijan is a tough nut to crack, with three +2600 players headed by elite 2750 player Mamedyarov. A great result for Cuban chess.
Iran has also made their claim for the lead. A 2-2 tie against Canada in the fourth round left them slightly out of contention, but today's clear 3-1 win over Turkey has paired the Iranians tomorrow with the USA, a really difficult match-up for Maghsoodloo's five.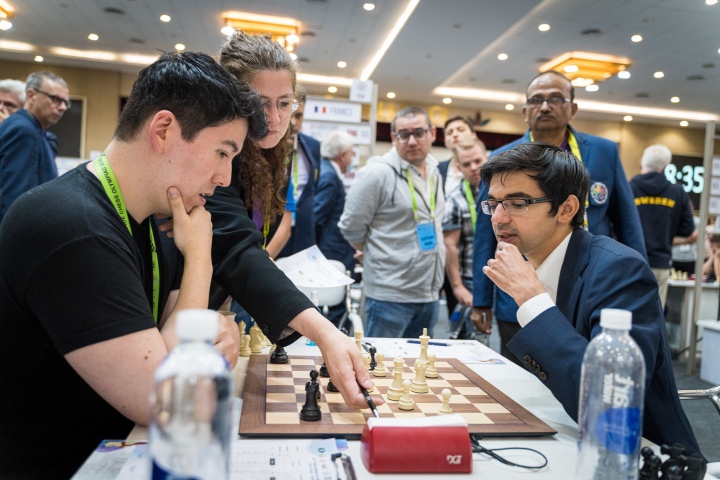 Another top contender, the Netherlands, bounced back from yesterday's unexpected loss against Israel by defeating surprise team Canada by 4-0. A certain controversy occurred on board one when Canadian Eric Hansen, one of the world's best blitz players, lost on time against Anish Giri. After verification, the arbiters certified his heart-breaking defeat in an unclear position.
The stage is set for tomorrow's sixth round, the last one before the famous Bermuda party and free day.
India 2 (10) – Armenia (10)
Uzbekistan (9) – India (9)
USA (9) – Iran (9)
Cuba (9) – Spain (8)
Games will begin at 3 pm sharp and can be followed live on the tournament website.
For a complete list of results, please visit the official website at https://chessolympiad.fide.com/open-results/
Text: IM Michael Rahal, FIDE Press Officer, Chennai
Photos: Lennart Ootes, Mark Livshitz and Stev Bonhage
---