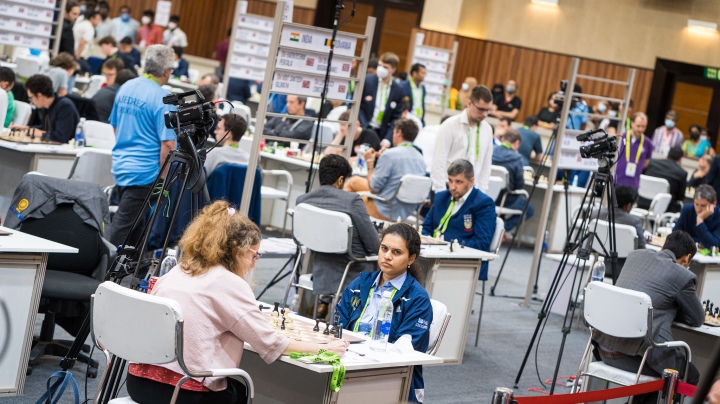 India A team, Georgia and Romania, lead the standings with 10 points each after the 5th round, closely followed by Ukraine, Azerbaijan, and Kazakhastan on 9 points apiece. Fifteen teams are on 8 points each in the joint third place.
India A team preserved their leading position thanks to the victory on the 4th board in the match with France: Tania Sachdev defeated Andreea Navrotescu on the white side of the Cambridge Springs QGD.
In the remaining results, GM Humpy Koneru drew with GM Hoang Thanh Trang; GM Harika Dronavalli split a point with WGM Gara Ticia, and IM Vaishali drew with IM Szidonia Lazarne Vajda.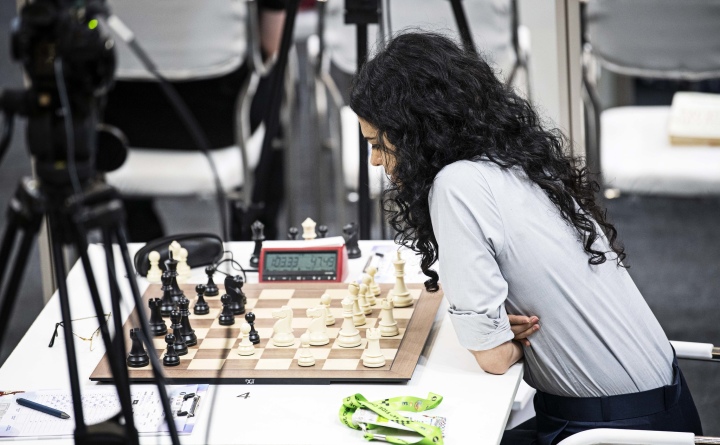 Georgia also rallied up to the lead with 10 points after defeating a young India 2 team by a dominating 3-1 score.
On the top board, Vantika Agarwal escaped to a hard-fought draw against the experienced Nana Dzagnidze, while Padmini Rout drew with Nino Batsiashvili.
Georgia hit with a tail: Lela Javakhishvili outplayed Soumya Swaminathan on board 3, while Meri Arabidze bested Divya Deshmukh on board 4 to seal 3-1 victory for the Caucasian team.
Ukraine and Azerbaijan proved to be worthy opponents drawing a very exciting match. Mariya Muzychuk put Ukraine on the scoreboard after winning against Gunayon Mammadzada on the top board, but Ulviyya Fataliyeva retaliated on board four, beating Buksa Nataliya. The games on boards two and three ended in draws.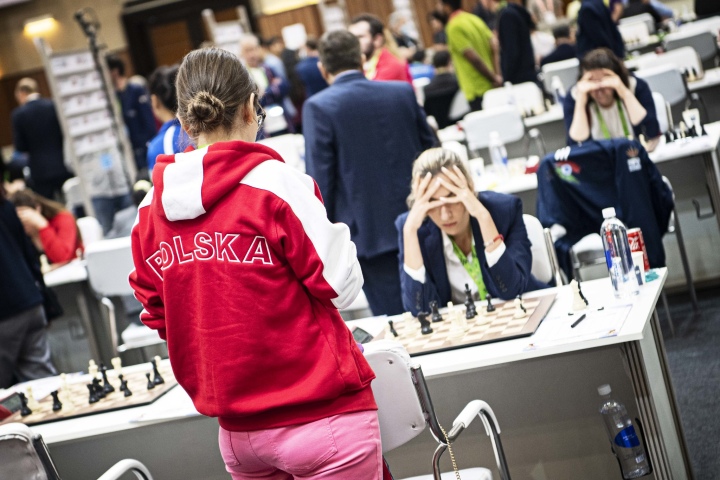 Team Romania produced a minor sensation by defeating a very strong Poland 2.5 - 1.5 and jumped to the joint lead. Mihaela Sandu beat Monika Socko on board 2 and Elena-Luminita Cosma defeated Michalina Rudzinska on board 4 for Romania. Oliwia Kiolbasa snatched the sole victory for Poland on board three, but it was not enough to outweigh two losses.
Kazakhstan and Germany defeated Cuba and Mongolia respectively by identical 3-1 score.
The seventh board match saw a major upset as team Peru scored a win over the fancied USA. Ann Chumpitaz beat experienced GM Irina Krush on board two while Paredes Bustamante Paula outplayed Yip Carissa on the third.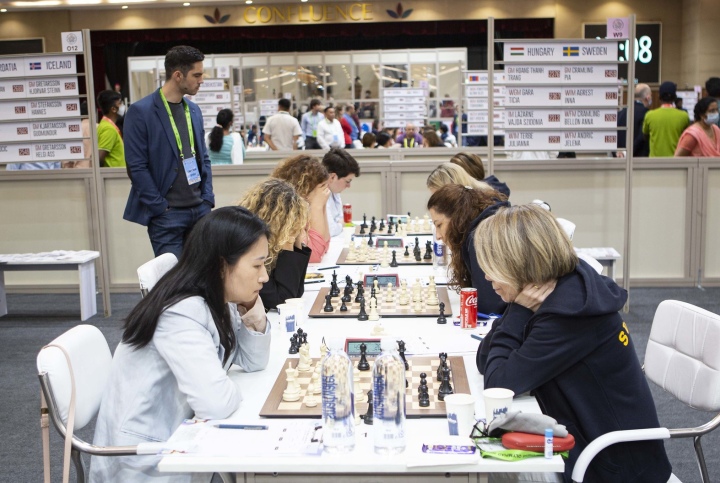 Hungary trounced Sweden 3.5-.5, with only the experienced grandmaster Pia Cramling scoring a half point for the team on the top board against Hoang Thanh Trang.
Complete results of Round 5 can be found at the official website for the Olympiad:
https://chessolympiad.fide.com/women-results.
Standings after Round 5 can be found at:
https://chessolympiad.fide.com/women-standings.
Photo: Photo: Lennart Ootes, Mark Livshitz and Stev Bonhage
---