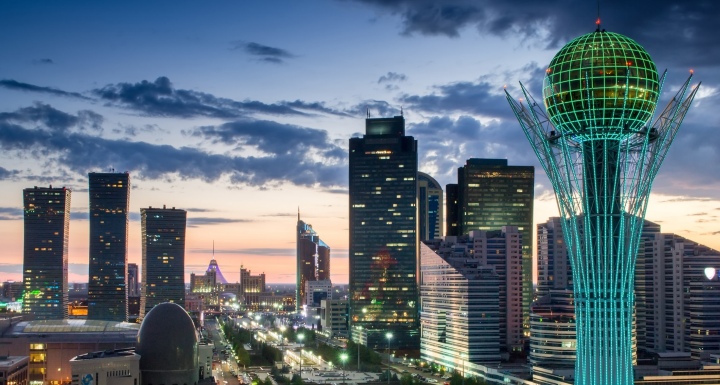 Рhoto: astanatimes.com
The full pairings for every round of the upcoming Women's Grand Prix Nur-Sultan 2022 has been announced. The first leg of Women's Grand Prix 2022-23 will take place in the capital of Kazakhstan from September 17-30, 2022. Twelve players will compete in a round-robin tournament.
IM Vaishali R will replace GM Humpy Koneru in the first leg of WGP 2022-2023. Koneru withdrew from the event for medical reasons.
In accordance with art. 5. 7. 3. of the WGP Regulations (If any replacement is needed for a nominated player due to a withdrawal, the Organiser who nominated this player shall nominate another one upon consultation with FIDE President.) All Indian CF nominated IM Vaishali R as replacement for the first GP tournament in Nur-Sultan.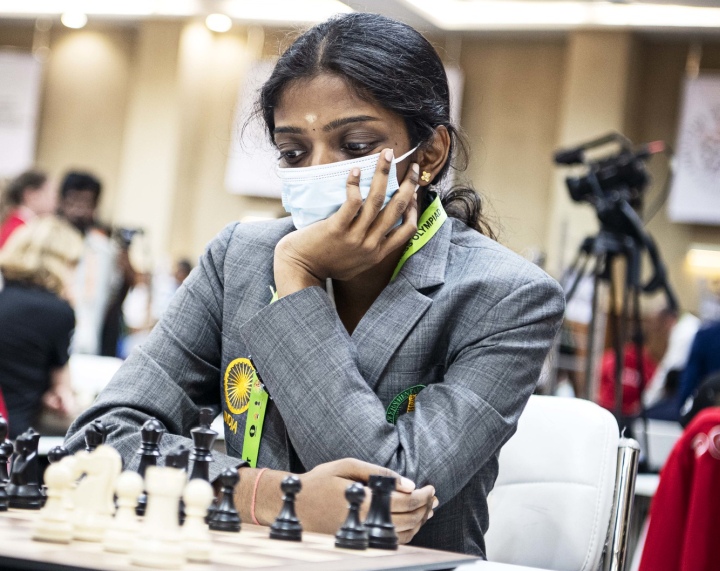 Vaishali R Photo: Steve Bonhage
According to art. 5. 10. 3. of the WGP Regulations (In case of any replacement player as a result of the provisions of Article 5.7 being applied, the pairings shall remain the same except that the replacement player shall take the place of the withdrawn player) the pairings shall remain as they are except that IM Vaishali R takes place of GM Koneru.
The participants received the following starting numbers:
1. Aleksandra Goryachkina (FIDE), 2. Kateryna Lagno (FIDE), 3. Alina Kashlinskaya (Poland), 4. Bibisara Assaubayeva (Kazakhstan), 5. Tan Zhongyi (China), 6. Dinara Wagner (Germany), 7. Elisabeth Paehtz (Germany), 8. Zhu Jiner (China), 9. Zhansaya Abdumalik (Kazakhstan), 10. Alexandra Kosteniuk (FIDE), 11. Vaishali R (India; replaced Humpy Koneru), 12. Polina Shuvalova (FIDE).
Full pairings:
Round 1 on 2022/09/18 at 15:00
Goryachkina Aleksandra 2579 (FID) – Shuvalova Polina 2510 (FID)
Lagno Kateryna 2547 (FID) – Vaishali R 2449 (IND)
Kashlinskaya Alina 2491 (POL) – Kosteniuk Alexandra 2521 (FID)
Assaubayeva Bibisara 2443 (KAZ) – Abdumalik Zhansaya 2503 (KAZ)
Tan Zhongyi 2525 (CHN) – Zhu Jiner 2464 (CHN)
Wagner Dinara 2358 (GER) – Paehtz Elisabeth 2477 (GER)
Round 2 on 2022/09/19 at 15:00
Shuvalova Polina 2510 (FID) – Paehtz Elisabeth 2477 (GER)
Zhu Jiner 2464 (CHN) – Wagner Dinara 2358 (GER)
Abdumalik Zhansaya 2503 (KAZ) – Tan Zhongyi 2525 (CHN)
Kosteniuk Alexandra 2521 (FID) – Assaubayeva Bibisara 2443 (KAZ)
Vaishali R 2449 (IND) – Kashlinskaya Alina 2491 (POL)
Goryachkina Aleksandra 2579 (FID) – Lagno Kateryna 2547 (FID)
Round 3 on 2022/09/20 at 15:00
Lagno Kateryna 2547 (FID) – Shuvalova Polina 2510 (FID)
Kashlinskaya Alina 249 (POL) – Goryachkina Aleksandra 2579 (FID)
Assaubayeva Bibisara 2443 (KAZ) – Vaishali R 2449 (IND)
Tan Zhongyi 2525 (CHN) – Kosteniuk Alexandra 2521 (FID)
Wagner Dinara 2358 (GER) – Abdumalik Zhansaya 2503 (KAZ)
Paehtz Elisabeth 2477 (GER) – Zhu Jiner 2464 (CHN)
Round 4 on 2022/09/21 at 15:00
Shuvalova Polina 2510 (FID) – Zhu Jiner 2464 (CHN)
Abdumalik Zhansaya 2503 (KAZ) – Paehtz Elisabeth 2477(GER)
Kosteniuk Alexandra 2521 (FID) – Wagner Dinara – 2358 (GER)
Vaishali R 2449 (IND) – Tan Zhongyi 2525 (CHN)
Goryachkina Aleksandra 2579 (FID) – Assaubayeva Bibisara 2443 (KAZ)
Lagno Kateryna 2547 (FID) – Kashlinskaya Alina 2491(POL)
Round 5 on 2022/09/22 at 15:00

Kashlinskaya Alina 2491(POL) – Shuvalova Polina 2510 (FID)
Assaubayeva Bibisara 2443 (KAZ) – Lagno Kateryna 2547 (FID)
Tan Zhongyi 2525 (CHN) – Goryachkina Aleksandra 2579 (FID)
Wagner Dinara 2358 (GER) – Vaishali R 2449 (IND)
Paehtz Elisabeth 2477 (GER) – Kosteniuk Alexandra 2521 (FID)
Zhu Jiner 2464 (CHN) – Abdumalik Zhansaya 2503 (KAZ)
Round 6 on 2022/09/23 at 15:00

Shuvalova Polina 2510 (FID) – Abdumalik Zhansaya 2503 (KAZ)
Kosteniuk Alexandra 2521(FID) – Zhu Jiner 2464 (CHN)
Vaishali R 2449 (IND) – Paehtz Elisabeth 2477 (GER)
Goryachkina Aleksandra 2579 (FID) – Wagner Dinara 2358 (GER)
Lagno Kateryna 2547 (FID) – Tan Zhongyi 2525 (CHN)
Kashlinskaya Alina 2491 (POL) – Assaubayeva Bibisara 2443 (KAZ)
Round 7 on 2022/09/25 at 15:00
Assaubayeva Bibisara 2443 (KAZ) – Shuvalova Polina 2510 (FID)
Tan Zhongyi 2525 (CHN) – Kashlinskaya Alina 2491 (POL)
Wagner Dinara 2358 (GER) – Lagno Kateryna 2547 (FID)
Paehtz Elisabeth 2477 (GER) – Goryachkina Aleksandra 257 (FID)
Zhu Jiner 2464 (CHN) – Vaishali R 2449 (IND)
Abdumalik Zhansaya 2503 (KAZ) – Kosteniuk Alexandra 2521 (FID)
Round 8 on 2022/09/26 at 15:00
Shuvalova Polina 2510 (FID) – Kosteniuk Alexandra 2521 (FID)
Vaishali R 2449 (IND) – Abdumalik Zhansaya 2503 (KAZ)
Goryachkina Aleksandra 2579 (FID) – Zhu Jiner 2464 (CHN)
Lagno Kateryna 2547 (FID) – Paehtz Elisabeth 2477 (GER)
Kashlinskaya Alina 2491 (POL) – Wagner Dinara 2358 (GER)
Assaubayeva Bibisara 2443 (KAZ) – Tan Zhongyi 2525 (CHN)
Round 9 on 2022/09/27 at 15:00
Tan Zhongyi 2525 (CHN) – Shuvalova Polina 2510 (FID)
Wagner Dinara 2358 (GER) – Assaubayeva Bibisara 2443 (KAZ)
Paehtz Elisabeth 2477 (GER – Kashlinskaya Alina 2491 (POL)
Zhu Jiner 2464 (CHN) – Lagno Kateryna 2547 (FID)
Abdumalik Zhansaya 2503 (KAZ) – Goryachkina Aleksandra 2579 (FID)
Kosteniuk Alexandra 2521 (FID) – Vaishali R 2449 (IND)
Round 10 on 2022/09/28 at 15:00
Shuvalova Polina 2510 (FID) – Vaishali R 2449 (IND)
Goryachkina Aleksandra 2579 (FID) – Kosteniuk Alexandra 2521 (FID)
Lagno Kateryna 2547 (FID) – Abdumalik Zhansaya 2503 (KAZ)
Kashlinskaya Alina 2491 (POL) – Zhu Jiner 2464 (CHN)
Assaubayeva Bibisara 2443 (KAZ) – Paehtz Elisabeth 2477 (GER)
Tan Zhongyi 2525 (CHN) – Wagner Dinara 235 (GER)
Round 11 on 2022/09/29 at 13:00
Wagner Dinara 2358 (GER) – Shuvalova Polina 2510 (FID)
Paehtz Elisabeth 2477 (GER) – Tan Zhongyi 2525 (CHN)
Zhu Jiner 2464 (CHN) – Assaubayeva Bibisara 2443 (KAZ)
Abdumalik Zhansaya 2503 (KAZ) – Kashlinskaya Alina 2491 (POL)
Kosteniuk Alexandra 2521 (FID) – Lagno Kateryna 2547 (FID)
Vaishali R 2449 (IND) – Goryachkina Aleksandra 2579 (FID)