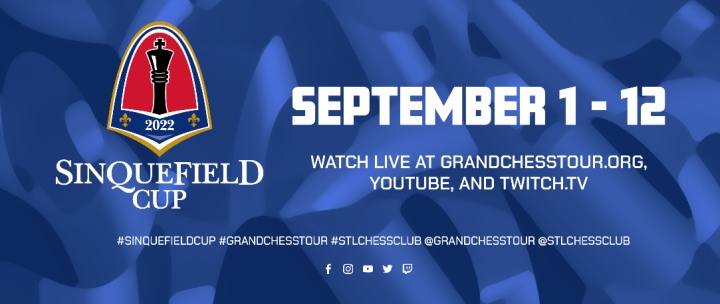 It was an exciting day featuring three decisive outcomes as Wesley So defeated Hans Niemann to take a full point lead in the tournament with just three rounds left to play. Meanwhile, Levon Aronian utilized good preparation to earn a win over Maxime Vachier-Lagrave, and Alireza Firouzja swindled Shakhriyar Mamedyarov after he blundered a pawn in the middlegame. Today's results have big implications for the 2022 Grand Chess Tour, with Firouzja sitting only a point behind MVL in the overall GCT standings.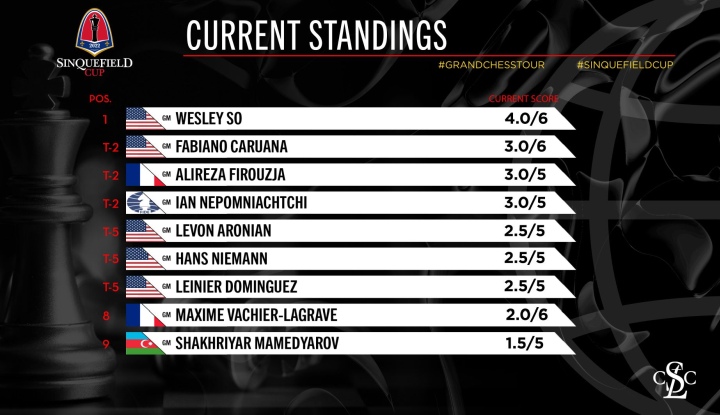 FIROUZJA - MAMEDYAROV | 1-0, 28 moves

A rich line of the English Defense left Firouzja's king in the center, though with a very solid structure and potential for piece play. An unexpected blunder allowed Mamedyarov to snag a pawn with a cute tactic, but at the cost of the dark-squared bishop. Despite the position being good for Black, it suddenly became difficult for Mamedyarov to play, as Firouzja developed powerful compensation on the dark squares. And just a few moves later Black's position collapsed, and as Mamedyarov was about to lose a piece, he resigned.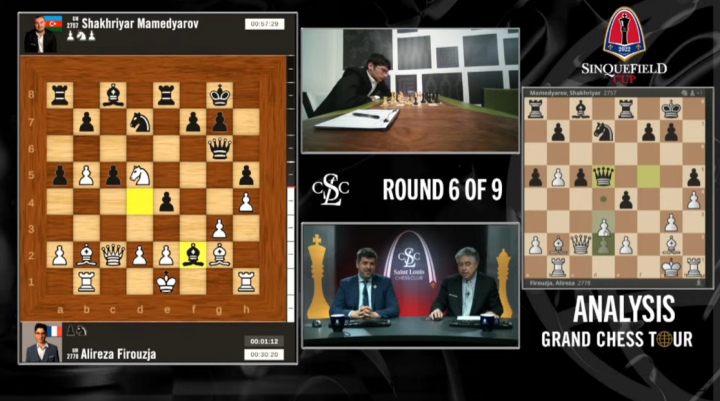 After 19…Bxf2+! 20.Kxf2 Qf5+!, Black won a pawn as 21.Nf4?? would lose the queen to 21…e3+. Instead, Firouzja played 21.Ke1, managing to stir up counterplay after 21…Qxd5 22.Rf1 Nf8 23.Qc3 Ne6 24.Rf4!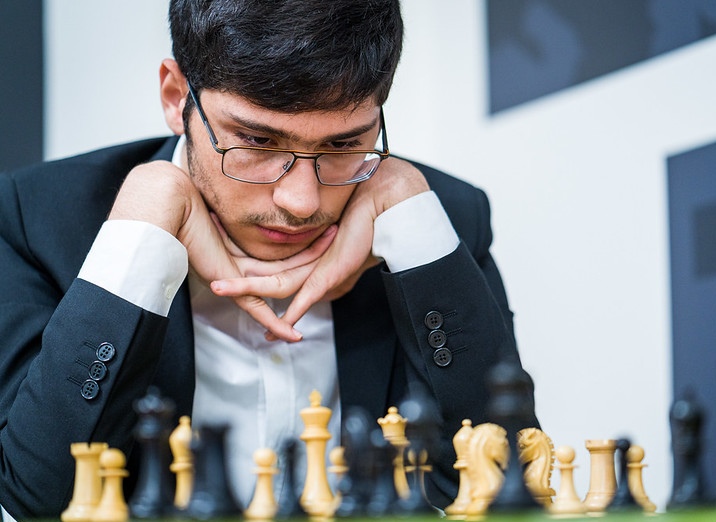 A big win for Firouzja, who is currently second in the 2022 GCT standings. | Photo Courtesy of Saint Louis Chess Club, Lennart Ootes
NIEMANN - SO | 0-1, 59 moves
A calm Petroff left Niemann with a small edge out of the opening until he erred with the move 20.h4, where after 20…Nh5! Black threatened to trap White's bishop, overtaking the initiative. Niemann wasn't able to solve his problems and So ended up with a clear strategic advantage, eventually forcing a winning bishop vs. knight endgame which he converted with technical precision.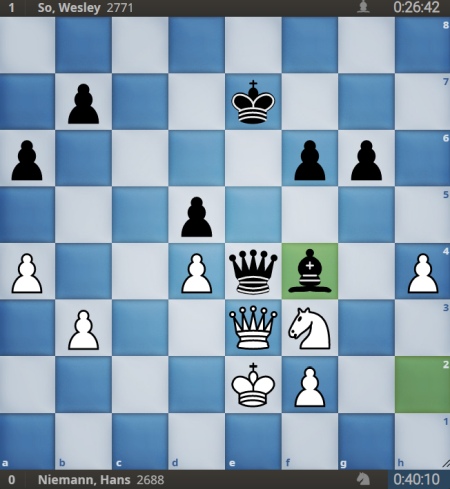 After 33…Bf4! forcing a very favorable endgame – 34.Qxe4 dxe4-+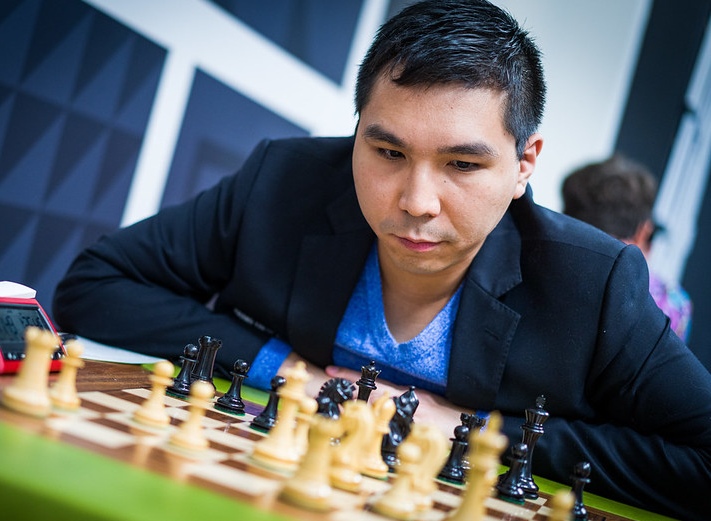 With a full point lead, Wesley So looks primed to win his second Sinquefield Cup. | Photo Courtesy of Saint Louis Chess Club, Lennart Ootes
ARONIAN - VACHIER-LAGRAVE | 1-0, 49 moves
Strong preparation by Aronian, utilizing an idea (16.Rhf1) found during the recent Olympiad, allowed him to put Vachier-Lagrave under heavy pressure in a topical Najdorf. Although MVL was able to survive the opening, he burned a lot of time to do so and ended up in a slightly worse endgame. Upon hitting severe time-trouble MVL soon went wrong, reaching move 40 down a pawn and with a hopeless position, as Aronian won just a few moves later.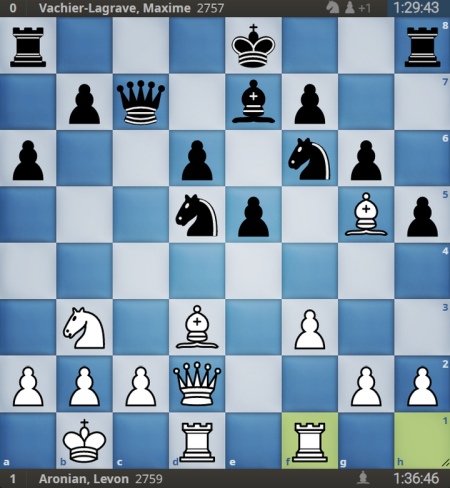 The novelty 16.Rhf1 was originally prepared for Caruana in the 2022 Olympiad against Iran's GM Parham Maghsoodloo, according to Aronian.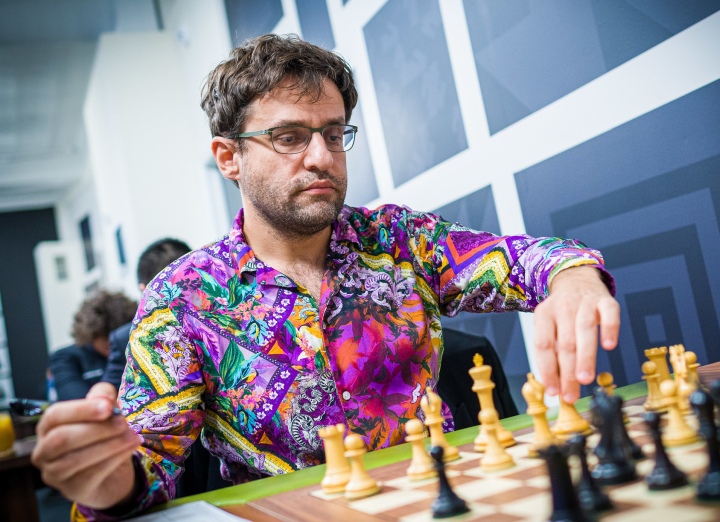 Today's win brought Levon back to 50%, as he dealt a huge blow to the current GCT leader. | Photo Courtesy of Saint Louis Chess Club, Lennart Ootes
NEPOMNIACHTCHI - CARUANA | ½-½, 53 moves
Following a blitz game from earlier this year between Nepomniachtchi and GM Richard Rapport, Caruana chose the surprising Four Knights Sicilian, once again armed with deep preparation. It took Ian a while to deviate from his own play, as he ended up with an extra pawn in an endgame with opposite colored bishops. Although White pushed for some time, he wasn't able to generate any serious winning chances, and Caruana held the draw.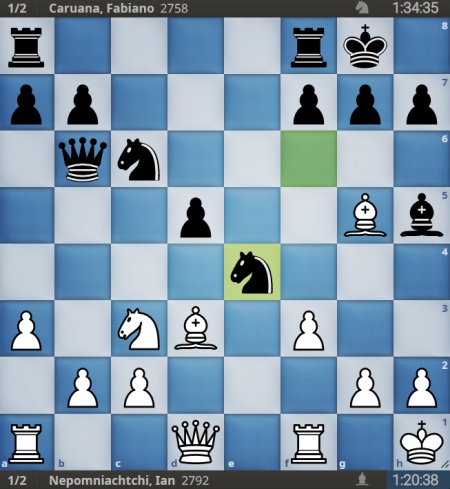 After Caruana's 14…Ne4!, a sharp move which initiates massive complications.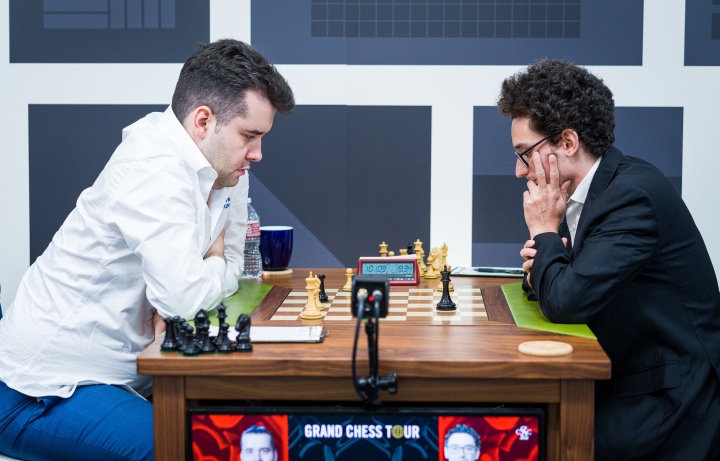 Another day, another great preparation from Fabiano Caruana. | Photo Courtesy of Saint Louis Chess Club, Lennart Ootes
The 2022 Sinquefield Cup continues Friday, September 9, starting at 12:50 PM CT. Catch all the action live with grandmaster commentators Peter Svidler, Yasser Seirawan, and Alejandro Ramirez on grandchesstour.org and on the Saint Louis Chess Club's YouTube and Twitch.tv channels.
Text: IM Kostya Kavutskiy

Saint Louis Rapid & Blitz Sponsors


---
Further Information:
Web: GrandChessTour.org | Twitter: @GrandChessTour
Instagram: @GrandChessTour | Facebook: @GrandChessTour
Venue:
Saint Louis Chess Club
September 02-12, 2022
Press Contact:
press@grandchesstour.org
Livestream:
GrandChessTour.org
Photos:
Courtesy of Grand Chess Tour and Spectrum Studios
Credits available on Flickr.