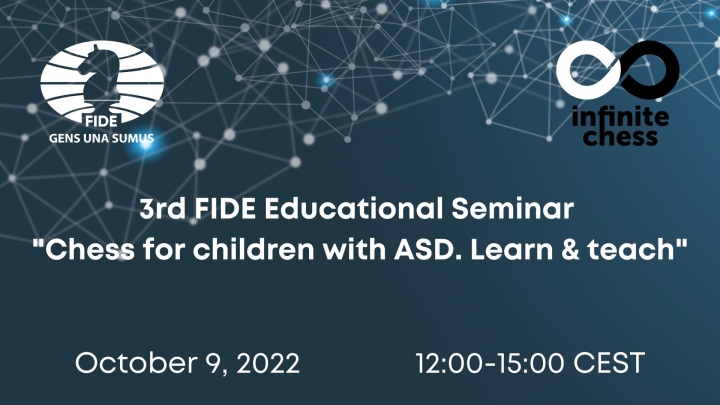 IMPORTANT UPDATE: The resistration is extended until October 6, 2022
The International Chess Federation, with the support of the International Olympic Committee, FIDE Planning and Development Commission, and FIDE Social Commission, is pleased to announce the 3rd FIDE Educational Seminar "Chess for children with an autism spectrum disorder. Learn & teach".
The seminar will take place on October 9, 2022, from 12:00 to 15:00 CEST. The event follows the success of the previous two workshops held in 2021, which you can find on our YouTube channel (part 1 and part 2).
Teaching chess to children with autism spectrum disorder positively impacts their communication abilities, speech, thinking, self-esteem and confidence. Speakers will present a unique training program they developed in 2021 and provide practical advice. The seminar aims to deliver core knowledge to potential chess teachers and coaches starting to work with children within our Infinite Chess project.
In January 2021, a pilot project was launched in six countries: Spain, Turkey, France, Gibraltar, South Africa and Norway. In 2022 we're planning on adding nine new partner countries: Australia, New Zealand, Bangladesh, Indonesia, Malaysia, Maldives, Albania, Latvia, and Morocco. The seminar is aimed first and foremost at the teachers from these new partner federations. However, we decided to make it open for everyone to benefit individual teachers or parents working with children with ASD.
Speakers of the seminar will talk about the ways of teaching chess to children with autism spectrum disorder and explain their methodology covering the following topics:
• What is autism spectrum disorder?
• How to teach chess to children with autism?
• How to prepare the classroom? What else to pay attention to?
The list of speakers includes:
Natalia Popova - WIM, FIDE Trainer, Trainer of the FIDE Chess Academy in Belarus, leader of the two-year-long project teaching chess to children with autistic spectrum disorder (FIDE);
Ala Mishchanka - Special needs educational assistant, more than 15 years of experience (Canada);
Evguenia Charomova - Bachelor of Science, Masters in speech therapy, Former New Zealand women's chess champion, Speech-Language Therapist (New Zealand);
Kanthi Devi Sarjoo - Speech and language therapist of the Brown's School (South Africa);
Sharon Whatley - Chess Coach & President of the Gibraltar Chess Association Ghost Writer and Author (Gibraltar);
Karel van Delft – chess teacher, coach, chess organizer, writer, lecturer, Science Project Manager in Chessable science (The Netherlands).
How to register:
For registration, please, please fill out the form before September 30, 2022.
On October 08, all the registered participants will receive the access link to the online seminar.
All participants who successfully pass a test will get a certificate of attendance.
For further inquiries, please contact:
Nadezhda Kravchuk, Project Coordinator
Anastasia Sorokina, Project Leader