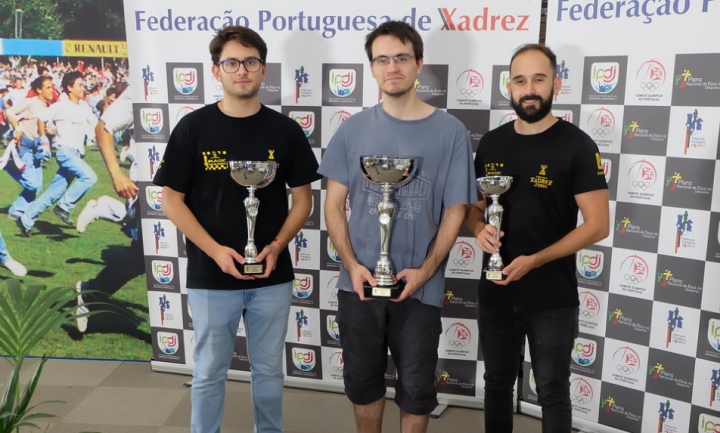 IM André Sousa and WCM Mariana Silva emerged as the winners of the 2022 Portuguese Championship, held at the Municipal Stadium of Leiria.
André Sousa (pictured below) claimed his fourth consecutive national title (and the fifth in six years), but it was not a smooth sail for him as the runner-up, young international master José Francisco Veiga stayed in the race until the very end.
At the start of the ninth and final round of a 10-player round-robin, Sousa was on 5.5 points and a half point ahead of José Veiga. Both played black, with José Guilherme Santos and Pedro Rego, respectively. Sousa missed a chance to win twice and had to work hard to secure a draw, but luckily for him, Veiga and Rego also split a point.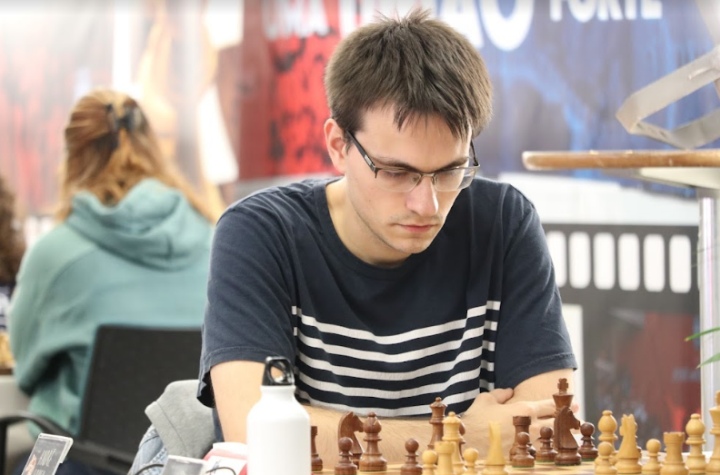 Pedro Rego scored 4.5 points and tied for third place with António Fernandes, but took the last place on the podium thanks to better with a better Sonneborn-Berger.
This champion title capped a successful September for André Sousa, in which he achieved the first grandmaster norm at the Maia Chess Open, and won the Portugal Open/Cidade de Lisboa.
Final standings:
1st André Sousa – 6 points
2nd José Francisco Veiga– 5.5
3rd Pedro Rego – 4.5
4th António Fernandes – 4.5
5th Paulo Dias – 4
6th José Guilherme Santos – 4
7th Bruno Martins – 3.5
8th Sérgio Rocha – 3
9th André Fidalgo – 1.
The National Women's Championship, a 5-round Swiss tournament, was an even closer affair.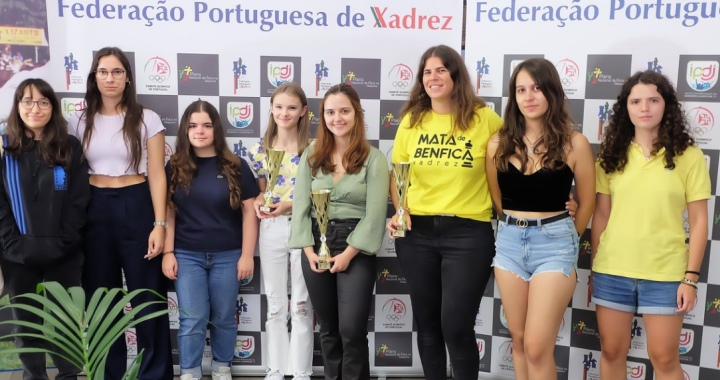 At the start of the fifth and final round, it was open as five players had a fair shot for the title. Sara Soares and Raquel Dique shared the lead, with 3 points, with Mariana Silva, Sara Monteiro, and Victoria Cymbron trailing by a half-point.
Mariana Silva scored a very important victory over Sara Soares, while Raquel Duque fell to Camila Avelino. Meanwhile, Sara Monteiro and Victoria Cymbron also won over Maria Beatriz Areal and Maria Elisa Oliveira, respectively and caught up with Silva.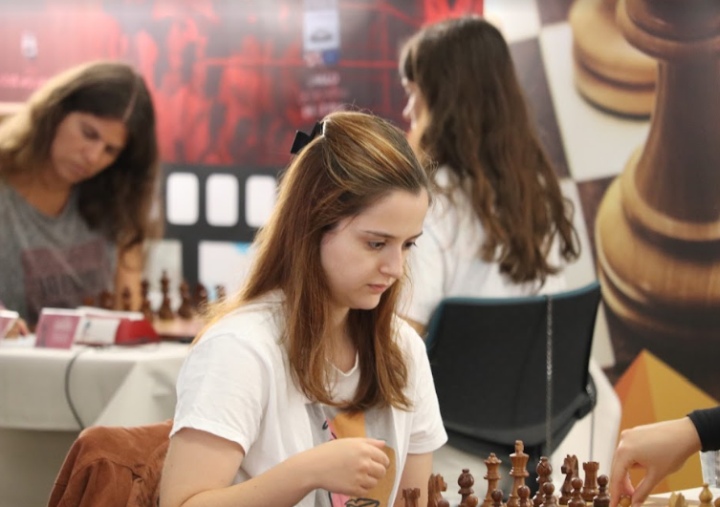 As a result, three players scored 3.5 points and tied for first place, but the Buchholz tiebreaker favoured Mariana Silva (pictured above), who claimed the title, second in her career.
Final standings:
1st Mariana Silva – 3.5 points
2nd Sara Monteiro – 3.5
3rd Victoria Cymbron – 3.5
4th Sara Soares – 3
5th Camila Avelino – 3
6th Rachel Duque – 3
7th Maria Beatriz Areal – 1.5
8th Maria Elisa Oliveira – 0
Photo: Official website
Official website: fpx.pt