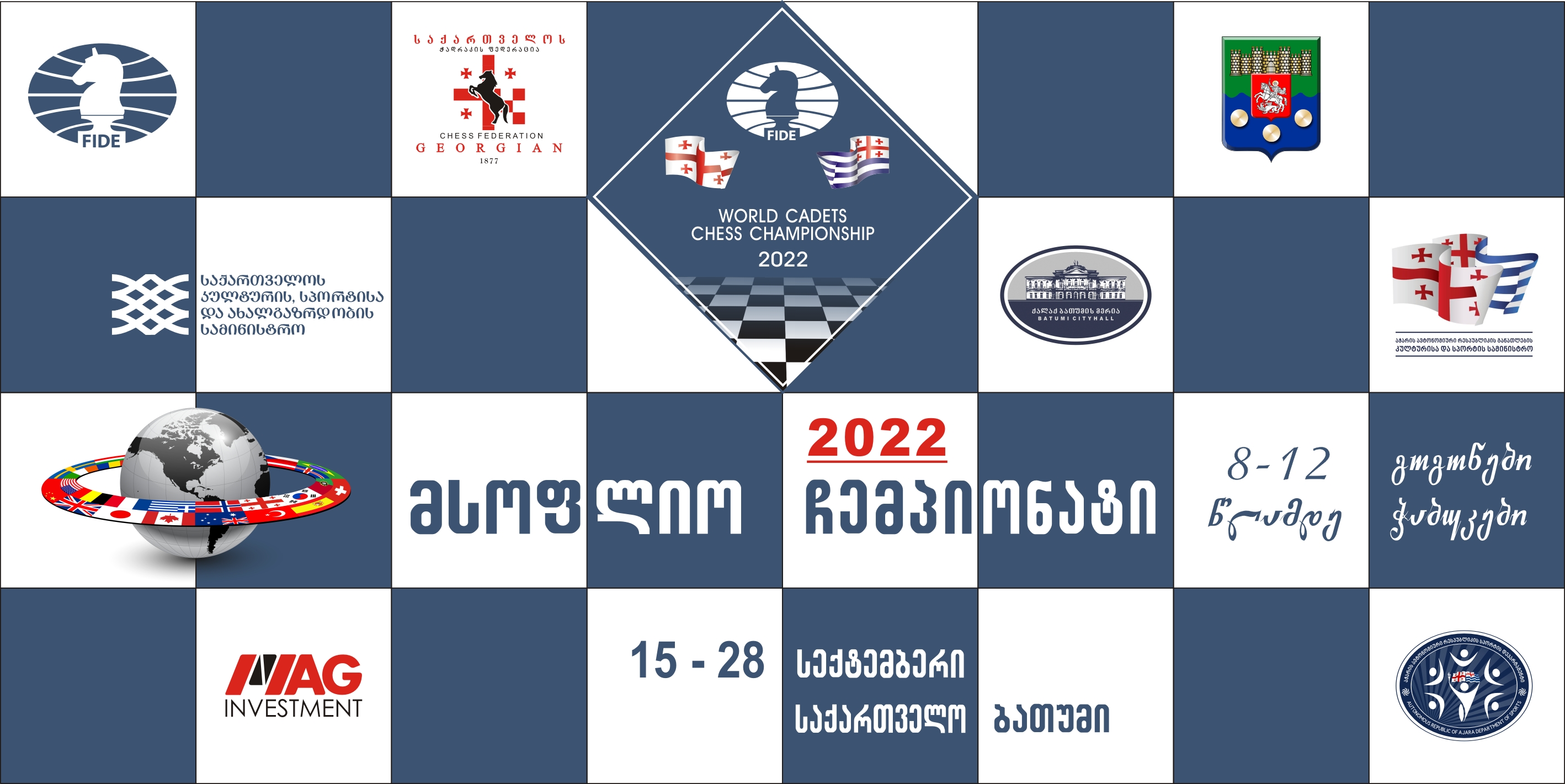 FIDE World Cadets Chess Championships (Open and Girls under 8, 10, 12) are halfway through in Batumi, Georgia. Six out of 11 rounds have been played, and 750+ participants, coaches, and parents are enjoying a free day.
Roman Shogdzhiev is the sole leader in the Open U8 with 6 points out of 6. His rating is 1715, which is his peak so far, and he already gains 34.8 points in this tournament and shows a 2127 rating performance.
A few months ago, Aaron Reeve Mendes from Canada became the FIDE World School Chess Champion in Panama. Now he's the rating-favourite of the Open U10 and is leading on par with Gorkem Unsal from Turkey (#24 in the starting list). Both managed to win five games and draw one; a big group of participants is trailing them by half a point.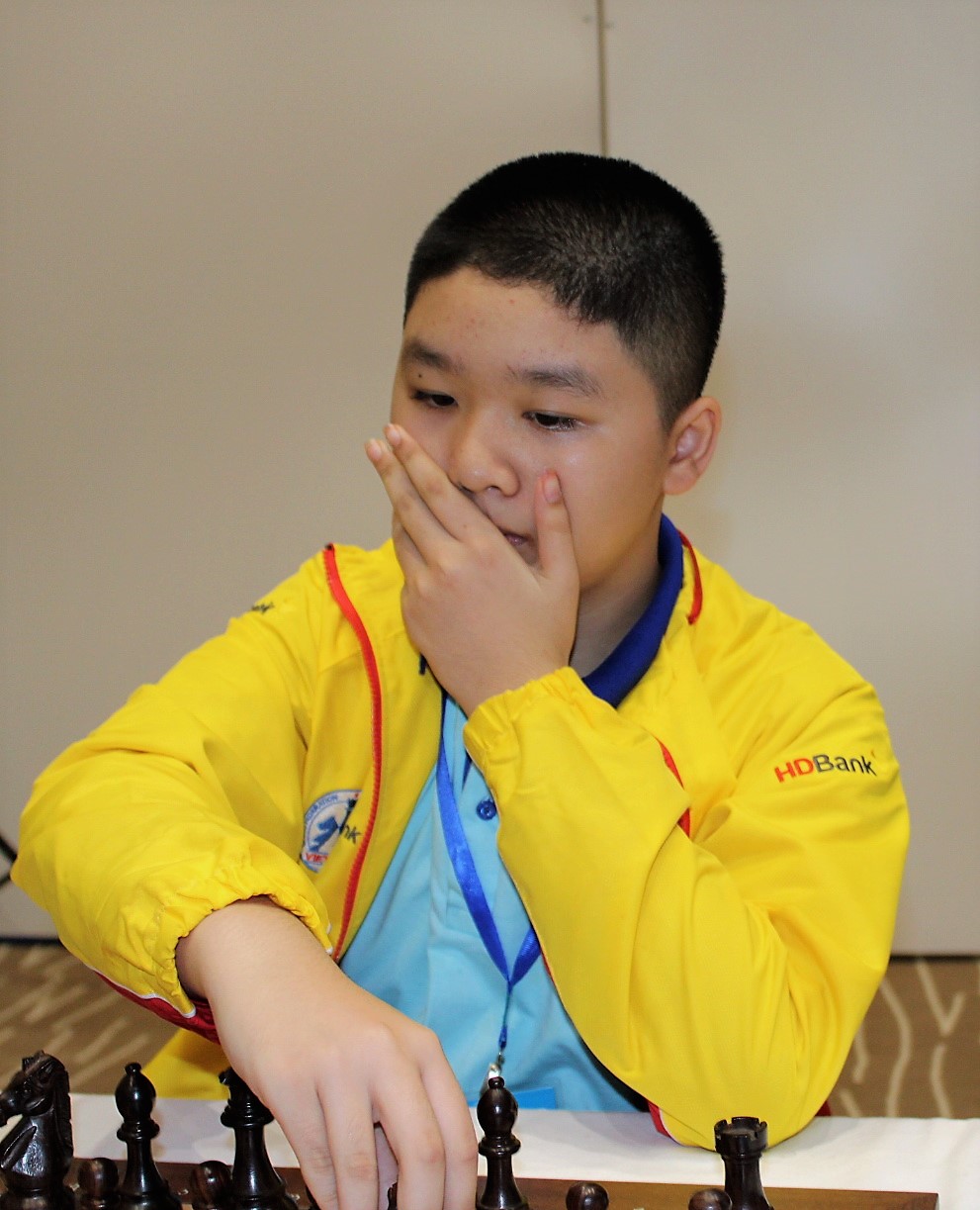 The sole leader in the Open U12 section, Dinh Nho Kiet (pictured above), with maximum points so far, seems very well prepared, even though he hasn't played a single rated game for a year before April 2022. After that, he increased his rating in almost all tournaments.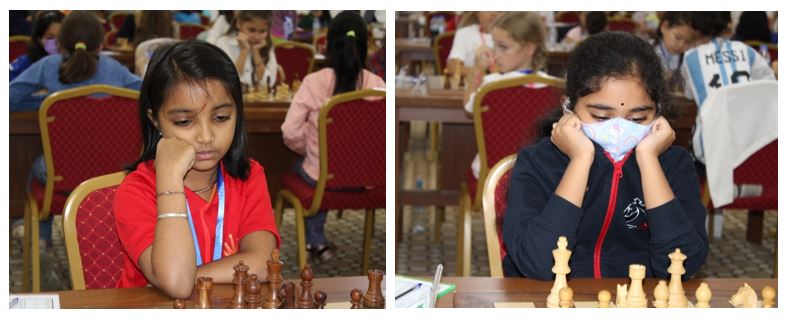 Compatriots, but representatives of different federations, India and England, Charvi A and Sivanandan Bodhana drew between each other and continue leading in Girls U8.
Girls U10 also has two leaders, Nika Venskaya and Evangelia Siskou.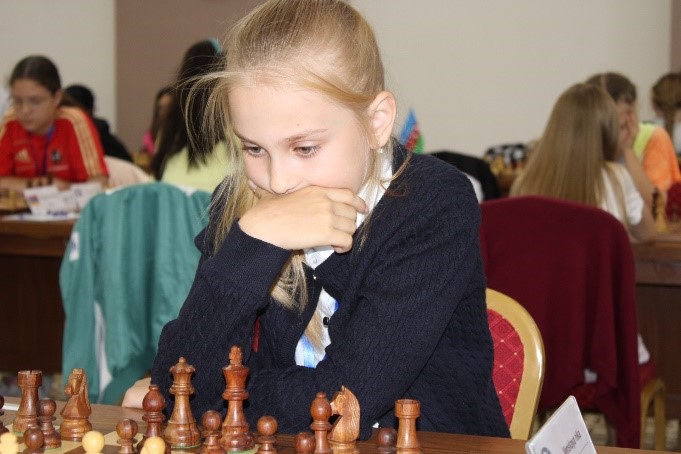 Nika Venskaya (pictured above) is progressing very rapidly. She participated in two open tournaments in August and gained 186.4 rating points! So, we can't say that her leading in this tournament is unexpected.
Second leader Evangelia Siskou, despite her young age, participated in the national team championship and famous traditional Kavala open this summer. It was probably part of the preparation to fight for the medals!

Girls U12 is the only age category where three players are leading. Indian Shubhi Gupta, Elnaz Kaliakhmet from Kazakhstan, and a representative of the host country, Georgian Mgeladze Kesaria. They haven't played against each other yet; right after free day, there will be the first battle among the leaders.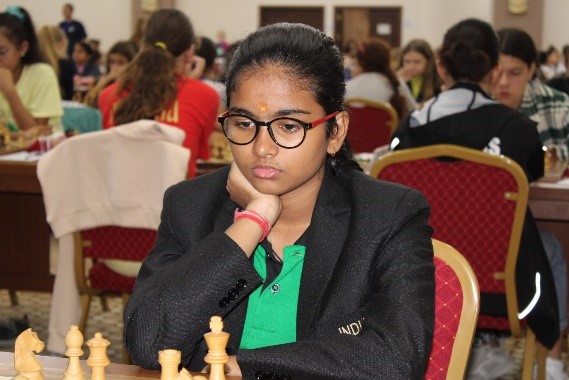 Shubhi's father Pradeep Gupta told us a little about his daughter and her chess path: "Shubhi started to play chess as a hobby at home and joined the chess club at Indirapuram Public School when she was in the first grade. In her first inter-school competition, she secured third place. With time, chess became her passion, and she started participating in state and national championships. In 2021, during the pandemic, she participated in the world and Asian level online championships and clinched silver in the Asian and Western Asian School Championships. This year, she bagged gold in U12 and bronze in U16 National Chess Championships. She also participated in OTB Western Asian Youth Chess Championship in June 2022 in the Maldives and secured three silver medals."
"This is her first time participating in OTB World Cadet Chess Championship, and we are enjoying the event and Batumi," continues Pradeep. "She liked the sea view from her room and the view of the valley on the other side."
Shubhi is trained by her coach Prasanjit Dutta and spends almost 5-6 hours daily on chess. She has the dream of becoming a Grandmaster in the next two years and following her passion for playing chess professionally.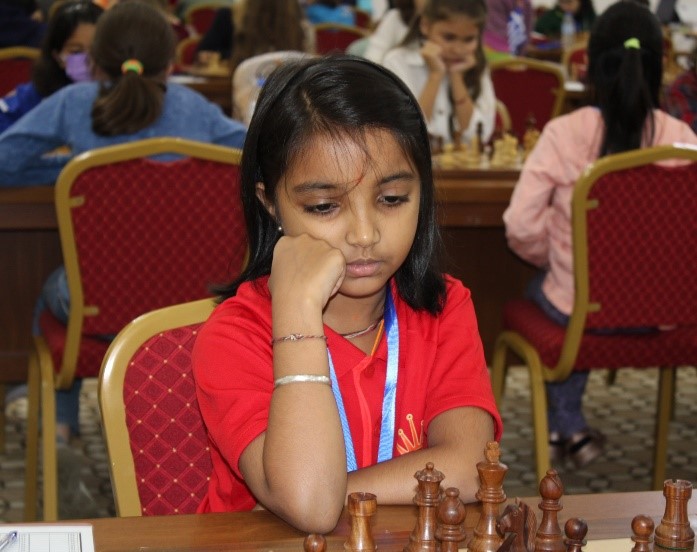 And here is the portrait of the co-leader in Girls U8, Charvi A.
She became interested in chess when she was around five years old. First, she played with her daycare friends and later started training with IM Shivananda BS.
FIDE World Cadet Championships is her first major tournament over the board. Last year she participated in World and Asian Online Championships. Currently, she is training with WGM Aartie Ramaswamy and IM Shivananda and practices chess every day for 5 hours!
Despite being so young, Charvi A has already won many titles, even in the elder age categories. Her best results:
National Champion among girls U8 anU10 in 2022;
4th place in the Indian School Championship in the open section;
Gold medalist of the Indian School Championship U7 in 2021;
Individual silver and team gold medalist of Asian School Championship in 2021;
Individual silver and team gold medalist of western Asian Championship U8 in 2021;
Winner of Karnataka state open rapid tournament U15 in 2022.
Her parents told us that her ambition is to become the World Champion, and she is enjoying her stay here in Batumi since it is her first tournament outside India.
Reporting by Sofio Gvetadze
Photos by Sopio Nikoladze
Official website of the tournament: https://wccc2022.fide.com/