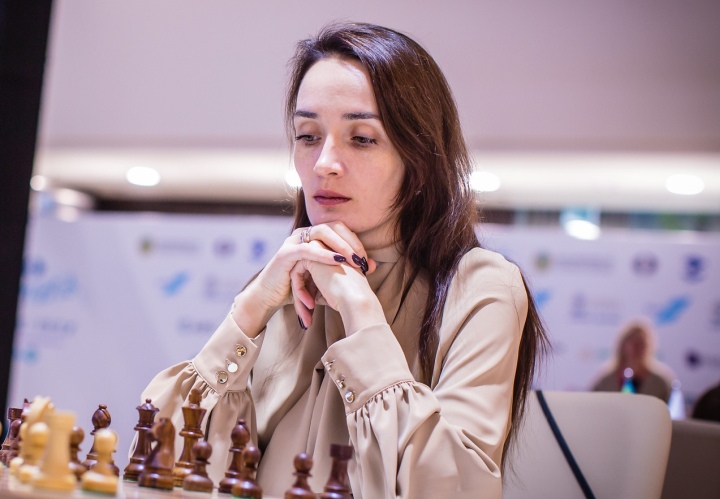 Aleksandra Goryachkina comes in second, Zhu Jiner and Dinara Wagner achieve IM norms
After a long and tense final round, Kateryna Lagno, playing under the FIDE flag, emerged as the winner of the Astana leg of the 2022-2023 Women's Grand Prix.
Undefeated, Lagno scored 8/11, a full point ahead of pre-event favourite Aleksandra Goryachkina, who could only achieve a draw in the final round against Vaishali and finished with 7½ points. Zhu Jiner, representing China, came in third with 6½ points.
Lagno takes home the €15,000 first prize in addition to 160 WGP points. The next WGP tournament will be held in Munich, Germany, from February 1-14, 2023.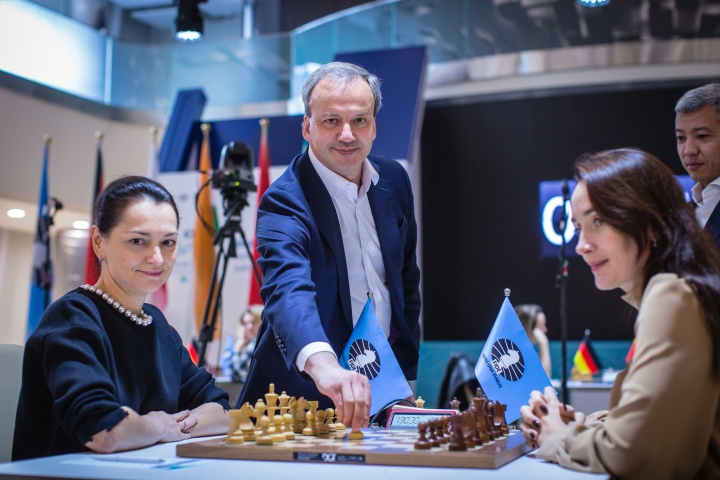 FIDE President Arkady Dvorkovich was the guest of honour at the final round of the Women's Grand Prix, which started this afternoon in Astana's International Business Hub. After congratulating the organizers, arbiters and media team, he approached the board on which Alexandra Kosteniuk and Kateryna Lagno were already seated and made the ceremonial first move.
A few minutes later, he joined Press Officer IM Michael Rahal for a short interview, in which he discussed his meeting with the Kazakhstan Republic President Kassym-Jomart Tokayev. He also explained FIDE's plans for dealing with fair-play issues, in addition to commenting on the situation of the world's top female players.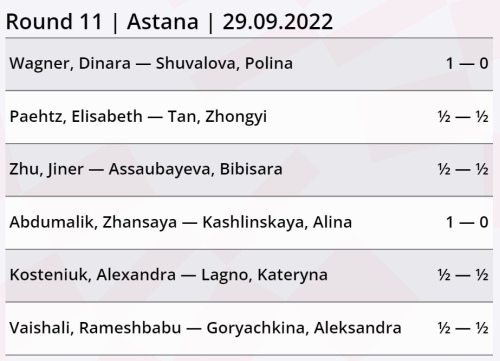 Kosteniuk, Alexandra — Lagno, Kateryna (0.5-0.5)
The first game to finish was a relatively short draw between Kosteniuk and Lagno. In a classical Four Knights opening, with transposition to a Scotch, Kosteniuk went for a theoretical draw by means of a double piece sacrifice, followed by perpetual check.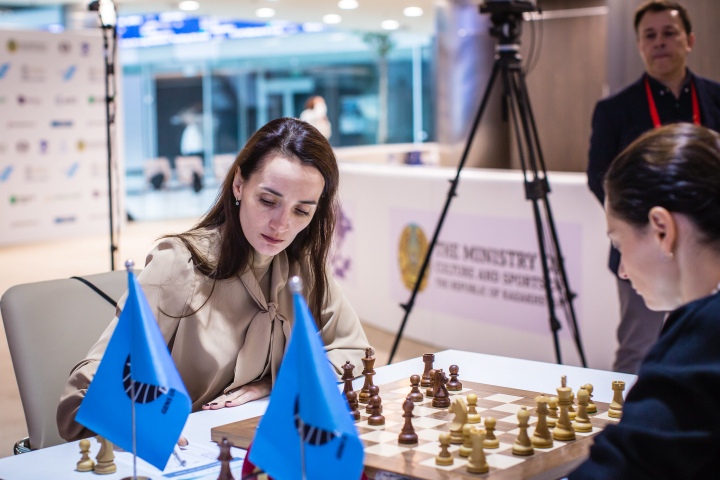 According to my database, three other games followed the same path, with the same result. Kateryna Lagno kindly joined us for a quick interview in which she summed up her performance in the tournament.
Paehtz, Elisabeth — Tan, Zhongyi (0.5-0.5)
The second game to finish was also a draw. Playing White, Paehtz went for the solid 2.c3 Alapin variation against the Sicilian Defence. Queens were exchanged before move ten, and neither player seemed excessively ambitious this afternoon.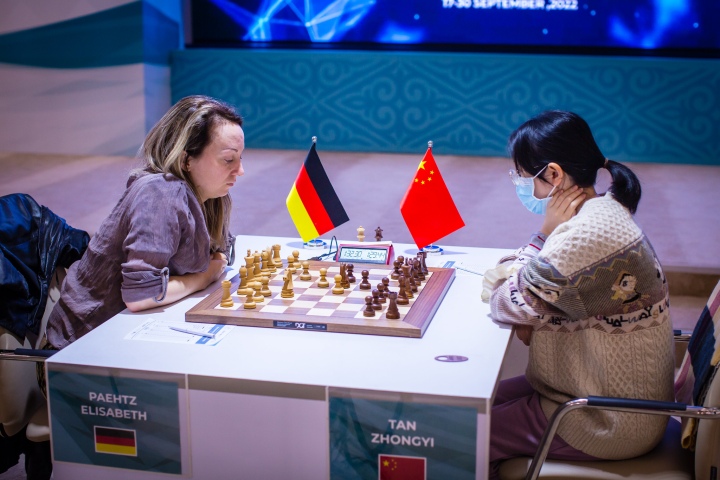 In the final position, a draw was agreed upon by move repetition, although the computer suggests that Paehtz was slightly better due to a superior pawn structure.
Zhu, Jiner — Assaubayeva, Bibisara (0.5-0.5)
The young Chinese star has had a brilliant run in Astana and in general in the past year. Although she is WGM, Zhu Jiner has already made her three IM norms but has decided not to request the title: she is going straight for the GM title. She already has two GM norms and has crossed the 2500 barrier.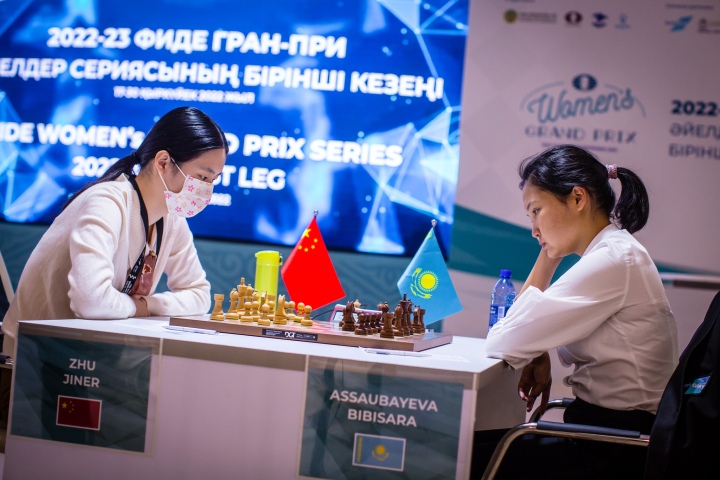 However, a win today would not have been enough to reach the 2600 performance necessary for the final GM norm.
In her game against Assaubayeva, Zhu Jiner went for a Sicilian c3 side-line, generally considered inoffensive. With precise defence, Assaubayeva neutralized her opponent's opening edge and installed a strong knight on d4. Massive exchanges followed, resulting in a small but stable advantage for Assaubayeva.
However, as Bibisara explained in her post-game interview, she didn't want to lose in any situation. Unable to find a clear way to increase her advantage she settled for a draw.
Wagner, Dinara — Shuvalova, Polina (1-0)
In great form since the rest day, Polina Shuvalova went for one of the main lines in the Nimzo-Indian defence. Playing with White, Wagner got a passed d-pawn and a strong knight on f5 in exchange for her opponent's huge black knight on d3.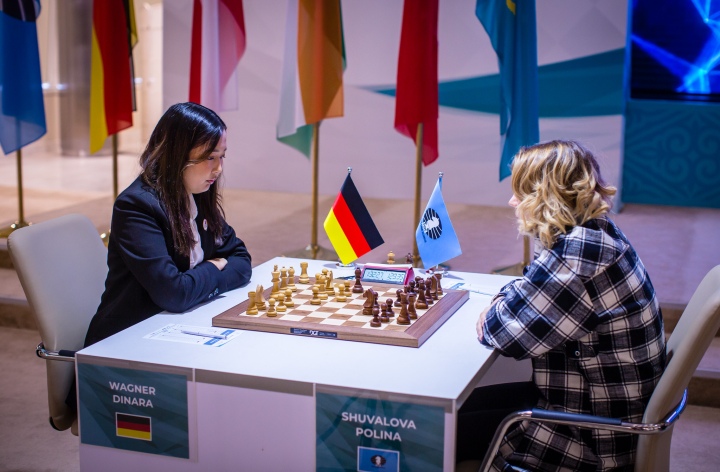 According to the computer, chances were more or less equal, so Wagner struck with 24.f4 and went for a direct attack on Shuvalova's king.
Kramnik has said several times that if you think more than 18 minutes, you are bound to make a mistake. In a very tricky position, Shuvalova took 33 minutes to play 24…Kf8? and was suddenly dead lost. Instead, 24…exf4 was the only move for Black, which would have led to a slightly inferior position. A few moves down the road, Polina was forced to give up her queen for a rook and a knight and had to resign shortly after.
Abdumalik, Zhansaya — Kashlinskaya, Alina (1-0)
After two consecutive draws in just a few moves against the two best performers, Zhansaya Abdumalik, Kazakhstan's star female player, wanted to finish the tournament in style and, if possible, with a win.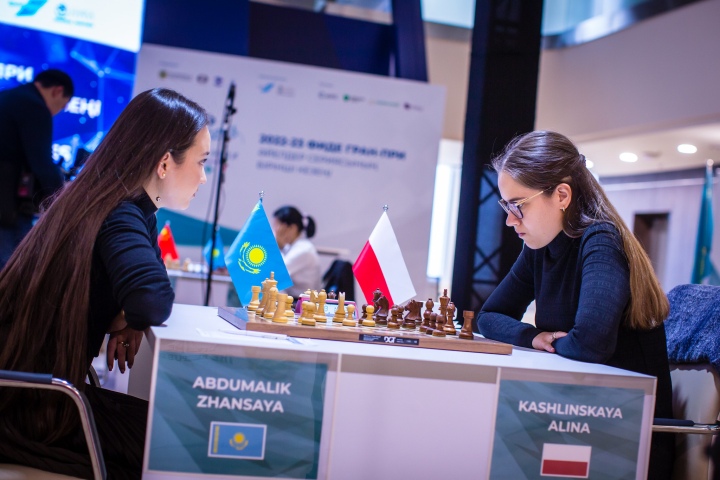 Her opponent, Alina Kashlinskaya, who has only scored 0.5 points in the last four games, was also going for a win: with both of them tied for 5th-8th, a victory could easily mean a huge jump in the final standings.
Both players blitzed out their first 15 moves in a topical poisoned pawn variation of the French Defence, but Abdumalik went into deep thought after 15…Rc8, although this move is by far the most theoretical. Upon a more than 20-minute reflection, she played the novelty 16.g3 (16.0-0 is much more popular and better).
After consolidating, Abdumalik launched an attack with 26.h4, and the position became very sharp. A critical moment came on move 32. She could have won the game with 32.Rxf7, but instead, she chose 32.Qc2, probably afraid of 32.Rxf7 Be7, against which the computer crashes through with the rook sacrifice on g7 followed by f5.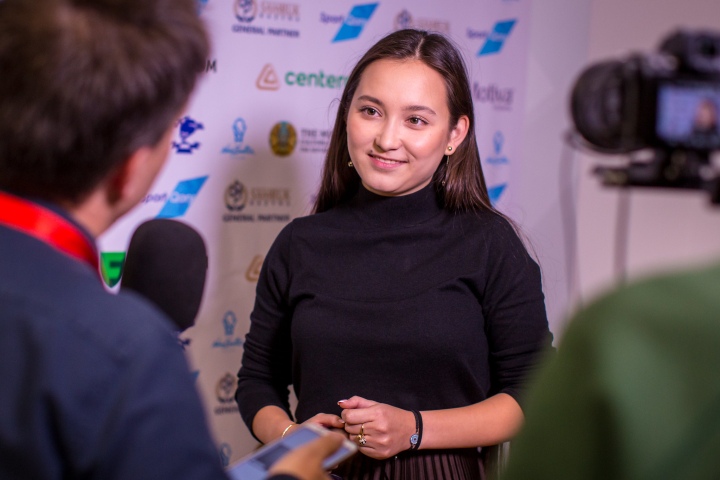 Nonetheless, Abdumalik's position was still very good, and eventually, she broke through with a timely f5 thrust. She popped into the press centre for a final short interview, in which she revealed her opening preparation for the game.
Vaishali, Rameshbabu — Goryachkina, Aleksandra (0.5-0.5)
Goryachkina's only chance to win the tournament was to defeat Vaishali with Black. An on-demand win with Black is always difficult: take to many chances to unbalance, and you might end up losing.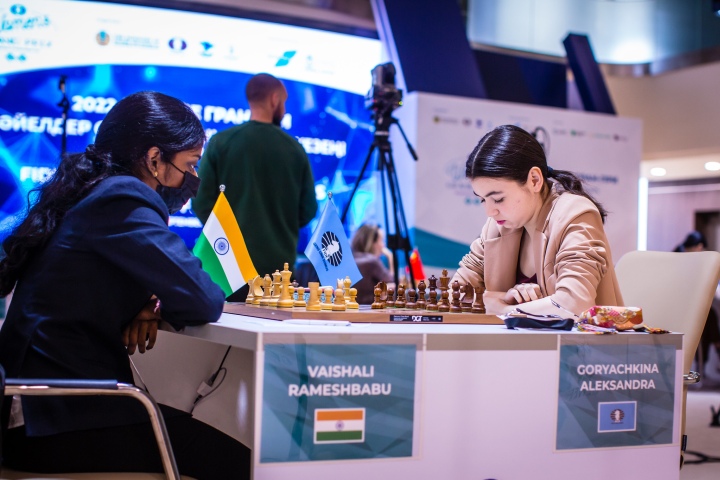 Her choice of the opening was certainly surprising: a Sicilian seemed more fitting for an unbalanced game than the hyper-solid Berlin defence in the Ruy Lopez. For the first ten moves, they followed several GM games, most importantly a 2019 clash between Sergei Karjakin and Wesley So.
In a symmetrical pawn structure, the game was heading for a draw when Goryachkina blundered with 18…Qc8?! and then 20…f6? (20…Bxe5 or 20…f5) were necessary. Vaishali went into the tank for 15 minutes but was unable to calculate properly the winning: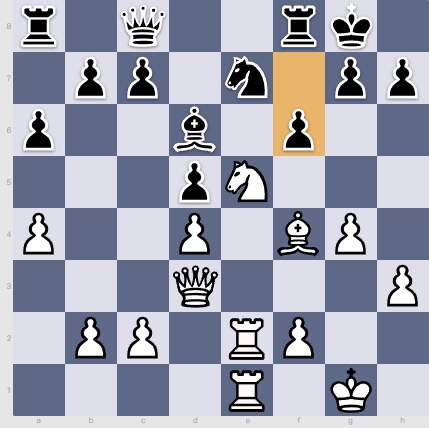 21.Nd7! with a decisive advantage. Even so, afer 21.Nf3 her position still seemed promising.
After a few exchanges, Vaishali won a pawn. The double rook ending with queens was very attractive for White but, at the same time, quite tricky. Since it was the last game of the tournament, the stakes were even higher.
Goryachkina defended very accurately, but still, Vaishali missed two or three winning opportunities. Even though she had two extra pawns in a rook ending, the game ended in a draw. Vaishali lamented her bad luck in the final post-game interview.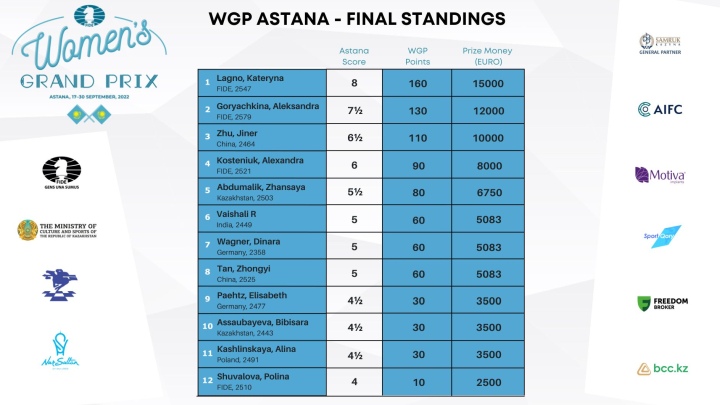 During a glittering closing ceremony the trophies and medals were awarded by FIDE President Arkady Dvorkovich and top tennis player Andrey Rublev.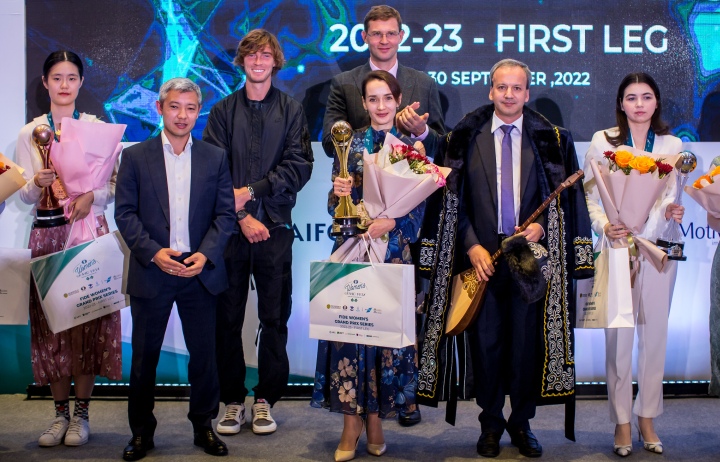 Text and interviews: IM Michael Rahal, FIDE Press Officer, Astana
Photos: Anna Shtourman