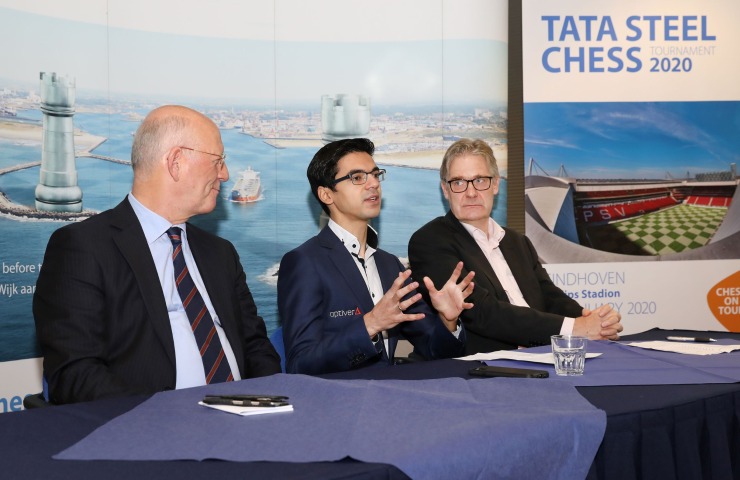 The World Champion Magnus Carlsen will once again participate in the Tata Steel Chess Tournament in January. This event is one of his favorite tournaments: it will be Magnus' 16th visit to Wijk aan Zee and the Norwegian GM will do his best to win his eighth title there. The list of participants includes three other players of the world's top ten: Fabiano Caruana (2), Anish Giri (5) and Ian Nepomniachtchi (6). Former tournament winners Viswanathan Anand (5 times) and Wesley So also return to Wijk aan Zee.
The 82nd edition of the Tata Steel Chess Tournament will take place in Wijk aan Zee January 10 – 26, 2020. The fifth found of the event will be played in the Philips Stadium in Eindhoven on Thursday, January 16. All rounds are open to the public and free of charge.
Theo Henrar, chairman of Tata Steel Nederland: "One of this year's themes will be the linking pin character of chess. In cooperation with the municipality of Eindhoven, PSV, Brainport and local chess clubs we will organize tournaments and seminars. In doing so, we will link professional sports, talent development and physical and mental fitness. For children, we will organize a special Chess Festival weekend and a big tournament in Eindhoven."

Tournament director Jeroen van den Berg: "The 82nd edition of the Tata Steel Chess Tournament has a very special mix of participants. With six grandmasters making their debut, the Tata Steel Chess Tournament 2020 will be a clash between the establishment and talented young players. Jorden van Foreest, Vladislav Artemiev, Jeffery Xiong, Alireza Firouzja and Jan-Krzysztof Duda are all 21 years old or younger. The Tata Steel Masters group has an average rating of 2743. I only see the world's absolute top players facing off in many tournaments, but I personally prefer a more mixed playing field. That is reflected in the 2020 field of participants. It will be very interesting to see how young talented players perform against the world's best players. That is what makes the 82nd edition of the Tata Steel Chess Tournament already very fascinating long before the first moves are made."
Tata Steel Masters 2020 lineup:
Magnus Carlsen (2870)
Fabiano Caruana (2822)
Anish Giri (2776)
Ian Nepomniachtchi (2773)
Wesley So (2760)
Viswanathan Anand (2757)
Yu Yangyi (2753)
Jan-Krzysztof Duda (2748)
Vladislav Artemiev (2731)
Alireza Firouzja (2720)
Jeffery Xiong (2712)
Daniil Dubov (2676)
Vladislav Kovalev (2674)
Jorden van Foreest (2632)
The lineup of the Tata Steel Challengers will be announced on November 25.
Photo: Tata Steel Chess